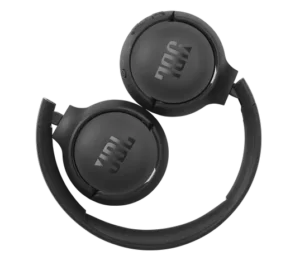 The JBL Tune 510BT Wireless On-Ear Headphones are a great choice for music lovers who want to enjoy their favorite songs without the hassle of tangled wires. These headphones offer a comfortable fit and impressive sound quality, making them perfect for long listening sessions. The JBL Tune 510BT Manual provides detailed instructions on how to use these headphones, including how to pair them with your Bluetooth-enabled devices, how to charge them, and how to use the button commands. The manual also includes information on the technical specifications of the headphones, such as the driver size, power supply, weight, and battery type. Additionally, the manual answers frequently asked questions about the JBL Tune 510BT, such as whether it has a microphone, whether it is waterproof, and how long it takes to charge. Overall, the JBL Tune 510BT Manual is a comprehensive guide that will help you get the most out of your wireless headphones.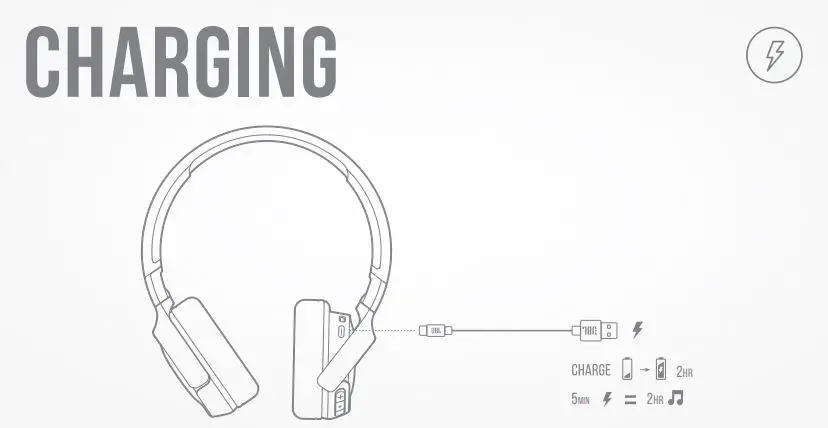 JBL Tune 510BT Wireless On-Ear Headphones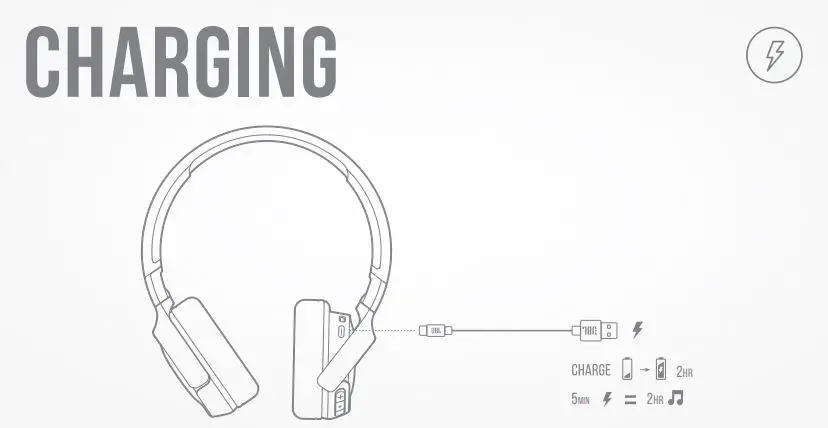 What"s In the Box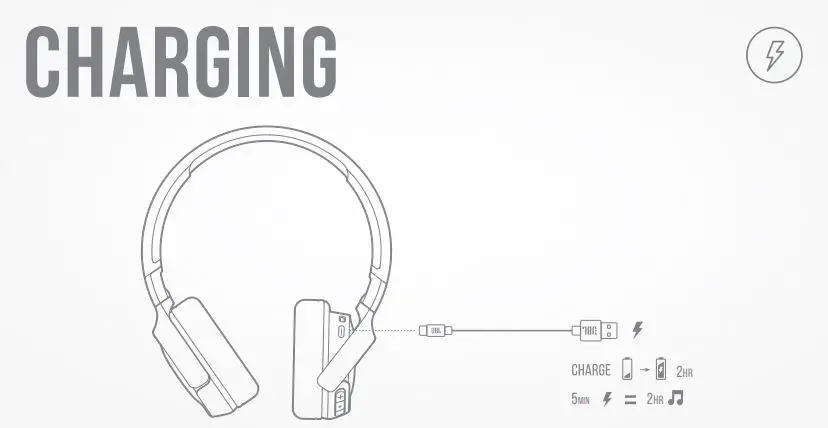 Power On and Connect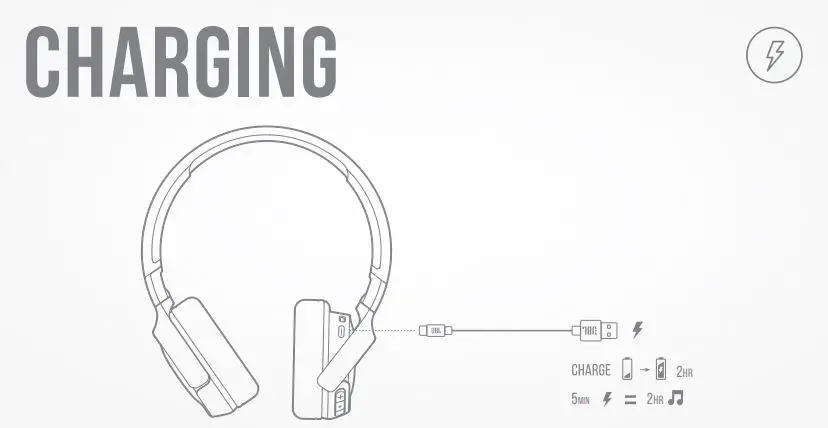 Manual Pairing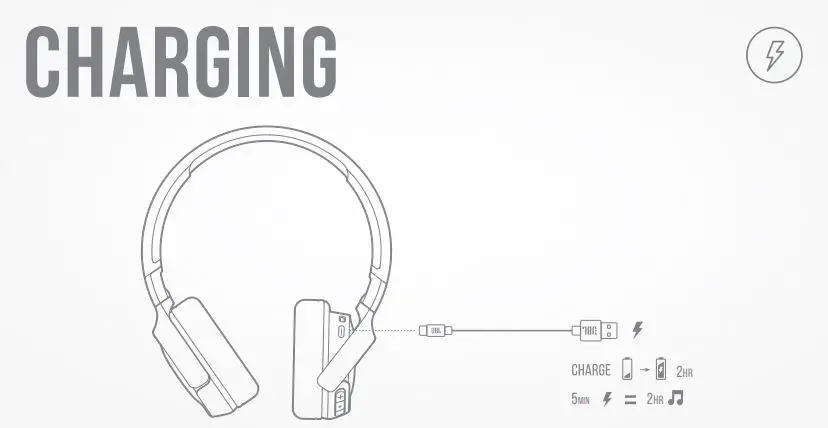 Button Command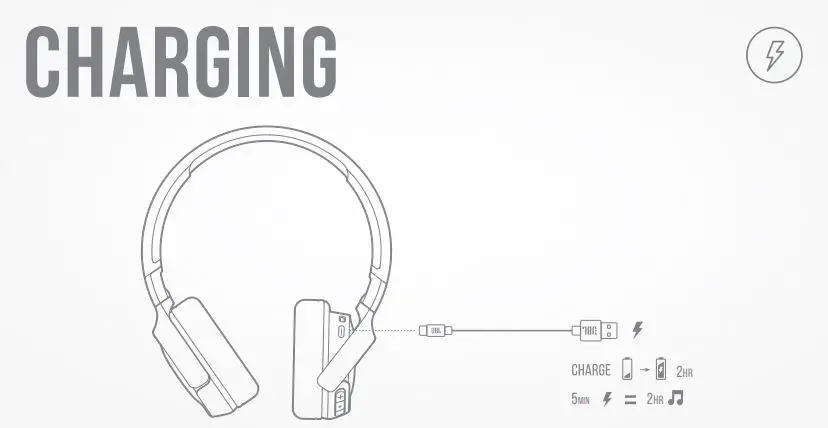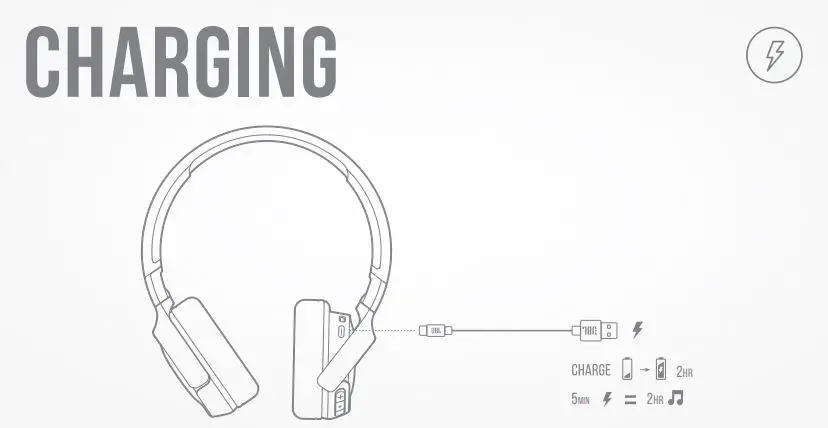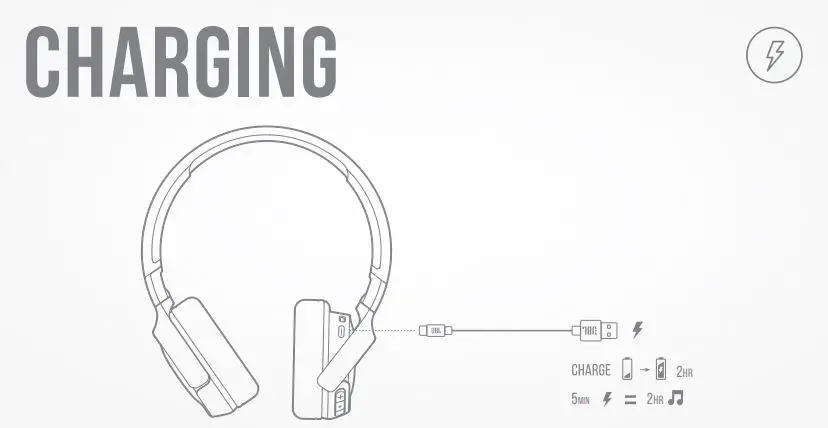 Charging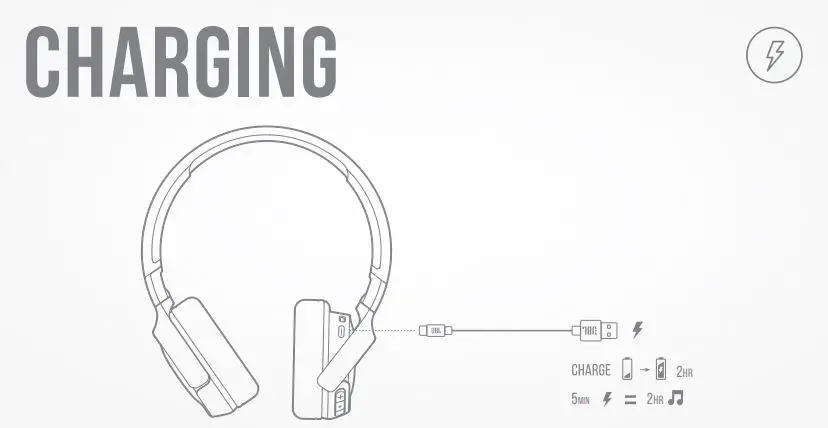 LED BEHAVIORS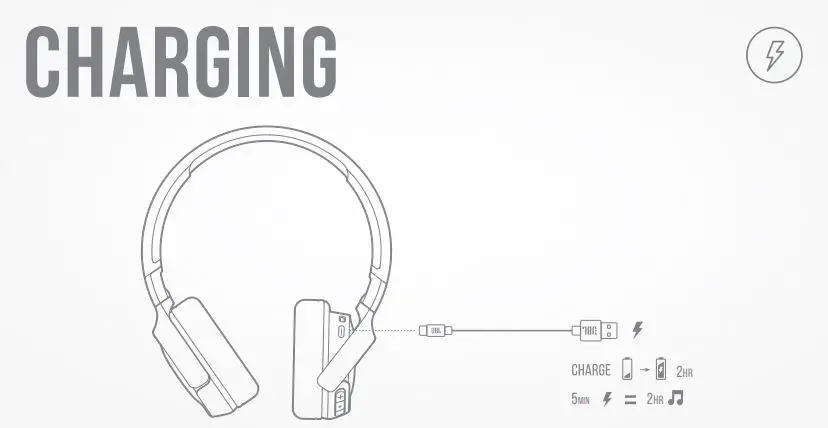 TECH SPEC
Model: TUNE 510BT
Driver Size: 32 mm / 1.26 " Dynamic driver
Power supply: 5 V 1 A
Weight: 160 g / 0.35 lbs
Headset battery type: Lithium-ion battery (3.7V / 450 mAh)
Charging time: 2 hrs
Music playtime with BT on: up to 40 hrs

Frequency response:20 Hz – 20 kHz
Impedance:32 ohm
Sensitivity:03.5 dB SPL@ 1kHz 1mW
Maximum SPL: 95 dB
Microphone sensitivity: -29 dBV@1kHz/Pa
Bluetooth version: 5.0
Bluetooth profile version: A2DP v1.3, AVRCP v1.6, HFP v1.7
Bluetooth transmitter frequency range: 2.4 GHz – 2.4835 GHz
Bluetooth transmitted power: <8 dBm
Bluetooth transmitted modulation: GFSK, π/4DQPSK,8DPSK
Maximum operation temperature: 45 °C
TO PROLONG BATTERY LIFESPAN, FULLY CHARGE AT LEAST ONCE EVERY 3 MONTHS. BATTERY LIFE VARIES BY USE AND SETTINGS.
The Bluetooth® word mark and logos are registered trademarks owned by Bluetooth SIG, Inc. and any use of such marks by HARMAN International Industries, Incorporated is under license. Other trademarks and trade names are those of their respective owners.
FAQS
What is the difference between JBL TUNE 510BT and JBL TUNE 600BT?
The JBL TUNE 510BT and JBL TUNE 600BT are the same except for the color of the ear cups. The 510BT comes in black and the 600BT comes in blue.
How do I reset my JBL TUNE 510BT?
To reset your JBL TUNE 510BT, press and hold the power button for 10 seconds to turn it off. Then press and hold the power button again for 10 seconds to turn it back on.

How do I pair my JBL TUNE 510BT with another Bluetooth device?
Press the power button for 5 seconds until you see a blinking red light. Then follow your other Bluetooth device's instructions to pair with your JBL TUNE 510BT.
How do I update my JBL TUNE 510BT's firmware?
Visit http://jbl.com/update-jbl-tune-510bt-wireless-on-ear-headphones/ to download the firmware update file (.zip). Unzip it and follow the instructions in that document to update your JBL TUNE 510BT's firmware.
What is in the box?
1 x Tune 510BT headphones, 1 x USB-C Charging Cable, 1 x Warranty/Warning 1 x QSG
Does it have a mice
It has a buitin mic. Phone calls can be taken. I have not faced any problem so far. Battery back up is also good.
Is it support for gaming
yes it support gaming
Does it have a mute button on the headphones?
No, this model does not have a mute button.
can we connect this with my smart TV ?
Yes, you can connect with your smart TV as JBL Tune 510BT comes with Bluetooth version of 5.0
Can we use this for Microsoft Teams or Laptop?
Yes, JBL Tune 510 BT is compatible with Microsoft Teams.
Does JBL tune 510BT have microphone?
They have up to 40 hours of battery life with a 2 hour charge time, and can also gain 2 hours of listening time with a 5 minute quick charge. These contain a built-in microphone along with controls on the ear-cups to control sound, calls, and voice assistant.
Are JBL tune 510BT headphones waterproof?
No, the JBL Tune 510BT doesn't have an IP rating, and therefore isn't considered water-resistant.
What is JBL pure bass?
True wireless earbuds give you 40 hours of exceptional JBL Pure Bass Sound, while the ergonomic and water- resistant design gives you all-day comfort in any weather. Connect calls simply and seamlessly with 4 mics that cancel out ambient noises offering perfect calls anywhere.
Does JBL make good headphones?
Overall, JBL makes feature-packed headphones that usually have a well-balanced sound as they tend to closely follow the Harman curve. However, their design and fit may not always be the most comfortable, and despite their price, they have a plasticky build that can feel a bit cheap.
How long do JBL headphones need to charge for?
1-2 of 2 Answers. The JBL Free can play for up to 4 hours on full charge and takes about 2 hours for it to fully charge from empty. The charging case offers 20 hours of backup power on full charge so that's a total of 10 charges
Are JBL a good brand?
JBL is arguably best-known for its cheap and cheerful Bluetooth speakers, but the US brand also makes some superb headphones. Not heard of JBL? The firm is part of Harman, whose other audio brands include AKG and Mark Levinson, so you could say it knows a thing or two about sound quality.
How long do JBL headphones last?
JBL headphones are durable and rigid. They need proper maintenance for them to last long and when taken good care of they can last for 5-8 years. It's important to use the protection case and not store them in pockets and bags among other objects.
How do you charge wireless headphones without a charger?
You can use a power bank to charge wireless earbuds or use laptops or computers to charge your earbuds. You can use the USB cable to connect the earbuds and laptop.
How long does JBL battery last?
JBL, one of the most popular manufacturers of Bluetooth speakers, often equip their devices with the capacity to run for 20 hours constantly when fully charged.
Is JBL worth the price?
The JBL Go still ranks among the most affordable Bluetooth speakers with a relatively quality sound and portable ultra-compact size. It is worth it if you're looking for a decent Bluetooth speaker that you can comfortably carry everywhere you go.
VIDEO