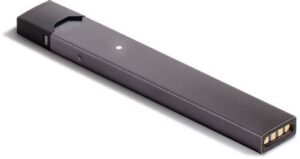 JST001 Device
User Manual
Caution
To reduce the risk of injury, do not use, or stop using, any JUUL products or accessories that:
Have been immersed in or damaged by any liquid.
Have cracks, openings, swelling, discoloration, or other deformation.
Appear damaged, broken, or tampered with.
Are operating in any unexpected manner during use, charge, or storage.
Are unusually hot to the touch.
Are emitting unusual odors.
If the JUUL Device meets any of the above criteria discontinue use immediately, promptly, and properly dispose of the device.
To reduce the risk of injury, never dispose of the device in a fire or incinerator, as the battery may catch fire and explode.
This product contains magnets which could be harmful to pacemaker users and others with medical implants. The JUUL Device should be kept at least 15.3cm/6″ away from pacemakers and other sensitive medical equipment.
Products are not guaranteed against natural wear and deterioration from normal use and aging.
Do not attempt to disassemble the device.
Any attempt to open the device will void the warranty. The battery does not contain any user-serviceable components.
JUUL2 pod warnings
If the JUUL2 pod e-liquid comes in contact with the skin or eyes, wash with large amounts of water and seek medical help.
To reduce the risk of injury, illness, or damage to property:
Only use authentic JUUL2 pods manufactured by Juul Labs.
Do not open or refill JUUL2 pods.
Do not use any JUUL2 products with any other manufacturer's products or accessories.
Do not use JUUL2 pods that are leaking or damaged.
Product information and safety warnings
Read all of this information carefully before using this product & keep this information in a safe place for reference as its contents are important to you.
JUUL products are designed exclusively for adult smokers. JUUL products are not to be used by anyone under the age of 18 years old.
Do not leave JUUL products unattended where children or pets could gain access to them.
No tobacco or nicotine-containing product is safe. The best choice is to quit using any tobacco or nicotine-containing products.
We recommend that you do not start using JUUL products if you do not currently use tobacco or nicotine-containing products.
If you have any health concerns about using JUUL products or any nicotine-containing product, we recommend seeking medical advice.
You should not use this product if you are allergic to nicotine or to any other ingredient that it contains. See JUUL2 pods packaging for additional ingredients and safety information.
The JUUL Device is not to be used by persons with reduced physical, sensory, or mental faculties, those with a lack of experience or knowledge unless given prior supervision, instruction, or approval.
In addition, this product is not recommended for:
Pregnant or breastfeeding women, as nicotine is known to cross the placenta and be excreted in breast milk.
Those experiencing general ill health such as heart disease, stomach, and duodenal ulcers, liver or kidney problems, long-term throat disease, or difficulty breathing due to bronchitis, emphysema, or asthma.
Those who have an overactive thyroid gland or who have a pheochromocytoma (a tumor of the adrenal gland that can affect high blood pressure).
For those with diabetes, nicotine can affect their blood sugar level.
Those taking the following medication:
Theophylline (to treat breathing problems)
Ropinirole (to treat restless legs)
Clozapine (to treat schizophrenia).
Instructions for use and storage
Make sure the device is fully charged before first use. Attach JUUL2 pods to the device as instructed in the insert card included in the box.
The JUUL Device contains a single integrated lithium-ion battery which may present a risk of fire or burn if manipulated. Attempting to remove or replace this battery presents a serious risk of fire or explosion.
Do not attempt to charge the JUUL Device with any power source other than JUUL products as doing so presents a risk of injury.
Only store or use JUUL products in temperatures between 32 – 104°F (0°C – 40°C).
High or low temperatures may cause battery fluid leakage, thermal burns, battery explosion, or fire.
Do not attempt to disassemble, open, service, or repair your JUUL Device. Doing so may cause electrical shock, thermal burns, battery explosion, or fire. JUUL products contain no user-serviceable components or parts.
Any attempt to open the JUUL Device housing will void the warranty.
The JUUL Device should only be charged in dry, indoor conditions.
Keep JUUL products away from any liquids and heat sources such as radiators, stoves, hot appliances, or fires.
Do not crush, throw or drop JUUL Device.
Strong impacts have the potential to damage battery protections which may result in unintended chemical reactions within the device.
For best performance, keep JUUL products clean.
For care instructions, please visit: JUUL.co.uk
Information on addictiveness and toxicity
JUUL products contain nicotine which is a highly addictive substance.
Inhalation of vapor from JUUL products may aggravate pre-existing respiratory or heart conditions.
Avoid contact with skin and eyes. In case of accidental contact, seek medical advice.
Do not drink.
Keep out of reach of children and pets.
For more information, visit JUUL.co.uk
Possible adverse effects:
If you use too much nicotine-containing liquid, you may experience one of the following
symptoms:
| | |
| --- | --- |
| • nausea | • vomiting |
| • coughing | • stomach discomfort |
| • hiccups | • nasal congestion |
| • dizziness | • chest palpitations |
| • irritation in the mouth or throat | • abnormal heart rate |
If you experience any of these symptoms or any others that you believe to be linked to the use of the product, discontinue use. If the effects continue, see your doctor or medical professional and show them this leaflet where possible.
You may also report product issues to the manufacturer/distributor.
Warranty:
The warranty terms are available
at support.JUUL.co.uk
Battery charging information
This device's internal non-replaceable single the lithium-ion battery is intended to be charged only with the following Safety Extra Low Voltage (SELV) type of equipment:
» Listed/certified USB adapter marked "LPS" or "Class 2", with a rated output of 5Vdc, 0.869A min. (1.017A max.)
» Listed/certified host computer with (5Vdc) USB 2.0 or better.
» Battery capacity 330mAh, nominal voltage 3.8Vdc.
The USB Charging Dock is compatible with USB adaptors.
If the battery does not become fully charged after 4 hours, disconnect the JUUL Device from the charger or host computer.
Remove JUUL USB Charging Dock from host computer or USB adapter when not charging the JUUL Device.
RoHS:
This RoHS-compliant product conforms to the European Union Restriction of the Use of Certain Hazardous Substances (RoHS) in Electrical and Electronic Equipment. JUUL ensures RoHS conformance by requiring supplier Declarations of Conformity, monitoring incoming materials, and maintaining manufacturing process controls.
Note:
Juul Labs, Inc declares that the radio equipment model: JST001 is in Compliance with Directive 2014/53/EU. Full text of the EU declaration of conformity is available at the following internet address JUUL.co.uk

Waste Electrical and Electronic Equipment (WEEE) and Waste Batteries:
The crossed-out wheelie bin symbol on the product(s), batteries, packaging, and/or accompanying documents means that used electrical and electronic equipment and any batteries should not be mixed with unsorted household waste, and should be collected or disposed of separately, in accordance with the requirements of Directives 2012/19/EU and 2006/66/EC, and national implementing legislation. WEEE and batteries may contain materials, components, and substances that can be harmful to human health and the environment when not correctly disposed of. Disposing of this product and any batteries correctly will contribute to the reuse, recycling, and recovery of WEEE and batteries, help save valuable resources, and prevent any potential negative effects on human health and the environment, which could otherwise arise from inappropriate waste handling.
Make sure you always recycle all electrical goods.
Please contact your local authority or visit recycle-more.co.uk for further details of your nearest designated collection point.
As a responsible producer, we have met the requirements placed on us by financially supporting the national network of WEEE and battery recycling centers established by local authorities. This is achieved through membership of the national Distributor Takeback Scheme (DTS).
Note: This equipment has been tested and found to comply with the limits for a Class B digital device, pursuant to part 15 of the FCC Rules. These limits are designed to provide reasonable protection against harmful interference in a residential installation. This equipment generates, uses and can radiate radio frequency energy and, if not installed and used in accordance with the instructions, may cause harmful interference to radio communications. However, there is no guarantee that interference will not occur in a particular installation. If this equipment does cause harmful interference to radio or television reception, which can be determined by turning the equipment off and on, the user is encouraged to try to correct the interference by one or more of the following measures:
Reorient or relocate the receiving antenna.
Increase the separation between the equipment and receiver.
Connect the equipment into an outlet on a circuit different from that to which the receiver is connected.
Consult the dealer or an experienced radio/TV technician for help. This device complies with FCC radiation exposure limits set forth for an uncontrolled environment.
Changes or modification not expressly approved by the party responsible for compliance could void the user's authority to operate the equipment. JUUL
This device complies with Part 15 of the FCC Rules.
Operation is subject to the following two conditions (1)This device may not cause harmful interference, and (2) this device must accept any interference received, including interference that may cause undesired operation
Labs UK Ltd.
3 rd Floor, 11-12 St James's Square
London SW1Y 4LB
0800 652 8072
For Northern Ireland
JUUL Labs Netherlands B.V.
Singel 250, 1016AB Amsterdam
0800 652 8072
TM & © 2021 JUUL Labs. All rights reserved. The Bluetooth® word mark and logos are registered trademarks owned by Bluetooth SIG, Inc.
Radio Information:
Operating Frequency Range: 2400 – 2483.5 MHz
Max Output Power: 5.4 dBm
Antenna Gain: 0 dBi
Device Operating Temperature Range is 0ºC – 40ºC


Rev A | 710-xxxxx
Device Name: JUUL2 Device
Device Model: JST001
Charging Dock Model: ADX0A3
FCC ID: 2ASULS1