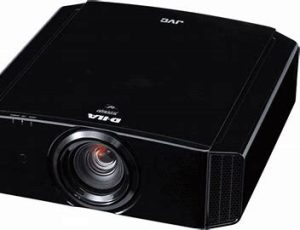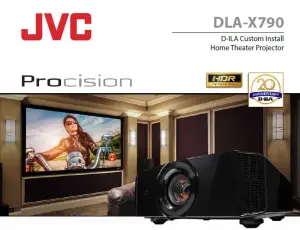 A THX 3D and ISF certified projector, the DLA-X790 is a high performance, fully-customizable home theater projector
that produces exquisite quality images with class leading 130,000:1 native contrast ratio. The projector features
upgraded 4K e-shift5 for a signicant improvement in picture quality vs. our previous models. JVC also upgrades
UHD HDR brightness and dynamic range when using our Intelligent Aperture.
1900 Lumens with High Power Lamp (PK-L2615U)
130,000:1 Native Contrast Ratio
Three 1920 x 1080 0.7-inch D-ILA devices
e-shift5 4K Precision 3840 X 2160 Projected Image
— upgraded for 2018
Two 18Gbps HDMI/HDCP 2.2 Compatible Inputs
Advanced HDR usability w/brighter, more detailed
HDR content — upgraded for 2018
THX® 3D Certified
ISF (Imaging Science Foundation) Licensed
Improved Motion Enhancement (2D, 3D, 4K) w/CMD
Multi Pixel Control (MPC) w/Auto Mode
MPC works with 4K60P (up to 4:4:4) signals
Low Latency Mode improves picture, speeds operation,
and reduces gaming/PC frame delays
Digital Cinema Initiative (DCI) Color Space
1.4:1 to 2.8:1 motorized zoom lens w/Horizontal
and Vertical offset
Lens memory function memorizes 10 positions for
focus, zoom and shift
Control: Control4 SDDP / LAN / RS-232C / IR /
12V Screen Trigger Output / 3D Sync Output

JVC's 6th Generation D-ILA Imaging Device
The exceptional picture quality achieved by JVC projectors
is a result of the precision technology behind the D-ILA device which features
a 0.3μ pixel gap and high light efficiency for bright, high native contrast and
superior detail.

4K Precision JVC e-shift5 Technology
The 5th generation of e-shift analyzes every pixel in a native 4K signal
to provide more optimization and better sharpening. It also vastly improves the
detail in very small text. AUTO mode in Multiple Pixel Control conveniently detects
your current input and adds signal compatibility extending to 4K60P (up to 4:4:4).

HDR10 plus Hybrid Log-Gamma
HDR content such as UHD Blu-ray discs incorporate extended dynamic range,
10bit color and wide BT.2020 color gamut. DLA-X790 supports BT.709 and
Digital Cinema Initiative (DCI) color gamut with BT.2020 color mapping, with
high native contrast and bright vivid images. New HDR color mode improves
brightness 20% and increases dynamic range when using Intelligent Aperture
with HDR content.
Hybrid Log-Gamma is an additional HDR Gamma mode that is used for
live broadcast or streaming events.

External Dimensions (unit: inches | mm)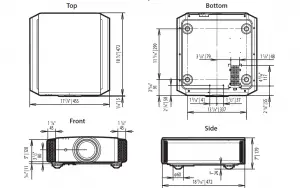 18Gbps Full Speed HDMI Inputs with HDCP2.2
JVC has incorporated the latest HDMI/HDCP2.2 standard on both HDMI inputs
allowing for two HDCP2.2 copy protected devices to be connected at the same
time up to 60 fps.
Superior Color Performance and Contrast
In order to take full advantage of UHD Blu-ray and HDR the optical engine
incorporates advanced color filtering which enables a wider color gamut.
The viewing experience comes alive with the vivid color saturation and
extended contrast range found in these new formats. Extended color gamut
enables a larger color palette to more faithfully reproduce the intent of the
content creator in movies, sporting events or photography. A variety of color
modes are available and can be setup as custom user memories.

Home Automation
Every Reference Series projector is Control4 SDDP (Simple Device Discovery
Protocol) software certified so it can easily be integrated into a Control4 home
automation system.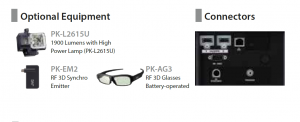 Specifications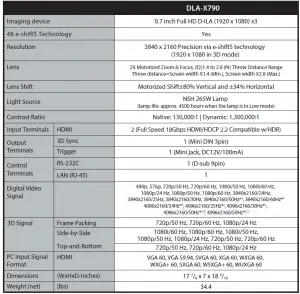 Notes about viewing 3D video content
The optional 3D Synchro Emitter and 3D glasses are required to view 3D images from the D-ILA projectors. 3D video
software (3D media or output of 3D broadcasts) and a 3D-compatible video player are also required.
Perception of 3D
images will vary with individual viewers.
Stop viewing 3D images immediately if any discomfort such as headaches,
dizziness, eye fatigue, etc. occurs.
Viewing of 3D images by children under the age of five is not recommended.
Read
the Safety Precautions in the User Manual carefully before viewing any 3D source.
The projector is equipped with a new super-high pressure mercury lamp, which may break, emitting a loud noise, when it is subjected to shock or after it has been used for some length of time.
Please note that, depending on how the projector is used, there can be
considerable difference between individual lamps regarding how many hours they will operate before requiring replacement.
An additional payment is required for installation of a new lamp, if necessary.
The projector lamp requires periodic replacement and is not
covered by the projector's warranty.
The lamp warranty is one year or 1000 hours, whichever comes first.
Please be aware that, because the D-ILA device is manufactured using highly advanced technologies, 0.01% or fewer of the pixels may be non-performing
(always on or off).
Design and specifications are subject to change without notice.
All pictures on this brochure are simulated.
Adobe is a trademark or registered trademark of Adobe Systems Incorporated in the U.S. and/or other countries.
HDMI, the HDMI logo
and High-Definition Multimedia Interface are registered trademarks of HDMI Licensing LLC.
All other brand or product names may be trademarks and/or registered trademarks of their respective owners.
Any rights not expressly granted herein are reserved.