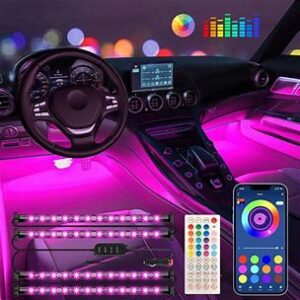 KS-1213 RGB Car LED Strip Light

RGB Car LED Strip Light
User Manual
Specifications
| | |
| --- | --- |
| Voltage | 12V |
| LED Chipset | 5050 SMD |
| Light Color | RGB |
| Length | 4 X 23cm (4 X 0.75ft) |
| Power Supply | Car Cigarette Lighter |
| Control Method | App&Remote Control Box |
| Working Temperature | -10°C -45°C (14°F- 113°F) |
Installation Introduction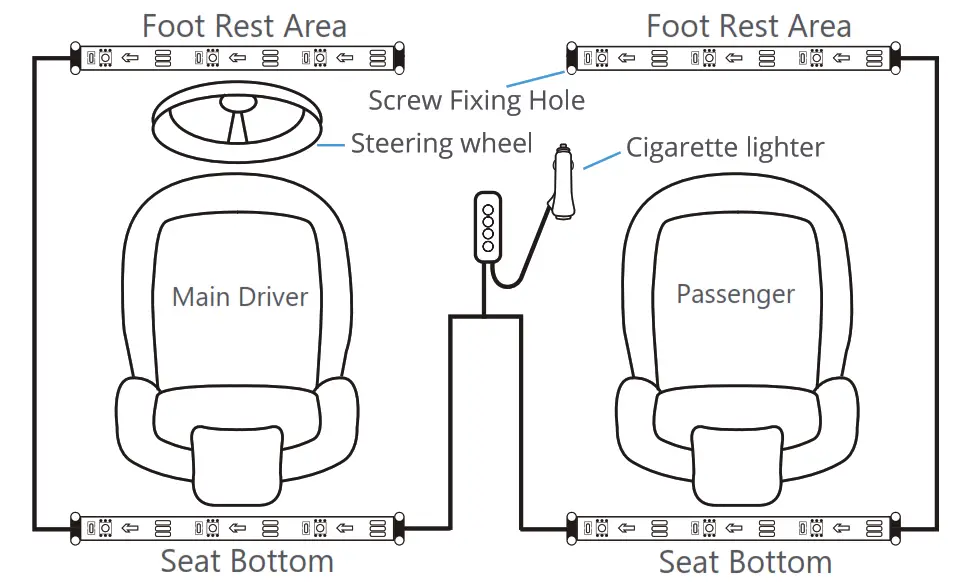 Preparation Before Installing
a. Unpack the box and check all items listed in the packing list.
b.Power on the strip lights and check whether they light up.
Installing Steps
1) Wipe the installing surface to make sure it's clean and smooth.
2) Install the cigarette lighter and control box in the central console.
3) Peel off the protective film and stick the strip lights as indicated in the picture.
4) Firmly press the strip from end to end and reinforce the ends of the strip with zip ties and screws.
5) Insert the cigarette lighter into the socket and press the button on it. The button will light on, indicating the strip light is powered on.
Installation Tips
Please clean the installation surface before installation.
If the installation method of installation steps from 2 to 3 cannot be installed firmly well, it is recommended to take the following method for reinforcement installation.
The mounting surfaces of hard plastic can be fixed with accessory screws.

We can use velcro to stick to the surface of the wool material to make it stronger.(Glue the adhesive surface of the Velcro and the adhesive surface of the light strip together, and then glue the hook surface of the Velcro to the surface of the wool)

Controller Box
Remote Control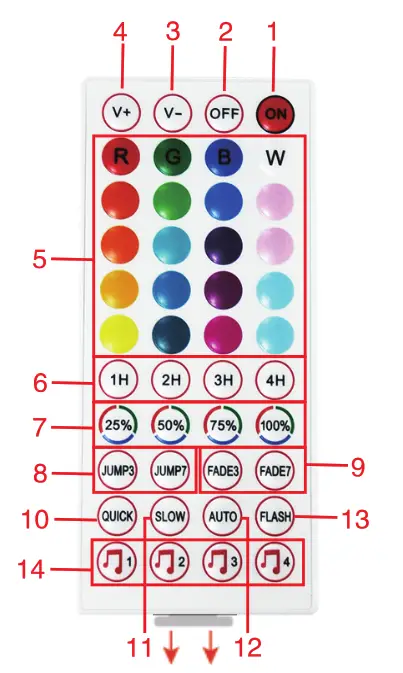 1. Turn on
2. Turn off
3. Enhance
4. Decreased mic sensitivity
5.20 static colors
6. Timingbutton
7. Adjust the brightness button
8. JUMP 3/ 7:3/ 7 Colors Jump Change
9. FADE3/ 7:3/ 7Colors Gradient
10. Under These Modes: JUMP3, JUMP7,
FADE3, FADES7, FLASH, and AUTO. Can Speed Up The Change (8 levels)
11. Under The ModesJUMP3,JUMP7,
FADE3, FADES7, FLASH, and AUTO.
Can Slow Down The Change(8 levels)
12. JUMP3, JUMP7, FADE3, FADES7,
Smart APP
http://app.ks-keepsmile.com/scanApp
Scan the QR code or search "Keepsmile" to download the smart app.
Open your phone Bluetooth to search for led lights devices, device name format: KSxx-xxxxxx
Forbid to click the led lights device name directly, they will be connected automatically when you enter the APP.
Enter the smart APP, and click the car lightly to start your technology journey.
Customer Service


Warranty: 12-Month Limited Warranty


Support: Lifetime Technical Support


Email: [email protected]


Official Website: https://www.amazon.com/keepsmile