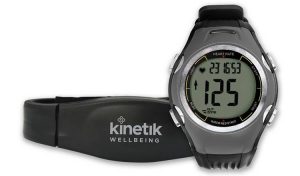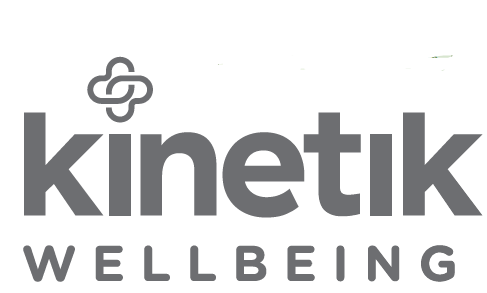 kinetik Heart Rate Monitor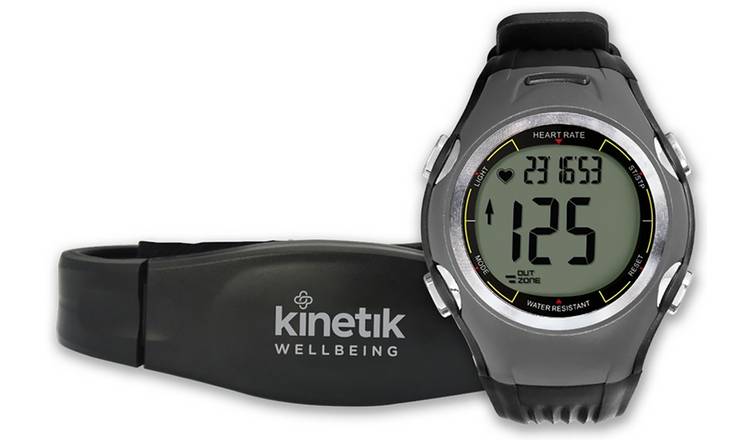 Support
Our manual should provide you with all the information you need to set up and use this product.
If you have a question, have a look at our Troubleshooting page!
For further assistance, why not contact our Customer Care team directly? We're here to help!
Our Customer Care team are available from 9am-5pm, Monday to Friday (excluding bank holidays). We promise to respond to all queries and will ensure to resolve any issue you may be having.
You can reach us by…
Phone: +44 1483 937969
Live Chat:
Simply visit www.kinetikwellbeing.com and send us a message.
Email: [email protected]
Post: Kinetik Medical Devices Limited
Unit 3, Perrywood Business Park, Honeycrock Lane,
Salfords, Redhill. RH1 5DZ
Introduction
Thank you for buying the Kinetik Wellbeing Heart Rate Monitor.
At Kinetik Wellbeing our mission is for every home to own affordable healthcare products that help people to manage their wellbeing. Taking regular exercise and increasing your heart rate above its resting level can help to lower blood pressure, improve your circulation and strengthen your heart and lower your risk of heart disease.
The Kinetik Wellbeing Heart Rate Monitor is designed to keep a check on your heart rate during physical activities.
If you are concerned or in any doubt about your fitness levels or heart rate, always consult your doctor. If you are embarking on a change of lifestyle, diet or exercise regime you should always consult with a healthcare professional before doing so.
Before using the Kinetik Watch and Heart Rate Monitor, please read the instructions included in this user manual.
Features
Large LCD Display
Alarm
Clock (12/24 hour)
Stopwatch
Workout Memory
Exercise Timer
In-Zone Timer
% of Max. Heart Rate
Maximum Heart Rate
3 Selectable Heart Rate Zones
Average Heart Rate
Audio and Visual Alarm in Target Zone
Upper & Lower Heart Rate Zone Alarm
Calories Burnt Counter
EL Backlight
Parts
Keys and Functions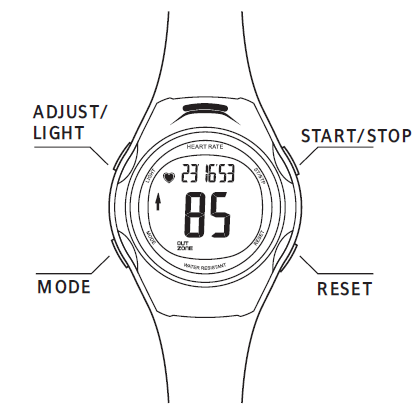 MODE
Scrolls through various modes of the watch
Advances to next variable in setting sequence
ADJUST/LIGHT
Activates Light
Enters the setting sequence for each setting mode
Clears session data
START/STOP
Increases variable in setting sequence
Pauses time in HRM mode
RESET
Decreases variable in setting sequence
Toggles through sub modes
Toggles between pounds/kilograms
Ends session
Wearing the Chest Belt
Follow steps 1. through 4. to wear the chest belt and go for a run.

Open the chest belt.
Insert the tab into the hole, make sure tab and hole are on the same level.
Position on rib cage under the chest. Make sure the chest belt is positioned in the right direction and worn directly against the skin.
Lift the belt slightly from the skin and wet both grooved areas on the back to ensure strong connection between your pulse and the chest belt.
Zone Selection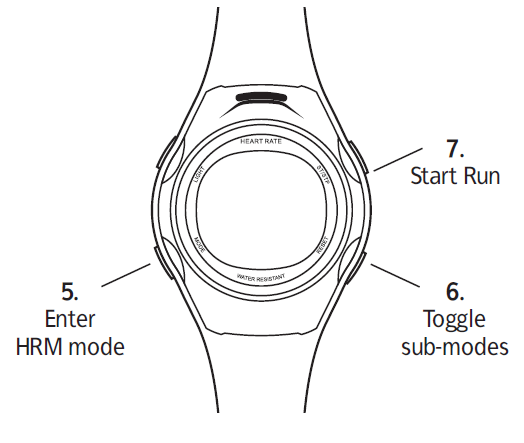 LEVEL 1
55 – 70%
Sustain a healthy heart and lose weight.
LEVEL 2
70 – 80%
Develop endurance and increase stamina.
LEVEL 3
80 – 100%
Sustain excellent fitness condition and increase muscle strength.
Set Time
In TIME mode you can set the Time, Date, and Hour Format.
Follow steps 1. through 5. to set the time and date.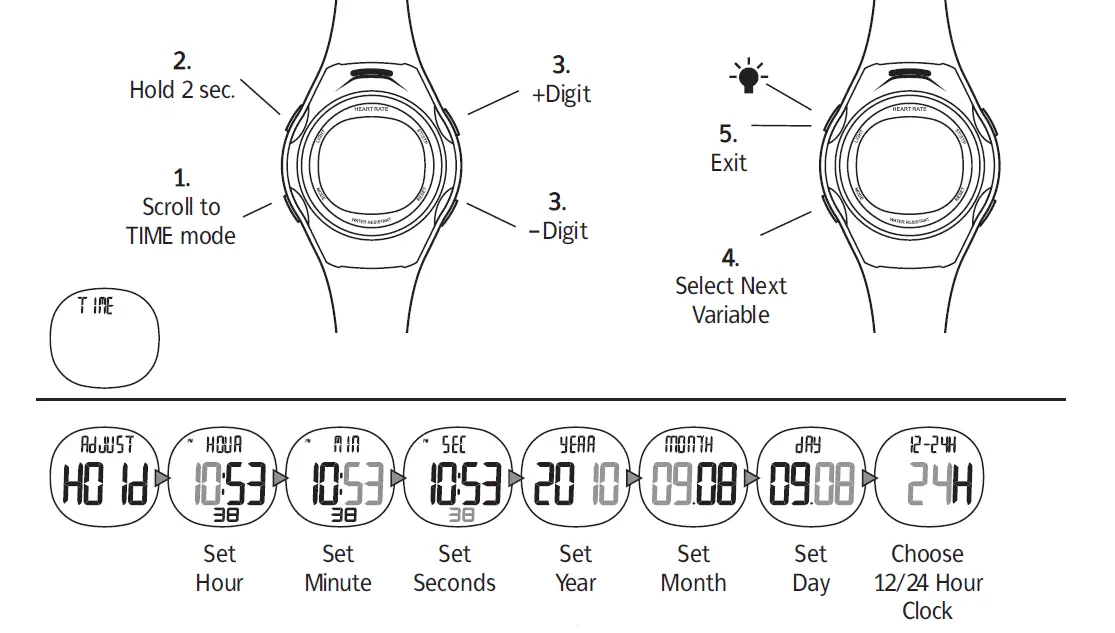 Heart Rate Monitor
PRINCIPLE OF THE HEART RATE ZONE
It is important that you know your maximum heart rate, training zone, upper heart rate limit and lower heart rate limit before you begin. They help you achieve the maximum health benefits out of your workout. We recommend consulting a medical practitioner or registered physician before setting your personal training-schedule and target. Or you can set your own upper and lower limit
using the following as a reference guide: Calculation of Maximum Heart Rate: Male = 220 – Age, Female = 226 – Age
Getting Started
Follow steps 1. through 3. to get ready and start your run.

Data Display/Zone Range
The exercise time is displayed under the heart rate by default. Press the START/STOP key to view other information.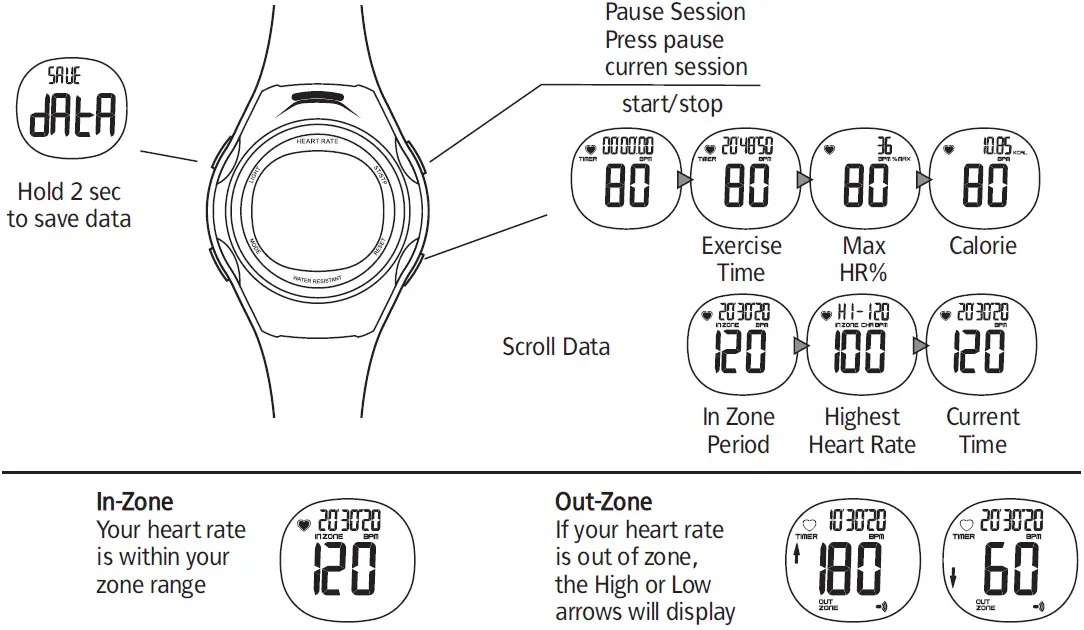 User Settings
Your heart rate is measured in beats per minute (bpm) and setting a heart rate zone allows you to work with an upper and lower heart rate limit. Follow steps 1. through 6. to adjust the User Settings.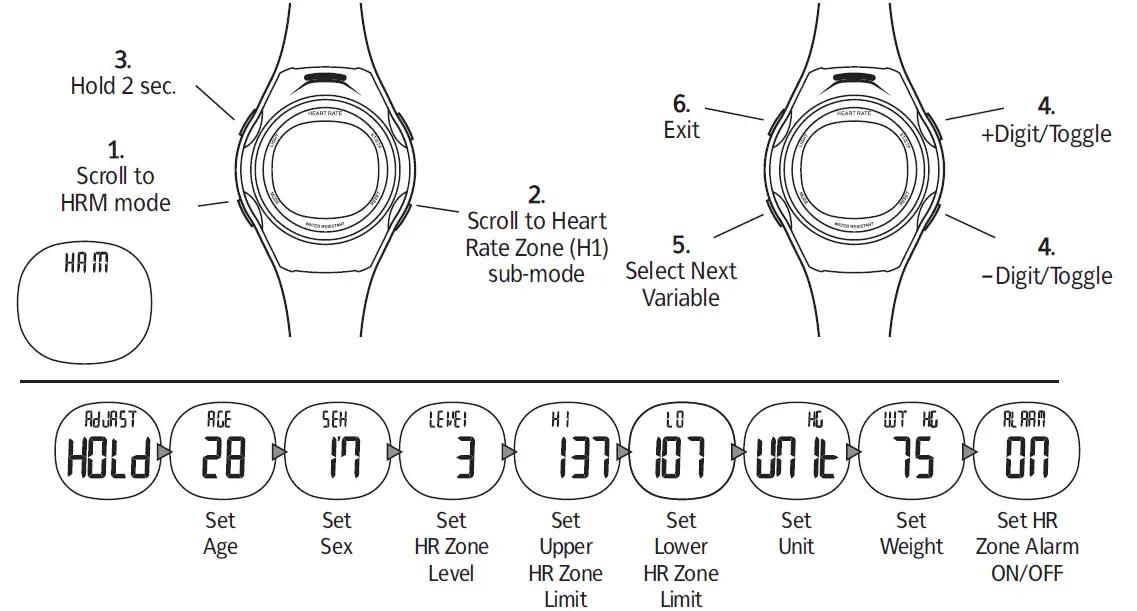 Heart Rate Intensity Chart
This is an alternative to check your heart rate zones based on gender, age and weight. Starting with your Max Heart Rate (MHR), use the chart to calculate your zones depending on the intensity of your workout. Please note that this chart may not be suitable for everyone.
Max Heart Rate
Male=220-Age
Female=226-Age
Level 1(55-70%)
Sustain a healthy heart and lose weight
Level 2(70-80%)
Develop endurance and increase stamina
Level 3(80-100%)
Sustain excellent fitness condition and increase muscle strength
Age
Male
Female
Male
Female
Male
Female
Male
Female
20
200
206
110
140
113
144
140
160
144
164
160
200
164
206
25
195
201
107
136
110
140
136
156
140
160
156
195
160
201
30
190
196
104
133
107
137
133
152
137
156
152
190
156
196
35
185
191
101
129
105
133
139
148
133
152
148
185
152
191
40
180
186
99
126
102
130
126
144
130
148
144
180
148
186
45
175
181
96
122
99
126
122
140
126
144
140
175
144
181
50
170
176
93
119
96
123
119
136
123
140
136
170
140
176
55
165
171
90
115
94
119
115
132
119
136
132
165
136
171
60
160
166
88
112
91
116
112
128
116
132
128
160
132
166
65
155
161
85
108
88
112
108
124
112
128
124
155
128
161
70
150
156
82
105
85
109
105
120
109
124
120
150
124
156
75
145
151
79
101
83
105
101
116
105
120
116
145
120
151
Data Overall Information of Performance
In DATA mode you can view your stored data from the last session.
Follow steps 1. through 2. to manage your data. *Please note only one session worth of data can be stored.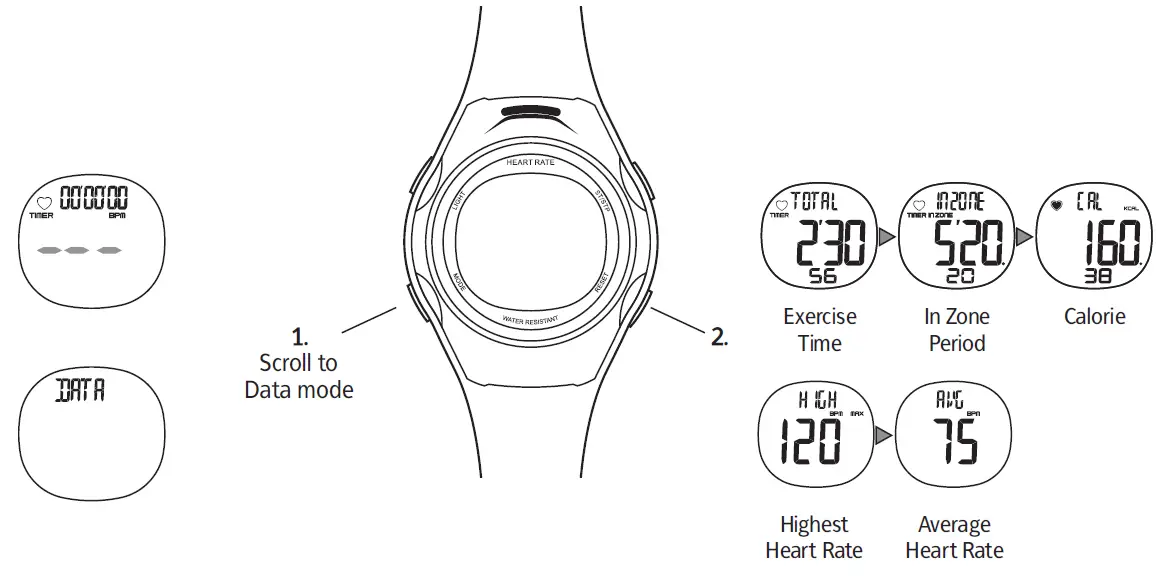 Alarm
In ALARM mode you can toggle ON/OFF for the alarm and adjust the time.
Follow steps 1. through 5. to adjust alarm settings.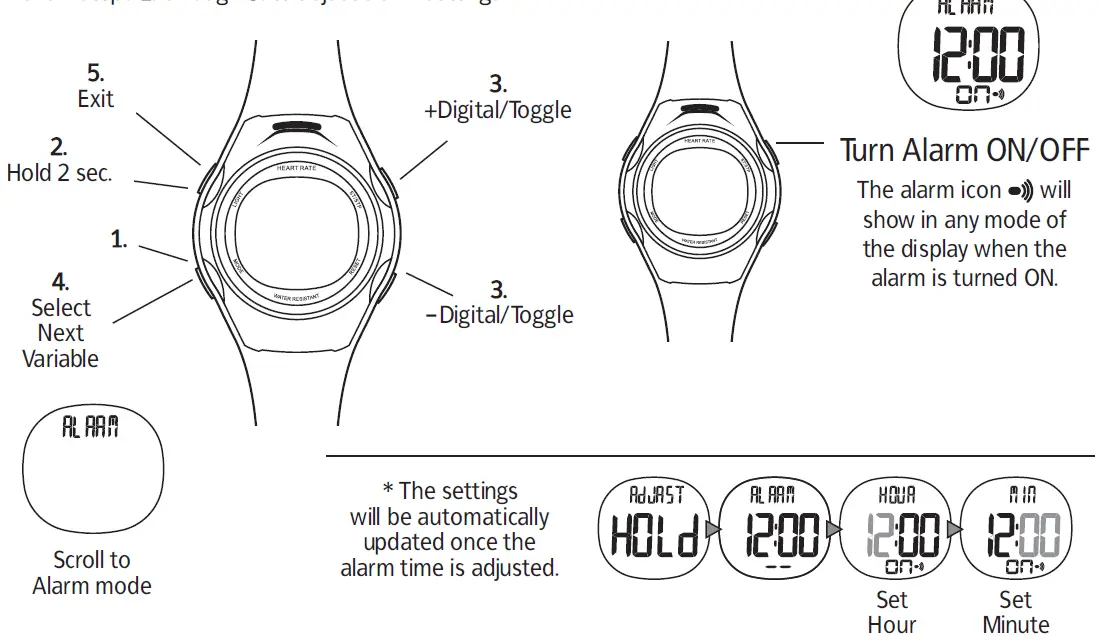 Stopwatch
In stopwatch mode, you can measure the amount of time elapsed from a particular time that the watch is activated to the time that the watch is deactivated. Follow steps 1. through 3. to use the stopwatch.

If you want a split time, start the timer and then press the reset button. The watch will continue to measure the amount of time that has passed. To see the time elapsed, press the start button until the timer is live again.
Troubleshooting
Heart rate doesn't display on watch
The chest belt may not be positioned correctly.
The grooved sensors may not be wet enough, wet and try again.
It is recommended that the grooved sensors are directly on your skin.
Heart rate reading on watch is inconsistent or stops
The battery may need to be replaced in the chest belt.
Sources of electromagnetic fields can cause interference. (Appliances, computers, and power lines)
Watch beeps continuously
If the zone alarm is on and your heart rate is not in any of the zone ranges, the watch will beep to indicate you are out of the zones.
Watch display may be frozen due to static electricity
The display may be frozen due to static electricity or recent battery replacements, If this occurs, press on all 4 side buttons at the same time to reset to factory settings.
Return Policy
Product may be returned if faulty, please contact the Retailer or Kinetik directly if you're experiencing issues with your product. This does not affect your statutory rights. Please note the retailer's own return policy may still be valid, contact the retailer for more information.
Care and Maintenance
Avoid extreme force, shock, dust temperature, or humidity. Such conditions may cause malfunctioning, a shorter electronic lift span, damaged batteries, or distorted parts.
Rinse the watch with fresh water to avoid materials building up that can interfere with the reception of the pulse.
Do not use abrasive or corrosive materials to clean the watch or chest belt. Abrasive cleaning agents may scratch the plastic parts and corrode the electronic circuit.
Avoid tampering the internal components of the watch. Doing so will terminate the sensors warranty and may cause damage.
Audible Alert How to turn on/off
When will the Heart Rate Monitor make an audible alert?
As a button sound
Alarm
HR mode – It will beep when your max and minimum heart rate is over the target set.
How to turn off the beep.
To turn off the beep on the Heart Rate Monitor follow steps 1. through 3.
Watch Reset
To reset the watch, press all 4 buttons at the same time. The watch will show the below screen.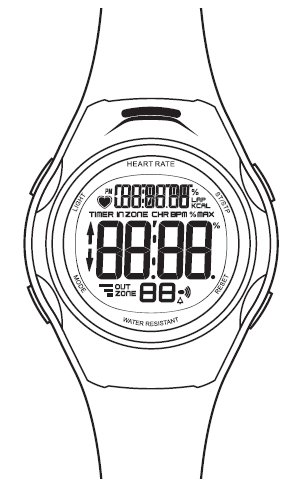 Note: When resetting the watch, you will lose all data and personal settings (time, date, heart rate modes, alarm) will revert to factory mode
Battery Requirement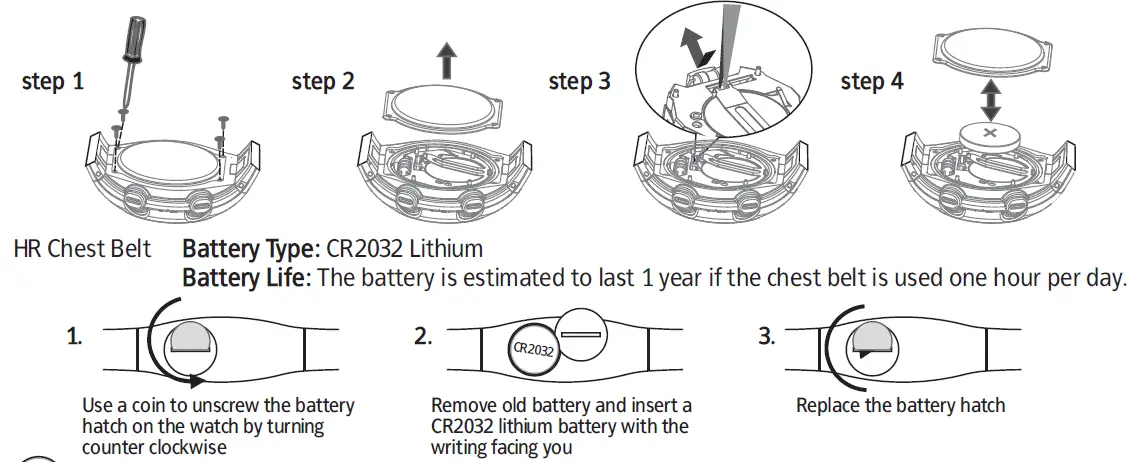 WE STRONGLY RECOMMEND TAKING YOUR WATCH TO A LOCAL RETAILER OR JEWELLER TO HAVE THE BATTERY REPLACED TO AVOID THE POSSIBILITY OF PERMANENTLY DAMAGING THE WATCH.
Specifications
WATCH
Water Resistance: 1 ATM Suitable for everyday use.
Splash/rain resistant. NOT suitable for showering, bathing, swimming, snorkelling, water related work and fishing. Water damage will occur if watch buttons are pressed under water. Please dry after use.
Operating Temperatures: -5 to 50 degree Celsius.
Material Specifications:
Crystal: Acrylic Case: Acrylonitrile butadiene styrene (ABS)
Keys: Acrylonitrile butadiene styrene (ABS) Polyurethane
Buckle: Stainless Steel Bezel: Stainless Steel
Caseback: Stainless Steel Strap: Polyurethane
Mode Limits: Heart Rate 30-240bpm
Explanation of Symbols on Unit
Read the instructions (actual symbol colours are white on a blue background).
Symbol for "Manufacture Date".
Symbol for "Environment Protection" – Waste electrical products should not be disposed of with household waste. Please recycle where facilities exist. Check with your local Authority or retailer for recycling advice.
Symbol for "Manufacturer".
Symbol for "European Representative".
Symbol for "Complies with EU requirements
Model Reference.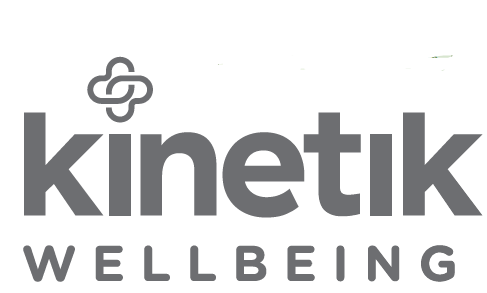 Harvard Medical Devices Ltd.
Unit 1002, 10th Floor, Railway Plaza,
39 Chatham Road South, Tsimshatsui,
Kowloon, Hong Kong.