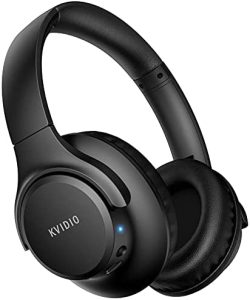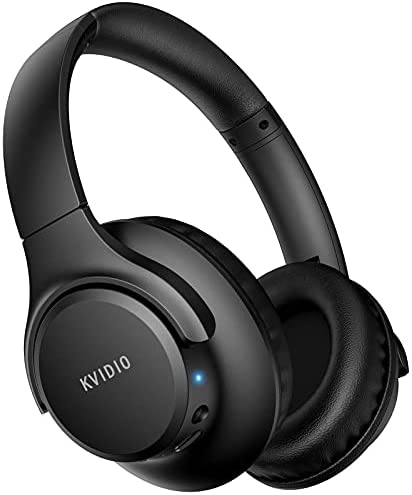 KVIDIO Bluetooth Headphones Over Ear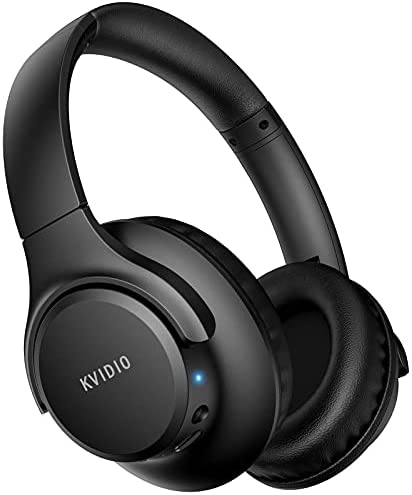 Specifications
DIMENSIONS: 5.3 x 6 x 3.3 inches,
WEIGHT: 0.44 lbs.,
BLUETOOTH VERSION: Bluetooth 5.0,
PLAYTIME: 55 Hours,
OPERATION RANGE: 33ft,
BATTERY CAPACITY: 3.7V/500mAh,
CHARGING TIME: 2.5 hrs.,
BRAND: Kvidio
Video offers headphones with superior audio quality and over 55 hours of playtime with high quality and deep bass sound and a stereo microphone. The headphones are specifically designed with high-quality material for your ears. The support connection with 2 devices simultaneously with a wireless connection and also come with a voice – assistance feature and a built-in-Mic for calls.
Features Of Kvidio Bluetooth Headphones
Design
They are built for unmatched comfort with their earmuff. This earmuff is made by the softest memory-protein form. Its headband is adjustable and lightweight allowing it to wear without any pressure on your head
Compatibility
The Kvidio can pair with devices that support Bluetooth 5.0+ and can be connected to devices using 3,5 mm plug cable.
Stereo Headphones
Kvidio Headphones come with a noise isolation feature with high-quality production of sound providing an unmatchable experience at this price range.These headphones have high-quality stereo sound quality with twin 40mm drivers and deep bass expertise.
What's in the box?
Wireless Headphones x 1
Charging Cable x 1
5 mm Audio Cable x 1
User Manual x 1
Kvidio Bluetooth Headphones Controls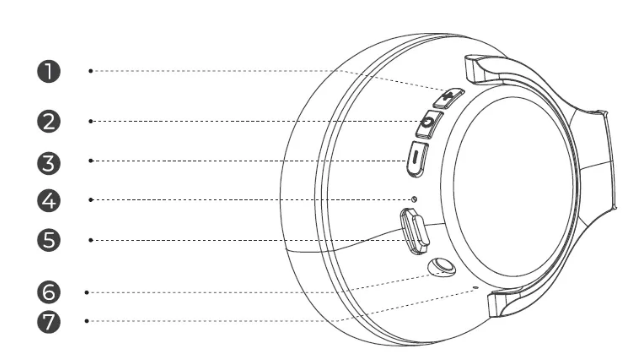 Volume Up/Next Track
Multi-Function Button
Volume Down/ Previous Track
LED Indicator
USB Charging Port
5mm Audio Port
Microphone
Kvidio Bluetooth Headphones Control Functions
How to use Call Control Functions of
To Answer/Hang up call: Press the Multi-function button once.
To end a call: Press the Multi-function button once
To decline an incoming call: Press and hold Multi-Function Button for 2 sec.
To switch the call to mobile phone: During the call, press and hold Multi-Function button for 2 sec.
To activate Siri/Google Voice: Double-click the Multi-Function Button
How to Turn ON/OFF Kvidio Bluetooth Headphones
In order to turn On, press and hold for 4 seconds the Multi-Function Button.
In order to turn off the Kvidio Bluetooth headphones, press and hold for 5 seconds the Multi-Function Button.
How to Pair Kvidio Bluetooth Headphones
Turn off the headset.
Press the Multi-Function Button and hold until the indicator starts flashing blue and red light. This means the headphones entered pairing mode.
Turn the Bluetooth of your device ON.
Connect to the headphones by clicking on "11WH201A" in the Bluetooth list in your device.
How to Clear the Paired Devices Kvidio Bluetooth Headphones
Press and hold the Multifunction and the Volume button simultaneously.
A red and blue with flash 3 times at the same time indicating that the paired devices have been cleared.
How to Charge Kvidio Bluetooth Headphones
The headphones can be charged using the charging cable that comes along with the headphones.
Indications:
Red Light means Charging
Blue Light means full charge.
PROS
High Stereo Sound Quality
Comfortable and foldable
Adjustable Headbands
Easy to use
Long Battery Life
Light Weight
CONS
Sound Quality isn't better than other brands of the same price range
Bulky
VERDICT
Kvidio are wireless headphones with a built microphone and some noise cancellation features. If you are looking for basic headphones with some extra features at a budget, these are a good option for you.
FREQUENTLY ASKED QUESTIONS
Is it charging cable micro-USB -B or is it micro-USB-C?
The charging port on the Kvidio Wireless Headphones is micro-USB-C. any TYPE C cable can be used for charging the headphones.
Is it the wireless headphones for the iPad?
The Kvidio Wireless Headphones can be connected to your iPad. These headphones can be connected to smartphones, PCs, laptops and tablets.
Does it have a mute button?
Yes, the Kvidio Wireless Headphones have a mute button.
The microphone function doesn't work in wired mode?
No, the built-in microphone works only in Bluetooth mode and won't work in wired mode.
Does this work with PS4?
Yes, the Kvidio headphones can be connected to PS4 using Bluetooth. However, these headphones come in wired as well as wireless mode so if there is any interruption in the connection you can switch to the wired mode by using the cable provided and a dongle.
Do these headphones feature active noise cancellation or do they just block out sounds by being over the ears?
No, they don't feature ANC. They come with earmuff and noise isolation which just blocks out the sound when the headphones are over the ears.
Can I use this with any brand of phone?
Yes, the Kvidio Bluetooth Headphones are compatible with any types of smartphone having Bluetooth such as iPhones and Android phones.
What is the standby time?
The standby time of the Kvidio Bluetooth Headphones is about 500 hours and a continuous playtime of 35 to 55 hours.