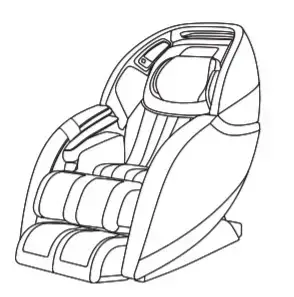 KYOTA Kansha M878 4D Massage Chair User Guide
Intelligent Voice Control
To turn on the voice control feature on your remote: Menu > Setting > Voice > On.
Touch the button on the left speaker, or say "Switch to voice mode" to activate voice control commands.
Use the voice control commands below:
(Once you've activated voice control, give a command within 5 seconds, or you will have to re-activate the voice function.)
– Power On – Lower Body
– Switch Off – Yoga
– Activate Massage – Deep Kneading
– Recover – Stress Relief
– Stretch – Massage Extend
– Back Relief – Zero Gravity
– Night – Start Heat
– Upper Body – Heat Off
In-Use Screen
After a Massage program is selected, In-use screen displays all settings to that program.
4D intensity level
Active airbags
Active rollers
Time left
Indicators
Back-roller position & direction
Bluetooth connected
Air Ionizer
Press the MENU button on your remote control to bring up the home display. Select AIR IONIZER from Home display, press right button, then press up or down button to select
your desired air ionizer setting: On, or Off. Press OK button to select the setting.