RS Platinum Collection
STORM DOOR INSTALLATION
202221026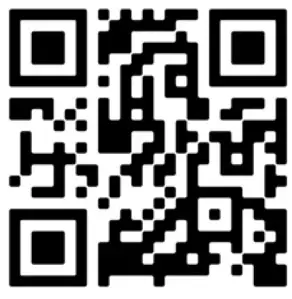 Completely read the instructions before proceeding with the installation.
Installation requires two people when lifting and installing the door
Use appropriate protective equipment
Children should not be allowed to play with the door
Failure to install the door properly could result in an injury
Do not open or operate door until instructed
NOTE: Larson Manufacturing Company is not responsible for accidents or injuries resulting from the use or installation of this product.
INSTALLATION TOOLS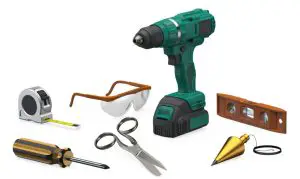 choose your
Quick-Fit™
HANDLE SET


SOLD SEPARATELY
Installation Questions?
Replacement Parts?
WE CAN ASSIST YOU.
Contact us at LARSONdoors.com or 888-483-3768
BEFORE YOU BEGIN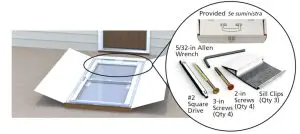 Verify Opening Width Verify Opening Height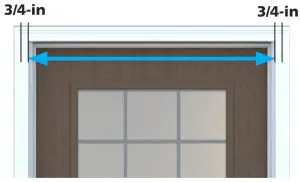 Verify 3/4-in mounting surface on each side.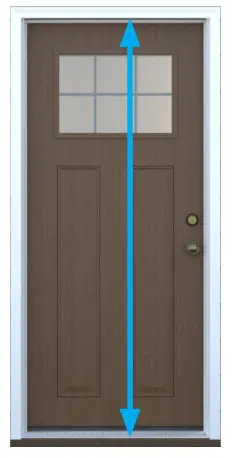 | | | |
| --- | --- | --- |
| Door Sizes | Opening Width | Opening Height |
| 32-in x 81-in | 31 7/8-in – 32 3/8-in | 80-in – 81-in |
| 36-in x 81-in | 35 7/8-in – 36 3/8-in | 80-in – 81-in |
Verify doorway is plumb with a level or plumb bob, ensuring the vertical mounting surfaces are plumb with the top mounting surface. Openings with sidelights may require humming to achieve plumb mounting surfaces. Verify doorway threshold is clean and free of debris.
Required: For ONLY wood or PVC type molding, you MUST secure both side moldings using 3-in screws.
INSERT SILL CLIPS
Evenly space sill clips (Qty 3) along the bottom of the door as shown.
INSTALL YOUR QUICK FIT ™ HANDLE SET
Caution: Do not overtighten screws. DO NOT OPERATE.
POSITION DOOR IN OPENING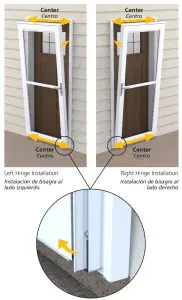 Push door tight to molding and open side screw covers.
SECURE DOOR ASEGURE LA PUERTA

Left Hinge Installation Shown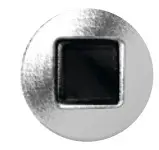 While holding the door in place, secure preloaded screws A-F (Qty 12) from the bottom up.
Required: For ONLY wood or PVC type molding, you MUST attach 2-in screws in predrilled holes between screws A&B and E&F.
2-in screw (Qty 4)
CLOSE SCREW COVERS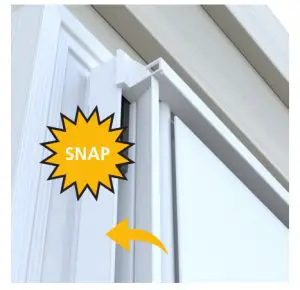 OPEN DOOR, REMOVING RED SPACERS AND CLIPS


Both Sides
TRIM TRANSITION EXTENDERS (OPTIONAL)
REMOVE TAPE BACKING AND POSITION TRANSITION PLATE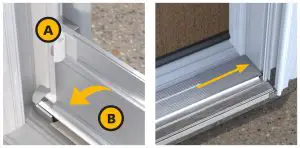 Left Hinge Installation Shown
HOW-TO GUIDE
Lock and unlock the door?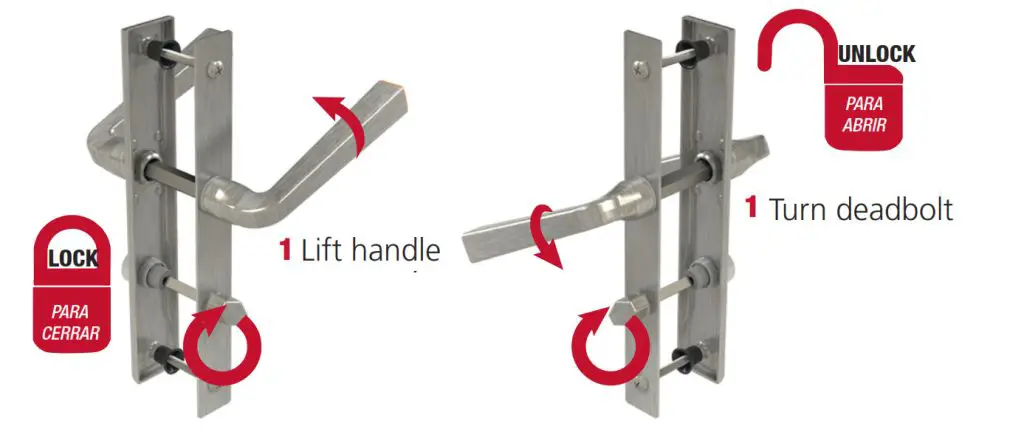 Adjust the closing speed?
Turn the screw on top of the closer to increase (counterclockwise) or decrease (clockwise) the speed of the door using a flathead screwdriver. Do not turn more than three turns.
Reduce how far the door opens?
Use the provided 5/32-in Allen wrench to loosen the set screw in the pad closest to the hinges in the drip cap. Move the pad toward the handle side to the desired hold-open position and tighten the set screw. DO NOT MOVE THE PAD TOWARD THE HINGES.

HOW-TO GUIDE
Access my screen?
The screen is hidden within your door. To ventilate, unlock the sash lock and pull the top insert down (FIG 1). To close, push the top insert up until the sash lock engages, securing it into place (FIG 2).

Fix doorway if it's not plumb?
Attach shims along the top or bottom of the mounting surfaces until surfaces are plumb. If shimming exceeds ¼" in height, longer mounting screws may be needed to replace the pre-loaded mounting screws near the shims. Replacement Mounting Screw Recommendations:
Wood and PVC Openings – #6 x 2" Wood Screws
Cladded Openings – #6 x 2" Self-Drilling Screws Trim shims to hide behind the storm door, then continue with door installation. If gaps are present along the mounting surface after installation, apply the caulk.
Ensure the top of the door is sealed?
If there is a gap located above the drip cap, caulk along the top of the black seal.
LIMITED LIFETIME WARRANTY
PLATINUM DOOR WARRANTY DETAIL
This warranty applies to the original homeowners of owner-occupied residential properties and covers manufacturing defects only. During the life of the door, Larson Manufacturing Company will warrant manufacturer's defects as listed below. A shipping and processing fee may apply.
DOOR FRAME AND HINGES: LARSON ®
warrants the door frame and mounting rails to be free from defects in manufacturing, materials, paint adhesion, or workmanship, under normal use, for the life of the door.
COMPONENTS: LARSON warrants the components of the door, including hardware, retainer strips, screw covers, closers, locksets (mechanical operation and finish), to be free from defects in manufacturing, materials, tarnishing, and workmanship for a period of one year from the date of original retail purchase. Notwithstanding the foregoing, nothing contained herein shall cover damage to the glass or screen, such as cracks, scratching, or other items of normal wear and tear.
In the event of a defect in manufacturing, materials or workmanship within the limited warranty period specified above, and upon written proof of purchase, LARSON, at its option, will provide a replacement component or provide a credit toward a replacement product, as long as the original consumer purchaser owns the home in which the door was initially installed. Installation is not included.
PLATINUM DOOR WARRANTY LIMITATIONS:
Notwithstanding the foregoing, this warranty shall not apply to, and Larson shall not be liable for any losses, resulting from the following:
Alterations or modifications of door frame and hinges or any components will void any warranty provided herein.
Damage or breakage to the screen/glass insert is not covered under warranty.
Acts of God.
Damages resulting from improper installation or misuse.
Glass breakage due to settling of the foundation of the home.
Losses resulting from water and flooding damage.
Damage caused by chemicals or other airborne pollutants, including but not limited to salt or acid rain.
Labor costs and other indirect costs of replacing components or door frames and hinges.
Your exclusive remedy is limited to the repair and replacement of the defective component, door frame, or hinge.
Any implied warranty, including the implied warranty or fitness of particular use or purpose and the implied warranty of merchantability, is limited in duration to the express warranty provided herein unless a shorter period is permitted by law. LARSON shall not be liable for incidental, indirect or consequential damages to the building, its contents, or its occupants, however arising. This Limited Warranty contains all the provisions of your remedies. LARSON's liability is limited to the provisions of this Limited Warranty, whether any claim against it is based on strict liability, negligence, breach of warranty if this limited warranty shall fail its essential purpose or any other theory or cause of action.