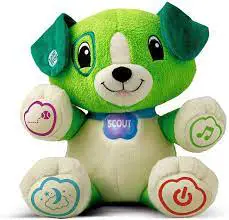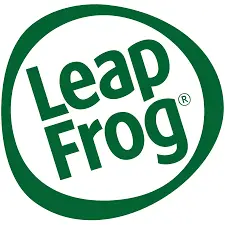 LeapFrog 80-19156E My Pal Scout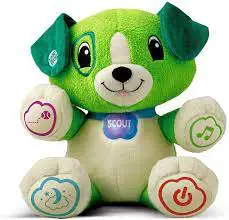 GET STARTED
Step 1
Before you play with or connect your puppy, remove the plastic pull tab from the back and discard.
Go to leapfrog.com/MyPals2 on your device (smartphone, tablet or computer). For a list of supported browsers, see System Requirements on the opposite side of this guide.
Create or sign in to your LeapFrog account. Follow the instructions to set up your child's profile. Then select your child's name and favorites.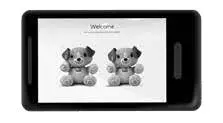 Step 2
Open the hook-and-loop fastener on the back of your puppy to access the Battery Box, slide open the Battery Box door to reveal the Cable. (Note: Your puppy's Power/Volume Switch must be in the On position to successfully connect to your device.)
Connect the puppy's Cable from the Battery Box to your device's 3.5mm headphone jack (or adapter) on your smartphone, tablet or computer. (Do not plug the Cable into peripheral or external accessories, such as speakers, docks, etc.)
Follow the webpage instructions to turn your device's audio volume all the way up and to begin the download.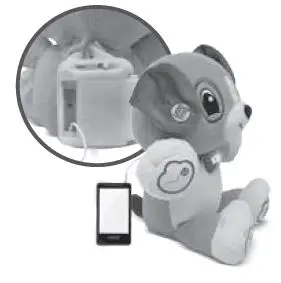 Step 3
Once you see the Collar light up and hear your puppy say, "I'm ready to play now," please disconnect the cable from your device and tuck it back into the Battery Box. Close the Battery Box door and make sure that it is securely closed. Close the hook-and-loop fastener over the Battery Box.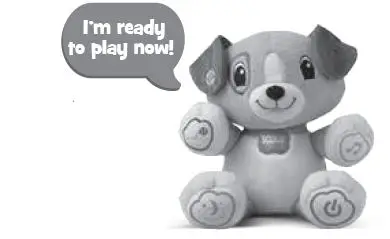 INTRODUCTION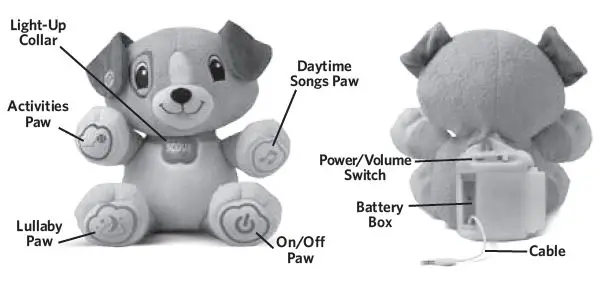 HOW TO PLAY
Press the Daytime Songs Paw to play an assortment of learning songs, personalized songs and melodies just for your baby.
Press the Activities Paw to hear your puppy talk about your child's favorite things, count hiccups, pretend to be other animals and talk about feelings.
The Lullaby Paw plays soothing lullaby music. Squeeze once to hear five minutes of music. Squeeze twice to hear 10 minutes of music. Squeeze a third time to hear 15 minutes of music.
To turn off your puppy, press the On/Off Paw. When your child is ready to play again, press any paw to resume play mode.
To turn off your puppy completely, use the Power/Volume Switch located on the Battery Box.
INSTRUCTIONS FOR CARE AND USE
Caring for Your Puppy
For indoor, dry-location use only. Keep food and beverages away from the product. Do not spill liquid of any kind on this product as it may render it inoperative. Avoid prolonged exposure to extreme temperatures and direct sunlight. Avoid dropping the product. Never try to dismantle it.
Cleaning Your Puppy
Disconnect cable from your device before cleaning. Clean with a slightly damp cloth (cold water). Do not use soap, detergent or other chemicals. Never submerge the product in water. Allow to dry before reuse.
Battery Information
Batteries included are for in-store demonstration and should be replaced for home use. Requires 3 AA (called LR6 in some countries) alkaline batteries.
Battery Removal and Installation Instructions
Open the battery door with a Phillips screwdriver.
If used batteries are present, remove these batteries from the unit by pulling up on one end of each battery.
Install new batteries as shown in the polarity (+/-) diagram inside the battery compartment.
Replace battery door securely.
IMPORTANT INFORMATION
SAFETY INSTRUCTIONS
Battery Safety
Batteries are small objects. Batteries must be replaced by an adult. Follow the polarity (+/-) diagram in the battery compartment. Promptly remove used batteries from the product. Dispose of used batteries properly. Remove batteries for prolonged storage. Only batteries of the same or equivalent type (as recommended) are to be used.
DO NOT incinerate used batteries.
DO NOT dispose of batteries in fire, as batteries may explode or leak.
DO NOT mix old and new batteries or types of batteries (i.e., alkaline/standard).
DO NOT recharge non-rechargeable batteries.
DO NOT short-circuit the supply terminals.
Rechargeable batteries are to be removed from the toy before being charged. Rechargeable batteries are only to be charged under adult supervision.
CAUTION: As packaged, a cable for adult's use in transferring data is accessible via an opened battery door. After data transfer and battery installation has been completed by an adult, the battery door is to be secured by the adult using a Phillips screwdriver. To prevent access to the cable, DO NOT allow child to play with the toy if the battery door is not secured.
CAUTION: Plug the puppy's cord directly into the 3.5mm headphone jack (or adapter) on your smartphone, tablet or computer. Do not plug the cord into peripheral or external accessories, such as speakers, docks, etc.
CAUTION: Routinely check this product for proper and safe condition. If there is any damage or broken parts, remove product from use.
CAUTION: This is not intended as a crib toy. To prevent entanglement injury NEVER add strings, ties or other products to this item.
TROUBLESHOOTING
TROUBLESHOOTING
Symptom
Try This
Your puppy does not turn on or does not respond
Make sure the Power/Volume Switch is in the On position

Make sure batteries are correctly installed Make sure battery cover is securely attached Remove batteries and put them back in

Clean battery contacts by rubbing lightly with a soft eraser and then wiping with a clean and dry cloth Install new batteries

Your puppy operates erratically or makes loud noises
Follow the above instructions to clean battery contacts

Turn your puppy off and install new batteries

Your puppy does not detect your device even though the cable is connected to your device's headphone jack
Check to see if the Cable is pushed all the way into the headphone jack

Disconnect and reconnect the Cable to your device. It might take a moment to recognize the toy.

Increase your device's media volume level to high. (Smartphone users: Be sure to change media volume, not ringer volume.)

Ensure your browser meets the Minimum System Requirements. Try using a different browser
Try connecting the toy to a different device that meets the Minimum System Requirements
Use the included Cable attached to the battery box
CAUTION: To be used under the direct supervision of an adult.
SYSTEM REQUIREMENTS
Minimum System Requirements
Internet connection (high-speed connection recommended) Smartphone, tablet or computer with a 3.5mm headphone jack (or adapter)
Internet browser requirements:
PC:
Microsoft Edge (latest version), Chrome™ browser (latest version), or Mozilla Firefox (latest version)
Mac Computer:
Safari® browser (latest version), Chrome™ browser (latest version), or Mozilla Firefox (latest version)
iOS:
iOS version 10 or higher with Safari® browser (latest version) or Chrome™ browser (latest version)
Android™:
Android version 7.0 or higher with Chrome™ browser (latest version)
Microsoft Edge is a trademark of Microsoft Corporation; Android and Chrome are trademarks of Google LLC; Safari and Mac are trademarks of Apple, Inc.; and Mozilla and Firefox are trademarks of Mozilla Corporation. All trademarks, service marks, and company names are the property of their respective owners.
FCC Notice:
This device complies with Part 15 of the FCC rules. Operation is subject to the following two conditions:
This device may not cause harmful interference, and
This device must accept any interference received, including interference that may cause undesired operation.
NOTE: This equipment has been tested and found to comply with the limits for a Class B digital device, pursuant to Part 15 of the FCC Rules. These limits are designed to provide reasonable protection against harmful interference in a residential installation. This equipment generates, uses and can radiate radio frequency energy and, if not installed and used in accordance with the instructions, may cause harmful interference to radio communications.
However, there is no guarantee that interference will not occur in a particular installation. If this equipment does cause harmful interference to radio or television reception, which can be determined by turning the equipment off and on, the user is encouraged to try to correct the interference by one or more of the following measures:
Reorient or relocate the receiving antenna.
Increase the separation between the equipment and receiver.
Connect the equipment into an outlet on a circuit different from that to which the receiver is connected.
Consult the dealer or an experienced radio/TV technician for help.
Caution: Changes or modifications to this unit not expressly approved by LeapFrog Enterprises, Inc., could void the user's authority to operate the equipment.
Canada:
CAN ICES-3 (B) / NMB-3 (B)
Environmental Phenomena
The unit may malfunction if subjected to radio-frequency interference. It should revert to normal operation when the interference stops. If not, it may become necessary to turn the power off and back on, or remove and reinstall the batteries.
In the unlikely event of an electrostatic discharge, the unit may malfunction and lose memory, requiring the adult to reset the device by removing and reinstalling the batteries.
Supplier's Declaration of Conformity 47 CFR § 2.1077 Compliance Information
Trade Name: LeapFrog®
Model: 19156, 19190/19157, 19191
Product Name: My Pal Scout™/My Pal Violet™
Responsible Party: LeapFrog Enterprises, Inc.
Address: 6401 Hollis Street, Suite 100, Emeryville, CA 94608
Website: www.leapfrog.com
CONSUMER SUPPORT
U.S. Consumer Service Contact: Visit our Consumer Support website at www.leapfrog.com/support 24 hours a day.
Canada Consumer Service Contact: Visit our Consumer Support website at www.leapfrog.ca/support 24 hours a day.
For information on how this product might be recycled, visit www.leapfrog.com/recycle or call (800) 701-5327.
TM & © 2014 LeapFrog Enterprises, Inc. All rights reserved.
leapfrog.com
Model Number 19156 for Scout and Model Number 19157 for Violet. For ages 6+months./ Convient aux enfants de 6+ mois.
LeapFrog Enterprises, Inc.,
a subsidiary of VTech Holdings Limited. TM & © 2014 LeapFrog Enterprises, Inc. All rights reserved. 91-003882-000 US