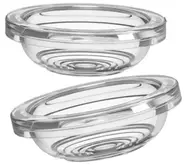 LEGENDAIRY milk 0853792007463 Silicone Collection Cups Instruction Manual
Legendairy Milk Silicone Collection Cups
Offering you a single or double, hands-free, and mobile way to express breastmilk; our Silicone Collection Cups are designed for use anytime you like, wherever you like.
Legendairy Milk® is proud to offer the first and only system with a breast shield made from food-grade frosted silicone, for your comfort and safety. Our high-quality closed-system is free from Bisphenol A (BPA) and Diethylhexyl phthalate (DEHP).
We hope our Silicone Collection Cups support you in your pumping journey!
We'd love to hear from you! If you have feedback or wish to share your breastfeeding-story with us, please send us an email at: [email protected]
IMPORTANT INFORMATION
PLEASE READ THIS USER MANUAL BEFORE USING LEGENDAIRY MILK COLLECTION CUPS FOR THE FIRST TIME.
Wash your hands with soap and water and dry thoroughly before assembling parts.
Ensure all parts are clean and dry before each use.
Avoid harsh detergents as this may damage the product.
Exposure to detergent may make the silicone appear cloudy over time.
Do not use a steam sterilizer or dishwasher for any of the Collection Cup parts at any point.
Do not boil the plastic cups, tubing or adapters at any point.
Silicone parts can be boiled for a total of 3 minutes in a pot of boiling water before first use only. Do not boil again and only hand wash or use UV sterilization/cold water sterilization going forward.
Store in a cool, dry space and avoid direct sunlight.
Replace the parts or the product if it shows signs of wear or damage.
Replace the valves every 1-2 months (2 spare valves are included).
Please do not use a cleaning brush inside the valves as this may damage the valve or shorten its lifespan.
This product is a personal care item, and use should not be shared between mothers.
This device is only intended for use with compatible pumps.
If you experience any pain while using this device, seek professional advice from a Lactation Consultant to ensure you have a correctly-fitted breast shield.
Contains small parts which may be a choking hazard for children.
WHAT'S INCLUDED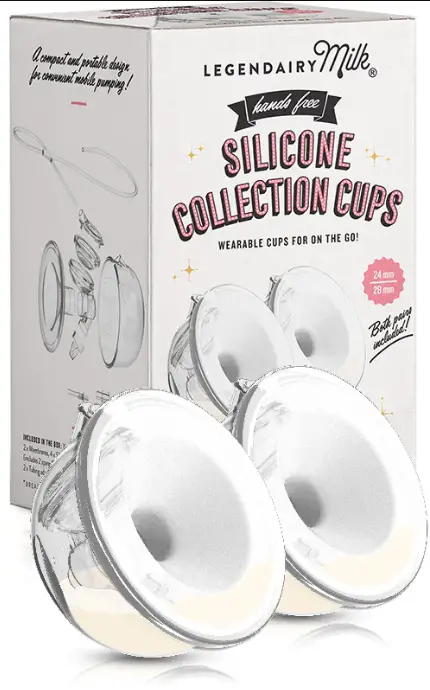 CLEANING
Before first use
Disassemble all parts
Wash in warm soapy water (except for the tubing)
Rinse well with clean water
Submerge parts in pot of water (except for the tubing, adapters, and cups) and boil for no longer than 3 minutes

Use large pot to prevent parts from touching sides or bottom of pot

Shake off excess water and air-dry on a dedicated rack or clean cloth
After each use
Put aside parts that don't come in contact with breast milk

. When used correctly, tubing does not come in contact with breastmilk and does not need to be cleaned

Disassemble all other parts (collection cup, silicone breast shield, valve and valve base)
Rinse with cold water soon after use
Wash in warm soapy water

Valves can be cleaned by gently rubbing between fingers

Rinse well
Shake off excess water and air-dry on a dedicated rack or clean cloth
How to sanitize
Follow cleaning instructions 2.a through 2.e
Submerge parts (except tubing, adapters, and plastic cups) in a pot of water and boil for a maximum of 3 minutes.

Use large pot to prevent parts from touching sides or bottom of pot

Shake off excess water and air-dry on a dedicated rack or clean cloth
*After first sanitizing all parts (except tubing and plastic cups), please do not boil silicone parts again. Do not steam sterilize or dishwash parts at any point. Otherwise, the parts will be damaged and the suction and fit will be affected. Handwash or use UV sterilization or cold water sterilization after first use.
INSTRUCTIONS FOR USE
How to single or double pump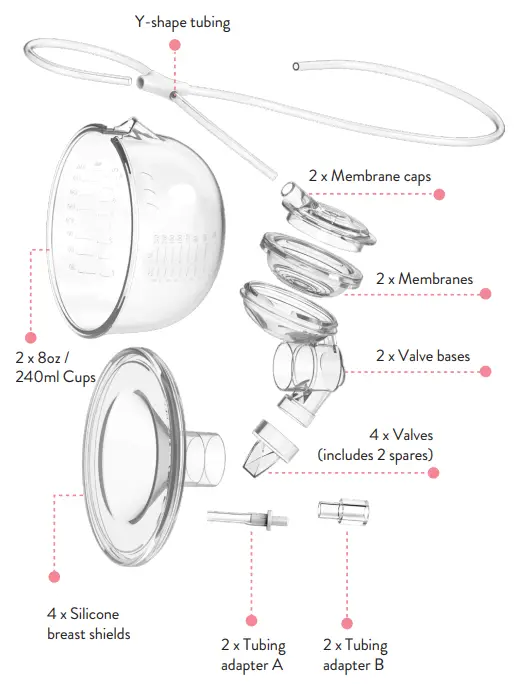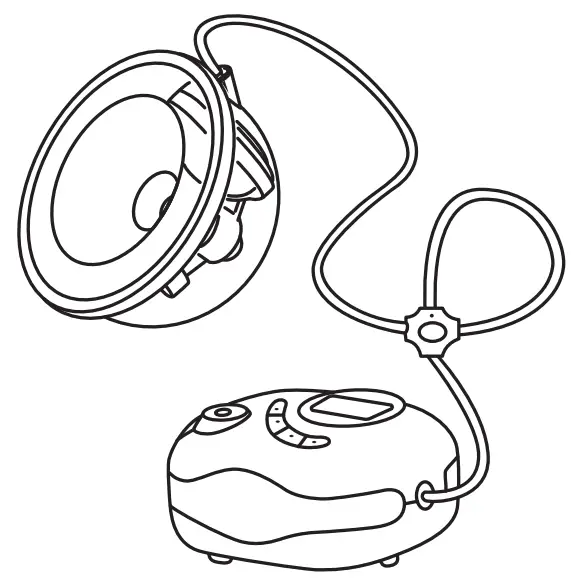 How to assemble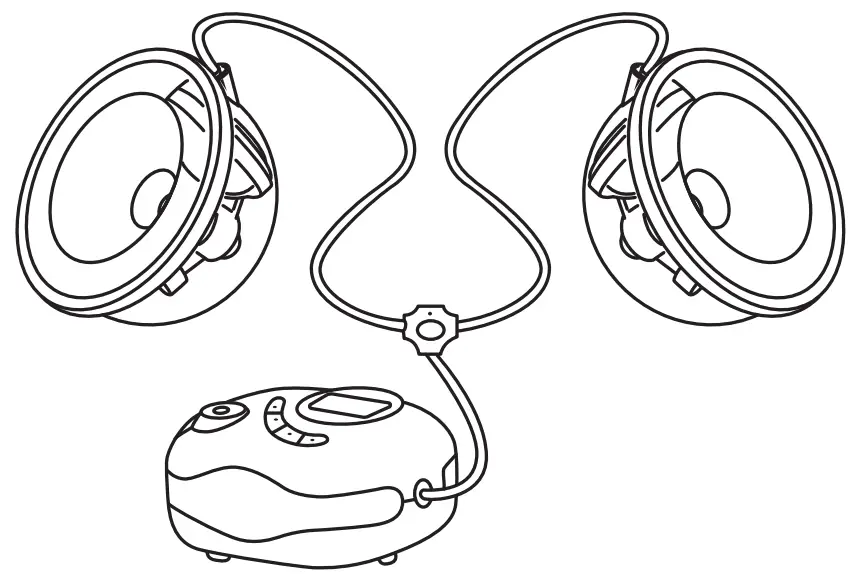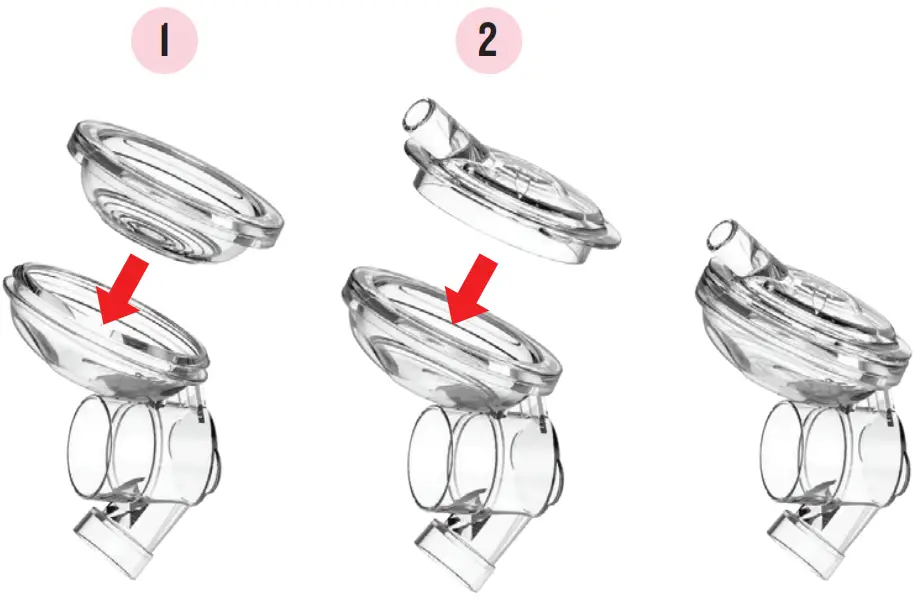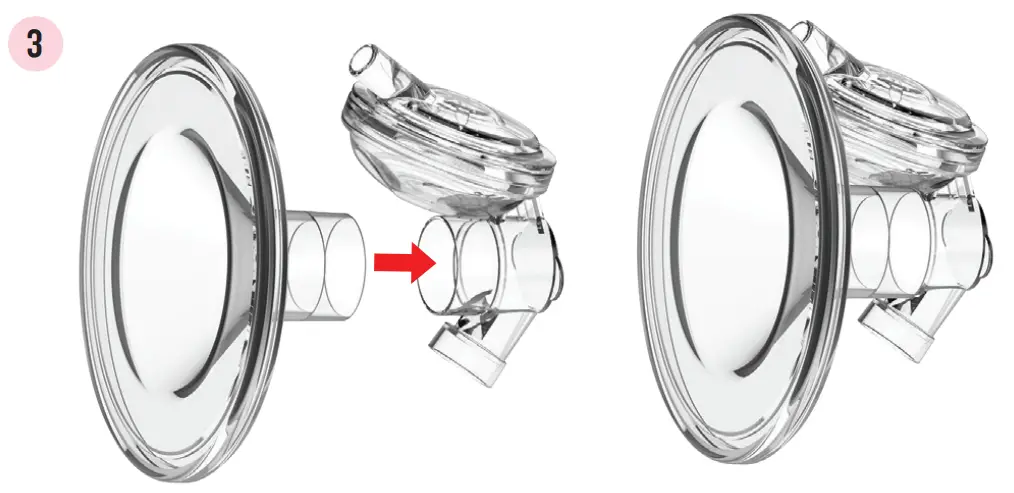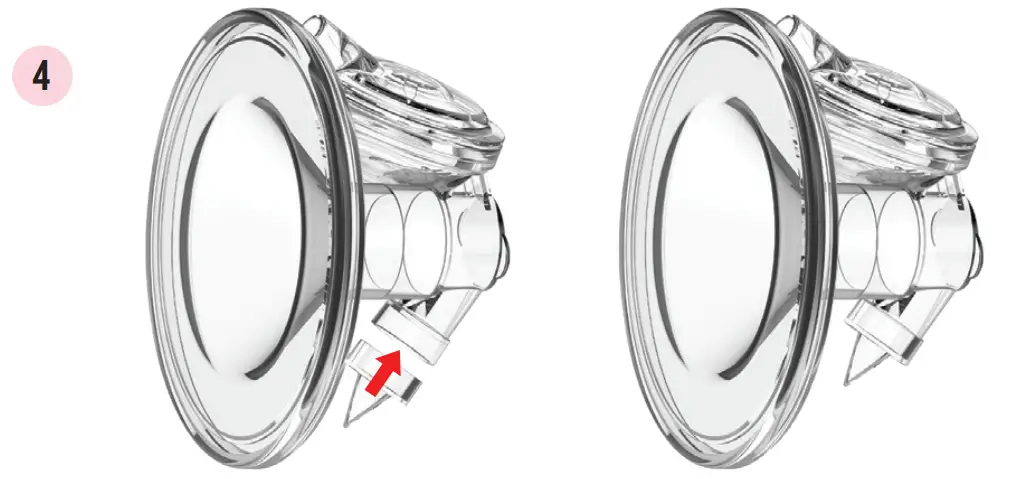 Placement in bra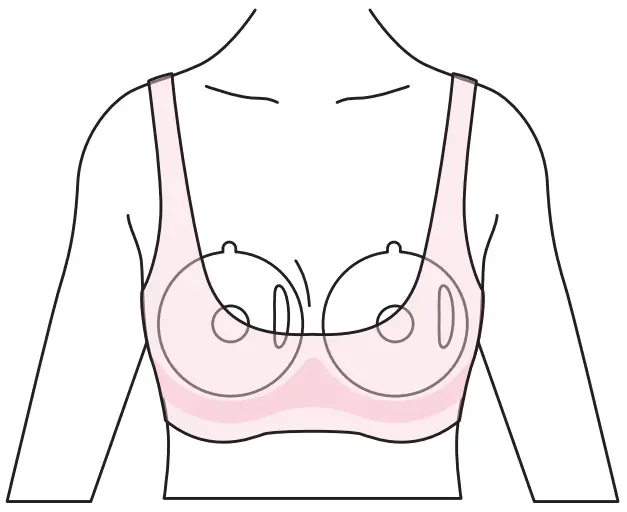 Ideal bra fit

Correct nipple alignment and a supportive bra that keeps the cups securely in place will ensure your pumping sessions are comfortable and effective.
Double check that you have a good seal between the funnel and your skin.
Positions for expressing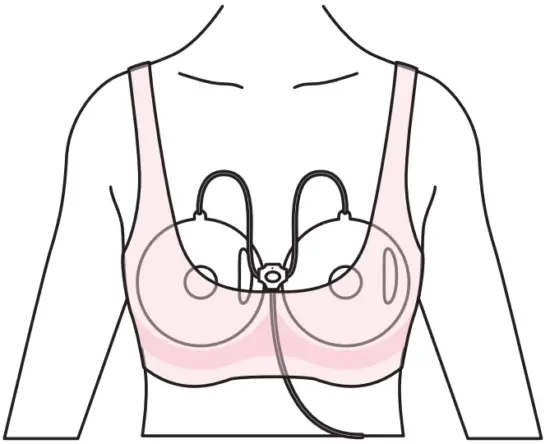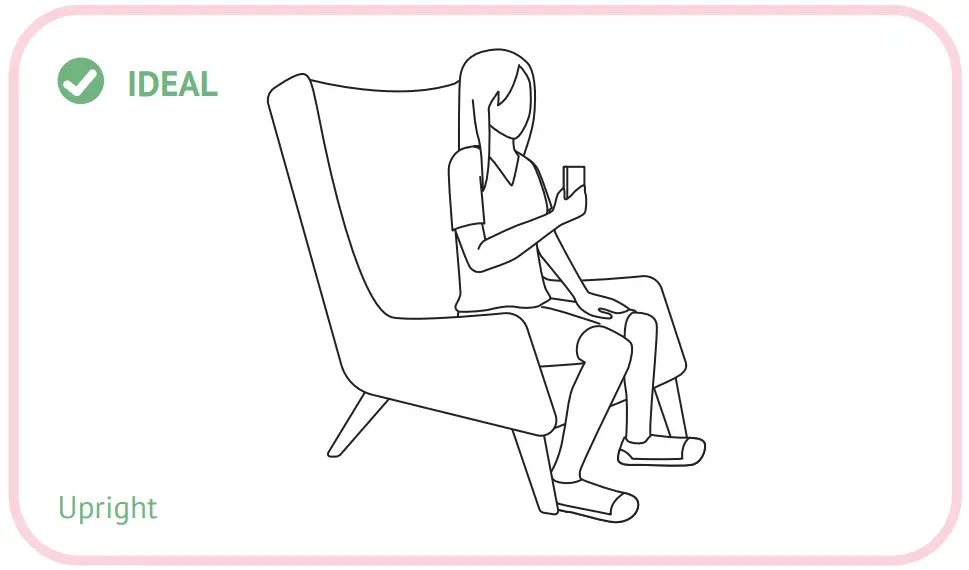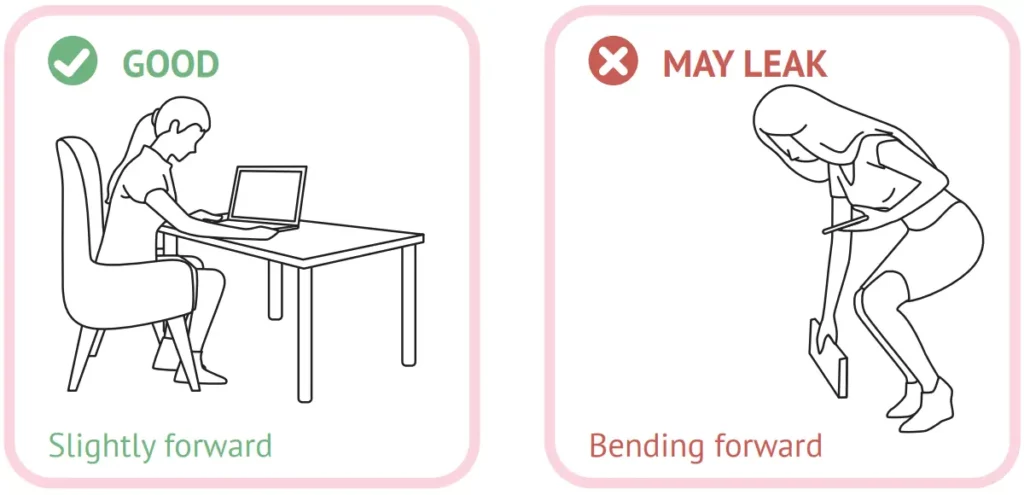 Disconnecting and storing milk
Remove your tubing from the cups.

Carefully remove the cups from your bra and place them on a flat, firm surface until you're ready to transfer your milk.

Tip! When pouring your milk, use your thumb to squeeze the breast shield to control flow.

CONNECTING TO A COMPATIBLE PUMP
AMEDA Mya, Mya Joy, Finesse, Purely Yours, Purely Yours Ultra
FREEMIE Independence, Liberty
SPECTRA S1, S2, M1, 9+, 9S, Synergy Gold
ARDO Calypso
EVENFLO Advanced
MOTIF Luna, Duo
LANSINOH
HYGEIA EnJoye
RUMBLE TUFF Serene Express
PHILIPS AVENT Single Electric
MOMCOZY Double Electric Portable
UNIMOM Minuet
ZOMEE Z1, Z2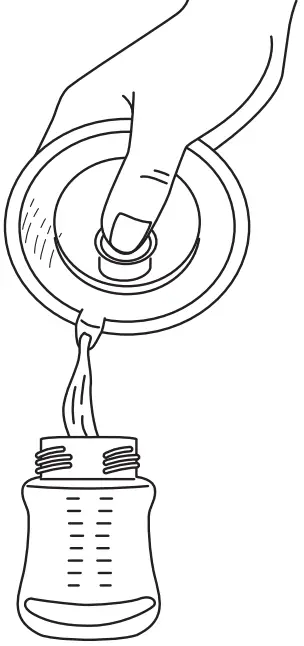 *Please note: For the following breast pumps, you must use the connector to cap closed one of the pump ports:
Ameda Finesse, Purely Yours or Purely Yours Ultra, Ardo Calypso, Evenflo Advanced
In order to maximize suction, using your existing pump's tubing may be preferable to using Legendairy Milk's Y-shape tubing
MEDELA Lactina, Symphony, Pump in Style Advanced, Pump In Style with MaxFlow, Sonata, Freestyle, Freestyle Flex, Swing Maxi, Swing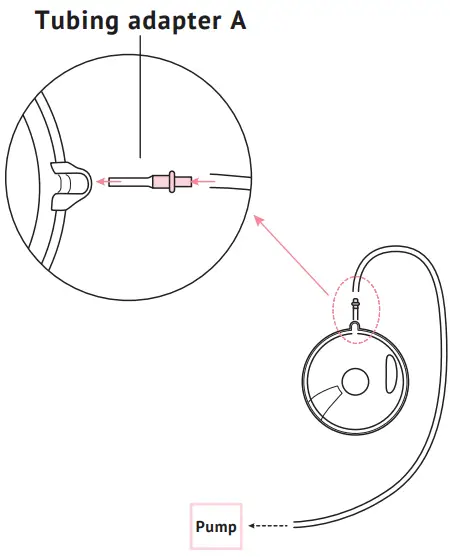 TROUBLESHOOTING
| | |
| --- | --- |
| Issue | Solution |
| Condensation in tubing | Ensure the tubing, the silicone membranes, and membrane caps are dry before use. If condensation occurs, ensure tubing is dry before next use: Disconnect the tubing from cups and turn the pump back on to dry the tubing while you are storing your breastmilk |
| Milk in tubing | Check the membranes for damage. Replace the membranes if needed and clean/replace the tubing. |
| Low or no suction | Make sure your pump is turned on and the suction level is set properly. Check duckbill valves for any damage or wear. Replace valves if needed. Confirm that duckbill valves are oriented in the correct position; see assembly instructions on page 9 for guidance. Check that all parts are dry and securely assembled, especially tubing Adapter A and/or B. Check tubing to ensure it is inserted into the backflow protector ports firmly with appropriate adapter(s). If using as a single pump, check that the disconnected side of the tubing is firmly inserted into the top of the Y-shape connector. Keep collection cups with adapter and tubing perpendicular and upright in bra; see page 10 for placement and bra fit instructions. |
| Air escaping or whistling | Some audible air is normal as air movement is part of suction control. Review "Connecting to a Compatible Pump" on page 13 and 14 to ensure that the appropriate adapters are inserted into the tubing. Wedge Adapter A as far down as possible into the backflow protector port BEFORE you put the pump parts into the cups. |
| Backflow Protector/ Membrane Cap opening/clicking | Separate silicone membrane from membrane cap and backflow protector and ensure that all parts are clean and dry. Examine membrane for damage or warping and replace as needed. Reattach the membrane to the backflow protector and confirm that seal is tight before closing with membrane cap |
| Nipple Pain or Discomfort | Seek advice from a Lactation Consultant as comfort can be key to sustaining a breastfeeding journey. Ensure you are using well-fitted breast shields for both breasts; see page 16 for Troubleshooting Breast Shield Size. Sometimes with wearable cups, we have to size down for added comfort and improved milk output. Lubricate breast shields with a thin layer of coconut oil or Pumping Spray |
TROUBLESHOOTING BREAST SHIELD SIZE
When It comes to choosing an optimal breast shield, always go by what is most comfortable and effective for you – regardless of how it Looks. Properly fitted breast shields will be 3-4 mm wider than nipples BEFORE pumping and 1-2 mm AFTER pumping, generally speaking. Women with very elastic tissue will often find that the tissue stretches and touches the inside of the breast shield funnel no matter what. If this sounds like you, you may find silicone inserts provide the most comfort because they can physically hold back the elastic tissue.
Pro Tip: The two most important factors in breast shield sizing are that they are comfortable and also maximize your milk output — regardless of what they Look Like.
Pro Tip: Apply a light coating of coconut oil to the breast shield funnel to minimize nipple discomfort and friction.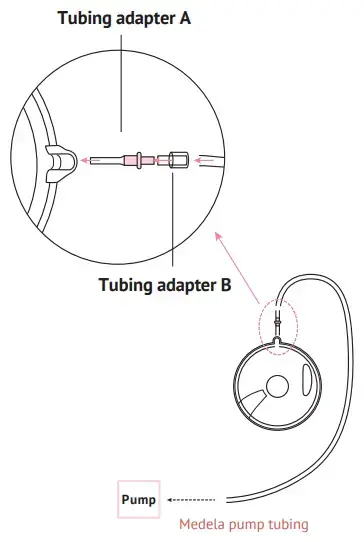 If you're experiencing discomfort or pain while pumping, consider the following:
Are you using a new or gently used breast pump? If used, is the motor worn down?
Are your Silicone Collection Cup parts worn or damaged?
Have you tried lowering the suction pressure on your breast pump?
Is your nipple centered in the funnel?
Is your nipple rubbing against the sides of the funnel?
Have you measured your nipples and found an optimal breast shield size for BOTH breasts?
ARE YOU EXPERIENCING ANY OF THE FOLLOWING?
Difficulty achieving maximum output YES NO
Frequent clogged ducts or mastitis YES NO
Nipple rubbing the sides of the breast shield while pumping YES NO
Excessive areola pulling into the breast shield while pumping YES NO
Redness/irritation during or after pumping YES NO
Nipple noticeably white during or after pumping YES NO
Pain or discomfort at any point during or shortly after pumping YES NO
Sore/cracked nipples YES NO
Excessive pumping time with no or little milk output YES NO
Breasts still feel full after pumping YES NO
If you answered YES to any of the following, please consult with a lactation professional. There is no substitute for properly sized breast shields.
Do not continue to use your Silicone Collection Cups if you experience pain or discomfort while pumping. A different size funnel may be needed to optimize comfort and milk output.
BREAST SHIELD SIZING GUIDE
Use the coin method for an approximate measurement of your pre-pump nipple size.
Measure your nipple pre-pump, hand stimulated at the base where nipple meets areola. Place the nipple into the smallest hole you can comfortably fit into without forcing, this is your nipple size. Measure each side as they can differ. Properly fitted flanges will be 1-3 mm larger than nipple diameter. Please consult with a lactation professional if you're experiencing nipple pain or damage.
NO.2 ERASER 7mm
AAA BATTERY 10mm
AA BATTERY 15mm
DIME 18mm
PENNY 19mm
NICKEL 21mm
QUARTER 24mm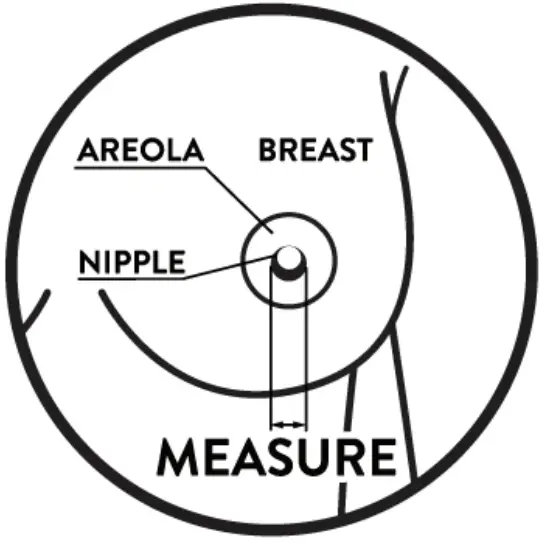 You can also use our Printable Ruler. Download it here:
LM.2.VU/URULER
STORAGE OF BREASTMILK
| | | |
| --- | --- | --- |
| LOCATION OF STORAGE | TEMPERATURE | MAXIMUM RECOMMENDED STORAGE DURATION |
| | | 4 hours optimal 6-8 hours acceptable under very clean conditions |
| | | 4 days optimal 5-8 days acceptable under very clean conditions |
| | | 6 months optimal 12 months acceptable |
According to the Academy of Breastfeeding Medicine, freshly expressed breastmilk may be stored safely at room temperature (10–29°C, 50–85°F) for some period of time. Studies suggest different optimal times for room temperature storage because conditions vary greatly in the cleanliness of milk expression techniques and the room temperature.
Warmer ambient temperatures are associated with faster growing bacterial counts in stored milk. For room temperatures ranging from 27°C to 32°C (29°C = 85°F), 4 hours may be a reasonable limit. For very clean expressed milk with very low bacterial counts, 6–8 hours at lower room temperatures may be reasonable, but it is best to chill or refrigerate as soon as possible if the milk will not be used during that time.
GUIDE TO REPLACING THE PARTS TO YOUR SILICONE COLLECTION CUPS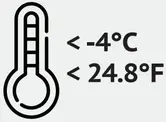 Duckbill Valves
should be replaced every 1-2 months.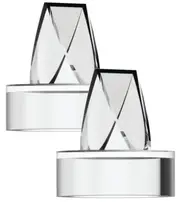 Silicone membranes that are sold as part of our Spare Backflow Protectors should be replaced every 4 months or sooner.
*For best results and longevity of the silicone breast shields, duckbill valves, and valve bases with backflow protectors, we recommend that they be boiled only once before initial use to sterilize them and not thereafter. After each subsequent use, we recommend that you disassemble the collection cups, silicone breast shields, duckbill valves, and valve bases with backflow protectors, rinse them with cold water, and then hand wash them in warm, soapy water. They should then be rinsed well and allowed to air-dry on a dedicated rack or clean cloth. UV sterilization or cold water sterilization is also acceptable.
All compatible replacement parts available for purchase on
WWW.LEGENDAIRYMILK.COM
Facebook and instagram
@LEGENDAIRYMILK
WWW.LEGENDAIRYMILK.COM