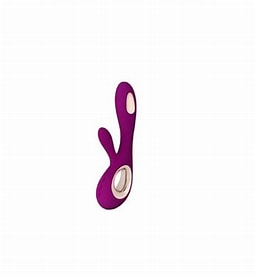 LELO Prides User Manual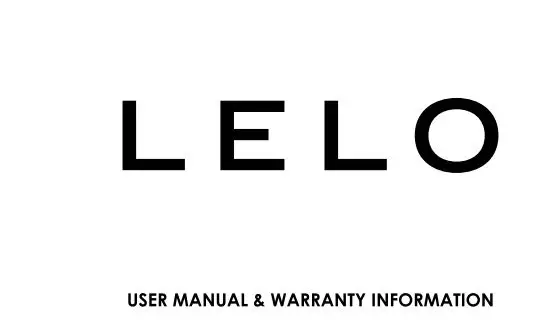 USER MANUAL & WARRANTY INFORMATION
GETTING STARTED
LELO prides itself on providing the best personal massagers on the market, each offering powerful yet discreetly quiet vibrations, and backed by a full 1-year warranty and 10-year quality guarantee.
REGISTER WARRANTY
To register your warranty, find your warranty number on the LELO Authenticity card provided. Then visit LELO.com and click on REGISTER in the top right side of the page. This allows you to confirm the authenticity of your purchase and protect your investment.
DOWNLOADING MANUAL AND WARRANTY INFORMATION
Once you have activated your warranty, visit the CUSTOMER CARE section of the site to download full instructions and warranty terms and conditions on using your LELO. Simply click on CUSTOMER CARE in the top right hand corner of LELO.com and select download manuals and warranty.
WARRANTY TERMS and CONDITIONS
1-YEAR WARRANTY
LELO warrants this pleasure object for a period of ONE (1) YEAR, after the date of original purchase, against defects due to faulty workmanship or materials. If you discover a defect and notify LELO during the warranty period, LELO will, at its discretion, replace the pleasure object free of charge.
The warranty covers working parts that affect the function of the pleasure object. It does NOT cover cosmetic deterioration caused by fair wear and tear or damage caused by accident, misuse or neglect. Any attempt to open or take apart the pleasure object (or its accessories) will void the warranty.
Claims under warranty must be supported by reasonable evidence that the date of the claim is within the warranty period. To validate your warranty, please keep your original purchase receipt together with these warranty conditions for the duration of the warranty period.
To claim your warranty, fill in your details under CUSTOMER CARE on LELO.com. You will be sent a Return Merchandise Authorization (RMA) number which should be returned with the LELO product to your nearest LELO office. Shipping costs are non-refundable. This undertaking is in addition to consumer's statutory rights and does not affect those rights in any way.
10-YEAR QUALITY GUARANTEE
As a continuation of the terms of LELO's full one (1) year warranty, LELO's ten (10) year quality guarantee makes owners eligible to purchase a new Pleasure Object from LELO.com for 50% off the listed price.
See the CUSTOMER CARE section of LELO.com for Terms & Conditions.
BASIC INSTRUCTIONS ON USE
Always charge your LELO before first use. Only use original chargers provided by LELO. Before every charge, make sure the DC socket is free from water or lubricant residue. Your LELO features one of the following easy-to-use control interfaces:
3-Button Interface
To turn on and increase vibration intensity, press the + button. Press the ­ button to decrease vibration intensity. Press the center button of the interface to move through the stimulation modes. To turn off, simply press and hold the ­ button until the vibrations stop.
4-Button Interface
To turn on and increase vibration intensity, press the + button. Press the ▲ button to move up through the stimulation modes, and press the ▼ button to go back through the modes. To turn off, simply press and hold the ­– button until the vibrations stop.
2-Button Interface
To turn on and increase vibration intensity, press the + button (button on the right for Lily / Near). To change modes, press and hold the + button for 2 seconds. To return to continuous vibration, press the –­ button once, and hold this button to reduce intensity until your LELO is switched off.
Single-Button Interface
To turn on, press the

button twice. Continue pressing to cycle through the powerful vibration modes. To turn off, simply press and hold for around 5 seconds.
CLEANING, STORAGE AND SAFETY
Always clean your LELO thoroughly before and after each use. If you use a silicone-based lubricant, please contact LELO Customer Care for further advice. A premium water-based lubricant is the surest option such as LELO's Personal Moisturizer. Never use massage oils or hand cream as lubricants for the intimate areas.
To clean, use a purpose made cleanser such as LELO's Antibacterial Cleansing Spray. If this is not available, wash the stem with warm water and a respected antibacterial soap, rinse with clean hot water and pat dry with a lint-free cloth or towel. Never use cleansers containing alcohol, petrol or acetone.
Always check if your LELO is splash-proof or fully waterproof. If it is waterproof, this will be clearly stated on the packaging. For all splash-proof products, avoid fully submerging and getting water into the DC socket or around the interface. (NOA: always ensure that the base attachment is fastened tightly before cleaning or use in water).
Avoid leaving your LELO in direct sunlight and NEVER expose it to extreme heat. Do not use on swollen or damaged skin. Keep your LELO out of the reach of children.
If your LELO appears to function abnormally, turn off and consult the CUSTOMER CARE section on LELO.com where you will find a number of troubleshooting tips. If you experience any other problems with your LELO product please contact: [email protected]
IMPORTANT: For Adult Use Only. Those who may be pregnant, have a pacemaker, diabetes, phlebitis or thrombosis should consult with a medical professional regarding the risk of blood clots before using any personal massage product.
DISPOSAL INFORMATION
Disposal of old electronic equipment (applicable in the EU and other European countries with separate waste collection systems).
The crossed-out dustbin symbol indicates that this product should not be treated as household waste, but rather be brought to the appropriate collection point for recycling of electrical and electronic equipment.

Disclaimer: Users of this LELO Product do so at their own risk. Neither LELO nor its retailers assume any responsibility or liability for the use of this product. Further, LELO reserves the right to revise this publication and to make changes from time to time in the contents hereof without obligation to notify any person of such revision or changes.
Applicable for ALL products. Model may be changed for improvements without notice.
© 2013 LEL Oi AB. ALL RIGHTS RESERVED.
LEL Oi AB, BIRGER JARLSGATAN 22, 114 34 STOCKHOLM, SWEDEN.
LELO Inc., 4320 STEVENS CREEK BLVD., SUITE #205, SAN JOSE, CA 95129, USA.
DESIGNED AND DEVELOPED BY LELO SWEDEN MANUFACTURED BY LELO IN CHINA
WEBSITE WWW.LELO.COM
SUPPORT [email protected]
BEDIENUNGSANLEITUNG & GARANTIEHINWEISE