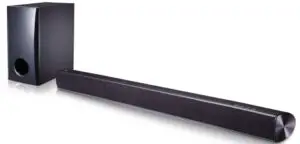 SOUND BAR
SH2 100W Sound Bar with Subwoofer and Bluetooth Connectivity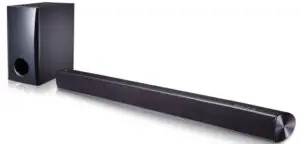 KEY FEATURES
2.1 ch
100W
Adaptive Sound Control (ASC)
Sound Sync Wireless
Bluetooth Streaming
40" and above TV matching
The SH2 sound bar brings exceptional performance and convenience in a remarkably stylish form factor. The wired subwoofer adds in deep base to the 100 watt sound system. This Bluetooth® enabled device lets you stream music from a compatible product like a smartphone, tablet or MP3 player so your favourite music can fill the room for everyone to enjoy. You even have the option to wall-mount the SH2 with the included hardware to complement your flat screen TV.
2.1 Channel 100 Watts
With 100 watts, this LG Sound Bar packs plenty of power to give your movies, sports, games and music fuller, richer, room-filling sound. 2.1-channel audio takes your movies, TV shows and music beyond traditional stereo with the added bass kick of a dedicated subwoofer.
Sound Sync Wireless
No wired connection needed! Easily link your LG Sound Bar with your compatible LG HDTV wirelessly via Bluetooth®, reducing the cable clutter behind/beneath your television.
Bluetooth Streaming
Wirelessly stream music directly from your smartphone or other compatible device for a seamless listening experience.
Adaptive Sound Control
Adaptive Sound Control is LG's unique and differentiated voice enhancing technology. It actively analyzes vocal levels in real time. When it senses high vocal levels, it automatically lowers the bass power to make dialogue crystal-clear. (ex : News, Narration)
Wall Mount Included
Sometimes the wall is the best location for your LG sound bar, if for example your TV is wallmounted and you want to place the speaker directly beneath. Luckily, handy mounting hardware is included.
Optical Input
An optical input allows you to connect a device such as a set-top box, video game console, etc., to your home theatre for greater convenience.
GENERAL
Channels: 2.1
Front Power Output: 50W
Centre Power Output: –
Surround Power Output: –
Rear Power Output: –
Subwoofer Power Output: 50W
Total Power: 100W
CONNECTIVITY
Portable Audio In (3.5mm): •
Optical : •
HDMI® In : –
HDMI® Out : –
USB : –
Bluetooth (ver. 4.0) : •
Ethernet port : –
Wi-Fi : –
DISPLAY
Display Type : –
LED Indicator Colour : 5 LED
Auto Display Off : –
SOUND MODE
24bit/192KHz Sampling : –
Sound Effect : ASC, Standard, Cinema
User EQ : –
Night Mode : –
Auto Sound Engine : –
SFX : –
Dynamic Range Control : •
Auto Volume Leveler : –
CONVENIENCE
OS Support (Window / Mac / iOS / Android) : –
Smart Phone Media Server : –
Smart Phone / Tablet App : •
Home Chat : –
Network Software Update : –
Control with you TV Remote : •
Multi-point (Bluetooth Multi pairing) : –
Sound Sync : •
Automatic Power On/Off : •
A/V Sync (0~300ms) : –
SIMPLINK : –
3D Video Signal Pass Through : –
4K Pass Through : –
Standby Pass Through Audio, Video : –
Audio Return Channel (ARC) : –
Woofer Level (-15~+6dB) : •
Mute : •
Dimmer : –
Sleep : –
Alarm : –
AUDIO FORMAT
Audio Format : LPCM , Dolby Digital
Audio Streaming Service : –
POWER
Sound Bar Power Type : Adaptor (SMPS)
Power Consumption : 20W
Power Off Consumption : 0.5W Under
Subwoofer Power Type : Wired
Power Consumption : Wired
Power Off Consumption : Wired
SPEAKER
Sound Bar SPL : 76dB
System : 1 Way SPK
Tweeter Unit : –
Woofer Unit : 100 x 40 Track
Impedance : 4ohm
Magnetic Shielding : –
Subwoofer Model Name : SPH2B-P
SPL : 82dB
System : 1 Way SPK
Woofer Unit : 5.25 inch
Impedance : 4ohm
Magnetic Shielding : –
INCLUDED ACCESSORIES
Remote Control : HA2
Wireless Speaker Reset Guide : –
Batteries : AAA x 2
Warranty Card : •
HDMI Cable : –
Optical Cable : •
LAN Cable : –
Wall Mount Bracket : •
Table Stand (Detachable Foot) : –
IR Transmitter : –
DIMENSIONS / WEIGHTS
Sound Bar (W x H x D) : 880 x 62 x 90mm 34.6" x 2.4" x 3.5 "
Subwoofer (W x H x D) : 156 x 300 x 281mm 6.1" x 11.8" x 11.1"
Shipping Size (W x H x D) : 945 x 578 x 216mm 37.2 x 22.7" x 8.5"
Sound Bar Weight : 1.8 kg / 3.9 lbs
Subwoofer Weight : 2.9 kg / 6.3 lbs
Shipping Weight : 6.5 kg / 14.3 lbs
WARRANTY / UPC
Limited Warranty : 1 Year Parts & Labour
UPC : 772454067051