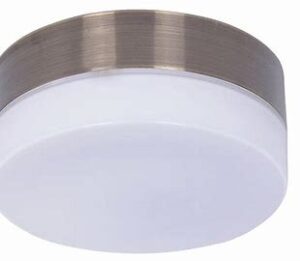 Lucci fini Airfusion Climate Light Kit Instructions
Thank you for purchasing this quality Lucci product. To ensure correct function and safety, please read and follow all
instructions carefully before using the product. Please keep instructions for future reference.
Installation requirements
Must be installed by a licensed electrician.
All wiring and installation of the light fitting must adhere to local and national wiring rules.
Do not exceed the maxim um wattage rating
Select a suitable location for installation
– This product is suitable for indoor use only.
Take care not to pull any electrical wires during unpacking as this may damage the connection.
Lay out all the components on a smooth surface and make sure there are no components missing before assembling.
Check whether the fitting has been damaged during transport. Do not operate/install any product which appears damaged in any way. Return the complete product to the place of purchase for inspection, repair or re placement.
Ensure power to the circuit you are working on has been switched OFF.
Installation directions
Remove all packaging material from the product.
Remove the fan bottom cover from the shaft of the fan
Remove the shrinkable sleeve from light wires connector (
Remove the lamp shade G ) from the light base C by tu rning it from anticlockwise
C onnect the light wire connectors (B) together.
Lift and align the base of the light ( to the light base bracket (A) A), allow the bolt go through the keyhole slots and turn the light base anti clockwise. Align the screw holes between the light base ( and the light base bracket (A) and us e the 3 mounting screws ( F ) to secure.
Install the bulbs E, not included) into the lamp holder s ( D). Do not exceed the maximum wattage
Reposition the lamp shade (G
After the installation, switch on the fitting to test and enjoy your new lighting product.
Safety tips
Always ensure the power is OFF and the fitting has cooled down before performing any maintenance, cleaning, changing the globe or adjustment to the fitting.
Do not touch the globe with bare hands. Use a clean cloth, gloves or a tissue.
To avoid injury or damage to the fitting, ensure that power leads and screws a re secure before connecting the power.
Select a suitable location away from liquids and hazards.
Ensure that the fitting does not come in contact with corrosive chemicals, etc.
To clean, wipe with a damp clean cloth. Never soak the fitting with water.
Specifications
SKU #
21024901
21025001
21025101
21025201
Color
White
Brushed Chrome
Antique Brass
Charcoal
Rated Voltage
120V~ 60Hz
Rated Wattage
Max.40W x 2
Lamp Holder
Type B, E12
Weight
1.34 lb
Dimensions
H:3.74 inch Dia: 6 inch
Bulb
Bulb not included