INSTALLATION
REMOVE THE METAL FROM THE LAMP CAP.
INSTALL LIGHT BULBS USE GU10 BULBS OR GU10 LED BULB
SECURE THE METAL RING TO THE LAMP CAP AFTER INSTALL THE LIGHT BULB.
F2990-80/F2991-80/F2992-80
F2990-80-LED/F2991-80-LED/F2992-80-LED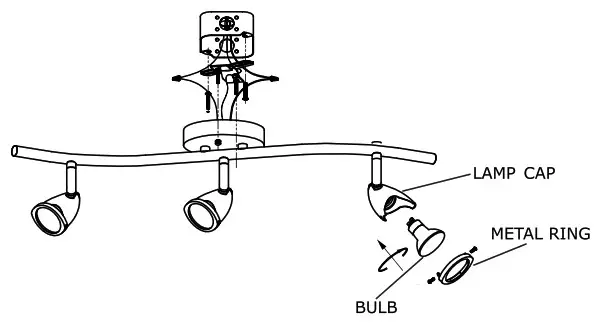 INSTALLATION INSTRUCTION FOR BAR LIGHTING
READ INSTRUCTIONS AND REVIEW ALL DIAGRAMS BEFORE INSTALLING THE FIXTURE
THE INSTALLATION OF THIS PRODUCT SHOULD BE CARRIED OUT BY A QUALIFIED ELECTRICIAN.
GENERAL INSTRUCTIONS:
ALL ELECTRICAL CONNECTIONS MUST BE IN ACCORDANCE WITH LOCAL CODES, ORDINANCES, AND THE NATIONAL ELECTRIC CODE.
THESE FIXTURES SHOULD BE MOUNTED ON AN ELECTRICAL OUTLET BOX. THE BOX MUST BE DIRECTLY SUPPORTED BY THE BUILDING STRUCTURE.
TURN OFF THE CIRCUIT BREAKER OR REMOVE THE APPROPRIATE FUSE TO DISCONNECT THE POWER SOURCE BEFORE INSTALLING THE FIXTURE.
TURNING THE LIGHT SWITCH OFF TO CUT THE POWER IS NOT SUFFICIENT TO PREVENT ELECTRIC SHOCK.
TO INSTALL:
TURN ELECTRICITY OFF AT THE FUSE BOX BY REMOVING THE FUSE OR TURNING THE CIRCUIT BREAKER OFF.
IF YOU ARE REPLACING AN EXISTING FIXTURE, DISCONNECT AND REMOVE THE OLD FIXTURE. EXPOSE THE SUPPLY WIRING FROM THE OUTLET BOX.
USING THE APPROPRIATE DIAGRAM BELOW AS A MOUNTING GUIDE, MOUNT THE FIXTURE.
ELECTRICAL CONNECTIONS:
CONNECT THE WHITE WIRE(S) FROM THE FIXTURE TO THE WHITE WIRE IN THE SUPPLY CIRCUIT. CONNECT THE BLACK WIRE(S) FROM THE FIXTURE TO THE BLACK WIRE IN THE SUPPLY CIRCUIT. CONNECT THE GROUND WIRE FROM THE FIXTURE TO THE GROUND WIRE IN THE SUPPLY CIRCUIT. IF YOUR FIXTURE IS CHAIN-HUNG, CONNECT THE RIBBED HALF
OF THE FIXTURE WIRE TO THE WHITE WIRE OF THE SUPPLY CIRCUIT AND THE SMOOTH HALF OF THE FIXTURE WIRE TO THE BLACK WIRE OF THE SUPPLY CIRCUIT. USE CSA OR UL LISTED WIRE CONNECTORS SUITABLE FOR THE SIZE, TYPE, AND NUMBER OF CONDUCTORS. MAKE SURE THERE ARE NO LOOSE STRANDS OR WIRES. SECURE WIRES CONNECTION
WITH CSA OR UL LISTED ELECTRICAL TAPE.
TO ASSEMBLE:
SPREAD THE ELECTRICAL SPLICES TO THE BLACK WIRES ON ONE SIDE OF THE OUTLET BOX, THE WHITE WIRES ARE ON THE OTHER.
INSTALL LIGHT BULBS (BULBS PROVIDED).
NOTE: DO NOT EXCEED THE MAXIMUM WATTAGE (SEE LABEL NEAR LAMP HOLDER).
TURN THE POWER ON AND MAKE SURE THE LIGHT FIXTURE IS WORKING PROPERLY.