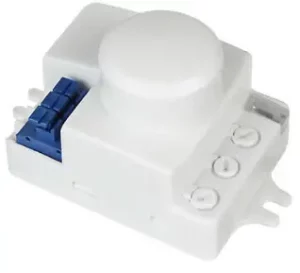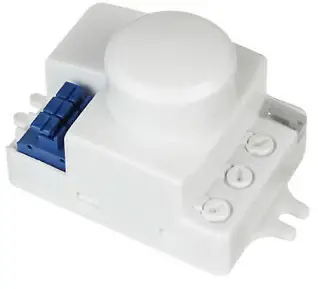 MACLEAN Microwave Motion Sensor MCE323 Instructions
Microwave motion sensor
The product is equipped with a microwave motion sensor, thanks to which it automatically switches on the lighting when it detects movement and turns it off after a set time. It is possible to adjust the operating time (TIME) in the range of 1 Os-30min and sensitivity (DAY/ NIGHT) 2-2000lx. The optimal mounting height is 2.5-3.0m. The product has an LED indicating changes in settings. IMPORTANT: there is the possibility of a motion detection effect through thin walls, doors, etc.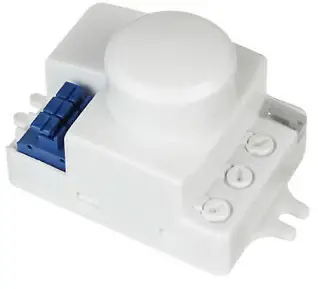 Installation and operation:
Read the user manual before beginning work. Check the correct mechanical attachment before first use and electric. Perform all assembly and maintenance operations with the power off. The device should be installed by an electrician or authorized person. All changes reserved. The manufacturer reserves the right to make design changes and improvements due to technical progress of all products described in the manual without notifying the user.
ADJUSTMENT:
Operating time can be set within 1 Os-30m. The LED will indicate the achievement of subsequent levels: 1 flash – 1 O seconds. 2 flashes – 1 minute, 3-2min, 4-5min, 5-Bmin, 6-1 Omin, 7-15min, 8-20min, 9-25min, 10-30min.
Possibility of setting the motion sensor operating radius in the range of 1 m-1 Om, where the smallest range will be set after turning counterclockwise. The LED will indicate reaching the next setting levels (1-1 Om), where each click is another meter.
It is possible to set the sensitivity of the luminaire's operation in the day/ night range (2-2000lx). Set the action in the range from dusk to dawn should set the dial to 2Ix, to test the luminaire during the day should set the highest value in the range – 200Dlx.
SPECIFICATIONS:
Rated voltage/ frequency: 220-240V-50/60HZ
Maximum load power: For light sources: GLS -1 OOOW CFL – 700W LED – 150W
Class II: Product in which protection against electric shock is met, in addition to basic insulation, by double or reinforced insulation.
IP20 – Product with a level of protection protecting against access to hazardous parts with a finger, without protection against moisture