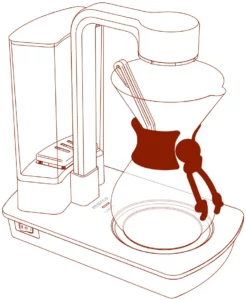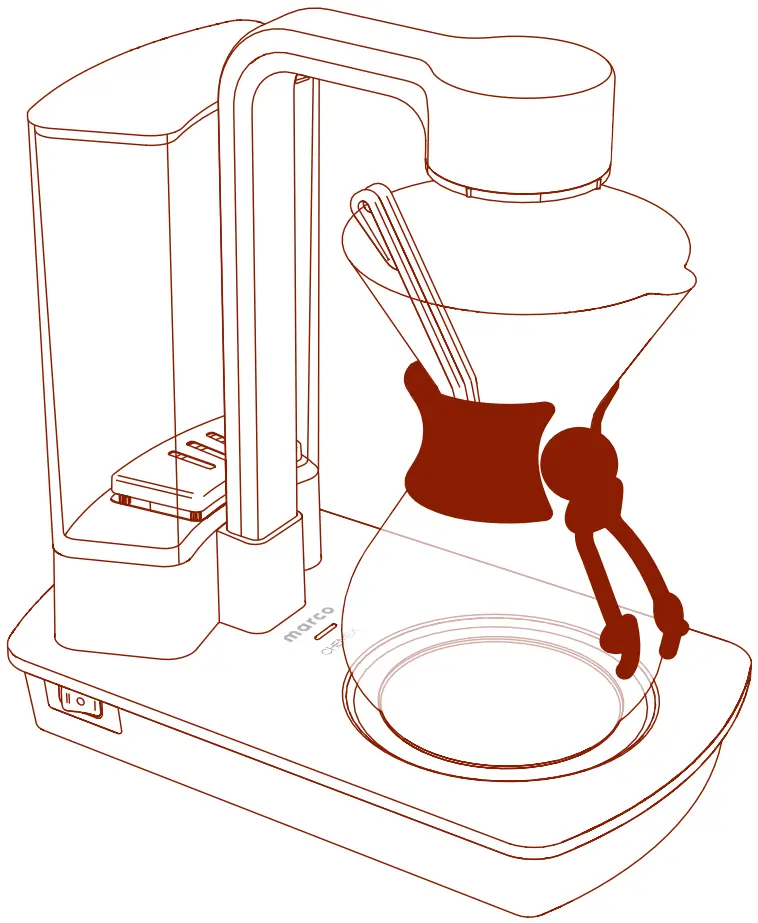 marco Ottomatic Coffee Maker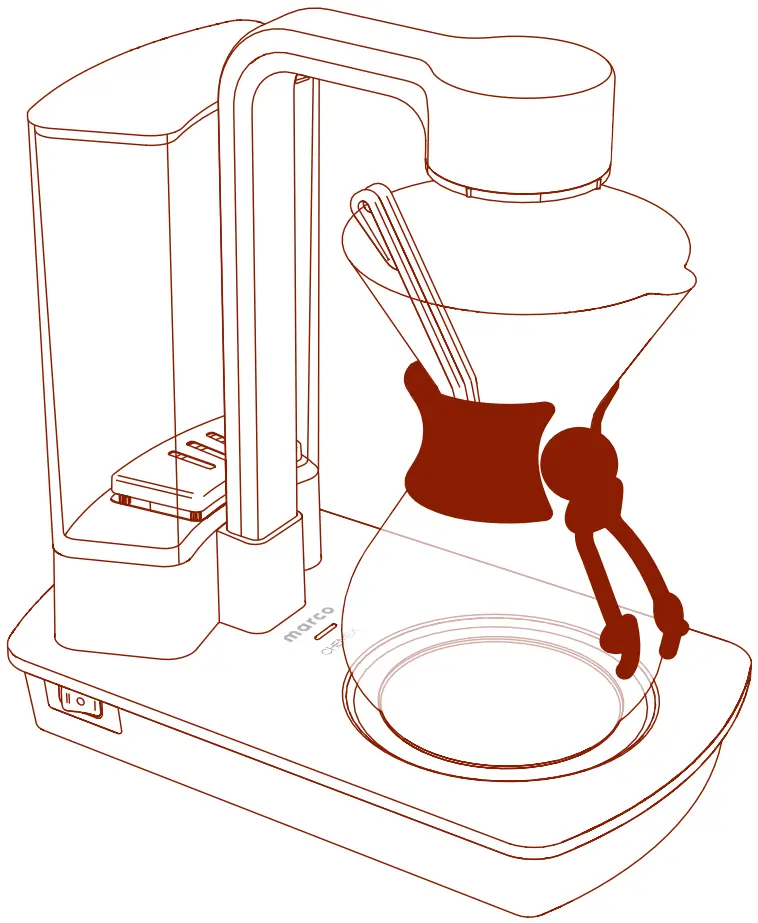 IMPORTANT SAFETY INSTRUCTIONS
When using electrical appliances, basic safety precautions should always be followed to prevent the risk of fire, electric shock, burns, or other injuries or damages.
Read all operating and safety instructions carefully.
Ensure that the voltage in your home corresponds with the voltage indicated on the appliance.
Always place and operate the appliance on a flat surface.
The appliance must only be plugged into a socket with safety ground.
DO NOT TOUCH THE APPLIANCE'S HOT SURFACES; WARMING PLATE & SPRAY HEAD.
Do not open the water tank lid while brewing or during the first minute after brewing stops to avoid scalding.
To protect against electric shock, do not immerse the power cord, or appliance in any liquid.
This appliance is not intended for use by persons (including children) with reduced physical, sensory or mental capabilities, or lack of experience and knowledge, unless they have been given supervision or instruction concerning use of the appliance by a person responsible for their safety.
Children should be supervised to ensure that they do not play with the appliance.
Keep the appliance and its cord out of reach of children.
Unplug appliance from outlet when not in use and before cleaning.
Do not operate the appliance with a damaged power cord or power plug, or operate it after the appliance malfunctions, or has been damaged in any manner. If your appliance was received with a damaged power cord or power plug, visit www.marcobeveragesystems.com to arrange replacement.
Do not use accessory attachments not recommended by CHEMEX ® as they may result in fire, electric shock or injury to persons.
Do not use outdoors or in a damp area.
Keep the unit away from flammable materials at all times.
Do not let power cord hang over edge of table or counter, or touch hot surfaces.
Do not place the appliance on or near a hot gas or electric burner, or in a heated oven.
To disconnect the appliance, turn switch OFF, then remove the power plug from the power supply.
Do not use this appliance for any purpose other than its intended use.
Do not operate the appliance without water.
Do not use hot water for brewing. Only fresh cold water should be used to fill the water tank.
Never put anything in the water tank except clean cold water.
Never put a hand, finger or any object in the water tank.
Never put a hand, finger or any object on the heating surface.
Do not remove the CHEMEX ® brewer during brewing cycle – risk of scalding!
Always grasp the brewer only by the wooden collar.
Switch off the warming plate if the CHEMEX ® brewer is removed after brewing.
The warming plate is subject to residual heat after use.
Never try to drink or taste directly from the brewer; always pour into a cup or mug before drinking or tasting.
Always take a small sip of coffee from a mug or cup first to test the temperature as coffee can be quite hot when first brewed.
This appliance is for NON-COMMERCIAL USE ONLY.
This appliance is intended to be used in household and similar applications such as:
– staff kitchen areas in shops, offices and other working environments;
– farm houses.
– by clients in hotels, motels and other residential type environments.
– bed and breakfast type environments.
Cleaning and user maintenance shall not be carried out by children unless they are older than 8 years and under adult supervision.
WARNING: To reduce the risk of fire or electric shock, do not remove any service covers. There are no user serviceable parts inside the appliance. Only authorized personnel should repair the appliance.
NOTES:
The sprayhead incorporates a drain to prevent unwanted water retention. This may result in a drip from the sprayhead for a short time after the brew has completed.
Leave the CHEMEX ® brewer in place until all coffee has dripped through the filter.
A brew clip is provided with the CHEMEX ® brewer. This brew clip prevents the CHEMEX ® brewer from air-locking, and should be used if coffee drip time is found to be excessively long.
If the coffee grind size is too fine this may result in overflowing of the coffee brew bed. This brewer is intended for use with medium – coarse grind.
BEFORE FIRST USE
Remove packaging materials, labels and stickers from appliance.
Place appliance on a level surface, away from any flammable materials.
Clean the appliance by filling the water tank with clean cold water to the maximum level mark (8 Cup) and switch the appliance on to allow the water to run through (without coffee).
Leave the appliance to cool down for 5 minutes before repeating the process. Brew hot water through the appliance at least 2 times before brewing with coffee.
SAVE THESE INSTRUCTIONS
DIAGRAM OF PARTS
Water tank lid
Water tank
LED indicator
ON/OFF switch
Spray head
Brew Clip
CHEMEX ® 6 Cup Brewer
Warming Plate
Technical Data
Appliance P/N: 1000841M
Rated voltage: AC 220V, 50Hz
Rated current: 5A
Rated power: 1000W
BREW SETUP
The appliance water tank is printed with markings indicating brewed coffee volume. This enables users to measure the correct amount of water to yield the desired coffee volume. The table below indicates recommended coffee amounts for the different brew sizes indicated on the water tank.
RECOMMENDED COFFEE DOSAGE
| | | |
| --- | --- | --- |
| Brewed coffee Cups / Fl. Oz. / ml | Ground coffee – grams | Ground coffee – rounded tablespoons (approximate) |
| 3 cups / 15oz / 444 | 28g | 3 |
| 5 cups / 25oz / 740 | 47g | 5 |
| 6 cups / 30oz / 887 | 55g | 6 |
| 8 cups / 40oz / 1180 | 70g | 8 |
You can also use your included CHEMEX ® brewer as an approximate water measurement guide.
When brewing the CHEMEX ® to its full capacity (6 cups of coffee), fill the CHEMEX ® brewer with water up the mid point between the upper and lower sections. Pour this water from the CHEMEX ® into the appliance water tank.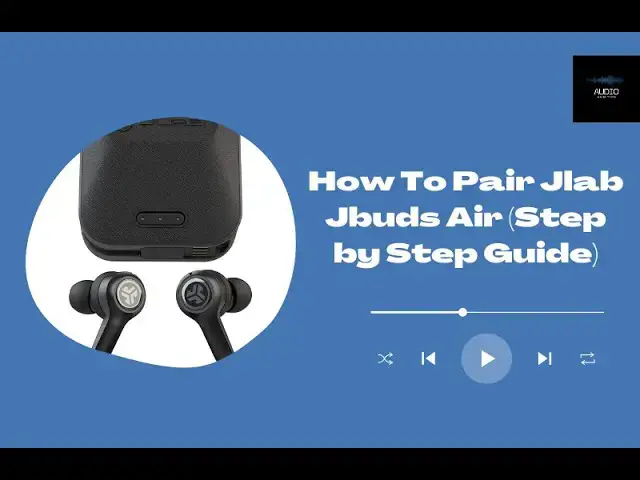 INSTRUCTIONS
1.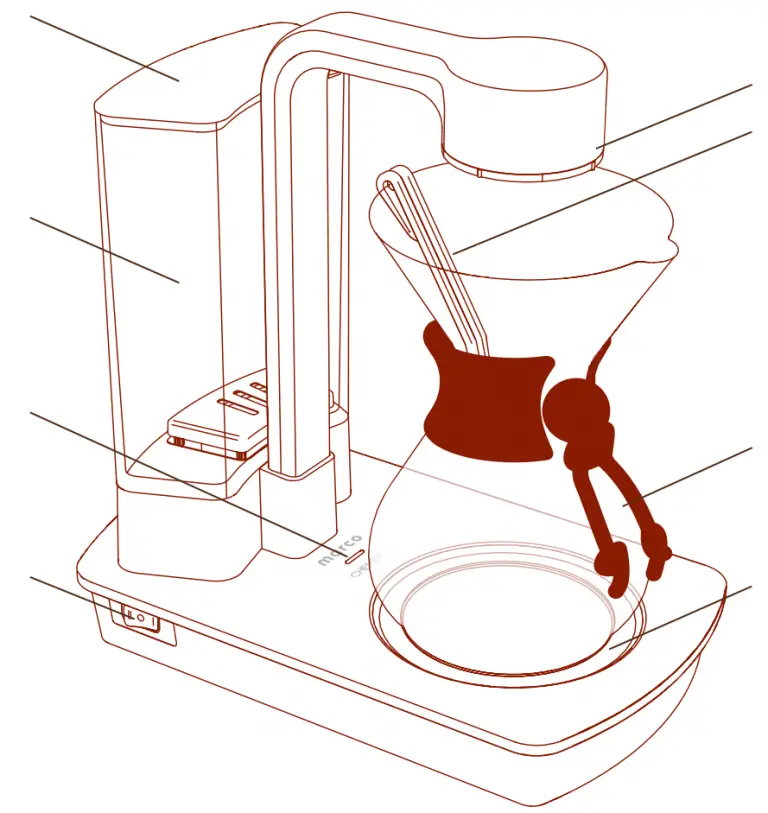 2.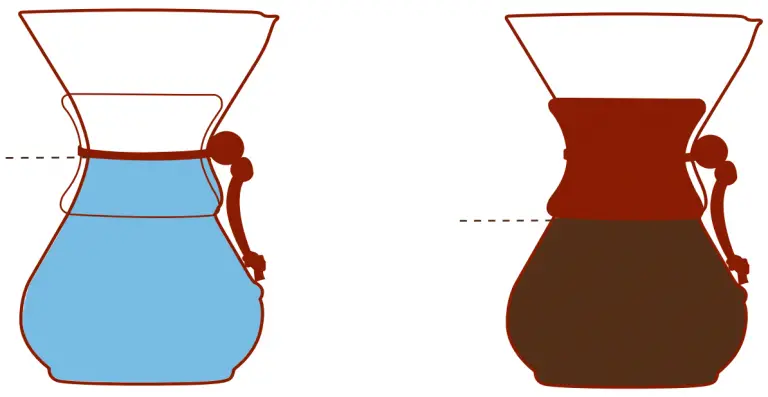 3.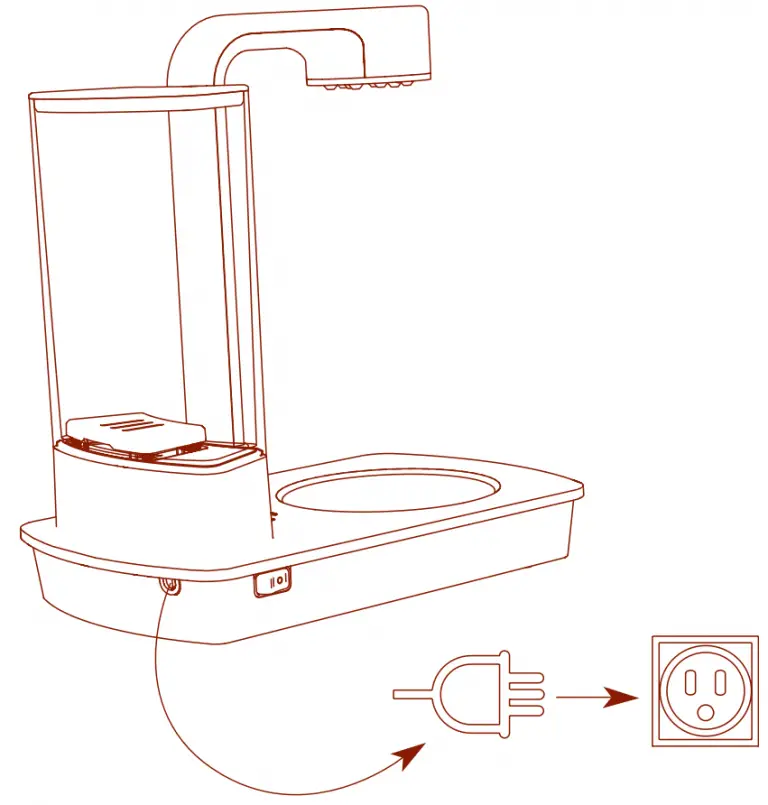 4.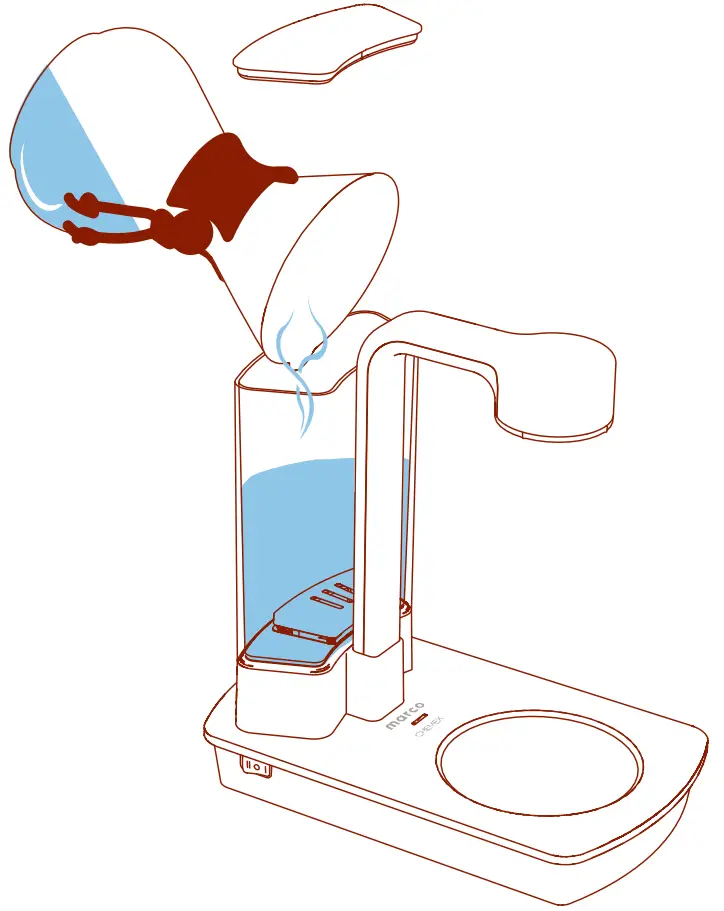 5.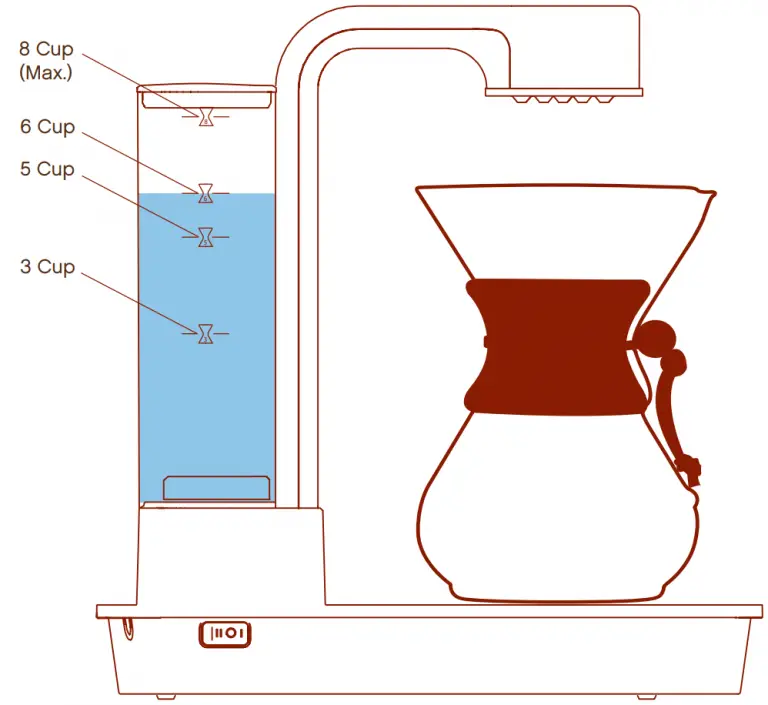 6.


7.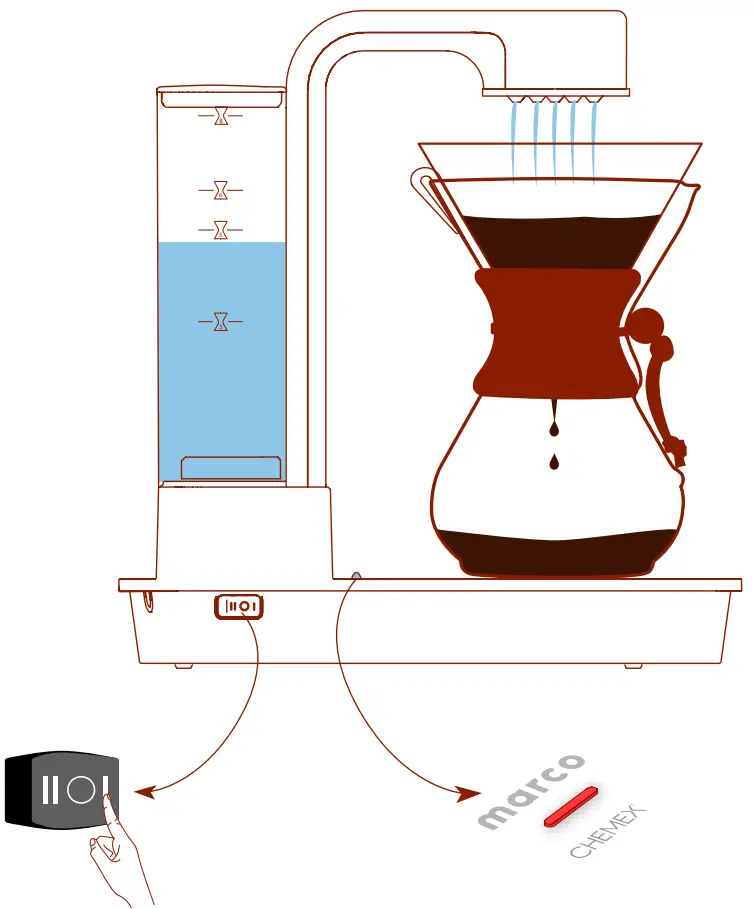 8.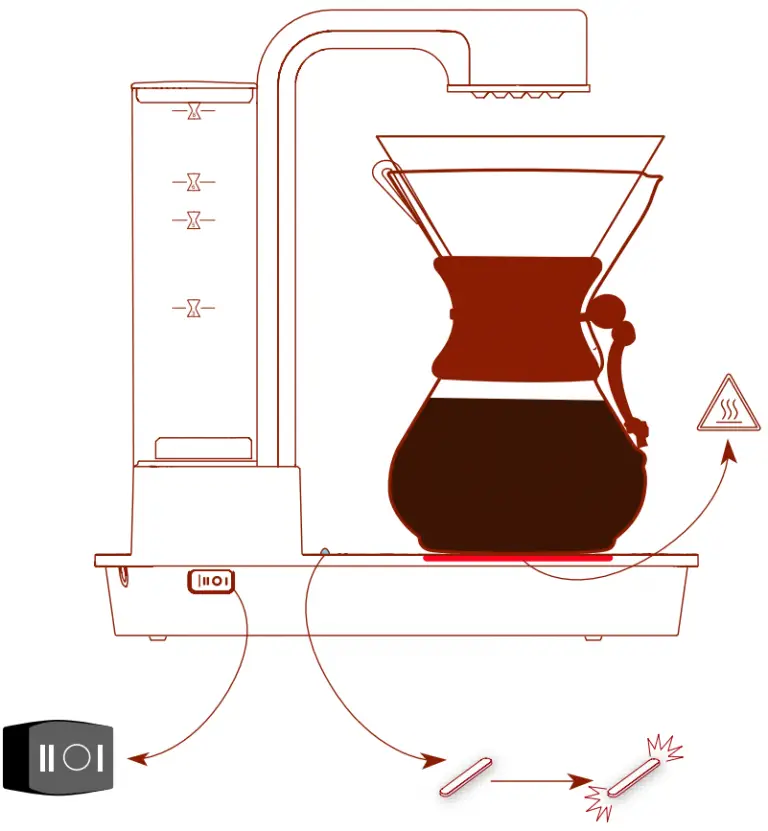 9.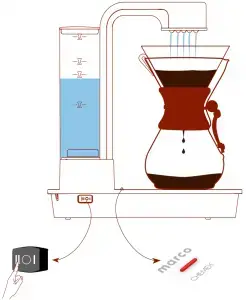 10.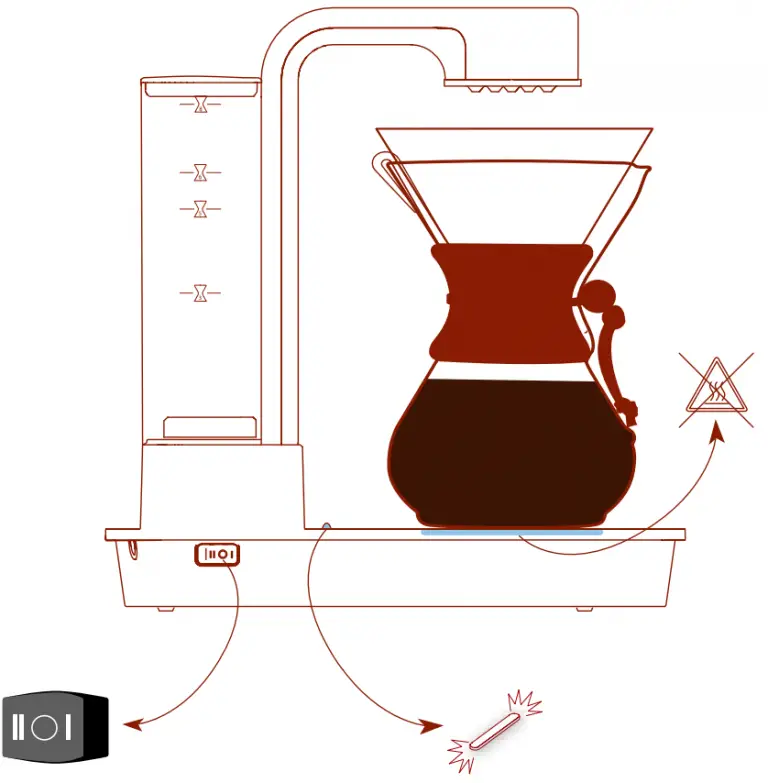 ROCKER SWITCH
| | | |
| --- | --- | --- |
| | | Hotplate turns on for 30 minutes after brewing on the EU version & for 90 minutes on the US version |
| | | Hotplate remains off after brewing |
CLEANING and MAINTENANCE
1.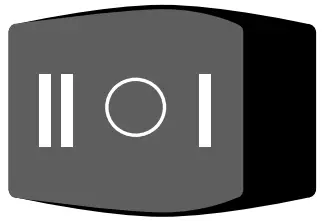 2.


3.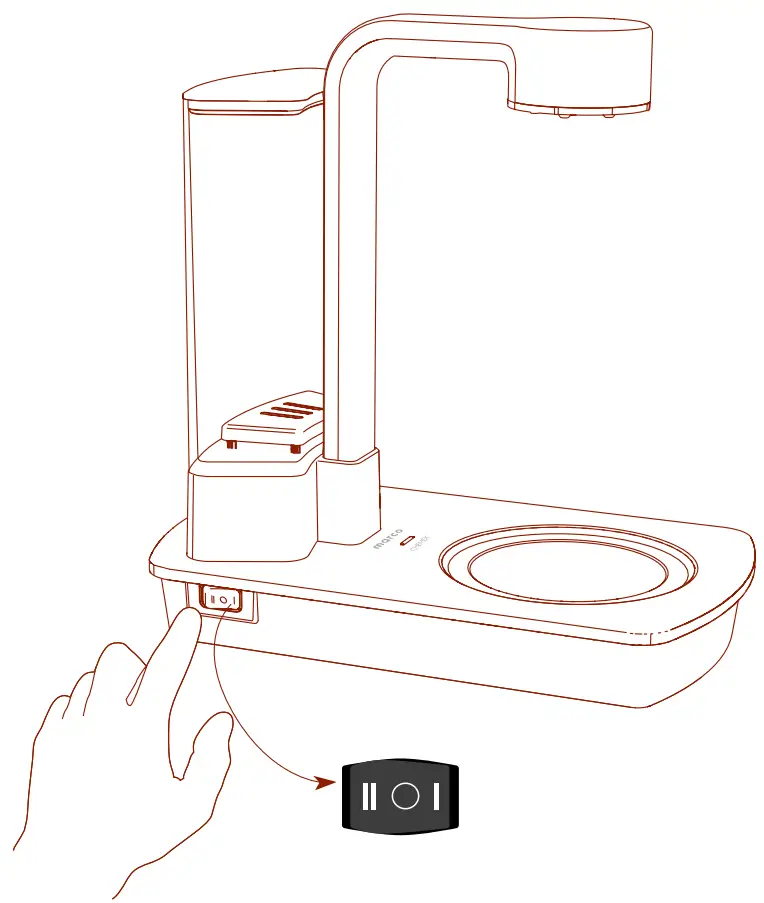 4.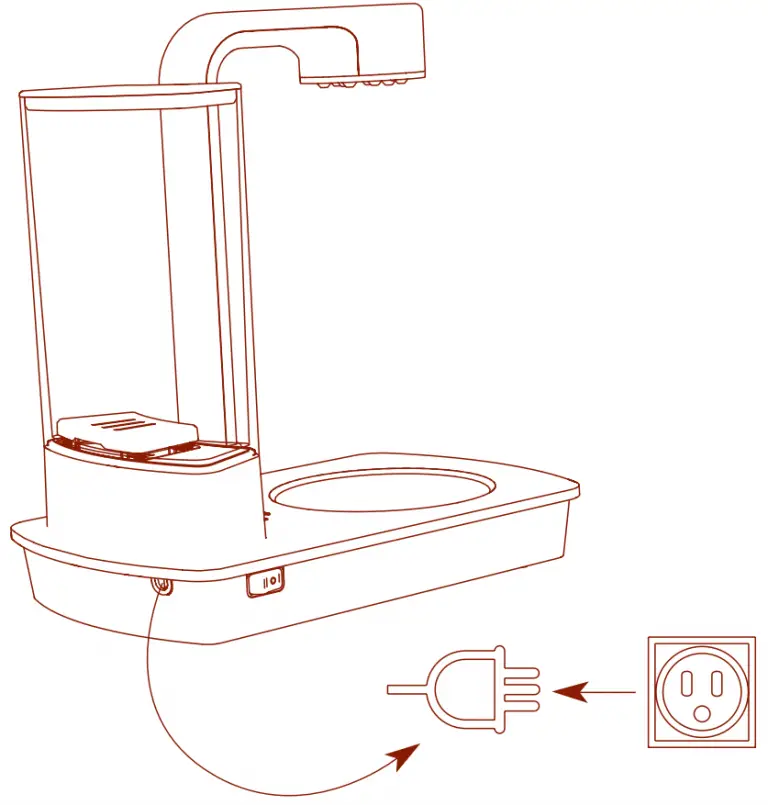 BASIC CLEANING
Clean the appliance regularly with a soft damp cloth and a mild detergent. To clean the CHEMEX ® brewer remove the wooden handle and continue to hand wash with warm soap and water, or place the coffeemaker securely in the dishwasher. To prevent damage to the appliance never use any chemicals, alkaline cleaning agents , steel wool or abrasive cleaners when cleaning the appliance.
NOTE: Always unplug the appliance from the mains and allow to cool prior to cleaning. Use CHEMEX® Automatic Coffeemaker Cleaner to clean the glass brewer. This is available on www.chemexcoffeemaker.com
DESCALING
Over time, scaling from calcium content in the water may build up in the appliance. Scaling can adversely affect the performance of the brewer, and can even cause the appliance to stop working. To ensure long life of the appliance, please descale it regularly. This will ensure the perfect operation of the appliance. We recommend that you descale after every 40 brew cycles, or a minimum of every 3 months.
A descale solution can be purchased from www.chemexcoffeemaker.com. Descale process:
Fill the water tank with de-scale solution up to the 8 cup level.
Run the brew cycle to fully flush the de-scale solution through the brewer.
After de-scaling rinse the system by running a minimum of two brew cycles using only water.
LIMITED WARRANTY
1 year limited warranty from date of original purchase.
This warranty extends only to the original consumer purchaser or gift recipient. Keep the original sales receipt, as proof of purchase is required to make a warranty claim.
Defects that occurred due to improper connection, improper handling, or repair attempts by non-authorized persons are not covered by the warranty. The same applies for failure to comply with the use of consumables (e.g. cleaning and decalcifying agents or water filters) that do not correspond to the original specifications.
Routine parts and fragile parts like glass are excluded from the warranty.
The appliance was designed and built for use as a coffee maker only. It is not intended for any other use.
The appliance was designed and built for non-commercial use only.
Damages due to use which is improper or contrary to instruction and damage due to abuse are not under responsibility of the manufacturer and are not covered by the warranty.
The warranty becomes void if repairs are attempted or carried out by third parties who are not authorized by the manufacturer and/or if replacement parts other than the genuine CHEMEX ® parts are used.
This limited warranty replaces and supersedes all other warranties express or implied, except where otherwise limited by law.
To make a warranty claim please visit www.marcobeveragesystems.com
OTTOMATIC ® COFFEEMAKER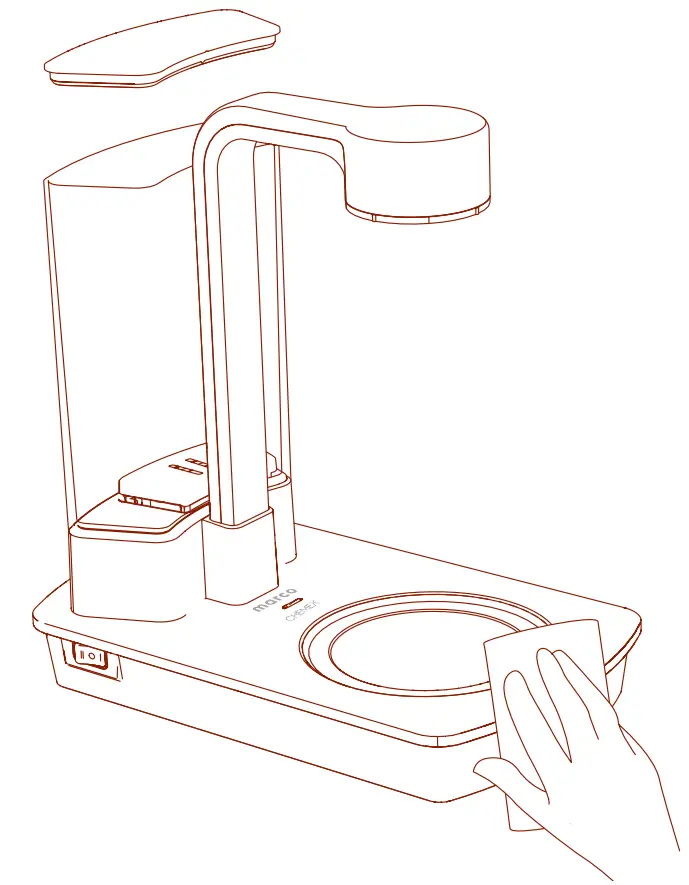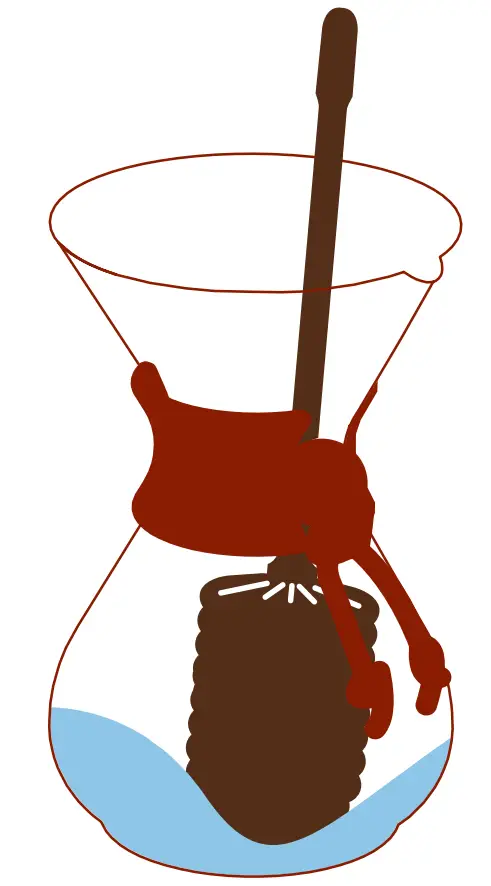 Marco Beverage Systems 74 Heather Road, Sandyford Industrial Estate Dublin 18 Ireland