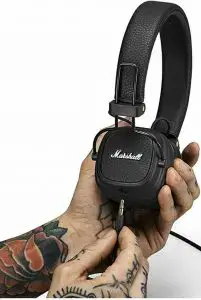 Marshall Major III On Ear Headphone User Manual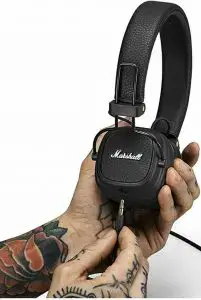 DEVICE LAYOUT
REMOTE
PLAY/PAUSE
SINGLE-CLICK
SKIP FORWARD
DOUBLE-CLICK
SKIP BACK
TRIPLE-CLICK
FAST FORWARD
DOUBLE-CLICK AND HOLD
REWIND
TRIPLE-CLICK AND HOLD
HANDLE CALLS

SINGLE CLICK TO ANSWER OR END CALL
DOUBLE-CLICK TO REJECT AN INCOMING CALL

ACTIVATE SIRI
PUSH AND HOLD FOR 3 SECONDS
STOP SIRI
SINGLE CLICK
MICROPHONE
MICROPHONE FOR PHONE CALLS OR VOICE MEMOS.
3.5 mm INPUT/OUTPUT SOCKET
THE INCLUDED DOUBLE-ENDED COIL CORD CAN BE USED IN ANY OF THE 3.5 mm SOCKETS
SHARE YOUR AUDIO BY PLUGGING IN ANOTHER PAIR OF HEADPHONES INTO THE EMPTY 3.5 mm SOCKET.
REMOVABLE EAR CUSHIONS
HOLD THE EAR CAP AND TURN IT COUNTER-CLOCKWISE.