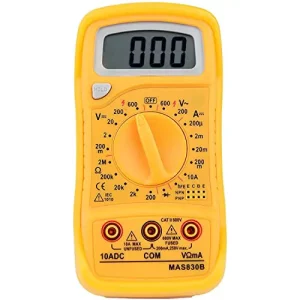 MASTECH MAS830B Digital Multimeter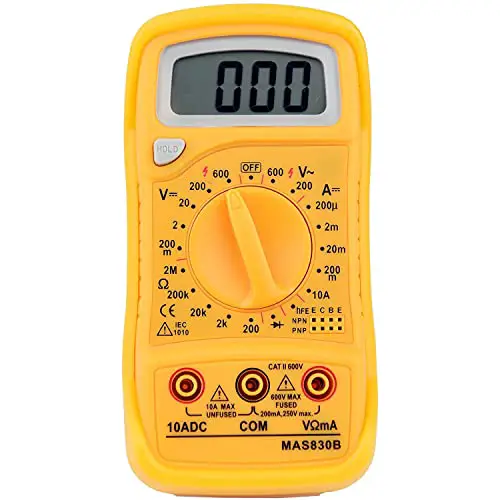 MGL GROUP U.K. LIMITED
14 Weller St, London, SE1 1QU, UK
Tel: +34 985-08-18-70
Email: [email protected]
Special attention should be paid when using the test and measurement instrument because improper usage may cause electric shock and damage the equipment.
Use proper measurement category (CAT), voltage, and amperage-rated probes, test leads, and adapters for the measurement.
Do not use or store the device around explosive gas, vapor, or under high temperature and humidity.
When handling the test probes and crocodile clips, keep your fingers behind the physical guard.
Examine the measuring test leads (if present) before use. Any element of which the insulation deteriorates (even partially), replace them with proper functional test leads.
Connect the common test lead before the live test lead and remove the live test lead before the common test lead.
Before measuring current, make sure the instrument fuses available and disconnect the power supply to the circuit test
Remove the batteries if the device is not used for an extended period of time, or if stored in temperatures above 45 °C. If the batteries are not removed, battery leakage can damage the device.
Contents

Specifications
S/ pХаeрciаfiкcтaеtрioиnсsти/Eкsиpecificaciones /Caractéristiques / 規格 / 規格
Range
Resolution
Accuracy Exactitud Précision準正精度確度Точность

±(1.2%+10)

±(0.5%+3)

±(0.8%+5)

±(1.0%+3)

±(1.0%+3)

±(1.0%+5)

±(1.5%+5)

±(3.0%+10)

±(0.8%+5)

±(0.8%+2)

±(1.0%+5)

Rango
Resolución
Intervalle
Résolution
量測程定レンジ
解像度

Разрешение

Диапазон
V~
200V/600V
0.1V/1V
V
200mV/2V/20V/200V

600V

0.1mV/1mV/10mV/0.1V

1V

20μA
0.01μA
A
200μA/2mA

20mA

200mA

0.1μA/1μA

10μA

0.1mA

10A
10mA
Ω
200Ω

2kΩ/20kΩ/200kΩ

2MΩ

0.1Ω

1Ω/10Ω/0.1kΩ

1kΩ
HOW TO ASSUMBOL