The Parental Controls function can be used to control the internet activities of the child, limit the child to access internet and restrict the time of surfing.
1. Access the web management page. If you are not sure about how to do this, please click
How to log into the web-based interface of the MERCUSYS Whole Home Mesh Wi-Fi router?
2. Under Advanced configuration, go to Parental Controls, and then you can configure the parental controls in the screen.

Enable Parental Controls – Click to enable or disable this function.
MAC Address of Parental PC – In this field, enter the MAC address of the controlling PC, or you can make use of the Copy To Above button below.
MAC Address of Current PC – This field displays the MAC address of the PC that is managing this router. If the MAC Address of your adapter is registered, you can click the Copy To Above button to fill this address to the MAC Address of Parental PC field above.

MAC Address 1 to 4 – Enter the MAC address of the device (e.g. 00: 11:22:33:44:AA) you like to control in the MAC Address 1-4 field, or you can choose the MAC address from the MAC Address in current LAN drop- down list.
To set the effective time, follow the steps below.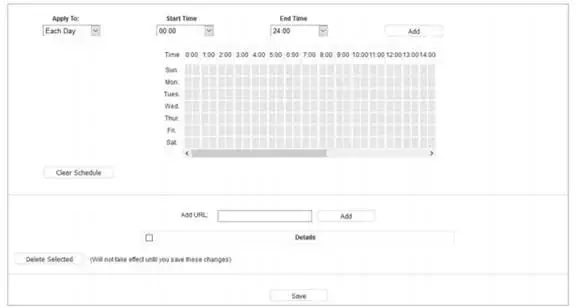 In Apply To field, select the day or days you need.
In Time field, you can choose the Start Time and End Time in the corresponding field to confirm effective time.
Click Add to apply your settings on the schedule.
Add URL – Enter the net addresses which the child is allowed to access.
Get to know more details of each function and configuration please go to Support Center to download the manual of your product.