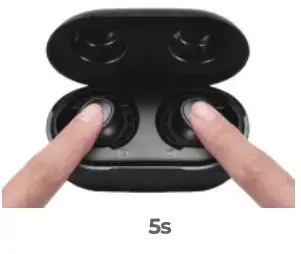 QUICKSTART GUIDE
AUTO PAIRING SETUP

Open the charging case, both earbuds will power on and enter pairing mode and the LED light will flash red and white alternately.
Search Bluetooth name" M pow M30″ and select it in your mobile phone.
RESET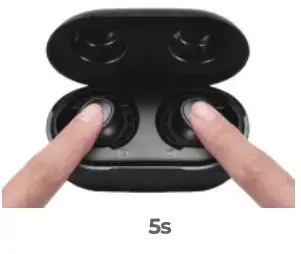 Note: if it claims "Unsuccessfully connected", please delete all "Mpow M30" records on your phone.
Reset M30:
Step1. Make sure the charging case has power.
Step2. Put both earbuds into the charging case, long-press both earbuds for 5s until the earbuds flash red light.
TOUCH CONTROL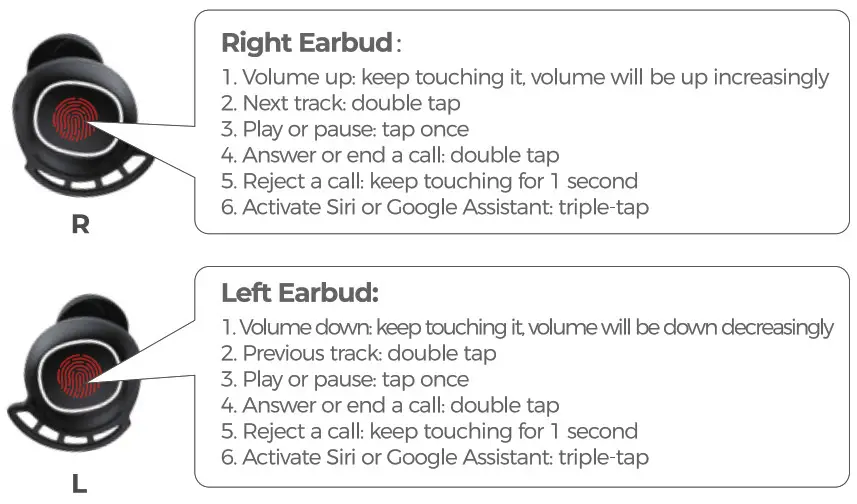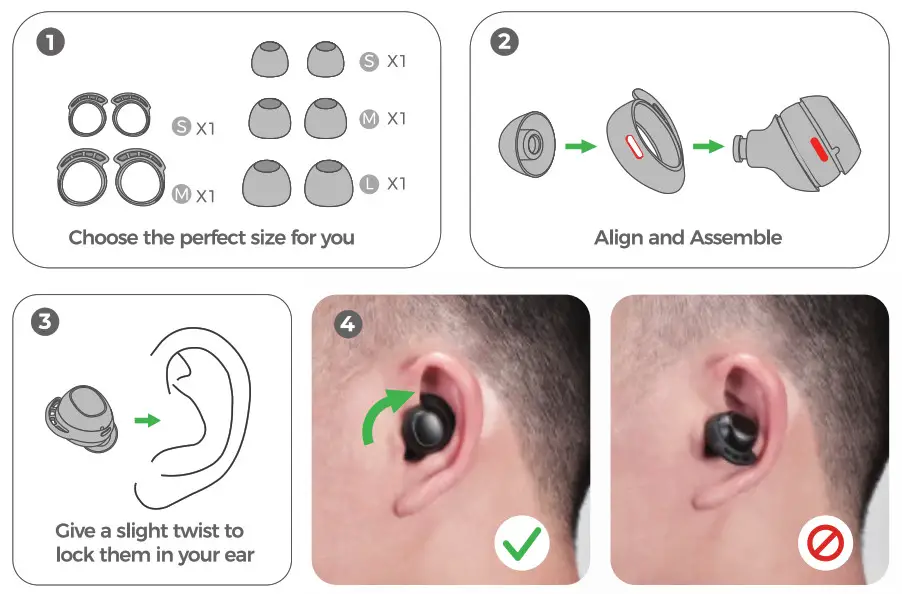 QandA
Q1 : Why doesn't music stop when I put M30 back into the case?
Reason 1: Earbuds might not be placed properly and it is not in the status of charging.
Solution: Make sure M30 is being properly placed by checking whether the light of earbuds flash when they are back into the case. Once you close the case, M30 will automatically disconnect from your phone.
Reason 2: The charging case is out of battery
Solution: To recharge the case or to manually turn off the earbuds by long-pressing the button on both earbuds for Ss until you hear "Power off'.
Be kindly noted that the case must be closed to disconnect the earbuds.
Q2: How do know the remaining battery of the charging case?
3 colors indicate different battery levels:
| | | |
| --- | --- | --- |
| Red Light 0-35% | Pink Light: 35%-75% | Blue Light 75%-100% |
Q3:The left earbud is lost so I buy a new single left one, how to pair?
Methods:
Step1. Double-tap both earbuds, then the LED will flash red and white alternately which means that they are in the pairing mode.
Step2. Long press both earbuds for 3s, LED will flash red and white simultaneously. Put them back to the charging case and now you can connect to your phone.