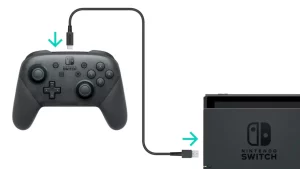 In this article, you'll learn how to pair the Pro Controller to a Nintendo Switch system.
Important: The system must be powered on. It is not possible to pair a controller while the system is in sleep mode.
Note
Once paired, the player LED(s) corresponding to the controller number will remain lit.
Up to eight wireless controllers can be paired to a Nintendo Switch system. However, the maximum number of controllers that can be connected will vary depending on the type of controllers and features that are used.