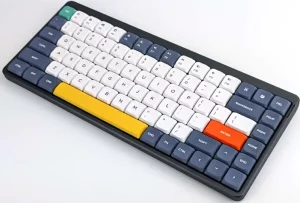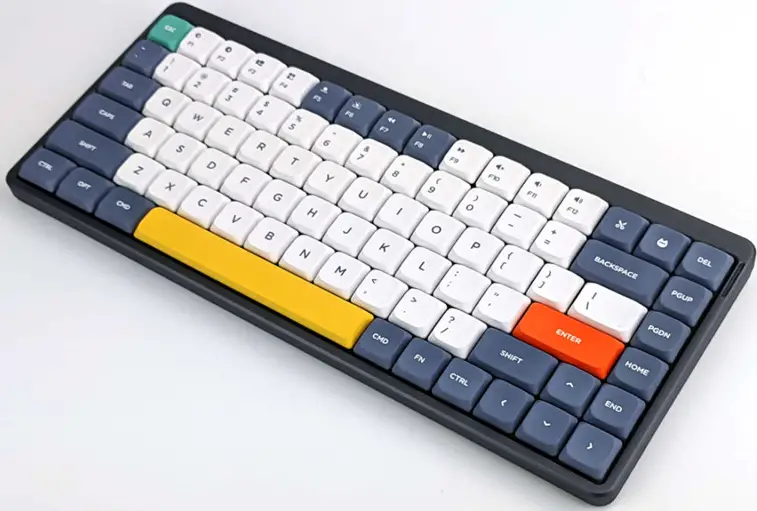 Air60 Wireless Mechanical Keyboard
NuPhy ®
www.nuphy.com
[email protected]
System Selection
Win mode / Win Mac mode / Ma
Win -E— / Win IHE / Mac F / Mac 2E
Connection Mode Selection
Power Off
Wired mode
Wireless mode
* In the wire mode, it is necessary to use a data cable to connect with the device.
Wireless Device Connection
Long press. 3 ssmoryisto enter paving redo, short press .o switch halogen device; Fig in 2.1Ght RAC, AivAr loin your computer before pressing FN +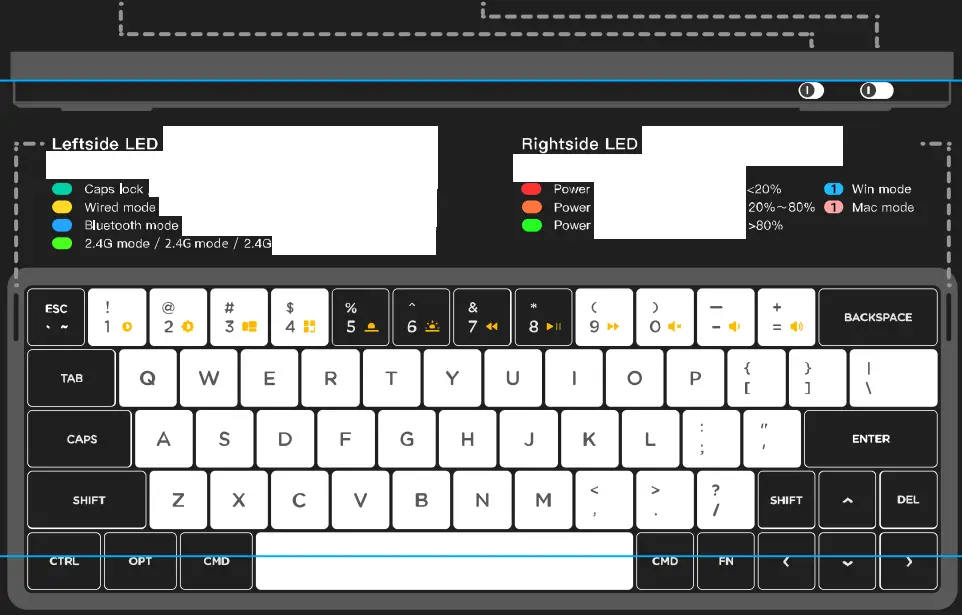 Backlight Settings
FN +<= Backlight effect switching
FN +> = Backlight odor sviitchin FN +
FN + = Backlight spocd +
Sideli Setting

FN + ? + Sidelight effect switching
FN + ? + > = Sidelight color switching
FN + ? +"%e = Sidelights brighhtness +
F + ? + , = Sidelight speed +
Sleep Mode Settin
FN + TAB + x = sleep mode Off
FN + TAB + C = cep mode On
If there is no operation on the keyboard. it will tom or the light and enter deep mode alter 6 minutes.
Function Keys Switching
Mac: EN + 1/2/3…+ = F1/F2/F3…F12
Win: FN + 1/2/3…+ = multimedia function keys
Battery Indicator
FN + I= Flashes the current battery level color
FN + = Battery indicator always on enabled
FN + I – Battery indicator always on disabled
Facto Rese
FN + TAB + V = Factory reset
FCC Caution
This device complies with part 15 of the FCC Rules. Operation is subject to the following two conditions:
This device may not cause harmful interference, and
This device must accept any interference received, including interference that may cause undesired operation.
Any changes or modifications not expressly approved by the party responsible for compliance could void the user's authority to operate the equipment.
Note: This equipment has been tested and found to comply with the limits for a Class B digital device, pursuant to part 15 of the FCC Rules. These limits are designed to provide reasonable protection against harmful interference in a residential installation. This equipment generates uses and can radiate radio frequency energy and, if not installed and used in accordance with the instructions, may cause harmful interference to radio communications. However, there is no guarantee that interference will not occur in a particular installation. If this equipment does cause harmful interference to radio or television reception, which can be determined by turning the equipment off and on, the user is encouraged to try to correct the interference by one or more of the following measures:
Reorient or relocate the receiving antenna.
increase the separation between the equipment and the receiver.
connect the equipment into an outlet on a circuit different from that to which the receiver is connected.
Consult the dealer or an experienced radio/TV technician for help.
The device has been evaluated to meet general RF exposure requirements. The device can be used in portable exposure conditions without restriction. The use distance is not more than 5mm.
FAQS
Including nufolio2?
It does not include the stand.
Does It fit on top of the MacBook pro 13 m2? Does It allow to use the touch bar?
Yes, they can match exactly.
Does the air 60 or air 75 have a storage lot for the 2.4ghz dongle? Also is the dongle usb A or C connection?
The Air60 and Air75 don't have A special place to store 2.4G receivers, they are USB A.
Can you swap in Kailh Choc's low-profile switch?
AIR60 doesn't support this switch.
How do you make a screenshot with the nuphy air 60?
on windows: Win + shift + s
On mac: cmd + shift + 5
Is this compatible with the steam deck's Linux-based desktop mode? the description states it's compatible with windows and macos, but no Linux mention.
Air60 is compatible with linux system.
Does it work as an iPad keyboard?
Of course, with the NuFolio V2 we designed, it can bring a better experience.
Can Air60 fit on my 2021 Macbook?
Yes, it fits all series of MacBooks.
Air60 mechanical keyboard could be used on windows?
Yes, we have designed the corresponding windows keycaps and put them in the accessories.
Do you have plan to use open-source firmware, or to support a programmable fn layer, for fn+a as an example?
We do not have this plan for the time being. If the product is updated and iterated in the future, we will have the plan to arrange this matter.
Is the NuPhy keyboard worth it?
The NuPhy Air75 is a very good keyboard for office use. It has a low-profile design that's comfortable for long periods as you don't need to bend your wrists upwards. It feels well-built, and the Gateron Low Profile Brown switches offer a light typing experience with a nearly instant tactile bump
Is NuPhy a Chinese company?
NuPhy is located in Concord, Massachusetts, United States.
How long does NuPhy Air 60 battery last?
NuPhy's lab tests indicate that the built-in 2500mAh rechargeable battery can last up to 48 hours, which is plenty for users on the go.
What is the fastest mechanical keyboard?
The Apex Pro TKL is the world's fastest keyboard with OmniPoint 2.0 switches for over 11x faster response and 10x quicker actuation. Adjust keystrokes to your desired registration depth, ranging from 0.2mm to 3.8mm, or combo two functions in one key while playing with a streamlined TKL keyboard.
Keycaps for NuPhy Air60-Video