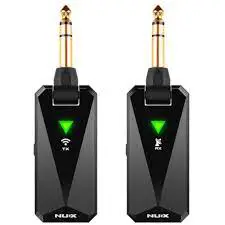 NUX Wireless System for Guitar and Bass User Guide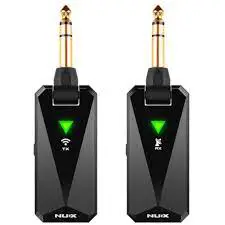 Warning
To reduce the risk of fire or electric shock, do not expose this appliance to rain or moisture.
FCC Warning
This device complies with part 15 of the FCC Rules. Operation is subject to the following two conditions:
This device may not cause harmful interference, and
This device must accept any interference received, including interference that may cause undesired operation.
Any changes or modifications not expressly approved by the party responsible for compliance could void the user's authority to operate the equipment.
NOTE: This equipment has been tested and found to comply with the limits for a Class B digital device, pursuant to Part 15 of the FCC Rules. These limits are designed to provide reasonable protection against harmful interference in a residential installation. This equipment generates, uses and can radiate radio frequency energy and, if not installed and used in accordance with the instructions, may cause harmful interference to radio communications. However, there is no guarantee that interference will not occur in a particular installation.
If this equipment does cause harmful interference to radio or television reception, which can be determined by turning the equipment off and on, the user is encouraged to try to correct the interference by one or more of the following measures:
Reorient or relocate the receiving antenna.
Increase the separation between the equipment and receiver.
Connect the equipment into an outlet on a circuit different from that to which the receiver is connected.
Consult the dealer or an experienced radio/TV technician for help.
To maintain compliance with FCC's RF Exposure guidelines, This equipment should be installed and operated with minimum distance beMeen 20cm the radiator your body: Use only the supplied antenna.

The lightning symbol within a triangle means, "Electrical caution!" It indicates the presence of information about operating voltage and potential risM of electrical shock.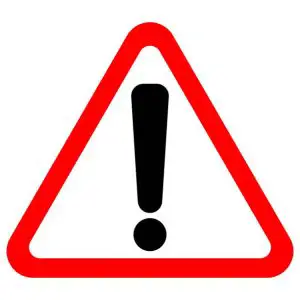 The exclamation point within a triangle means, "Caution!" Please read the information next to all caution signs.
System Overview
NUX B-5RC wireless guitar system features with automatic setup, 2.4 GHz interference free broadcasting frequency and 24-bit 44.1 kHz high- quality audio transmitting. The signal latency is super low and less than 5ms. The operation range is around 30 meters (100-feet). It's a super light-weight wireless, mini compact design that fits all types* of electric guitar, electric-acoustic guitar, bass guitar and ukulele.
Tested on 25 variety of different instrument, body types, and brands.
The user-friendly matching system makes it easier to use, just turn 0N both wireless units and it will be paired within a couple of seconds. Each wireless set has a unique pairing algorithm, it automatically detects each other and configures their own IDs. The signal never interferes with any other wireless including the WIFI* signal.
Recommended: Please stay 2 meters (6 feet) away from the WIFI router for the best performance.
NUX B-SRC comes with the power case to keep the wireless unit charged. When the power case is fully charged, it can re-charge the wireless unit's battery 2-3 times.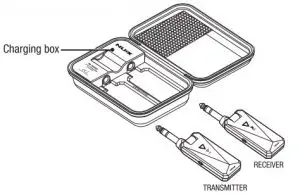 How to Operate
Push and hold the power button to turn on the transmitter and receiver.
Before it gets paired automatically, you can see the batter status; if the triangle LED.

Blinks Green – Well Charged (100%-75%)
Blinks Yellow-Medium Battery (75%-50%)
Blinks Red-Low Battery (50%-25%)
Flashing Red for 10 times-Low Battery (<25%), turn off automatically to protect life.

Regularly B-5RC could work around 3.5 hrs since full charged to low battery.
After 2 seconds, it will be paired automatically, and the receiver triangle LED status will flash Green.
(B-5RC will detect the best channel in 2.4 GHz frequency band, if the transmitter and receiver get paired, both will show Green. If the receive does't receive signal, receiver's LED will flash Red. Since the receiver the signal, it will show Green.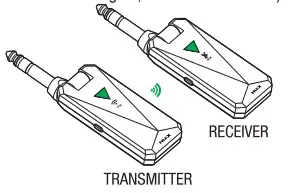 Connect the transmitter to your instruments output and connect the receiver to the unit where you want to send the signal (amplifier, pedal, audio interface or mixer etc).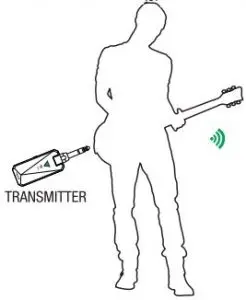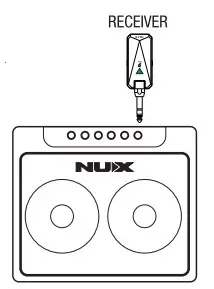 Please turn off the unit (both the transmitter and the receiver) and put them back to the power case each time after you use it. If the units battery is running low, you can press the power button on the power case to active its charging function. Once the unit is fully charged, the function will be shut down automatically. DO remember to recharge the power case once you noticed that there is only 1 indicator light on (low capacity indicator).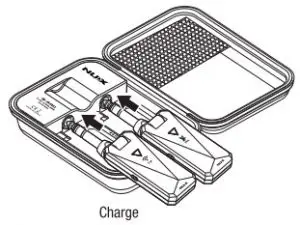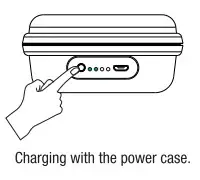 Notice: To recharge the power case, please make sure that you power adapter has a power output of 5V and 1A (or higher).
You can charge the wireless units directly by using the micro-B USB Y cable (included).

Notice: ID Match-B-5RC already sets ID matched before shipping, but of you want to use different transmitter or receiver to get paired, please follow the steps to re-set ID match. Turn off the devices, hold the power button of transmitter and receiver for more than 5 seconds, then it will enter to ID match status. Since the receiver blink from RED to GREEN, it finishes ID match.
Function Introduction
Mute Function
While B-5RC works, press transmitter's power button once, it will enter to MUTE, then the transmitter and receiver will show Red.
Press transmitter's power button again, it will go back to work status. The transmitter and receiver will show GREEN.
Cable tone Function
While B-5RC works, press receiver's power button, the receiver will enter to Cable tone mode. (Receiver's LED indicator will become "Orange"). It simulates around 21 feet (6.4 meters) length cable capacitor effect. (The default is "Regular" mode, if you need cable tone, press operate the process manually).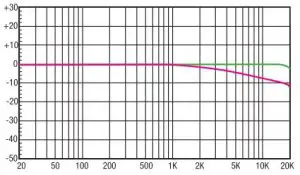 Audio Precision
| | | | | | | | |
| --- | --- | --- | --- | --- | --- | --- | --- |
| Sweep | Trace | Color | Line Style | Thick | Data | Axis | Comment |
| 3 | 1 | Green | Solid | 3 | Anlr.Ampl | Left | Regular |
| 4 | 1 | Magents | Solid | 3 | Anlr.Ampl | Left | Regular |
Auto off function
If there is no signal till 10 minutes, B-5RC will turn off automatically to save battery power.
Note:- While you are charging with USB Port, B-5RC will stop working, and go to battery charging. LED shows RED as charging, white its full charged RED LED will turn off.
Specification
2.4 GHz operating frequency
24bit 44.1 KHz audio quality
Low latency signal transmitting, less than <5ms
Frequency response 20Hz-20kHz
THD + Noise <0.05% 1 kHz @ -10dbFS
Audio-sleep mode
Transmitter and receiver: 3.7V/500 mAh
Battery run time 3.5 hours (approx)
Power case: 4000 mAh
Both wireless units can be charged 3 + times
Dimensions: 107 (L) x 30 (W) x 25 (H) mm
Weight: 68g