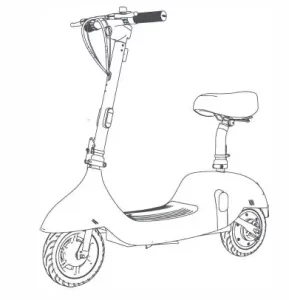 OKAI EA10A Little Seated Electric Scooter
Introduction
Thank you for purchasing the OKAI electric scooter. Thank you for purchasing the OKAI electric scooter. Ol</1 OKAI sincerely hopes that you can ride the scooter safely and enjoy a comfortable riding experience. Since riding a scooter carries certain risks, please read this practical manual carefully before riding, and adequately prepare before going on the road. Please keep the instruction manual in case you need it from time to time. If you give the electric scooter to others, please also provide them with this user manual. Failure to comply with this user manual may cause serious injury to people or cause damage to the product. OKAI does not assume any responsibility for this. In order to be concise and easy to read, the OKAI E-Scooter will be referred to as a "product" in the following Content.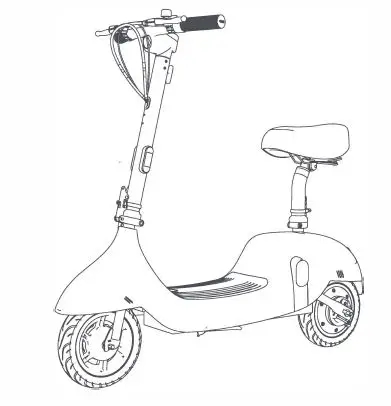 Technical Data
Item
Content
EAlOA

Vehicle Specifications

Dimensions(U nfolding): length,width,height

ll45'533'1045mm

Dimensions(foIding): length,wid th,height
1145'554 '614mm
N.W.
26.5KG
Maximum Speed
25KM/H
' Range
,(40Km
Maximum Gradi ent
20%
Adapted Terrain
Pavement
Operating Tempera t ure
0~40″C
Storage Tempe ratur e
-20-40°C
IP Rating
Finis hed product IPXS
Cha rging Tim e
2A< 6H; 3A< 4H

Battery Specifications

Rated Voltage
36V
Max Charging Current
SA
Rated Ca pacity
10.4AH (10 series 4 parallel)
BMS
Negative point port
Battery Quantity
40Pcs
Swappable battery7 (Yes or No)
Yes
Charging cabinet version

Motor Specifications

Motor Size
10inch
Max Torque
20N.m
Rated Voltage
36V
Rated Pu wer
350W
Max Power
560W
Motor Control Mode
Brushless gearless motor
Brake
Braking Distance
<4.SM
Item
Content
EAlOA
Brake
Brake Type
The front wheel is equipped with a mechanical drum brake The rear wheel is equipped with a mechanical drum brake

+ electronic brake

Tire

Tire Size
Front : 10inch Rear: 10inch
Tire Material
Vacuum tires

Charger

ln, r ut Vnlta ge
100-240V
Output Voltage
42V
Output current
2A

User

Max Load
100KG
AGE Recommended
>14years nld
Height Required
120-200cm

Characteristics

Brake ligh t
Light off/low light flashing alternately
Riding mode
Zero start (Rear drive)
Certification
FCC, UL testing report

Bluetooth

Frequency band
2.4000-2.4835GHz
Maximum frequency band power
20mW

Packing

Manner uf packing
lpc/ctn
G.W.
32.5KG
Range: When fully charged, with a load of 75kg, an ambient temperature of 25'C, driving on a flat road at a constant speed of 60% of the maximum speed.
Factors affecting Range include: speed, ambient temperature, climbing, number of starts and stops, etc.
Symbol Explanations
A DANGER
Indicates a hazard signa l with a high degree of danger. If not avoided, death or

seriuus injury may uccur.

.&.WARNING
A hazard signal that indicates a moderate hazard. If not avoided, death or

serious injury may occur.

.&.CAUTION
A hazard signal that indicates a lower hazard. If not avoided, mild or moderate injury may occur.
This symbol marks addit ional information and instruc tions about the product an d its use.
This symbol stands for "cnnfn rms tn El I standa rds", meaning "conforms to" EU Directive. The manufacturer makes ace mark to confirm that the product complies with ap plicable European directives and regulati ons.
Please read the inst ructi on manual carefully before use.

Pusitive an d negative display.

This product is a second-class protection product.

This product can only be used by people weighing more than 30 kg and less than 100 kg.
Wear personal protective equipment(PPE).
The product can only be used by one person at a time.

It can only be used on flat and dry roads.

Please do not use this product aft er taking alcohol, sedativesor psychotropic drugs.
Minimu m age: 14y earsold.

Do not enter the road with these signs.
List of finished products and parts
intended Use
An electric scooter is intended for sport and entertainment purposes, not for use as a means of transportation, but the transportation faction of the product once you drive it into public areas (as permitted by the laws and regulations of your region and country)also carries potential safety risks for all vehicles. Drive strictly in accordance with the instructions in this manual to ensure the safety of yourself and others to the utmost extent, and to ensure compliance with national first-level traffic laws and regulations of various provinces and cities, such as traffic regulations, etc.
Please note: Once you drive an electric scooter on public roads or other public places (as permitted by the laws and regulations of your region and country regarding the use of electric scooters on public roads or other public places), even if you fully comply with this safe driving guide operation, you may also face risks caused by illegal driving/im­proper operation by others, or other vehicles. Just like when walking or riding a bicycle, you may also be injured by other vehicles. As with any vehicle, the faster you drive an electric scooter, the longer the distance required to brake, and emergency braking on smooth surfaces may also cause the wheels to slip and lose balance or even fall over. Therefore, it is very important to be vigilant when driving, maintain a proper speed, and maintain a reasonable and safe distance from other people and vehicles. When driving on unfamiliar terrain, stay alert and drive at a low speed.
Please respect the pedestrian's right of way when driving. Avoid frightening pedestri­ans, especially children.
When driving in countries and regions where there are currently no national standards and regulations related to electric scooters, such as China, please be sure to comply with the safety requirements for drivers in this manual. Zhejiang Oukai Automobile Industry Co., Ltd. will not bear any direct or joint liabilities for any financial losses, losses of life, legal disputes, or any other unfavorable events that occur due to the violation of the recommended uses indicated in this manual.
To avoid potential injury, do not lend the electric scooter to people who can't operate it. If you give the electric scooter to a friend to use, please be responsible for your friend's safety, teach them to operate the scooter, and tell them to wear protective equipment.
Please perform a basic inspection of the electric scooter before each driving. If you find that there are loose parts, the battery life is obviously reduced, the tires are excessively worn, the steering makes abnormal noises or malfunctions, etc., please stop using the scooter immediately, and do not force it to drive.
Safety instructions
This section lists the safety instructions that should be followed when using this productGeneral safety instructions
It may be dangerous to use this product! Learn to use the product step by step and spend enough time on practicing. Please follow all the tips and warnings set forth in this manual to reduce risks but cannot eliminate all risks. Therefore, even if you have enough practice, guidance or expertise, you may still lose control, collide or fall over, which may cause serious consequences.
An instruction to keep the printed instructions for further reference and to be read carefully before use.
Maximum speed allowed: 25 km/h.
Pregnant women, the disabled, and those who suffer heart, head, back or neck diseases (or have undergone operations on these parts) should not use this product.
Do not use this product after taking alcohol, sedatives or psychoactive drugs, so as not to affect your judgment.
Keep a distance of at least lm from pedestrians, other vehicles and any obstacles.
This product can only be used when the environment permits it and the personal safety of bystanders is guaranteed.
Pay attention to the obstacles in front places and those far away, the unobstructed view will be helpful for safe use!
This product may be used by only one person. It is forbidden to use this product with others. Don't make sharp turns when driving the scooter at high speed.
Avoid sudden acceleration or sudden braking; do not lean your body for acceleration.
Excessive forward or backward is strictly prohibited.
Do not misuse this product.Do not use this product on roadsides, ramps, in skate parks, empty swimming pools, or any place similar to sliding plates.
Do not use this product to cross obstacles, slopes, ice or snow, nor climb up or down steep slopes,stairs or escalators.Do not expose this product in the rain.
Do not use this product in places where the depth of the puddle exceeds 2cm, because water may enter the motor.
Don't jump on this product.Don't try to use this product to do any acrobatics or juggling.
In order to avoid distraction when driving the scooter,please do not wear earphones, earplugs,make or answer calls, take pictures or videos or do any activities that are not related to driving, so that you may monitoring the external environment well while driving the scooter.
Be sure to hold both handles when riding.
Do not use this product at night or in places with poor light.
When you encounter pedestrians or other obstacles, check if you can pass safely.
Please use this product and its accessories at an appropriate temperature. Pay attention to the temperature requirements for battery charging.
Please always wear personal protective equipment (to protect wrists, knees, head and elbows) suitable for your weight and size to avoid injury. In working areas, local laws or regulations may have minimum requirements for helmets. In addition, it is suggested that safety mirrors be worn.
According to French traffic rules, reflective clothing and helmet is strongly required during cycling.
Do not hang this product with other products or vehicles.
When being not used, this product should be parked with the kickstand.
Any load added to the handle will affect the stability of the scooter.
WARNING .The braking distance will be extended under humid conditions.
WARNING If any mechanical parts are subject to great external pressure and wear, different materials and parts may react differently to wear. If a part exceeds the expected service life, it may suddenly break, which may cause injury. Cracks, scratches and discoloration in the area affected by external pressure indicate that the part has exceeded its service life and should be replaced in time.
WARNING! Please keep the plastic cover away from children to avoid suffocation.
Please spend enough time practicing how to use this product, so as to avoid accidents caused by lack of skills.
If training is required, the seller may provide corresponding training tutorials
When you are approaching pedestrians or cyclists, you may flip/ turn the bell for reminding them.
When passing a protected passage, please get off and walk through it.
Pay attention to protect your own safety and the safety of others in all cases.
Do not use this product for other purposes such as carrying people and objects.
Using the brake for a long time may cause heating, and thus do not touch it.
Regularly check all kinds of bolts, especially the axle, folding system, steering system and brake shaft.
It is prohibited to refit this product, including steering tubes, steering sleeves, steering rods, folding mechanisms and rear brakes.
Accessories and any additional items which are not approved by the manufacturer shall not be used.
When riding, the noise should not exceed 70dB.
When using the product, users must wear shoes.
This appliance can be used by children aged from 14 years and above and persons with reduced physical, sensory or mental capabilities or lack of experience and knowledge if they have been given supervision or instruction concerning use of the appliance in a safe way and understand the hazards involved. Children shall not play with the appliance. Cleaning and user maintenance shall not be made by children without supervision.
Traffic in the city has many obstacles to cross such as curbs or steps. It is recommended to avoid obstacle jumps. It is important to anticipate and adapt your trajectory and speed to those of a pedestrian before crossing these obstacles. It is also recommended to get out of the vehicle when these obstacles become dangerous due to their shape, height or slippage.
Get closer to your seller so he can refer you to an appropriate training organization.
Avoid high traffic areas or overcrowded areas.
In any case, anticipate your trajectory and your speed while respecting the code of the road, the code of the sidewalk and the most vulnerable.
In all cases, take care of yourself and others.
Power-off the vehicle during charging.
Do not divert the use of the vehicle.
This vehicle is not intended for acrobatic use.
Caution, the brake may become hot in use. Do not touch after use.
Regularly check the tightening of the various bolted elements, in particular the wheel axles, the folding system, the steering system and the brake shaft.
Any Changes or modifications not expressly approved by the party responsible for compliance could void the user's authority to operate the equipment.
NOTE: This equipment has been tested and found to comply with the limits for a Class B digital device, pursuant to part 15 of the FCC Rules. These limits are designed to provide reasonable protection against harmful interference in a residential installation. This equipment generates, uses and can radiate radio frequency energy and, if not installed and used in accordance with the instructions, may cause harmful interference to radio communications. However, there is no guarantee that interference will not occur in a particular installation. If this equipment does cause harmful interference to radio or television reception, which can be determined by turning the equipment off and on, the user is encouraged to try to correct the interference by one or more of the following measures:
Reorient or relocate the receiving antenna.
Increase the separation between the equipment and receiver.
Connect the equipment into an outlet on a circuit different from that to which the receiver is connected.
Consult the dealer or an experienced radio/TV technician for help.
This equipment must be installed and operated in accordance with provided instructions and the antenna(s) used for this transmitter must be installed to provide a separation distance of at least 20 cm from all persons and must not be co-located or operating in conjunction with any other antenna or transmitter. End-users and installers must be provide with antenna installation instructions and transmitter operating conditions for satisfying RF exposure compliance. This device may not cause harmful interference.This device must accept any interference received, including interference that may cause undesired operation.
Battery safety precautions
The battery should not be exposed to excessive heat such as sunlight, fire or the like. Otherwise there will be a risk of explosion!
If this product is not used for more than 30 days, please fully charge the battery.
Fully charge the battery every 90 days. Otherwise, the battery will conduct self-dis­charge and be damaged.
If the battery emits a strong smell or becomes hot, stop using the product immediate­ly. Do not open the product casing and don't try to disassemble the battery by yourself.
Please dispose of the battery correctly and safely.
Safety instructions for battery charger
Please use the original battery charger provided with the product for charging.
The battery charger is not suitable for children under 14 years old, people with mental disorders, those who are disabled, etc., unless they use this product under the supervision or guidance of their guardians.
Check again whether the power plug and cable are damaged. If so, they must be replaced by the manufacturer, a designated service agent or a person with similar qualifications to avoid danger.
Before cleaning, storage and transportation, disconnect the battery charger from the power source and allow it to cool down.
Protect electrical components from moisture. When the battery charger is cleaned or used, do not immerse it in water or other liquids to avoid electric shock. Do not put the battery charger in water. When being charged, this product must be placed in a well-ventilated place. After the battery is fully charged, immediately disconnect the charger from the power source.
Regularly check whether the battery charger is damaged. A damaged battery charger must be repaired before use. Do not use a battery charger that has been left exposed for a long time or damaged.
Do not connect a damaged product to the battery charger. There is a risk of electric shock!
Do not disassemble the battery charger. Repairs must be performed by reliable after-sales service personnel. Incorrect assembly may cause fire or electric shock.
Do not use the charger near flammable and explosive items, otherwise there is a risk of fire and explosion.
Please check the technical data before connecting the battery charger to the power source. Improper use may cause fire! The battery charger should be used indoors only.
Do not misuse the battery charger. The battery charger is only suitable for this product. Use with other products may cause fire or electric shock.
Make sure that the battery charger and the charging port are properly connected and not blocked by foreign objects.
Keep the charging port clean, dry, and free from dust and humidity. Do not put any objects on the battery charger, and don't cover it. Otherwise, the battery may overheat. Do not place the battery charger near any heat sources.
Be sure to place the power line in places where no one may trip, step on, or damage it, Otherwise there will be a risk of material damage and personal injury.
Do not disconnect the battery charger from the power source by pulling the power line. Please manually remove the plug.
Do not attempt to charge non-rechargeable batteries.
How to use
Using the product for the first time
This section provides information on how to use the product correctly. To ensure user safety and service life, 1t 1s important to follow these 1nstruct1ons.
Open the package, take out the accessories box and the foam in the middle slot.
Remove the head tube and steering tube from the foam. Lift the steering tube up a bit and insert the head tube into the steering tube. Lift the preinstalled head module into an upright position. Use the hexagon wrench tool to tighten the head tube with four M6 screws.
Remove the top three foam.
Steering tube installation procedures.Stand up the steering tube and pull the folding handle upward to secure the folding device. Clamp the retaining ring into the slot of the folding handle, to serve as the second safety fixed folding device.
Seat tube installation procedures.Stand up the seat tube to buckle the folder (refer to step 4). Insert the seat cushion into the seat tube retaining groove, and align the body with a wrench to tighten the seat screws.
Get the vehicle out of package.
Use the key to open the pedal cover and connect the battery plug to power up the vehicle; Open the front charging port cover on the right side of the vehicle and connect the charger to charge the vehicle.Use the key to open the battery pedal. Insert the adapter into the charging port on the battery.
Use the key LOGO surface to touch the meter, or touch the LOGO surface of the key to turn on the meter, or press the unlock button on the key to enter P mode. Press the left handlebar button to enter cycling mode.
Remote key (With NFC function): Touch the LOGO surface of the key to turn on the meter, or click the unlock button on the key to turn it on to enter the P mode, and click the function button on the left handlebar to enter riding mode. Function button (left button of hand handle): After the vehicle is started into P mode, press to enter riding mode,press and hold the function button for about 3 seconds to power off; Press the function button once to turn the headlights on/off while the vehicle is powered on; Press twice to switch to E (pedestrian mode) /L (economy mode) /H (sports mode) while the vehicle is powered on; E mode is pedestrian mode, with a maximum speed of Skm/h, which is suitable for use on pavement; L mode is economy mode, with a maximum speed of 15km/h; H mode is sports mode, with a maximum speed of 25km/h; Press five times in riding mode to switch the speed unit; APP turns on the cruise function, which maintains a constant speed. When the vehicle speed is greater than 5km/h, press and hold the function button for 2 seconds to enter cruise mode at constant speed.