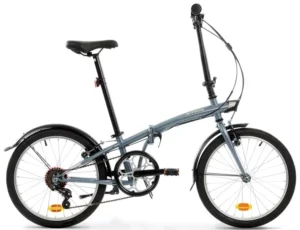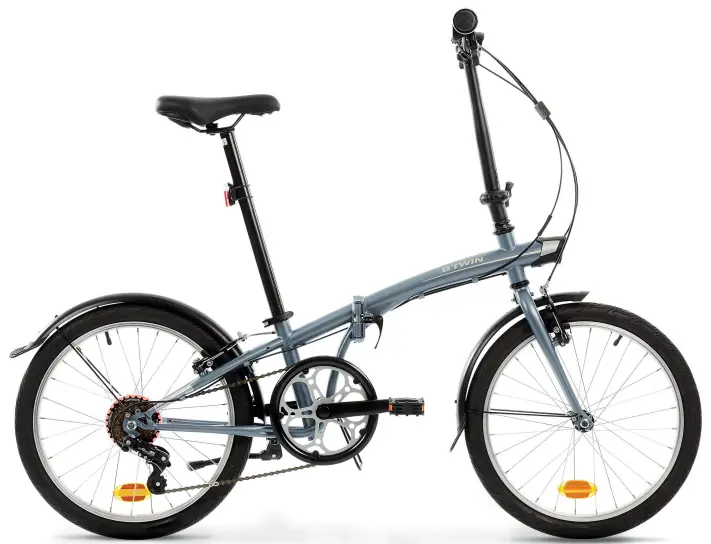 OXYLANE 100/120 Folding Bike

BEFORE YOU RIDE
Before each bike ride check that your front and back brakes are working perfectly.
An under-inflated tyre will affect the performance of your OXYLANE bike. Recommended pressure: 4 bars.
Your OXYLANE bike is hardwearing but is not a BMX. It isn't designed to carry out acrobatics and other tricks.
Some accessories you add could make it difficult to fold your bike correctly, such as a front basket or pannier bag
Keep the same tyre width at the front and back of your bike.
Levers and drive train components must only be replaced with identical models.
Do not oil the seat post.
You can adjust the position of your saddle according to the position recommended below.
Maximum user load: 100 kg
For optimum stability of your OXYLANE bike on the ground when folded, we recommend you use the left pedal, slightly tilted back.
Cyclist height: Minimum: 145cm – Maximum: 185cm
The stem is designed to be mounted as a stopper, height adjustment is prohibited.
OXYLANE 100 – 120 – FOLDING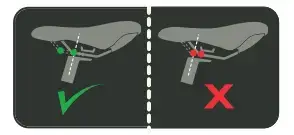 OXYLANE 100 – 120 – UNFOLDING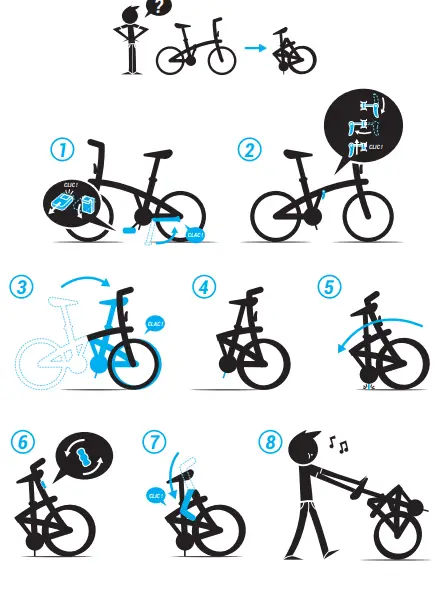 OXYLANE 100 – TECHNICAL DESCRIPTION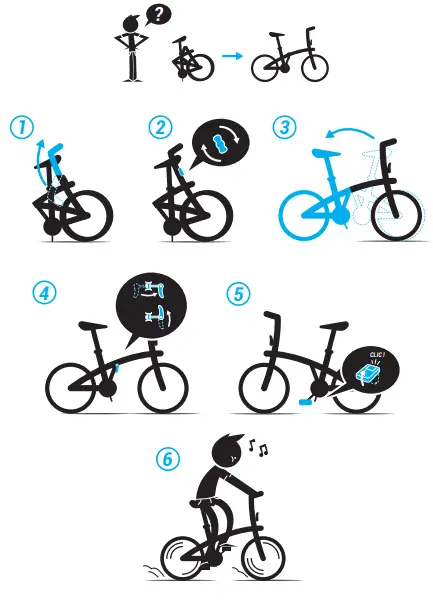 A Ergonomic seat handling
B EOH frame hinge
C Stem hinge
D Battery-powered light (LED) E Steel Frame
F Frame stand
G Steel saddle post
H Steel fork
I Single-speed transmission J Single-wall rim, 20×1.75 tyres
Specifications
| | |
| --- | --- |
| Weight: | 13,3 kg |
| Frame: | Hi-Ten steel. Frame guaranteed for life, excluding the hinge. |
| Fork: | Hi-Ten steel. Life-time guaranteed fork. |
| Drive train: | Single speed. Progress in metres for one turn of the crank: 3.80m. |
| Brakes: | V brakes with black steel brake callipers. |
| Crank-set: | 165 mm steel cranks. |
| Handlebar/stem/head set: | Semi-upright aluminium handlebars, aluminium stem. |
| Wheels: | 20-inch aluminium single-wall rims. |
| Tyres: | Btwin Mobility 20×1.75 |
| Seat/seat post: | Quick-release seat post clamp, steel seat post diameter 31.6mm. Comfort saddle in ergonomic shape. |
| Pedals: | Non-folding |
| Accessories/equipment: | Double chain ring guard, front and rear battery-operated lighting. Bike compatible with the OXY- LANE carry case, the btwin folding bike carrier rack. Compatible with OXYLANE 120 mudguards, available to order from the after-sales service. |
| Folded dimensions: | L 78 cm, H 66 cm, W 41 cm. |
| Unfolded: | L 145 cm, H 108 cm, W 58,5 cm. |
OXYLANE 120 – TECHNICAL DESCRIPTION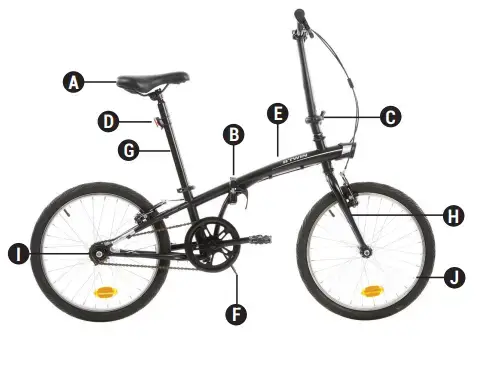 A Comfortable saddle with shape memory
B EOH frame hinge
Stem hinge
D Front LED light built into the frame. Complies with the rules of the road.
E Steel Frame
F Frame stand
G Steel seat post.
H Aluminium forks
I 6-speed transmission
J Single-wall rim, 20×1.75 tyres.
Specifications
| | |
| --- | --- |
| Weight: | 14,5 kg |
| Frame: | Hi-Ten steel. Frame guaranteed for life, excluding the hinge. |
| Fork: | Hi-Ten steel. Life-time guaranteed fork. |
| Drive train: | 6 speeds 14/28. Progress in metres for one turn of the crank: 2.96m – 5.90m. 52-tooth chain ring. |
| Brakes: | V brakes with black steel brake callipers. |
| Crank-set: | Aluminium crankset. 165mm cranks. |
| Handlebar/stem/head set: | Semi-upright steel handlebars. Aluminium stem. |
| Wheels: | 20-inch aluminium single-wall rims. |
| Tyres: | Btwin Mobility 20×1.75 |
| Seat/seat post: | Quick-release seat post clamp, steel seat post diameter 31.6mm. Comfort saddle with ergonomic shape. |
| Pedals: | Folding |
| Accessories/equipment: | Rod mudguard, stand, double chain ring guard, battery-operated front and rear lighting. Bike compatible with the OXYLANE carry case, the btwin folding bike carrier rack. Compatible with OXYLANE 120 mudguards, available to order from the after-sales service. |
| Folded dimensions: | L 78 cm, H 66 cm, W 34 cm. |
| Unfolded: | L 146 cm, H 108 cm, W 58,5 cm. |