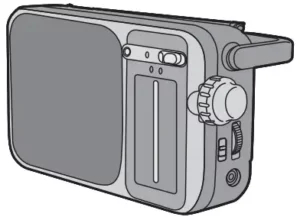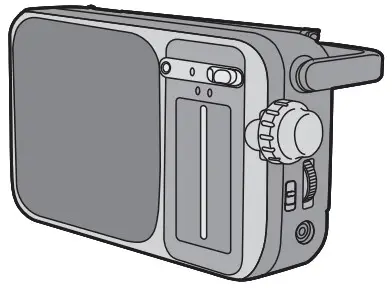 FM-AM 2-BAND RECEIVER
RF-2400D
Owner's Manual
Thank you for purchasing this product.
For optimum performance and safety, please read these instructions carefully.
Please keep this manual for future reference.
If you have any questions, visit
http://shop.panasonic.com/support
Register online at http://shop.panasonic.com/support
Panasonic Corporation of North America Two Riverfront Plaza, Newark, NJ 07102-5490
http://shop.panasonic.com/
© Panasonic Corporation 2017 Printed in Indonesia
TQBM0271-1
L1217CH1028
The model number and a serial number of this product can be found on either the back or the bottom of the unit. Please note them in the space provided below and keep them for future reference.

MODEL NUMBER______________ RF-2400D __________

SERIAL NUMBER________________________
User memo:
DATE OF PURCHASE_______________
DEALER NAME___________________
DEALER ADDRESS_________________
TELEPHONE NUMBER______________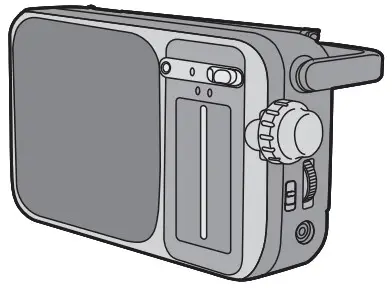 CAUTION: TO REDUCE THE RISK OF ELECTRIC SHOCK, DO NOT REMOVE SCREWS.
NO USER-SERVICEABLE PARTS INSIDE.
REFER SERVICING TO QUALIFIED SERVICE PERSONNEL.

The lightning flash with the arrowhead symbol, within an equilateral triangle, is intended to alert the user to the presence of uninsulated "dangerous voltage" within the product's enclosure that may be of sufficient magnitude to constitute a risk of electric shock to persons.
The exclamation point within an equilateral triangle is intended to alert the user to the presence of important operating and maintenance (servicing) instructions in the literature accompanying the appliance.
Conforms to UL STD 60065.
IMPORTANT SAFETY INSTRUCTIONS
Read these operating instructions carefully before using the unit. Follow the safety instructions on the unit and the applicable safety instructions listed below. Keep these operating instructions handy for future reference.
Read these instructions.
Keep these instructions.
Heed all warnings.
Follow all instructions.
Do not use this apparatus near water.
Clean only with a dry cloth.
Do not block any ventilation openings. Install in accordance with the manufacturer's instructions.
Do not install near any heat sources such as radiators, heat registers, stoves, or other apparatus (including amplifiers) that produce heat.
Do not defeat the safety purpose of the polarized or grounding-type plug. A polarized plug has two blades with one wider than the other. A grounding-type plug has two blades and a third grounding prong. The wide blade or the third prong are provided for your safety. If the provided plug does not fit into your outlet, consult an electrician for the replacement of the obsolete outlet.
Protect the power cord from being walked on or pinched particularly at plugs, convenience receptacles, and the point where they exit from the apparatus.
Only use attachments/accessories specified by the manufacturer.
Use only with the cart, stand, tripod, bracket, or table specified by the manufacturer, or sold with the apparatus. When a cart is used, use caution when moving the cart/apparatus combination to avoid injury from tip-over.
Unplug this apparatus during lightning storms or when unused for long periods of time.

Refer all servicing to qualified service personnel. Servicing is required when the apparatus has been damaged in any way, such as power-supply cord or plug is damaged, liquid has been spilled or objects have fallen into the apparatus, the apparatus has been exposed to rain or moisture, does not operate normally, or has been dropped.
Safety precautions

WARNING!
To reduce the risk of fire, electric shock, or product damage,
– Do not expose this unit to rain, moisture, dripping, or splashing.
– Do not place objects filled with liquids, such as vases, on this unit.
– Use the recommended accessories.
– Do not remove covers.
– Do not repair this unit by yourself. Refer servicing to qualified service personnel.
The power plug is the disconnecting device. Install this unit so that the power plug
can be unplugged from the socket-outlet immediately.

CAUTION!
Remove the batteries if the unit is not to be used for a long time.
Insert so the poles (+ and –) match those in the unit.
Do not mix old and new batteries.
Do not use different types of batteries at the same time.
Do not break open or short-circuit the battery.
Do not charge the alkaline or manganese battery.
Do not use the battery if the cover has peeled off.
Do not heat or expose to flame.
Do not leave the battery(ies) in a car exposed to direct sunlight for a long period of time with doors and windows closed.
The danger of explosion if the battery is incorrectly replaced. Replace only with the type recommended by the manufacturer.
When disposing of the batteries, please contact your local authorities or dealer and ask for the correct method of disposal.
Small objects
The knobs (e.g., [TUNING] knob) can come off when pulled hard. To prevent children from swallowing the knob, do not pull it off.
FCC Note:
This device complies with Part 15 of the FCC Rules. Operation is subject to the following two conditions: (1) This device may not cause harmful interference, and (2) This device must accept any interference received, including interference that may cause undesired operation.
Supplied accessories
Check and identify the supplied accessories.
Use numbers indicated in parentheses when asking for replacement parts. (Product numbers correct as of Dec 2017. This may be subject to change.)
To order accessories, call the dealer from whom you have made your purchase.
1 AC power supply cord
(K2CB2CB00021)
Power Supply
Connecting AC power supply cord
The included AC power supply cord is for use with this unit only. Do not use it with other equipment.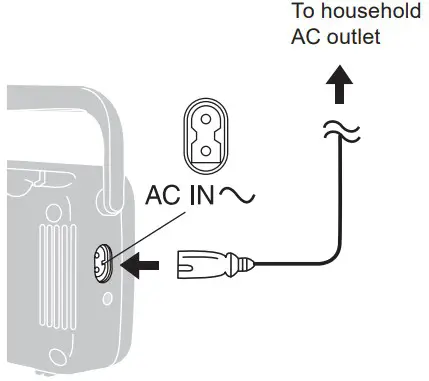 Using dry cell batteries (not included)
Unplug the AC power supply cord from the household AC outlet and the AC IN socket on the unit.
Open the battery lid.
Insert batteries in the designated order.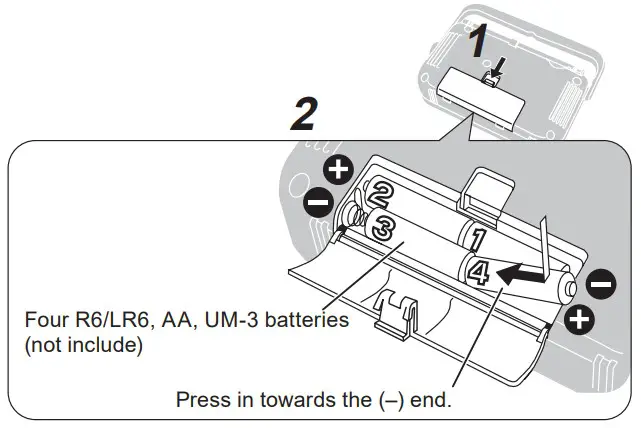 If the battery lid comes loose
Insert the protrusions on the lid into the cutouts on both sides of the compartment.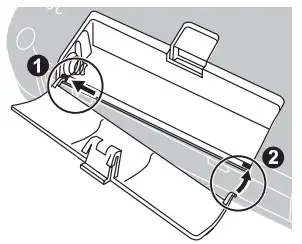 Listening to the Radio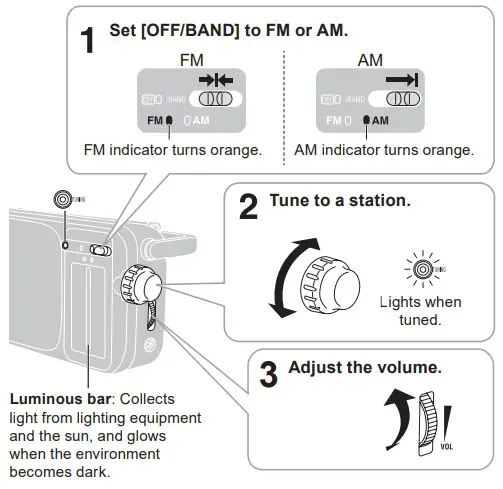 To turn the radio off
Set [OFF/BAND] to OFF.
The OFF indicator turns orange.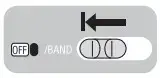 Pull out the telescopic antenna and adjust its length and angle for optimum reception.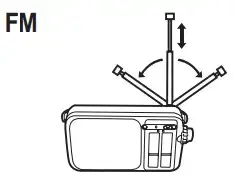 The unit has a built-in ferrite antenna, so try various directions for optimum reception.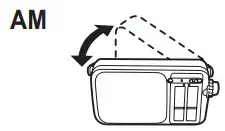 Using an earphone (not included) Sound is not heard from the speaker.
Plug type: 3.5 mm (⅛″), monaural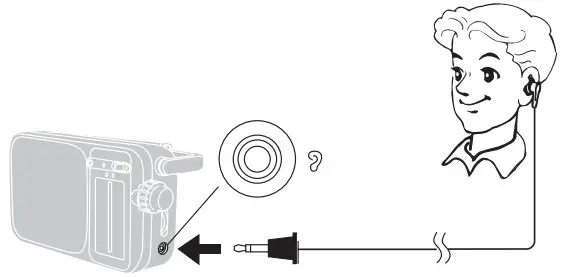 Specifications
Frequency range
FM 87 – 108 MHz
AM 520 – 1710 kHz
Output jack Earphone, Ø 3.5 mm (⅛"), 8 Ω
Speaker 10 cm (4″), 4 Ω (Full range)
Power requirement
AC 120 V, 60 Hz
Battery 6 V (Four R6/LR6, AA, UM-3 batteries)
Power consumption 3 W
Dimension (WxHxD) 234 x 122 x 82 mm
(9¼″ x 4¾″ x 3¼″)
Mass 690 g (1 lb. 8.3 oz.) (without batteries)
Battery life:
| | | |
| --- | --- | --- |
| | Alkaline (LR6) | Manganese (R6) |
| FM | Approx. 52 H | Approx. 21 H |
| AM | Approx. 55 H | Approx. 20 H |
Power consumption in standby mode: 0.4 W
Note:
Specifications are subject to change without notice. Mass and dimensions are approximate.
Maintenance
To clean this unit, use a soft, dry cloth.
If the surfaces are extremely dirty, use a soft cloth dipped in a soap-andwater solution or a weak detergent solution.
Never use alcohol, paint thinner or benzine to clean this unit.
Before using chemically treated cloth, read the instructions that came with the cloth carefully.
Limited Warranty (ONLY FOR U.S.A.)
Panasonic Products Limited Warranty
Limited Warranty Coverage (For USA Only)
If your product does not work properly because of a defect in materials or workmanship, Panasonic Corporation of North America (referred to as "the warrantor") will, for the length of the period indicated on the chart below, which starts with the date of original purchase ("warranty period"), at its option either (a) repair your product with new or refurbished parts, (b) replace it with a new or a refurbished equivalent value product, or (c) refund your purchase price. The decision to repair, replace or refund will be made by the warrantor.
Product or Part Name
Parts
Labor
Audio Products (except items listed below)
One (1) year
One (1) year
All included Accessories (Except Non-Rechargeable

Batteries)

90 Days
Not Applicable
Only Non-Rechargeable Batteries
10 Days
Not Applicable
During the "Labor" warranty period there will be no charge for labor. During the "Parts" warranty period, there will be no charge for parts. This Limited Warranty excludes both parts and labor for non-rechargeable batteries, antennas, and cosmetic parts (cabinet). This warranty only applies to products purchased and serviced in the United States. This warranty is extended only to the original purchaser of a new product that was not sold "as is".
Mail-In Service — Online Repair Request
Online Repair Request
To submit a new repair request and for a quick repair, status visit our Web Site at http://shop.panasonic.com/support
When shipping the unit, carefully pack, include all supplied accessories listed in the Owner's Manual, and send it prepaid, adequately insured, and packed well in a carton box. When shipping Lithium Ion batteries please visit our Web Site at http://shop.panasonic.com/support as Panasonic is committed to providing the most up-to-date information. Include a letter detailing the complaint, a return address, and provide a daytime phone number where you can be reached. A valid registered receipt is required under the Limited Warranty.
IF REPAIR IS NEEDED DURING THE WARRANTY PERIOD, THE PURCHASER WILL BE REQUIRED TO FURNISH A SALES RECEIPT/PROOF OF PURCHASE INDICATING DATE OF PURCHASE, AMOUNT PAID, AND PLACE OF PURCHASE. THE CUSTOMER WILL BE CHARGED FOR THE REPAIR OF ANY UNIT RECEIVED WITHOUT SUCH PROOF OF PURCHASE.
Limited Warranty Limits and Exclusions
This warranty ONLY COVERS failures due to defects in materials or workmanship and DOES NOT COVER normal wear and tear or cosmetic damage. The warranty ALSO DOES NOT COVER damages that occurred in shipment or failures which are caused by products not supplied by the warrantor, or failures which result from accidents, misuse, abuse, neglect, mishandling, misapplication, alteration, faulty installation, setup
adjustments, misadjustment of consumer controls, improper maintenance, power line surge, lightning damage, modification, the introduction of sand, humidity or liquids, commercial use such as hotel, office, restaurant, or other business or rental use of the product, or service by anyone other than a Factory Service Center or other Authorized Servicer, or damage that is attributable tracts of God.
THERE ARE NO EXPRESS WARRANTIES EXCEPT AS LISTED UNDER "LIMITED WARRANTY COVERAGE".THE WARRANTOR IS NOT LIABLE FOR INCIDENTAL OR CONSEQUENTIAL DAMAGES RESULTING FROM THE USE F THIS PRODUCT, OR ARISING OUT OF ANY BREACH OF THIS WARRANTY.
(As examples, this excludes damages for lost time, travel to and from the servicer, loss of or damage to media or images, data, or other memory or recorded content. The items listed are not exclusive, but for illustration only.)
ALL EXPRESS AND IMPLIED WARRANTIES, INCLUDING THE WARRANTY OF MERCHANTABILITY, ARE LIMITED TO THE PERIOD OF THE LIMITED WARRANTY.
Some states do not allow the exclusion or limitation of incidental or consequential damages, or limitations on how long an implied warranty lasts, so the exclusions may not apply to you.
This warranty gives you specific legal rights and you may also have other rights which vary from state to state. If a problem with this product develops during or after the warranty period, you may contact your dealer or Service Center. If the problem is not handled to your satisfaction, then write to
Consumer Affairs Department
Panasonic Corporation of North America
661 Independence Pkwy
Chesapeake, VA 23320
PARTS AND SERVICES, WHICH ARE NOT COVERED BY THIS LIMITED WARRANTY, ARE YOUR RESPONSIBILITY.
Shop Accessories!
for all your Panasonic gear
Go to
http://shop.panasonic.com/support
Get everything you need to get the most out of your Panasonic products
Accessories & Parts for your Camera, Phone, A/V products, TV,
Computers & Networking, Personal Care, Home Appliances,
Headphones, Batteries, Backup Chargers & more…
Customer Services Directory
For Product Information, Operating Assistance,
Parts, Owner's Manuals, Dealer and Service info
go to http://shop.panasonic.com/support
For the hearing or speech impaired TTY: 1-877-833-8855
As of December 2017