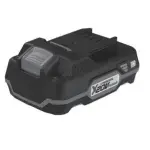 ---
RECHARGEABLE BATTERY 20V 2 Ah + CHARGER PAP 20 B1 / PLG 20 C1
---
RECHARGEABLE BATTERY 20V 2 Ah + CHARGER
Translation of the original instructions
IAN 377764_2010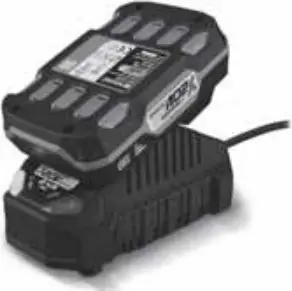 Before reading, unfold the page containing the illustrations and familiarise yourself with all functions of the device.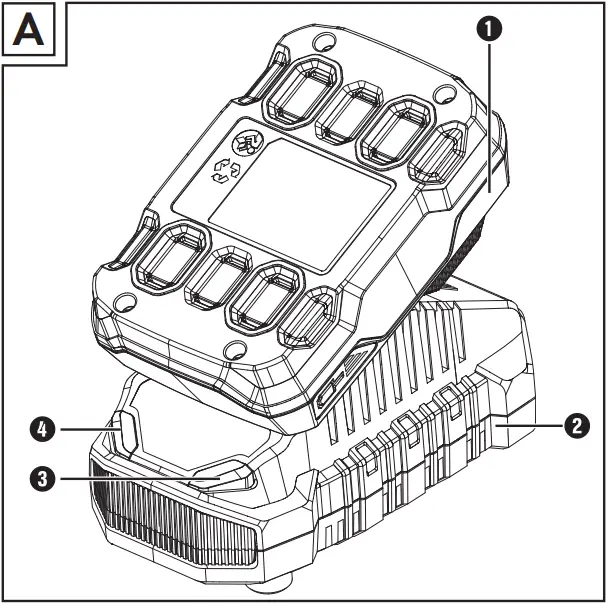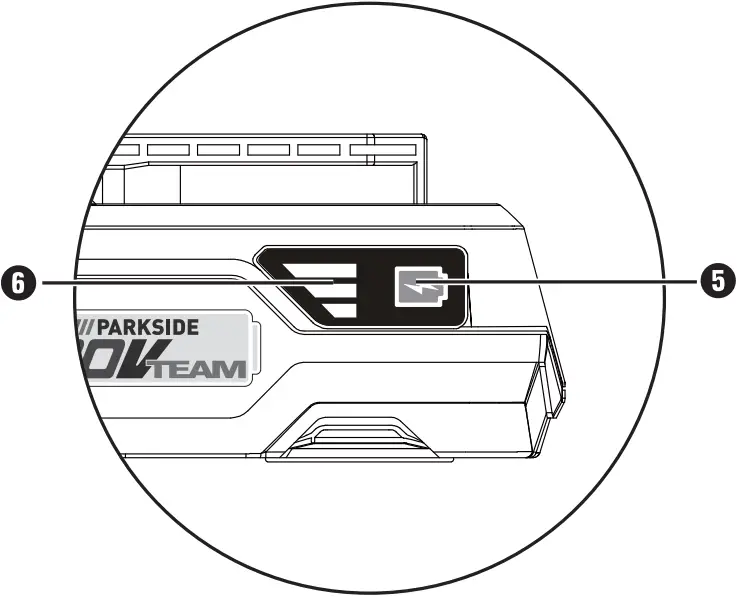 High-performance Li-Ion battery
Cell Balancing -­ longer battery life, increased battery lifespan.
Higher battery resources due to evenly used cells.
Maximises the charge potential.
All Parkside tools and the chargers PLG 20 A1/PLG 20 C1/PLG 20 A4/PLG 20 A2/ PLG 20 A3/PLG 20 C3/PDSLG 20 A1 of the X20V Team series are compatible with the PAP 20 A1/PAP 20 A2/PAP 20 A3/PAP 20 B1/PAP 20 B3 battery pack.
Charging times

---

Charging currents

2 Ah
Battery pack
PAP 20 A1/B1
3 Ah
Battery pack
PAP 20 A2
4 Ah
Battery pack
PAP 20 A3/B3
max. 2,4 A
PLG 20 A1/A4/C1
Charger
60 min______
2,4 A
90 min______
2,4 A
120 min______
2,4 A
max. 3,5 A
PLG 20 A2
Charger
45 min______
3,5 A
60 min______
3,5 A
80 min______
3,5 A
max. 4,5 A
PLG 20 A3/C3
Charger
35 min______
3,8 A
45 min______
4,5 A
60 min______
4,5 A
max. 4,5 A
PDSLG 20 A1
Charger
35 min______
3,8 A
45 min______
4,5 A
60 min______
4,5 A
Introduction
Congratulations on the purchase of your new appliance. You have chosen a high-quality product. The operating instructions are part of this product. They contain important information about safety, usage and disposal. Before using the product, please familiarise yourself with all operating and safety instructions. Use the product only as described and for the range of applications specified. Please also pass these operating instructions on to any future owner.
Intended use
This charger is exclusively intended for loading of PARKSIDE batteries of the PAP 20 A1/A2/A3/ B1/B3 series.
This rechargeable battery is suitable for: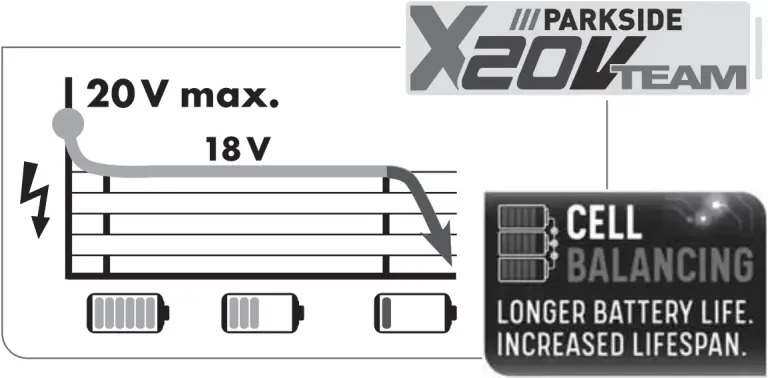 The appliance is not intended for commercial use. Any other usage or modification of the appliance is deemed to be improper and carries a significant risk of accidents. The manufacturer accepts no responsibility for damage(s) attributable to misuse.
Features
Battery pack
High-speed charger
Red charge control LED
Green charge control LED
Battery charge level button
Battery display LED
Package contents
1 rechargeable battery 20V 2Ah
1 quick charger
1 operating manual
Technical data
Rechargeable Battery 20V 2Ah PAP 20 B1
Type LITHIUM ION
Rated voltage 20 V ⎓ (DC)
Capacity 2.0 Ah
Cells 5
Charger PLG 20 C1
INPUT
Rated voltage 230 ­- 240 V ~, 50 Hz (AC)
Rated power consumption 65 W
Fuse (internal) 3.15 A

OUTPUT
Rated voltage 21.5 V ⎓ (DC)
Rated current 2.4 A
Charging time approx. 60 min
Protection class II /

(double insulation)


WARNING!
■ Read all safety warnings and all instructions. Failure to follow the warnings and instructions may result in electric shock, fire and/or serious injury. Save all warnings and instructions for future reference.
Use and handling of the cordless electrical power tool
a) Charge a rechargeable battery unit using only the charger recommended by the manufacturer. Chargers are often designed for a particular type of rechargeable battery unit. There is the danger of fire if other types of rechargeable battery units are used.
b) Only the rechargeable battery units supplied are to be used with an electrical power tool. The use of other rechargeable battery units may lead to the danger of injury or fire.
c) When they are not being used, store rechargeable battery units away from paperclips, coins, keys, nails, screws or other small metal objects that could cause the contacts to be bridged. Short-circuiting the contacts of a rechargeable battery unit may result in heat damage or fire.
d) Fluids may leak out of rechargeable battery units if they are misused. If this happens, avoid contact with the fluid. If contact occurs, flush the affected area with water. Seek additional medical help if any of the fluid gets into your eyes. Escaping battery fluid may cause skin irritation or burns.

CAUTION! RISK OF EXPLOSION!
Never charge non-rechargeable batteries.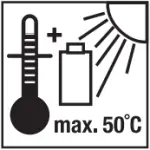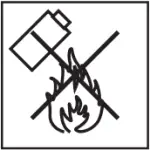 Protect the rechargeable battery from heat; for example, from continuous exposure to sunlight, fire, water and moisture. There is a risk of explosion.
Extended safety guidelines
■ Do not use a damaged or modified battery. Damaged or modified batteries may behave unexpectedly and cause fires, explosions or pose a risk of injury.
■ Do not expose a battery to fire or excessively high temperatures. Fire or temperatures in excess of 130°C (265°F) can cause an explosion.
■ Follow all instructions regarding charging and never charge the battery or the cordless tool outside the temperature range given in the operating instructions.
Incorrect charging or charging outside of the permissible temperature range can destroy the battery and increase the risk of fire.
Safety guidelines for battery chargers
■ This appliance may be used by children aged 8 years and above and by persons with limited physical, sensory or mental capabilities or lack of experience and knowledge, provided that they are under supervision or have been told how to use the appliance safely and are aware of the potential risks. Do not allow children to use the appliance as a toy. Cleaning and user maintenance tasks may not be carried out by children unless they are supervised.
■ To avoid potential risks, damaged mains cables should be replaced by the manufacturer, their customer service department or a similarly qualified person.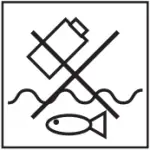 The charger is suitable for indoor use only.

WARNING!
■ To avoid potential risks, damaged mains cables should be replaced by the manufacturer, their customer service department or a similarly qualified person.

ATTENTION!
► This charger can only charge the following batteries: PAP 20 A1/PAP 20 A2/ PAP 20 A3/PAP 20 B1/PAP 20 B3.
► A current list of battery compatibility can be found at www.lidl.de/akku.
Before use
Charging the battery pack (see fig. A)

CAUTION!
► Always unplug the appliance before you remove the battery pack from or connect the battery pack to the charger.
NOTE
► Never charge the battery pack if the ambient temperature is below 10°C or above 40°C. If a lithium-ion battery is to be stored for an extended period, the charge level should be checked regularly. The optimum charge level is between 50% and 80%. The storage climate should be cool and dry and the ambient temperature should be between 0°C and 50°C.
♦ Connect the battery pack 1 to the high-speed battery charger 2 (see fig. A).
♦ Insert the power plug into the socket. The control LED 3 lights up red.
♦ The green control LED 4 indicates that the charging process is complete and the battery pack 1 is ready.

CAUTION!
♦ If the red control LED 3 flashes, this means that the battery pack 1 has overheated and cannot be charged.
♦ If the red and green control LEDs 3 4 both flash, this means that the battery pack 1 is broken.
♦ Push the battery pack 1 into the appliance.
♦ Switch off the charger for at least 15 minutes between successive charging sessions. Also disconnect the power plug from the mains power socket.
Checking the battery charge level
♦ Press the battery charge level button 5 to check the status of the battery (see also main diagram).
The status/remaining charge will be shown on the battery display LED 6 as follows:
RED/ORANGE/GREEN = maximum charge
RED/ORANGE = medium charge
RED = low charge -­ charge the battery
Maintenance and storage
■ If you do not intend to use the appliance for an extended period, remove the batteries and store it in a clean, dry place away from direct sunlight.
■ If a lithium-ion battery is to be stored for an extended period, the charge level should be checked regularly. The optimum charge level is between 50% and 80%. The optimum storage environment is cool and dry.
■ Never try to repair damaged batteries. Maintenance of batteries should only be carried out by the manufacturer or an approved customer service centre.
Kompernass Handels GmbH warranty
Dear Customer,
This appliance has a 3-year warranty valid from the date of purchase. If this product has any faults, you, the buyer, have certain statutory rights. Your statutory rights are not restricted in any way by the warranty described below.
Warranty conditions
The warranty period starts on the date of purchase. Please keep your receipt in a safe place. This will be required as proof of purchase.
If any material or manufacturing fault occurs within three years of the date of purchase of the product, we will either repair or replace the product for you or refund the purchase price (at our discretion). This warranty service requires that you present the defective appliance and the proof of purchase (receipt) within the three-year warranty period, along with a brief written description of the fault and of when it occurred.
If the defect is covered by the warranty, your product will either be repaired or replaced by us. The repair or replacement of a product does not signify the beginning of a new warranty period.
X 12 V and X 20 V Team Series battery packs come with a 3-year warranty valid from the date of purchase.
Warranty period and statutory claims for defects
The warranty period is not prolonged by repairs effected under the warranty. This also applies to replaced and repaired components. Any damage and defects present at the time of purchase must be reported immediately after unpacking. Repairs carried out after expiry of the warranty period shall be subject to a fee.
Scope of the warranty
This appliance has been manufactured in accordance with strict quality guidelines and inspected meticulously prior to delivery.
The warranty covers material faults or production faults. The warranty does not extend to product parts subject to normal wear and tear or to fragile parts which could be considered as consumable parts such as switches or parts made of glass.
The warranty does not apply if the product has been damaged, improperly used or improperly maintained. The directions in the operating instructions for the product regarding proper use of the product are to be strictly followed. Uses and actions that are discouraged in the operating instructions or which are warned against must be avoided.
This product is intended solely for private use and not for commercial purposes. The warranty shall be deemed void in cases of misuse or improper handling, use of force and modifications / repairs which have not been carried out by one of our authorised Service centres.
The warranty period does not apply to
■ Normal reduction of the battery capacity over time
■ Commercial use of the product
■ Damage to or alteration of the product by the customer
■ Non-compliance with safety and maintenance instructions, operating errors
■ Damage caused by natural hazards
Warranty claim procedure
To ensure quick processing of your case, please observe the following instructions:
■ Please have the till receipt and the item number (e.g. IAN 12345) available as proof of purchase.
■ You will find the item number on the type plate on the product, an engraving on the product, on the front page of the operating instructions (below left) or on the sticker on the rear or bottom of the product.
■ If functional or other defects occur, please contact the service department listed either by telephone or by e-mail.
■ You can return a defective product to us free of charge to the service address that will be provided to you. Ensure that you enclose the proof of purchase (till receipt) and information about what the defect is and when it occurred.

You can download these instructions along with many other manuals, product videos and installation software at www.lidl-service.com.
This QR code will take you directly to the Lidl service page (www.lidl-service.com) where you can open your operating instructions by entering the item number (IAN) 377764_2010.

WARNING!
► Have your appliances repaired by the Service Centre or a qualified electrician and only using genuine replacement parts. This will ensure that the safety of the appliance is maintained.
► Always ensure that the power plug and power cord are replaced only by the manufacturer of the appliance or the company customer service. This will ensure that the safety of the appliance is maintained.
Service

Service Great Britain
Tel.: 0800 404 7657
E-Mail: [email protected]

Service Ireland
Tel.: 1890 930 034
(0,08 EUR/Min., (peak))
(0,06 EUR/Min., (off peak))
E-Mail: [email protected]
IAN 377764_2010
Importer
Please note that the following address is not the service address. Please use the service address provided in the operating instructions.
KOMPERNASS HANDELS GMBH
BURGSTRASSE 21
44867 BOCHUM
GERMANY
www.kompernass.com
Disposal

The packaging protects the appliance from damage during transport. The packaging materials have been selected for their environmental friendliness and disposal attributes, and are therefore recyclable.
Returning the packaging to the material cycle conserves raw materials and reduces the amount of waste that is generated. Dispose of packaging materials that are no longer needed in accordance with applicable local regulations.

Do not dispose of power tools in your normal domestic waste!
European Directive 2012/19/EU requires that worn-out power tools be collected separately and recycled in an environmentally compatible manner.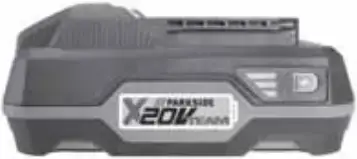 Do not dispose of batteries in your normal household waste!
Defective or worn-out rechargeable batteries must be recycled according to Directive 2006/66/EC.
Take the battery pack and/or tool to a nearby collection facility.
Please consult your local authorities regarding suitable disposal of worn-out power tools/battery packs.

Dispose of the packaging in an environmentally friendly manner. Note the labelling on the packaging and separate the packaging material components for disposal if necessary. The packaging material is labelled with abbreviations (a) and numbers (b) with the following meanings:
1­-7: plastics, 20­-22: paper and cardboard, 80-­98: composites.

Your local community or municipal authorities can provide information on how to dispose of the worn-out product.

The product is recyclable, subject to extended producer responsibility and is collected separately.
Notes on the EC Declaration of Conformity
This appliance complies with the basic requirements and other relevant provisions of the Electromagnetic Compatibility Directive 2014/30/EU and the Low-Voltage Directive 2014/35/EU.
The complete original Declaration of Conformity is available from the importer.

RoHS Directive
(2011/65/EU)*
* The manufacturer bears the full responsibility for compliance with this conformity declaration. The object of the declaration described above complies with the requirements of the Directive 2011/65/EU of the European Parliament and Council of 8 June 2011 on the limitations of use of certain dangerous substances in electrical and electronic appliances.
Ordering a replacement battery
If you want to order a replacement battery for your appliance, you can do so easily via the Internet on www.kompernass.com or by telephone.
Due to limited stocks, this item may sell out in a relatively short time.

NOTE
► Online ordering of replacement parts is not possible in all countries. In this case, please contact the Service hotline.
Telephone ordering

Service Great Britain
Tel.: 0800 404 7657

Service Ireland
Tel.: 1890 930 034
(0,08 EUR/Min., (peak))
(0,06 EUR/Min., (off peak))
To ensure a fast processing of your order, have the article number of your appliance to hand (e.g. IAN 377764) in case of questions. The article number can be found on the type plate or the title page of these instructions.
PAP 20 B1 + PLG 20 C1

KOMPERNASS HANDELS GMBH
BURGSTRASSE 21
44867 BOCHUM
GERMANY
www.kompernass.com
Last Information Update:
03 / 2021 Ident.-No.: PAP20B1+PLG20C1-122020-1
IAN 377764_2010