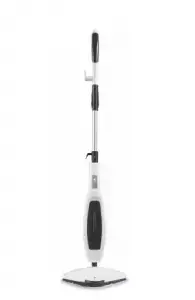 Paxcess Steam Mop User Manual
CAUTION – To reduce the risk of fire, electric shock, or injury:
To provide continued protection against risk of electric shock, connect to properly grounded outlets only.
Check that the main voltage corresponds to the voltage indicated on the rating label,see specifications as below:220~24ov, 50/60Hz, 1300W
This product is designed for domestic use only.
Do not use outdoors.
Do not leave the Folding Mop unattended while switched on. Turn off the switch and unplug the electrical cord when not in use and before servicing.
Do not allow to be used as a toy. Close attention is necessary when used near children, pets or plants.
The appliance is not intended for use by person (including children) with reduced physical, sensory or mental capabilities, or lack of experience and knowledge, unless they have been given supervision or instruction concerning use of the appliance by a person responsible for their safety. Children should be supervised to ensure that they do not play with the appliance.
Young children should be supervised to ensure that they do not play with the appliance.
Never direct steam towards people, animals, plants, or equipment containing electrical components, such as interior ovens.
Do not immerse the Folding Mop into water or other liquids.
Do not use with damaged cord or plug. If the Folding Mop is not working as it should, has been dropped, damaged, left outdoors, or immersed into water, return it to the distributor before continuing use. If the supply cord is damaged, it must be replaced by the manufacturer or a similarly qualified person to avoid a hazard.
Do not pull or carry by cord, use cord as a handle, close a door on the cord, or pull cord around sharp edges or corners. Keep cord away from heated surfaces.
. Never force the plug into an outlet.
Do not use extension cords or outlets with inadequate current carrying capacity
Unplug the appliance after use and before carrying out user maintenance on the appliance. Do not unplug by pulling on cord. To unplug, grasp the plug, not the cord.
Do not handle plug or Folding Mop with wet hands or operate without shoes.
Do not insert any objects into openings. Do not use with any opening blocked.
Do not use without floor cloth in place. Do not use without water in the water tank.
When using on stairs use extra caution.
Store your Folding Mop indoors in a cool, dry area.
Keep your work area well lighted.
Never put any cleaning detergents into the Folding Mop. This will make the operation unsafe and damage the unit.
Never block the steam openings of the product or place it on a soft surface, where the steam openings may be blocked. Keep the steam openings free of lint, hair, and the like.
Use only as described in this manual. Use only manufacturer's recommended accessories.
Do not use in swimming pools containing water.
this appliance can be used by children aged from 8 years and above and persons with reduced physical, sensory or mental capabilities or lack of experience and
knowledge if they have been given supervision or instruction concerning use of the appliance in a safe way and understand the hazards involved.
Product Features/Specifications:
1)1300 watt of power
2)The Capacity of water tank 450ml
3)7M power cord (visible power cord: approx 6.70M)
4)Weight:2.30kg
S)Telescopic aluminium handle
6)Delay to using(how long it takes to starts the use):20 seconds
7)The machine will stop working once it is upright(Standby mode)
8)With the steam button
9)10 Degree tilt test
Accessoreis:
lx Measuring cup
lx Microfiber Cloth Pad
lx Carpet glider
lx instructional manual
Components: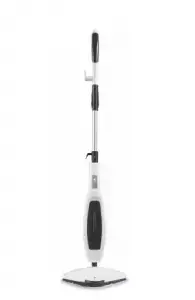 Handle
Quick Clamp for Height Adjustment
Telescopic Pole
Power LED light
Main Body with Water Reservoir
Mop Head
Power Cord Hooks
Measuring Cup
Mop Pad(for Carpet Cleaning)X2
Mop pad with Velcro
Carpet Glider
Product Specification:
| | |
| --- | --- |
| Model | JC-230 |
| Water Tank Capacity | 450ML |
| Steam Ready Time | 20s |
| Input Voltage | 220-240V |
| Rated voltage | 220~24ov, S0/60Hz, 13D0W |
insert the Telescopic Pole into the Main Body, Gently press the Telescopic Pole until it is lock in place(See Figure2). To disassemble the Telescopic Pole, press the Telescopic Pole Release Button on
the Main Body and pull out the Telescopic Pole.

Figure 2 Figure 3
Extend the Telescopic Pole to its full length
Attach the Mop Pad
3.1 For smooth floor cleaning, stick the Mop Pad(the one with Velcro closures) to the Mop Head firmly(see Figure 4)

Figure 4 Figure 5 Figure 6
3.2 For carpet cleaning, put the Mop Pad(the one without Velcro closure) one the Carpet Glider, the install the Carpet Glider to the Mop Head(see Figure 5). Figure SCaution:Attach the Mop Pad only when the appliance has cool down completely and no steam spraying out from the Mop Head . Ensure the Mop Pad is assembled well on the Mop Head every time before use. Never operate the appliance without Mop Pad.
Use Instructions:
After the appliance is fully assembled, remove the cover on the Water Reservoir, fill in water to the Maximum mark, avoid overfulling. Then replace the cap(see Figure 6). Figure 6Caution:Do not fill in hot water into the water reservoir, nor fill in chemicals like cleaning agents, oil, perfumes etc.Doing so may destroy the appliance.The appliance will automatically shut off when lack of water. Pay attention to the level during operation and refill water in time.
Plug in and select the steam setting. Wait for approximately 20 seconds,the steam comes out and the unit is ready to use.
The unit can automatically shit to Standby Mode when the Main Body is placed vertically to the ground(see Figure 7).
The unit is equipped with Head Lamp,for better visibility in dark places or under furniture(see Figure 8).

Figure 7 Figure 8
Maintenance and Cleaning
After operation,turn off and unplug the unit, wait till the unit cools down completely(approximately30 minutes). Figure 9
Press the Telescopic Button on the Main body and pull out the Telescopic Pole, and drain the water reservoir(see Figure 9).
lnstall the Telescopic Plod back to the Main Body. Wrap the Power Cord around the Power Cord Hook(see Figure 10)
Remove the Mop Pad to clean

Figure 9 Figure 10
Troubleshooting