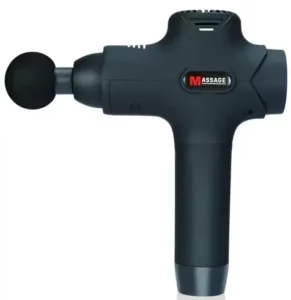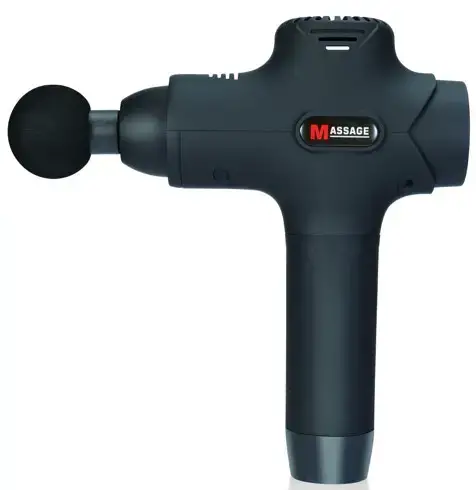 Massage
Model: Y8-1
Instruction Manual


Product Introduction
Y8-1 percussion massager is a handheld device that applies pulses of concentrated pressure deep into your muscle tissue, which forms into a deep-tissue massage that can work knots and tension out of the muscles while improving blood flow and quickly enhancing range of motion. When used properly, a percussion massager can shorten your recovery time while relieving some of the pain, tension, and soreness that comes naturally from intense exercise.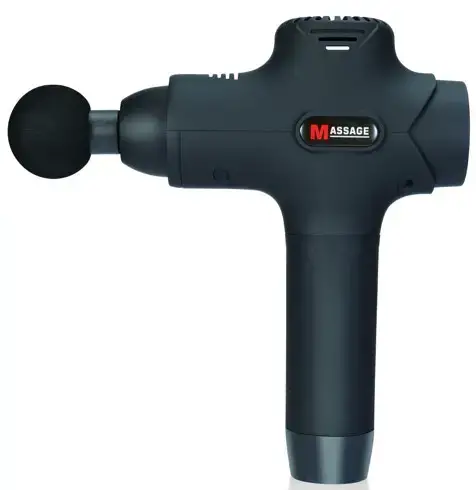 Packaging List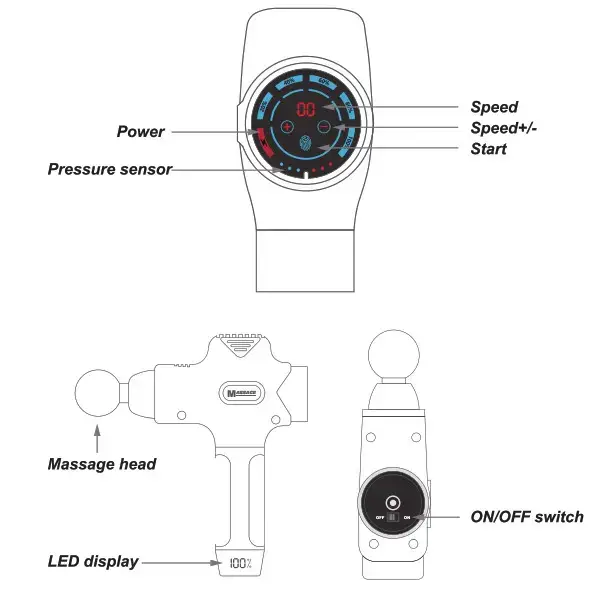 Specification
Size
9.41.1*2.8inch
Switch
Touch control
Total weight
3.83lb
Motor
High-torque motor
Massagerneight
2.16Ib
Speed
12 adjustable modes
Massage head
8pcs
Revolving speed
1200-3200rpm
Adapter
DC 16.8V/1A
Battery capacity
480OrnAh (12-24 hours working time)
Operating Mode
1-3 Gear — Daily massage
4-6 Gear — Body relaxation
7-9 Gear — Waking up muscles
10-12 Gear —- Professional mode
Massage Heads Instruction
Round Head: Used for hand, back, buttock, leg massage.
U Shaped Head: Apply to neck, spinal and Achilles tendon massage.
Flat Head: For relaxing and shaping each muscle part.
Spade Shaped Head: Suitable for whole body bones and muscles relaxation.
Taper Head: Massage deep tissue, such as joint, palm, and plantar.
Crescent head: For arms, thighs, waist, and other parts (Do not use high gear during use).
Gyro head: Apply to soft tissue massage.
Mushroom head: For relaxing joints and sensitive muscles.
Operating Instruction

Step 1: Choose a massage head you need and install it.
Step 2: Turn on the power switch at the bottom. sure the switch is in the 'ON" position.


Step 3: Check for battery power displayed on the bottom LED screen.
Step 4: Touch the fingerprint icon on the Touch Screen.


Step 5: Press the' 1- button to adjust the appropriate massage mode.
Step 6: Target the needed body part for Massage.

Note: The massager is set with a 10-minute automatic shutdown function. If you need to continue the message after 10 minutes, you can restart it by yourself. To start the massager after the automatic shutdown, you need to push the power switch at the bottom from ON to OFF, and then to ON again. A long-time use may cause the product to overheat, thereby reducing the product's service life. If the product overheats, please stop using it immediately and cool it down before the next operation.
Safety Caution
Do not use this product for massage during charging.(1) To avoid dangerous situations such as burns, scalds, and electric shocks due to improper use, please pay attention to the following notes when using this product:
Charge it in time when the battery power is less than 20%. If the massager is left unused for a long time, you need to check and keep the battery with power regularly, so as not to affect the battery life and product use.
After using and before cleaning the product, please turn the power switch of the massager to OFF.
Do not use this product In the shower or bath.
Do not place or store the product in any place that will cause the product to be immersed in water.
Do not place or immerse the product in water or other liquids.
Do not use sharp objects to this product.
Please keep the product dry and do not use it in a humid environment.
Please unplug the product from the socket when unattended.
Do not let children play with this product.
Do not use this product if the power cord or plug is damaged, does not work or has been dropped into the water.
The power cord must keep a safe distance from the heating surface. Do not place the product near fire sources or flammable places to avoid malfunction or danger.
This product has a refreshing effect. Do not use this product before or during sleep.
Do not insert or drop objects into any openings of this product.
Do not use spray products to this product. Do not operate this product in places full of flammable substances.
Do not put the product under a blanket or pillow, so as to avoid the overheated product causing fire, short circuit of wires or injury.
Do not drag the power cord to move the product. or use the power cord as a grip.
Before unplugging the product, please make sure that it is turned off first to avoid damage.
This product is not for any medical purposes.
Do not subject this product to a strong impact.
Please use the power adapter equipped for this product, the use of another adapter may cause damage to the product.
Do not use a damaged power supply or reconstruct the circuit of this product.
In the event of a power failure, immediately unplug to avoid damage caused by the sudden restoration of power.
Please immediately stop using the product if you feel uncomfortable.
Do not use parts or accessories not provided by the manufacturer. Be sure to use this product in accordance with the purpose described in the instruction manual.
(2) People not suitable for use:
During pregnancy or menstruation, or shortly after delivery.
Those who have medical electronic devices implanted in the body such as cardiac pacemakers.
Those who have blood circulation disorder or thrombosis.
Those who have osteoporosis.
Those who have skin infections.
Those who have a high fever.
Those who have body trauma or body surface disease.
Those who are advised by the doctor to recuperate, or feel uncomfortable.

Note: This product is not recommended to be used by people with physical disabilities, sensory or neurological defects, or lack of common sense (including children, mentally ill or physically paralyzed patients, etc.). If they need to use this product, they must use it under the supervision of a guardian.