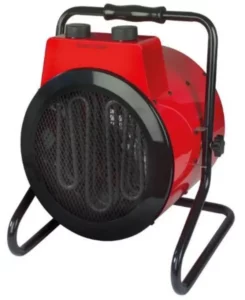 PEREL Heater Fan

Product View


Introduction
To all residents of the European Union
Important environmental information about this product
This symbol on the device or the package indicates that disposal of the device after its lifecycle could harm the environment. Do not dispose of the unit (or batteries) as unsorted municipal waste; it should be taken to a specialized company for recycling. This device should be returned to your distributor or to a local recycling service. Respect the local environmental rules.
If in doubt, contact your local waste disposal authorities.
Thank you for choosing Perel! Please read the manual thoroughly before bringing this device into service. If the device was damaged in transit, do not install or use it and contact your dealer.
Safety Instructions

Read and understand this manual and all safety signs before using this appliance.

Warning: In order to avoid overheating, do not cover the heater.

CAUTION – Some parts of this product can become very hot and cause burns. Particular attention has to be given where children and vulnerable people are present.
Children of less than 3 years should be kept away unless continuously supervised.
Children aged from 3 years and less than 8 years shall only switch on/off the appliance provided that it has been placed or installed in its intended normal operating position and they have been given supervision or instruction concerning use of the appliance in a safe way and understand the hazards involved. Children aged from 3 years and less than 8 years shall not plug in, regulate and clean the appliance or perform user maintenance.
This device can be used by children aged from 8 years and above, and persons with reduced physical, sensory or mental capabilities or lack of experience and knowledge if they have been given supervision or instruction concerning the use of the device in a safe way and understand the hazards involved. Children shall not play with the device. Cleaning and user maintenance shall not be made by children without supervision.
Do not use the heater with a programmer, timer, separate remote-control system or any other device that switches the heater on automatically, since a fire risk exists if the heater is covered or positioned incorrectly.
If the external flexible cable or cord of this appliance is damaged, it
shall be exclusively replaced by the manufacturer or his service
agent or a similar qualified person in order to avoid a hazard.
Do not use this appliance in the immediate surroundings of a bath, a shower or a swimming pool. Do not install this appliance immediately below a socket.
Some parts of this product can become very hot and cause burns. Do not touch the appliance when in use or shortly after use. Do not rest the power cable on the appliance when hot.
This appliance must not be supplied through an external switching device, such as a timer, or connected to a circuit that is regularly switched on and off by the utility.
The use of an extension lead or multi-plug adaptor is not advised when connecting this appliance to the mains. Connection through these devices could lead to a risk of overloading, overheating and even fire at the extension lead or adaptor due to inadequate connection quality.
Install the appliance in a vertical position and at a distance of minimum 0.5 m away from furniture and other objects. Never operate the appliance near inflammable or explosive materials or gases.
Do not use the appliance in rooms when these are occupied by persons not capable of leaving the room on their own, unless constant supervision is provided.
The first time you use the appliance, a little smoke and smell due to the protective substances applied to the heating element before transport may be given off. This is normal and should not be considered a fault.
General Guidelines
Refer to the Velleman® Service and Quality Warranty on the last pages of this manual.
All modifications of the device are forbidden for safety reasons. Damage caused by user modifications to the device is not covered by the warranty.
Only use the device for its intended purpose. Using the device in an unauthorised way will void the warranty.
Damage caused by disregard of certain guidelines in this manual is not covered by the warranty and the dealer will not accept responsibility for any ensuing defects or problems.
Nor Velleman nv nor its dealers can be held responsible for any damage (extraordinary, incidental or indirect) – of any nature (financial, physical…) arising from the possession, use or failure of this product.
Keep this manual for future reference.
Overview
Refer to the illustrations on page 2 of this manual.
| | |
| --- | --- |
| 1 | handle |
| 2 | switch |
| 3 | thermostat |
| 4 | front cover |
| 5 | steel frame |
| 6 | angle stop |
| 7 | adjustment knob |
| 8 | rear cover |
| 9 | motor |
Installation
Install vertically on a flat, dry, stable and non-slippery surface.
Operation
The Thermostat

Insert the power plug into the mains.
Turn the thermostat knob fully to the right.
Switch on the heater by selecting the power.
When the room has reached the desired temperature, turn the thermostat knob to the left until the heater switches off. The temperature is now set and the heater will automatically switch on/off to keep the temperature at a constant level.
Switch off and disconnect the heater after use.

When the appliance is switched off (with supply cord in socket), the fan will keep blowing until the appliance is cooled down.
Angle Adjustment


Slightly loosen the adjustment knobs while holding the body with one hand. Tilt the body to the desired angle and retighten the adjustment knobs.
Overheating Protection
This heater is equipped with an overheating protection, which will automatically switch off the heater in case of overheating. If this occurs, please unplug from the mains and allow cooling for 30 minutes before re-connecting and switching on again.
To avoid overheating, check that the appliance is sufficiently ventilated and that the air intakes are unobstructed. Please contact your local dealer if the heater keeps switching off.
Cleaning and Maintenance
Before cleaning, switch of the appliance, disconnect from the mains and allow to cool completely.
Never immerse the appliance in water or any other liquid. Protect it from splashes and spraying liquid.
Occasionally wipe with a damp cloth to keep it looking new. Do not use harsh chemicals, cleaning solvents or strong detergents.
Technical Specifications
| | |
| --- | --- |
| power supply | 230 V~, 50 Hz |
| power consumption | 3000 W |
| IP rating | IP24 |
| air output | 400 m³/h |
Information requirements for electric local space heaters
Model identifier(s)
Item
Symbol
Value
Unit
Heat output
Nominal heat output
Pnom
3,0
kW
Minimum heat output (indicative)
d
1,5
kW
Maximum continuous heat output
Pmax,c
3,0
kW
Auxiliary electricity consumption
At nominal heat output
elmax
N.A.
kW
At minimum heat output
elmin
N.A.
kW
In standby mode
elSB
0
kW
Model identifier(s):
Item
Unit
Type of heat input, for electric storage local space heaters only (select one)
manual heat charge control, with integrated thermostat
no
manual heat charge control with room and/or outdoor temperature feedback
no
electronic heat charge control with room and/or outdoor temperature feedback
no
fan-assisted heat output
no
Type of heat output/room temperature control (select one)
single-stage heat output and no room temperature control
no
two or more manual stages, no room temperature control
no
with mechanic thermostat room temperature control
yes
with electronic room temperature control
no
electronic room temperature control plus day timer
no
electronic room temperature control plus week timer
no
Other control options (multiple selections possible)
room temperature control, with presence detection
no
room temperature control, with open window detection
no
with distance control option
no
with adaptive start control
no
with working time limitation
no
with black bulb sensor
no
| | |
| --- | --- |
| Contact details | Velleman NV Legen Heirweg, 33 9890 Gavere, Belgium |
Use this device with original accessories only. Velleman nv cannot be held responsible in the event of damage or injury resulting from (incorrect) use of this device. For more info concerning this product and the latest version of this manual, please visit our website www.perel.eu. The information in this manual is subject to change without prior notice.
© COPYRIGHT NOTICE
The copyright to this manual is owned by Velleman nv. All worldwide rights reserved.
No part of this manual may be copied, reproduced, translated or reduced to any electronic medium or otherwise without the prior written consent of the copyright holder.