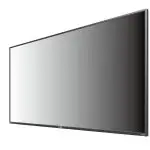 Philips Android TV 32PFL5505/32PFL5405
Call us: 1-866-309-5962
Chat with us: http://tinyurl.com/y2e29xsq
1 What's in the box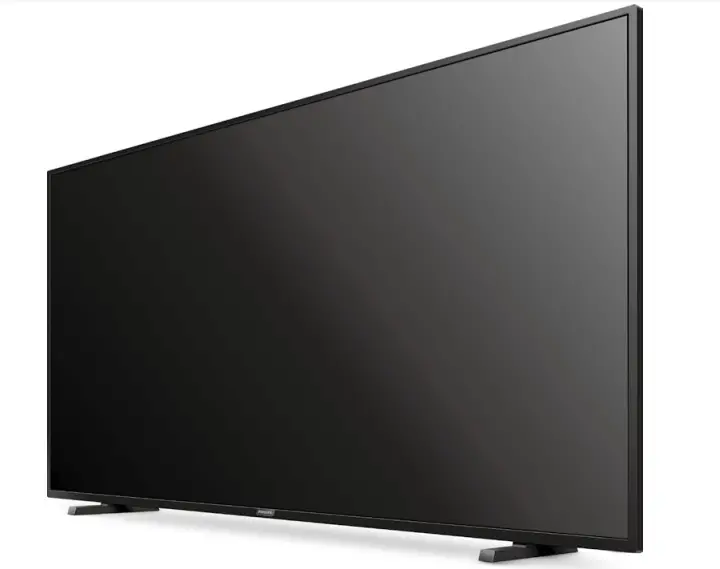 2 Using the remote

Controllable range for the remote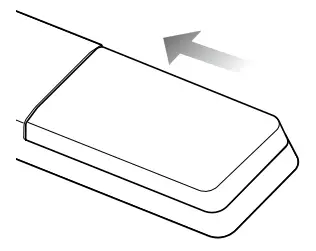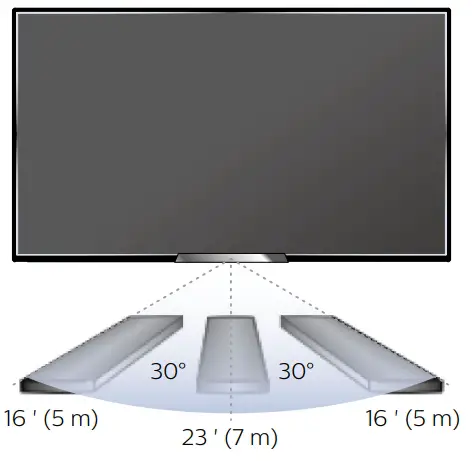 (POWER)
Turns the TV on and off of standby.
(TV GUIDE)
Access to the Electronic Program Guide (EPG).
The Google Assistant
Press the Assistant button on your remote to talk to your Google Assistant.
(BACK)
Returns to the previous menu screen.
(INPUT)
Change input source. Select and change access to the attached devices such as Blu-ray player, gaming consoles, or cable box.
(INFO)
Displays input and resolution information.
(OPTIONS)
Displays a list of menu options applicable to the active screen.
* (CURSOR as ) and OK
Moves to select an item and to determine on the various menu.
(HOME)
Access to your apps, Live TV, input devices, settings, and the Google Play store.
PREV.CH
Direct access to the Live TV channels.
Displays the last selected terminal or channel.
3 Installing the stands


Remove the tape on the bottom of the TV set and the plastic bag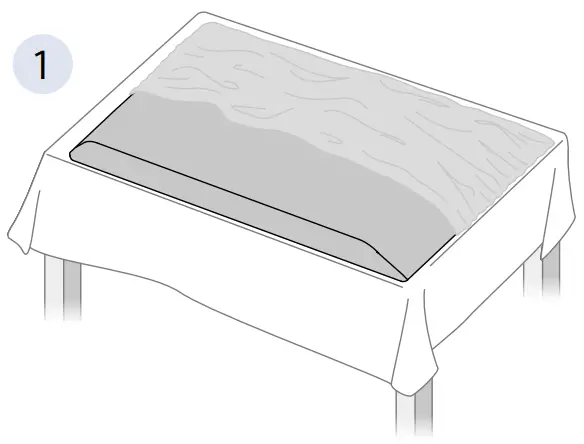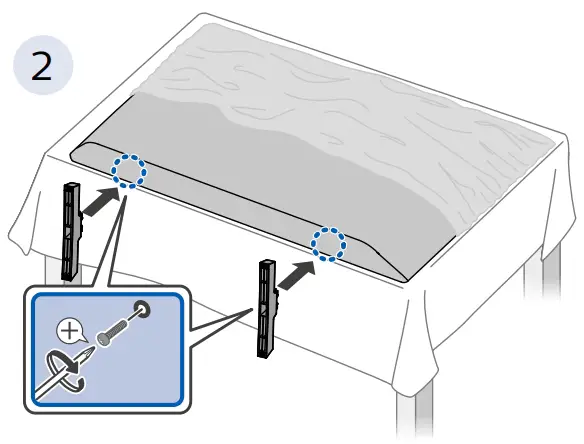 Fasten the stand to the TV with provided screws. While fastening the screws, hold the stand to prevent it from falling


Both stands should now be securely fastened.
* If you plan to wall mount your TV, refer to "Wall mount" on the reverse side of this guide for recommended wall mount bracket kit.
4 Connecting your devices
How to use external devices
Connecting antenna or cable / satellite / IPTV set-top box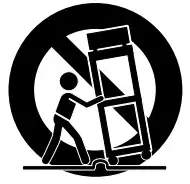 Tip:
Connect your external devices to your Android TV before powering on.
If connecting to an antenna via an RF cable
DTV programs that are broadcasted in your area can be received for free through a digital antenna.

If connecting a set-top box via an HDMI cable
If the TV is connected to a cable or satellite set-top-box via an HDMI cable, you must select the correct source by using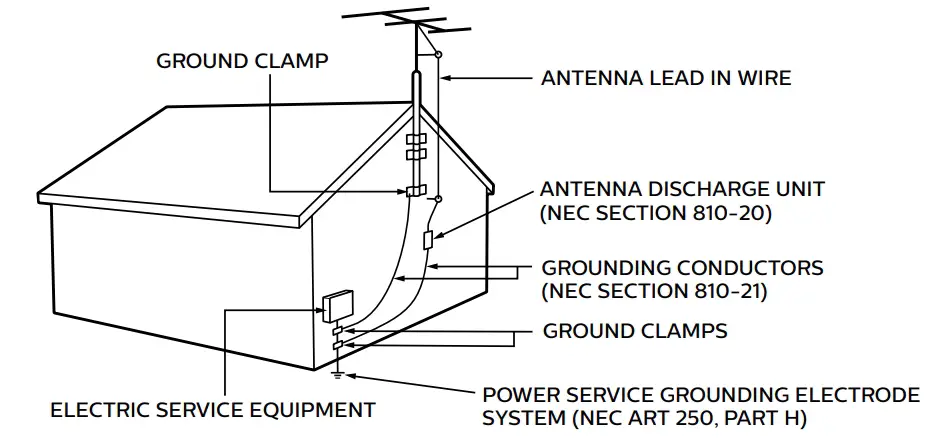 (INPUT) on your remote.

Changing input to devices that are connected to the TV
Press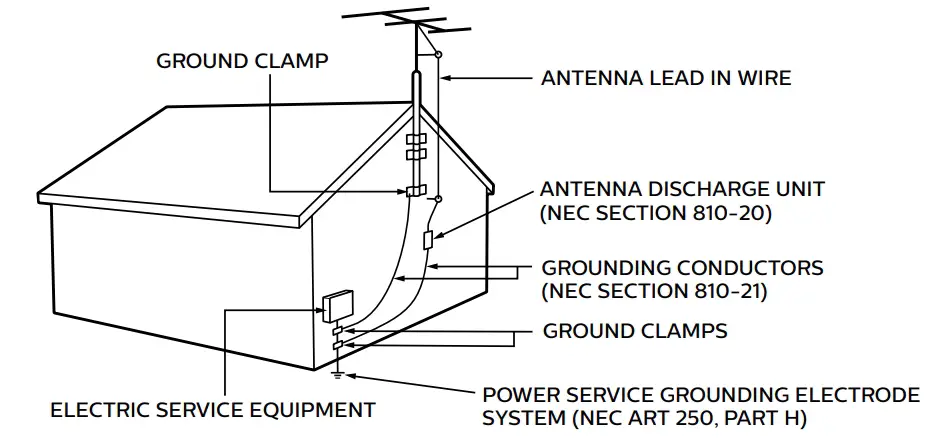 (INPUT) to switch input device list.
How to use Chromecast built-in
Casting allows you to mirror your favorite apps on the big screen.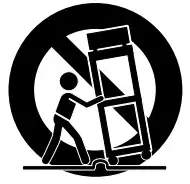 Tip:
The device you are using to cast to your television must be on the same Wi-Fi network.
Open a Chromecast built-in enabled app.
Tap .
Tap the device you would like to cast to.
How to connect to your Bluetooth® devices
To pair your pair Bluetooth® devices, such as a wireless headset, keyboard, game controller, with your Android TV.
On the Android TV home screen, select Settings in the upper right corner of the screen, and press OK.
Select Remote & Accessories and press OK.
Enable pairing mode on your device.
Using your TV remote, select your device from the list shown on your TV.
Your Android TV will pair with your device.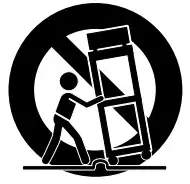 Tip:
Some devices may require additional steps. Please consult your Bluetooth device manual for more information.
8 Live TV/Antenna
The Live TV channels feature on Android TV loads television shows, sports, news, and more from your participating TV apps or Antenna / OTA TV tuner so you can watch them all in one place.
To select channels, use CH + / – on your remote. For installation of TV channels using a set-top box, go to " 4 Connecting your devices ".
Add channels
To add for the first time or additional channels, please follow the steps below:
On the Home menu, go to the Apps row and select How to…


Select Live TV to open channel installation page. Once open, select Setup and press OK.
Select your signal type Antenna / Cable to start the channel installation.

Channel List
Press OK while viewing Live TV to open channel list. Based on the type of channels installed, select with the
yellow color key Broadcast (conventional TV channels) or Network (internet TV channels).
Program guide
To view the latest TV program schedule, press z (TV GUIDE) on your remote.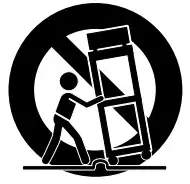 Tip:
Live TV feature is only compatible with antenna and select cable broadcasting. To access your cable box or other source inputs, you must press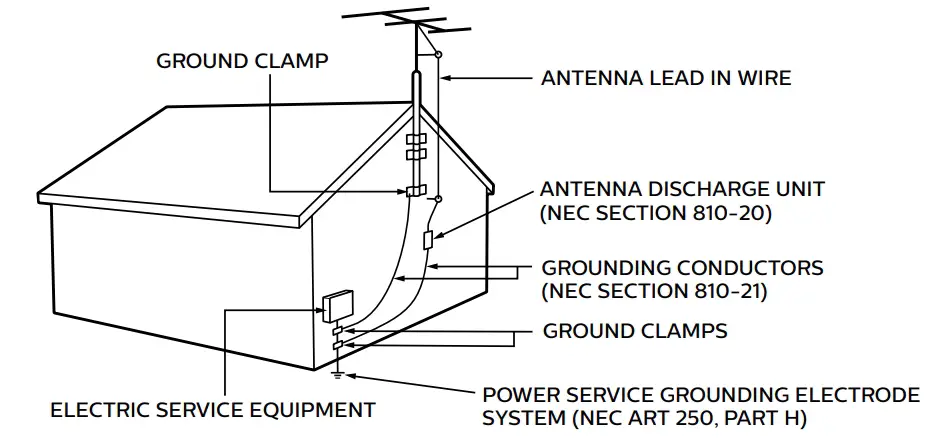 (INPUT) on your remote.
10 Parental Control
Parental Controls
You can restrict your children from watching certain programs or channels, by setting parental controls using a rating lock.
How to set up Parental Controls
On the Android TV home screen, select Settings in the upper right corner of the screen, and press OK.
Select Channel > Parental Controls and press OK.
Enter your PIN (*) > Program Restrictions > Ratings.
Select Ratings as described in the table below and press OK.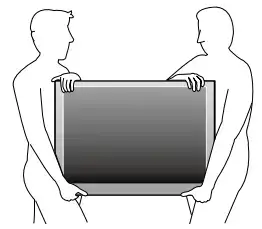 Note:
Default setting of PIN is "1234".
If you have forgotten the current 4-digit PIN code, you can reset the code by performing Factory data reset.
Program Restrictions is displayed only when the last selected input is not HDMI.
* Rating types and restriction levels


11 Specifications
Model # 32PFL5505, 32PFL5405
Picture:
Type: HD (1366 x 768 pixels 60 Hz)
Diagonal screen size / Aspect ratio: 31.5 "/ 16:9
Viewing angles: 178° (V) by 178° (H)
Built-in digital / analog tuner: ATSC (digital) / NTSC (analog)

Sound:
Mono / Stereo: Mono, Stereo
Power output (RMS watts): 8 W x 2
Equalizer: 5 band
Ease of use
Picture format HD (16:9 source)/SD (4:3 source): Automatic/Full/Unscaled/4:3/Movie expand
Channel:
Channel coverage Over-the-Air DTV (ATSC)
VHF: 2~13
UHF: 14~69 (Each channel may have e.g. 2.1~2.9, 3.1~3.9, etc)
Over-the-Air Analog (NTSC): VHF: 2~13 UHF: 14~69
CATV (Analog NTSC): 2~13, A~W W+1~W+94 (Analog W+1~W+84), A-5~A-1, 5A
Tuning system: Channel frequency synthesized tuning system
Channel access: Direct access number keyboard, Programmable scan and Channel + (up) / – (down)
Connectivity:
Composite video input: 1
HDMI input:
2 (selectable HDMI modes)
Supporting HDMI video signals : 480i/p, 720p, 1080i @60 Hz, 1080p
Supporting HDMI digital audio signals : LPCM, AC3, DD+
Supporting PC-input video signal up to 1920 x 1080
Analog audio L/R input: 1 (L Audio / R Audio)
PC input: Via HDMI and HDMI-DVI + Analog audio L/R
USB: 1
Wireless LAN: Wireless LAN Supporting wireless standards : IEEE 802.11a/b/g/n/ac
(2.4 GHz / 5 GHz)
Digital audio output: 1 Supporting Dolby Digital
Power:
Power requirements: 120 V~ +/- 10 %, 60 Hz +/- 0.5 %

Temperature:
Operating temperature: 41 °F (5 °C) to 104 °F (40 °C)
Safety instructions
Register online at www.philips.com/welcome today to get the most benefits from your purchase.
Registering your model with Philips makes you eligible for all of the valuable benefits listed below, so don't miss out.
Register online at www.philips.com/welcome to ensure:
Product safety notification
By registering your product, you'll receive notification – directly from the manufacturer – in the rare case of a product recall or safety defect.
Additional benefits
Registering your product guarantees that you'll receive all of the privileges to which you're entitled, including special money-saving offers.
CHILD SAFETY:
PROPER TELEVISION PLACEMENT MATTERS
THE CONSUMER ELECTRONICS INDUSTRY CARES
Manufacturers, retailers and the rest of the consumer electronics industry are committed to making home entertainment safe and enjoyable.
As you enjoy your television, please note that all televisions – new and old- must be supported on proper stands or installed according to the manufacturer's recommendations. Televisions that are inappropriately situated on dressers, bookcases, shelves, desks, speakers, chests, carts, etc., may fall over, resulting in injury.
TUNE IN TO SAFETY
ALWAYS follow the manufacturer's recommendations for the safe installation of your television.
ALWAYS read and follow all instructions for proper use of your television.
NEVER allow children to climb on or play on the television or the furniture on which the television is placed.
NEVER place the television on furniture that can easily be used as steps, such as a chest of drawers.
ALWAYS install the television where it cannot be pushed, pulled over or knocked down.
ALWAYS route cords and cables connected to the television so that they cannot be tripped over, pulled or grabbed.
WALL OR CEILING MOUNT YOUR TELEVISION
ALWAYS contact your retailer about professional installation if you have any doubts about your ability to safely mount your television.
ALWAYS use a mount that has been recommended by the television manufacturer and has a safety certification by an independent laboratory (such as UL, CSA, ETL).
ALWAYS follow all instructions supplied by the television and mount manufacturers.
ALWAYS make sure that the wall or ceiling where you are mounting the television is appropriate. Some mounts are not designed to be mounted to walls and ceilings with steel studs or cinder block construction. If you are unsure, contact a professional installer.
Televisions can be heavy. A minimum of two people is required for a wall or ceiling mount installation.
MOVING AN OLDER TELEVISION TO A NEW PLACE IN YOUR HOME
Many new television buyers move their older CRT televisions into a secondary room after the purchase of a flat-panel television. Special care should be made in the placement of older CRT televisions.
ALWAYS place your older CRT television on furniture that is sturdy and appropriate for its size and weight.
NEVER place your older CRT television on a dresser where children may be tempted to use the drawers to climb.
ALWAYS make sure your older CRT television does not hang over the edge of your furniture.
Important safety instructions
Read these instructions.
Keep these instructions.
Heed all warnings.
Follow all instructions.
Do not use this apparatus near water.
Clean only with dry cloth.
Do not block any ventilation openings. Install in accordance with the manufacturer's instructions.
Do not install near any heat sources such as radiators, heat registers, stoves, or other apparatus (including amplifiers) that produce heat.
Do not defeat the safety purpose of the polarized or grounding-type plug. A polarized plug has two blades with one wider than the other.
A grounding type plug has two blades and a third grounding prong.
The wide blade or the third prong are provided for your safety. If the
provided plug does not fit into your outlet, consult an electrician for replacement of the obsolete outlet.
Protect the power cord from being walked on or pinched particularly at plugs, convenience receptacles, and the point where they exit from the apparatus.
Only use attachments / accessories specified by the manufacturer.
Use only with the cart, stand, tripod, bracket, or table specified by the manufacturer, or sold with the apparatus.
When a cart is used, use caution when moving the cart / apparatus combination to avoid injury from tip-over.

Unplug this apparatus during lightning storms or when unused for long periods of time.
Refer all servicing to qualified service personnel. Servicing is required when the apparatus has been damaged in any way, such as power supplycord or plug is damaged, liquid has been spilled or objects have fallen into the apparatus, the apparatus has been exposed torain or moisture, does not operate normally, or has been dropped.
Note to the CATV system installer:
This reminder is provided to call the CATV system installer's attention to Article 820-40 of the NEC that provides guidelines for proper grounding and, in particular, specifies that the cable ground shall be connected to the grounding system of the building, as close to the point of cable entry as practical.
Example of antenna grounding as per NEC – National Electric Code

Notice
Trademarks are the property of Koninklijke Philips N.V. or their respective owners. Funai Corporation reserves the right to change products at any time without being obliged to adjust earlier supplies accordingly.
The material in document is believed adequate for the intended use of the system. If the product or its individual modules or procedures are
used for purposes other than those specified herein, confirmation of their validity and suitability must be obtained.
Funai Corporation warrants that the material itself does not infringe any
United States patents.
No further warranty is expressed or implied. Funai Corporation cannot be held responsible neither for any errors in the content of document nor for any problems as a result of the content in document. Errors reported to Funai Corporation will be adapted and published on the Funai Corporation support website as soon as possible.
Pixel characteristics
This LCD product has a high number of color pixels. Although it has effective pixels of 99.999 % or more, black dots or bright points of light (red, green or blue) may appear constantly on the screen. This is a structural property of the display (within common industry standards) and is not a malfunction.
Warranty
No components are user serviceable. Do not open or remove covers to the inside of the product. Repairs may only be done by service centers and official repair shops. Failure to do so shall void any warranty, stated or implied.
Any operation expressly prohibited in document, any adjustments or assembly procedures not recommended or authorized in document shall void the warranty.
Positioning the TV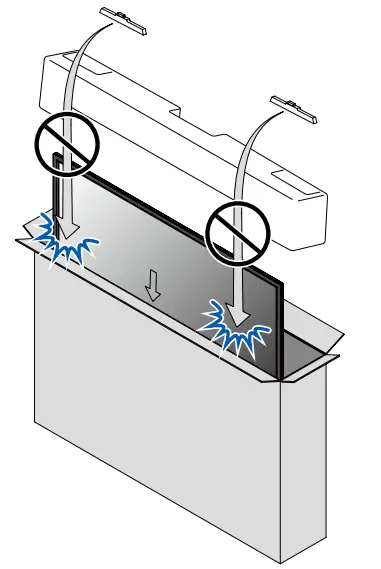 Large screen TVs are heavy. 2 people are required to carry and handle a large screen TV.
Make sure to hold the upper and bottom frames of the unit firmly as illustrated.
Install the unit in a horizontal and stable position.
Do not install the unit in direct sunlight or in a place subject to dust or strong vibration
Depending on the environment, the temperature of this unit may increase slightly. This is not a malfunction.
When installing this unit in a temperate environment, avoid a place with rapid temperature changes.
– Operating temperature: 41 °F (5 °C) to 104 °F (40 °C)
This unit should not be used in a tropical environment as it has not been evaluated under such conditions.
No objects should be placed directly on or under this unit, especially lighted candles or other flaming objects.
Depending on your external devices, noise or disturbance of the picture and / or sound may be generated if the unit is placed too close to them. In this case, please ensure enough space between the external devices and the unit.
Do not insert the AC power cord into the power socket outlet before all the connections are made.
Ensure that you always have easy access to the AC power cord and outlet to disconnect the TV from the AC outlet.
Before you move the TV, disconnect attached cables to prevent damage to connectors, especially the TV tuner.
Be sure to unplug the AC power plug from the AC outlet before moving or carrying the unit.
When moving the TV and then setting it down, please be careful not to pinch the AC power cord under the unit.
Regulatory notices
WARNING: To prevent injury, this apparatus must be securely attached to the furniture / wall in accordance with the instructions. Tipping, shaking or rocking the unit may cause injury / death.
WARNING: Never place a TV in an unstable location. A TV may fall, causing serious personal injury or death. Many injuries, particularly to children, can be avoided by taking simple precautions such as:
– Using cabinets or stands recommended by the manufacturer of the TV.
– Only using furniture that can safely support the TV.
– Ensuring the TV is not overhanging the edge of the supporting furniture.
– Not placing the TV on tall furniture (for example, cupboards or bookcases) without anchoring both the furniture and the TV to a suitable support.
– Not placing the TV on cloth or other materials that may be located between the TV and supporting furniture.
– Educating the children about the dangers of climbing on furniture to reach the TV or its controls.
If your existing TV is being retained and relocated, the same considerations as above should be applied.
Do not place the unit on the furniture that is capable of being tilted by a child and an adult leaning, pulling, standing or climbing on it. A falling unit can cause serious injury or even death. In order to avoid interruption of ventilation, this unit should not be placed in built-in equipment such as a book cabinet, rack, etc., and the vents of this unit should not be covered with anything such as a tablecloth, curtain, newspaper, etc. Make sure that there is enough ventilation space (4 " / 10 cm or more) around this unit.
Press

to turn the unit on and go into standby mode. To completely turn off the unit, you must unplug the AC power plug from the AC power outlet. Disconnect the AC power plug to shut the unit off when trouble is found or not in use. The AC plug shall remain readily available.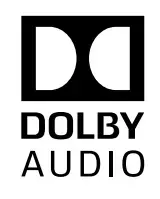 Never use a gas duster on this TV.
The gas trapped inside of this unit may cause ignition and explosion.
Environmental care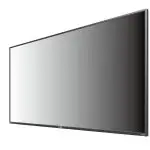 The packaging of this product is intended to be recycled.
Contact your local authorities for information about how to recycle the packaging.
For product recycling information, please visit – www.recycle.philips.com
End of life directives
Philips pays a lot of attention to produce environmental-friendly products in green focal areas. Your new TV contains materials which can be recycled and reused. At the end of its life, specialized companies can dismantle the discarded TV to concentrate the reusable materials and to minimize the amount of materials to be disposed of. Please ensure you dispose of your old TV according to local regulations.
Batteries usage
CAUTION: Danger of explosion if battery is incorrectly replaced. Replace only with the same or equivalent type.
WARNING: Batteries (battery pack or battery installed) should not be exposed to excessive heat such as sunshine, fire or the like.
Do not mix old and new batteries.
Do not mix alkaline, standard (carbon-zinc) or rechargeable (ni-cad, ni-mh, Li-ion, etc.) batteries
Disposal of used batteries
The batteries supplied do not contain the heavy metals mercury and cadmium, however in certain localities, disposing batteries with household waste is not permitted. Please ensure you dispose of batteries according to local regulations.
Preparing to move / ship the unit
Please pack the unit properly by following the diagram on the carton.
To avoid damage to the screen, do not pack the stand on the same side as the TV screen, refer to the illustration.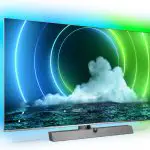 Federal communications commission notice
This equipment has been tested and found to comply with the limits for a Class B digital device, pursuant to part 15 of the FCC Rules.
These limits are designed to provide reasonable protection against harmful interference in a residential installation. This equipment generates, uses and can radiate radio frequency energy and, if not installed and used in accordance with the instructions, may cause harmful interference to radio communications. However, there is no guarantee that interference will not occur in a particular installation.
If this equipment does cause harmful interference to radio or television reception, which can be determined by turning the equipment off and on, the user is encouraged to try to correct the interference by one or more of the following measures:
Reorient or relocate the receiving antenna.
Increase the separation between the equipment and the receiver.
Connect the equipment into an outlet on a circuit different from that to which the receiver is connected.
Consult the dealer or an experienced radio or television technician for help
This device complies with part 15 of the FCC rules. Operation is subject to the following two conditions: (1)This device may not cause harmful interference, and (2)This device must accept interference received, including interference that may cause undesired operation.
Declaration of conformity
Trade name: PHILIPS
Responsible party: Funai Corporation, Inc.
Model: 32PFL5505/F7, 32PFL5405/F7
Address: 21061 S. Western Ave. Suite 210, Torrance, CA 90501, USA
Telephone number :1 866 309 5962
Modifications
This apparatus may generate or use radio frequency energy. Changes or modifications to this apparatus may cause harmful interference. Any modifications to the apparatus must be approved by Funai Corporation.
The user could lose the authority to operate this apparatus if an unauthorized change or modification is made.
Cables
Connections to this device must be made with shielded cables with metallic RFI / EMI connector hoods to maintain compliance with FCC rules and regulations.
The following FCC applies to the wireless LAN adapter included in this product.
FCC caution: Any changes or modifications not expressly approved by the party responsible for compliance could void the user's authority to operate this equipment.
This transmitter must not be co-located or operated in conjunction with any other antenna or transmitter.
FCC RF Exposure Compliance
This equipment complies with FCC radiation exposure limits set forth for an uncontrolled environment and meets the FCC radio frequency (RF) Exposure Guidelines. This equipment should be installed and operated keeping the radiator at least 20 cm or more away from your body.
Compliance with FCC requirement 15.407(c)
Data transmission is always initiated by software, which is the passed down through the MAC, through the digital and analog baseband, and finally to the RF chip. Several special packets are initiated by the MAC. These are the only ways the digital baseband portion will turn on the RF transmitter, which it then turns off at the end of the packet. Therefore, the transmitter will be on only while one of the aforementioned packets is being transmitted. In other words, this device automatically discontinue transmission in case of either absence of information to transmit or operational failure.
Downloading an electronic copy
To obtain a more detailed electronic copy of document:
Point your browser to : www.philips.com/support
Choose your country of location with language.
Enter the product name or number in the search field. Alternatively, you can browse the catalog.
Click the description or model.
Under product support, click "User manual".
Funai Corporation Inc. does not warrant access to the portal or to any of the services, content, software and advertising. Funai Corporation Inc. may, in its sole discretion, add or remove access to any specific services, content, software and advertising at any time. Although Funai Corporation Inc. will strive to provide a good selection of services, content or software, Funai Corporation Inc. does not warrant continued access to any specific services, and content or software.
Funai Corporation Inc. does not warrant Wireless Screencasting compatibility with all source devices such as smartphones, tablets, laptops, etc. due to large variability in hardware, firmware, drivers, software and implementation of wireless casting applications on these source devices. Although Funai Corporation Inc. will strive to enhance compatibility and performance across a range of source devices, Funai Corporation Inc. does not warrant compatibility with specific source devices.
Wall mount
Wall mount bracket kit

Your product: Brand: Model #: Screw dimension
32PFL5505/F7
32PFL5405/F7: SANUS: AST16: M4 x 1.378 " (35 mm)
Your TV meets the VESA standard for wall mounting. Consult with your local dealer for a wall mount bracket which is compatible with your TV model.
The recommended wall mount bracket kit (sold separately) allows the mounting of the TV on the wall.
For detailed information on installing the wall mount, refer to the wall mount instruction book.
Funai Corporation is not responsible for any damage to the product or injury to yourself or others if you elect to install the TV wall mount bracket or mount the TV onto the bracket on your own.
The wall mount bracket must be installed by experts.
Funai Corporation is not liable for any accidents or injuries incurred while installing this product, including but not limited to those noted below:
Install the wall mount bracket on a sturdy vertical wall.
If installed onto a ceiling or slanted wall, the TV and wall mount bracket may fall which could result in a severe injury.
Do not use screws that are longer or shorter than their specified length. If screws too long are used this may cause mechanical or electrical damage inside the TV set. If screws too short are used this may causethe TV set to fall.
Do not fasten the screws by excessive force. This may damage the product or cause the product to fall, leading to an injury.
For safety reasons use 2 people to mount the TV onto a wall mounting bracket.
Do not mount the TV onto the wall mounting bracket while your TV is plugged in or turned on. It may result in an electrical shock injury
When installing the unit on the wall, allow this much space.
Top: 11.8 " (30 cm)
Left and right side: 5.9 " (15 cm)
Bottom: 3.9 " (10 cm)
Copyright
All other registered and unregistered trademarks are the property of their respective owners.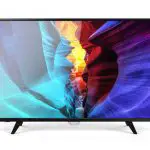 The terms HDMI and HDMI High-Definition Multimedia Interface,and the HDMI Logo are trademarks or registered trademarks of HDMI
Licensing Administrator, Inc. in the United States and other countries.

Manufactured under license from Dolby Laboratories.
Dolby, Dolby Audio, and the double-D symbol are trademarks of Dolby Laboratories.
The Bluetooth® word mark and logos are registered trademarks owned by Bluetooth SIG, Inc. and any use of such marks by Funai
Electric Co., Ltd. is under license. Other trademarks and trade names are those of their respective owners.
Google, Google Play, Android, and related marks and logos are trademarks of Google LLC.
Use of this TV requires consent to Google Terms of Service and Privacy Policy.
This device complies with part 15 of the FCC Rules. Operation is subject to the following two conditions: (1) This device may not cause harmful interference, and (2) this device must accept any interference received, including interference that may cause undesired operation.
Features and specifications are subject to change without notice.
Network services, content, and the operating systems and software of this Product may be subject to individual terms and conditions and
changed, interrupted or discontinued at any time and may require fees, registration and credit card information.
The American Academy of Pediatrics discourages television viewing for children younger than two years of age.
Some features may require an always-on broadband internet connection, firmware update and/or a minimum bandwidth. Internet services vary by location.
License
Funai Corporation, Inc. hereby offers to deliver, upon request, a copy of the complete corresponding source code for the copyrighted open source code packages, on an "AS IS" basis, used in this product for which such offer is requested by the respective licenses. This offer is valid up to three years after the product purchase to anyone in receipt of this information. To obtain source code, please contact Funai Corporation, Inc.
You should write to Funai Service Corporation OSS Request, 2425 Spiegel Drive, Groveport, OH 43125, USA.
Funai Corporation, Inc. disclaims any and all warranties and representations with respect to such software and related source code including quality, reliability, usability, and accuracy, and further disclaim all express, implied, statutory or otherwise, including without limitation, any implied warranties of title, noninfringement, merchantability, or fitness for a particular purpose.
Funai Corporation, Inc. shall not be liable to make any corrections to the open source software or source code or to provide any support or assistance with respect to it. Funai Corporation, Inc. disclaims any and all liability arising out of or in connection with the use of this software and/or source code.
Limited warranty
Limited warranty one (1) year
Warranty coverage:
This warranty obligation is limited to the terms as set forth below.
Who is covered:
This product warranty is issued to the original purchaser or the
person receiving the product as a gift against defects in materials and
workmanship as based on the date of original purchase ("Warranty
Period") from an Authorized Dealer. The original sales receipt showing
the product name and the purchase date from an authorized retailer is
considered such proof.
What is covered:
This warranty covers new products if a defect in material or workmanship occurs and a valid claim is received within the Warranty Period. At its option, the company will either (1) repair the product at no charge, using new or refurbished replacement parts, or (2) exchange the product with a product that is new or which has been manufactured from new, or serviceable used parts and is at least functionally equivalent or most comparable to the original product in current inventory, or (3) refund the original purchase price of the product.
Replacement products or parts provided under this warranty are covered against defects in materials and workmanship from the date of the replacement or repair for ninety (90) days or for the remaining portion of the original product's warranty, whichever provides longer coverage for you.
When a product or part is exchanged, any replacement item becomes your property and the replaced item becomes company property. When a refund is given, your product becomes company property.
Note: Any product sold and identified as refurbished or renewed carries a ninety (90) day Limited warranty.
Replacement product can only be sent if all warranty requirements are met. Failure to follow all requirements can result in delay.
What is not covered – Exclusions and limitations:
This Limited warranty applies only to new company manufactured products that can be identified by the trademark, trade name, or logo affixed to it. This Limited warranty does not apply to any hardware product or any software, even if packaged or sold with the product, as manufacturers, suppliers, or publishers may provide a separate warranty for their own products packaged with the bundled product.
The company is not liable for any damage to or loss of any programs, data, or other information stored on any media contained within the product, or other additional product or part not covered by this warranty. Recovery or re installation of programs, data or other information is not covered under this Limited warranty.
This warranty does not apply (a) to damage caused by accident, abuse, misuse, neglect, misapplication, or non-supplied product, (b) to damage caused by service performed by anyone other than company approved Authorized Service Location, (c) to a product or a part that has been modified without written company permission, or (d) if any serial number has been removed or defaced, or (e) product, accessories or consumables sold "AS IS" without warranty of any kind by including refurbished product sold "AS IS" by some retailers.
This Limited warranty does not cover:
Shipping charges to return defective product.
Labor charges for installation or setup of the product, adjustment of customer controls on the product, and installation or repair of antenna / signal source systems outside of the product.
Product repair and / or part replacement because of improper installation or maintenance, connections to improper voltage supply, power line surge, lightning damage, retained images or screen markings resulting from viewing fixed stationary content for extended periods, product cosmetic appearance items due to normal wear and tear, unauthorized repair or other cause not within the control of the company.
Damage or claims for products not being available for use, or for lost data or lost software.
Damage from mishandled shipments or transit accidents when returning product.
A product that requires modification or adaptation to enable it to operate in any country other than the country for which it was designed, manufactured, approved and / or authorized, or repair of products damaged by these modifications.
A product used for commercial or institutional purposes (including but not limited to rental purposes).
Product lost in shipment and no signature verification receipt can be provided.
Failure to operate per document.
To obtain assistance…
Contact the customer care center at: 1 866 309 5962
Chat with us in English: https://tinyurl.com/y2e29xsq
REPAIR OR REPLACEMENT AS PROVIDED UNDER THIS WARRANTY IS THE EXCLUSIVE REMEDY FOR THE CONSUMER, WITH THE ISSUING COMPANY NOT LIABLE FOR ANY INCIDENTAL OR CONSEQUENTIAL DAMAGES FOR BREACH OF ANY EXPRESS OR IMPLIED WARRANTY ON THIS PRODUCT. EXCEPT TO THE EXTENT PROHIBITED BY APPLICABLE LAW, ANY IMPLIED WARRANTY OF MERCHANTABILITY OR FITNESS FOR A PARTICULAR PURPOSE ON THIS PRODUCT IS LIMITED IN DURATION TO THE DURATION OF THIS WARRANTY.
Some states do not allow the exclusions or limitation of incidental or consequential damages, or allow limitations on how long an implied warranty lasts, so the above limitations or exclusions may not apply to you.
This warranty gives you specific legal rights. You may have other rights which vary from state / province to state / province.
Funai Service Corporation,
2425 Spiegel Drive, Groveport, OH 43125, USA