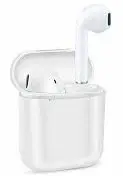 PlayBeatz Wireless Earbuds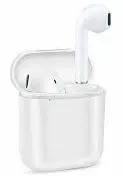 Points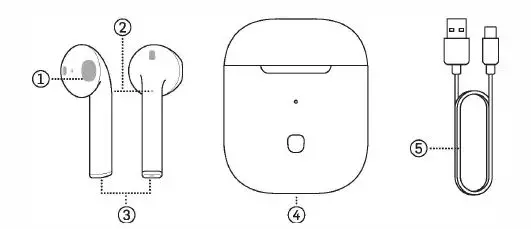 Protective Mesh
Multi-function Sensor
charging terminal
Type-C Charging Port
Charging Cable
IMPORTANT SAFETY INFORMATION:
THIS DEVICE CONTAINS SMALL PARTS AND MUST BE KEPT AWAY FROM CHILDREN. ONLY USE DEVICE FOR ITS INTENDED PURPOSE.
Important Instructions Before Use:
Do not place earbuds under heavy pressure. Keep away from extreme heat and wet environments.
Keep away from Wi-Fi routers or other high frequency transmitting devices to prevent loss of signal.
PlayBeatz work best within their working range (10 meters / 33 feet). The signal quality is best if there are no obstacles between the PlayBeatz and your device.
How to Pair:
Pairing with One Earbud: Press and hold the multi-function sensor on the earbud until the LED flashes red and blue alternately (5 sec). Then turn on the Bluetooth on your device and select "PlayBeatz" from the list. When connected, you will hear a voice on the earbud saying "Connected" You can now make phone calls and enjoy your music.
Pairing with Two Earbuds:
A Press and hold the multi-function sensor on both earbuds at the same time until the LED's are flashing red and blue alternately (5 sec).
B. Press any of the sensors for 2 seconds. There will be a "beep" sound to notify you when the device is ready to pair. As long as one of the LED lights are off, they will pair successfully.
C. Turn on the Bluetooth on your device and select "PlayBeatz" from the list to connect. When connected, you will hear a voice on the earbuds saying "Connected". The earphone's battery status will be displayed on your cell phone. NOTE: Both earbuds will work during a phone call, and both of the multi-function sensors will work to control Power/Play/Pause functions. PlayBeatz will attempt to connect to previously-synced devices automatically when turned on.

Bluetooth Usage:
Making Phone Calls:
First, be sure that the earbuds are paired with your cell phone. When there is an incoming call, it will broadcast the incoming caller's number to you.
You can answer by tapping one of the multi-function sensors once. To refuse a call, simply long press a multi-function sensor. When the earbuds are in music mode, you can adjust the volume by quickly pressing the multi-functional sensor twice (left earbud
– volume down, right earbud -volume up),
Listening to Music:
Once the earbuds are paired with your cell phone, you can listen to music as you would with any other earbuds. Press a multi­function sensor once to pause/play.
Powering Off
Press and hold a multi-function sensor until a red LED appears, and Bluetooth will turn off. The earbuds will automatically power off when they are disconnected from your Bluetooth device for over 5 minutes. The earbuds will not turn off when placed in your charging case, unless you press the charging case button or turn the earbuds off manually.

Charging the Earbuds:
You will receive a voice reminder when the battery is low, and the LED will also flash red. After putting your earbuds into the charging case, tap the button on the case and the charging case LED will light up blue. The earbud LED's will first be glowing red, and will turn blue when fully charged.
Charging the Case:
To check if the charging case battery is low, press the button on the case and the LED should be glowing red. When charging, the LED will flash red and will turn solid red when fully-charged.
Additional functions:
Holding a multi-function sensor will activate your device's Voice Assistance.
Pressing a multi-function sensor 3 times will skip to the previous/ next song (left earbud -previous, right earbud -next).
Specifications:
Bluetooth Version: V5.0+EDR
Bluetooth Mode: A2DP1 .3/HFP1 .6/HSP1 .2/AVRCP1 .6/D11.
Bluetooth Frequency: 2.4 GHz
Bluetooth Range: 10 meters / 33 Feet with no obstacles
Battery Capacity:

Earbuds: 35mAh rechargeable Li-ion Battery
Charging Dock: 250mAh
Standby Time: 72 hours
Talk/Play Time: Over 3 Hours
Package Includes:
2 x Earbuds
Charging Case
Charging Cable
Instruction Manual
CE The device complies with the European Directives 2014/53/EU.
At the end of its service life, this product may not be disposed of in the normal household waste, but rather must be disposed of at a collection point for recycling electrical and electronic devices. The materials are recyclable according to their labelling. You make an important contribution to protecting our environment by reusing, recycling, or utilizing old devices in other ways. Please ask the municipal administration where the appropriate disposal facility is located.
Subject to change.