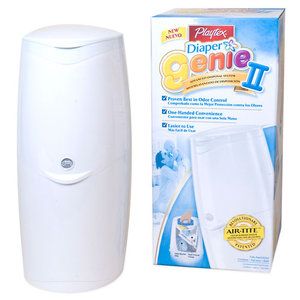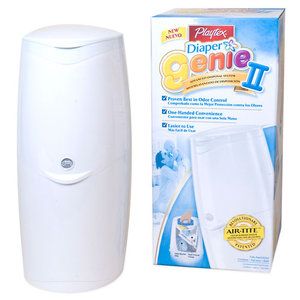 Diaper Genie II
Getting to know your Diaper Genie® II
Congratulations!
You now own the Playtex® Diaper Genie® II, a truly superior diaper disposal system. To ensure your Diaper Genie II System works the best it can, we encourage you to read these instructions carefully, and keep this guide for future reference.
How to Start/ Replace the Refill
An indicator on the refill film will tell you when the refill is almost empty and needs replacing.
Remove lid from the top of the pail. Pull tab on refill, and remove the plastic seal. Pull out approximately 18 inches of film, and tie a tight knot at the end.
Place refill in the top of the pail, and push the knot through the clamp. Replace the lid by pushing it down until you hear a snap. The Diaper Genie II System is ready to use.
How to Use
Tightly rolled diapers work best. Fold the diaper's adhesive tabs to the inside to prevent from tearing the refill film.
Lift lid, and insert rolled diaper through the clamp, making sure the clamp shuts completely.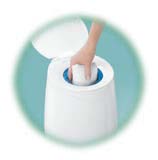 How to Empty
If you feel resistance when pushing a soiled diaper through the clamp, it is time to empty your Diaper Genie II pail.
Using the button, open the unit, and rest the pail on the floor. Pull the film into the childproof cutter. With one hand on each side of the childproof cutter, pull the refill film across to cut the film.
Tie a knot, and throw out the bag filled with dirty diapers.
Prepare for next use by pulling out 18 inches of film so you can tie a knot. Close the Diaper Genie II pail, making sure the button locks.
Helpful Hints
Emptying your Diaper Genie II pail frequently helps maintain room freshness.
Like everything in baby's room, you should clean your pail periodically. For best results, follow the instructions on disinfecting and deodorizing cleaners.
If you have any questions or feedback on our products, please contact 1-800-843-6430 in the US and Canada or visit www.playtexbaby.com.
© 2006 Playtex Products, Inc. Playtex is a licensed trademark. All other trademarks are owned by Playtex Products, Inc.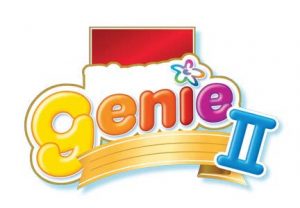 Keep this guide for future reference