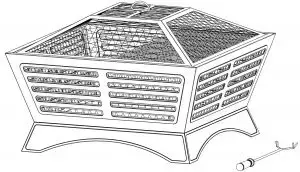 Pleasant Hearth 34 IN. Hutchinson Steel Fire Pit User Manual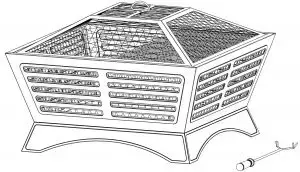 MODEL #OFW380S
PACKAGE CONTENTS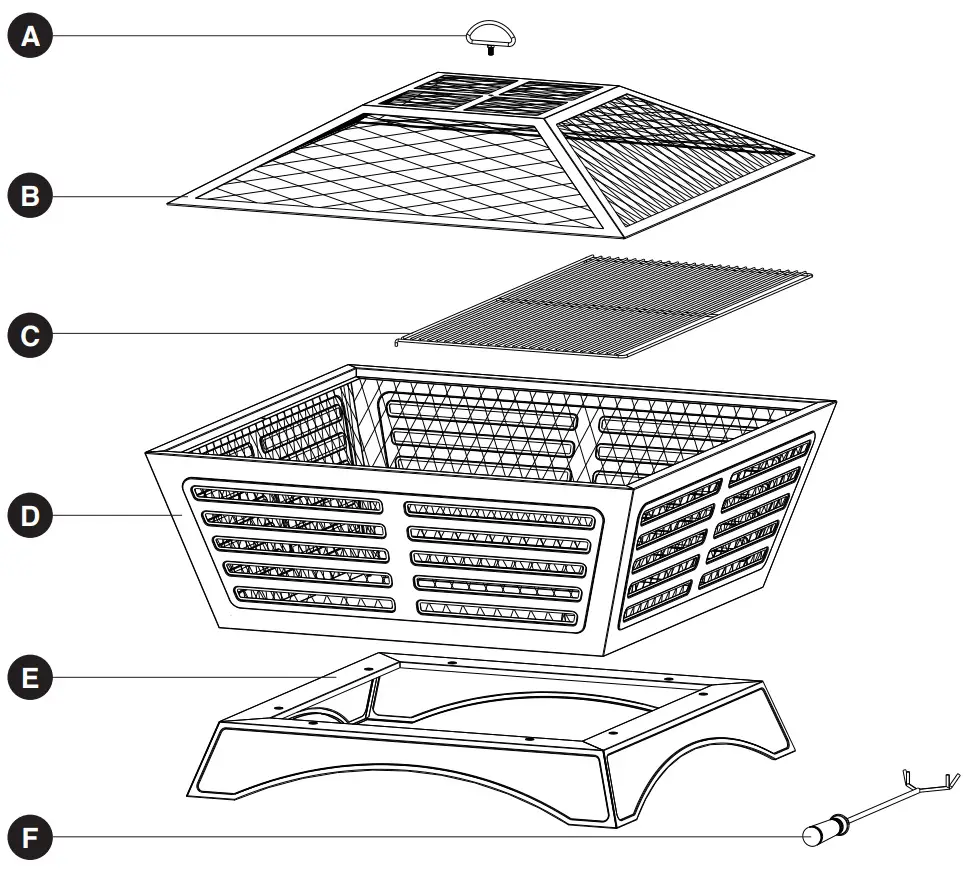 | | | |
| --- | --- | --- |
| PART | DESCRIPTION | QUANTITY |
| A | Poker Bracket | 1 |
| B | Mesh Cover | 1 |
| C | Cooking Grid | 1 |
| D | Firebox | 1 |
| E | Base | 1 |
| F | Poker | 1 |
HARDWARE LIST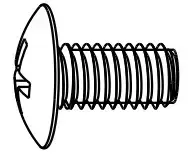 M6 x 12 mm Bolt Qty. 8 M6 Nut Qty. 1 Wrench Qty. 1

Please read and understand this entire manual before attempting to assemble, operate or install the product. If you have any questions regarding the product, please call customer service at 1-877-447- 4768, 8:00 a.m. – 4:30 p.m. CST, Monday – Friday.

WARNINGS:
DO NOT allow children or pets near the fire pit without supervision.
DO NOT touch surface of fire pit while in use.
OR OUTDOOR USE ONLY! Burning wood or charcoal indoors can kill you. It gives off carbon monoxide, which has no odor.
EVER burn in vehicles, tents, garages, other enclosed areas or indoors. CARBON MONOXIDE HAZARD.
NEVER LEAVE FIRE UNATTENDED!
EVER place a storage cover on fire pit when in use. Ensure the fire pit and mesh cover have cooled before placing a storage cover over the fire pit.
When the fire pit is in use, the poker bracket on the mesh cover can reach extreme temperatures that can cause serious injury to an unprotected hand. Use a poker when handling.
O NOT use under overhead cables or power lines.

CAUTIONS:
Adequate fire extinguishing material should be readily available.
Always ensure that the mesh cover is secured over fire bowl while in use.
Burn only seasoned hard wood or fire logs in the fire pit.
DO NOT attempt to move the fire pit while it is hot or in use.
DO NOT use gasoline or kerosene to start the fire in your fire pit.
DO NOT use this outdoor fire pit under any overhead or near any unprotected combustible constructions. Avoid using near or under overhanging trees and shrubs. DO NOT use this unit on long or dry grass and/or leaves.
Always use this outdoor fire pit on a hard, level, non-combustible surface such as concrete, rock or stone.
An asphalt or blacktop surface may not be acceptable for this purpose. DO NOT use on wooden decks.
Place the fire pit no closer than 10 feet / 3.05 meters from walls or combustibles during use.
Poker bracket may become hot during and after use.
Use heat-resistant gloves to handle hot tools.
Burn only 8 lb / 3.62 kg of charcoal, wood or fire logs in the fire pit.

WARNING:
This product and the fuels used to operate this product (charcoal or wood), and the products of combustion of such fuels, can expose you to chemicals including carbon black, which is known to the State of California to cause cancer, and carbon monoxide, which is known to the State of California to cause birth defects or other reproductive harm.
For more information go to : www.p65Warnings.ca.gov
PREPARATION
Before beginning assembly of product, make sure all parts are present. Compare parts with package contents list and hardware contents above. If any part is missing or damaged, do not attempt to assemble the product. Contact customer service for replacement parts.
Estimated Assembly Time: 15 minutes
Tools Required for Assembly: Phillips Screwdriver (Not Included) and Wrench (Included)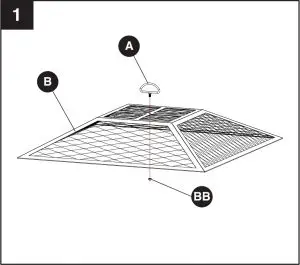 ASSEMBLY INSTRUCTIONS
Insert the poker bracket (A) into the hole in the mesh cover (B). Use the wrench (CC) to secure one M6 nut (BB) to the underside of the mesh cover (B).

Hardware Used
BB M6 Nut x 1
CC Wrench x 1
Attach the firebox (D) to the base (E) by inserting eight M6x12mm bolts (AA) into the predrilled holes. Tighten with a screwdriver.

Hardware Used
AA M6 x 12 mm Bolt x 8
For fire pit use, place the mesh cover (B) onto the firebox (D) as illustrated. Place the poker (F) beside the fire pit for use as needed.

For barbeque use, remove the mesh cover (B) and place the cooking grid (C) onto the firebox (D). Place food onto the cooking grid and replace the mesh cover (B). Keep the poker (F) near the fire pit for use as needed.

CARE AND MAINTENANCE
Allow the fire pit to cool completely before moving it.
To extend the life of your fire pit, clean it after each use.
To protect the fire pit finish, use a soft cloth to wipe fire pit and poker.
Do not attempt to clean while hot.
Store in a cool, clean, dry place.
Clean the firebox after each use once ashes have cooled.
Place a storage cover over the fire pit once it has cooled.
Warranty Info
1-YEAR LIMITED FRAME WARRANTY
If within one year from the date of original purchase, this item fails due to a defect in material or workmanship, we will replace or repair at our option, free of charge. To order parts or to obtain warranty service, call 1-877-447-4768, Monday – Friday, 8:00 – 4:30 p.m. CST. This warranty does not cover defects resulting from improper or abnormal use, misuse, accident, or alteration.
Failure to follow all instructions in the owner's manual will also void this warranty. The manufacturer will not be liable for incidental or consequential damages, or common erosion of outdoor products. Some states do not allow the exclusion or limitation of incidental or consequential damages, so the above limitation may not apply to you. This warranty gives you specific legal rights, and you may also have other rights which vary from state to state.
REPLACEMENT PARTS LIST
For replacement parts, call our customer service department at 1-877-447-4768, 8:00 a.m. – 4:30 p.m., CST, Monday – Friday.


| | | |
| --- | --- | --- |
| PART | DESCRIPTION | PART # |
| A | Poker Bracket | 40-07-453 |
| B | Mesh Cover | 30-01-310 |
| C | Cooking Grid | 30-01-311 |
| D | Firebox | 30-01-312 |
| E | Base | 30-01-313 |
| F | Poker | 40-04-409 |
| AA–CC | Hardware Pack | 30-09-527 |
| N/A | Manual | 30-10-204 |
| | | |