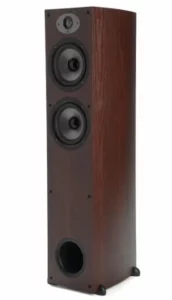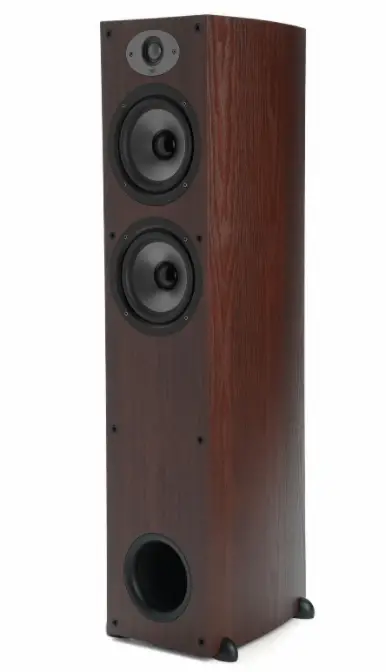 Polk TSx Series Speaker User Manual
Important Safety Instructions
This product was designed and manufactured to meet strict quality and safety standards. There are, however, some installation and operation precautions
which you should be particularly aware of.
Read Instructions. All the safety and operating instructions should be read before the system is operated.
Retain Instructions. The safety and operating instructions should be retained for future reference.
Heed Warnings. All warnings on the appliances and in the operating instructions should be adhered to.
Follow Instructions. All operating and use instructions should be followed.
Cleaning. Unplug the appliance from wall outlet before cleaning. Do not use liquid cleaners or aerosol cleaners. Use a damp cloth for cleaning.
Attachments. Do not use attachments not recommended by the product manufacturer as they may cause hazards.
Water and Moisture. Do not use these appliances near water‹for example, near a bath tub, washbowl, kitchen sink, or laundry tub, in a wet basement, or near a swimming pool, and the like.
Accessories. Do not place these appliances on an unstable cart, stand, tripod, bracket, or table. The audio/video products may fall, causing serious injury to a child or adult, and serious damage to the products. Use only with a cart, stand, tripod, bracket, or table recommended by the manufacturer, or sold with the appliances. Any mounting of the appliances should follow the manufacturer's instructions, and should use mounting accessories recommended by the manufacturer.
Ventilation. Slots and openings in the cabinet are provided for ventilation and to ensure reliable operation of the appliances and to protect them from overheating, and these openings must not be blocked or covered. The openings should never be blocked by placing the products on a bed, sofa, rug, or other similar surface. This product should never be placed near or over a radiator or heat register. This product should not be placed in a built-in installation such as a bookcase or rack unless proper ventilation is provided or the manufacturer's instructions have been adhered to.
Power Sources. This product should be operated only from the type of power source indicated on the marking labels. If you are not sure
of the type of power supply to your home, consult your appliance dealer or local power company.
Grounding or Polarization. This product is equipped with polarized alternatingcurrent line plugs (plugs having one blade wider than the other). This plug will fit into
the power outlet only one way. This is a safety feature. If you are unable to insert the plug fully into the outlet, try reversing the plug. If the plug should still fail to fit,
contact your electrician to replace your obsolete outlet. Do not defeat the safety purpose of the polarized plug.
Power Cord Protection. Power-supply cord should be routed so that it is not likely to be walked on or pinched by items placed upon or against it, paying particular
attention to cords at plugs, convenience receptacles, and the point where they exit from the appliances.
Lightning. For added protection for this audio/video product during a lightning storm, or when it is left un-attended and unused for long periods of time, unplug
it from the wall outlet and disconnect the antenna or cable system. This will prevent damage to the product due to lightning and power-line surges.
Power Lines. An outside antenna system should not be located in the vicinity of overhead power lines or other electric light or power circuits, or where it can
fall into such power lines or circuits. When installing an outside antenna system, extreme care should be taken to keep from touching such power lines or circuits as contact with them might be fatal.
Overloading. Do not overload wall outlets and extension cords as this can result in a risk of fire or electric shock.
Object and Liquid Entry. Never push objects of any kind into this product through openings, as they may touch dangerous voltage points or short out parts that could result in a fire or electric shock. Never spill liquid of any kind on this audio/video product.
Servicing. Do not attempt to service this product yourself, as opening or removing covers may expose you to dangerous voltage or other hazards. Refer all servicing to qualified service personnel
18. Damage Requiring Service. Unplug this product from wall outlets and refer servicing to qualified service personnel under the following conditions:
a. When the power supply cord or plug is damaged.
b. If liquid has been spilled, or objects have fallen into the product.
c. If the product has been exposed to rain or water.
d. If the product does not operate normally by following the operating instructions. Adjust only those controls that are covered by the operating instructions, as an improper adjustment of other controls may result in damage and will often require extensive work by a qualified technician to restore the product to its normal operation.
e. If the product has been dropped or the cabinet has been damaged.
f. When the product exhibits a distinct change in performance this indicates a need for service.
Replacement Parts. When replacement parts are required, be sure the service technician has used replacement parts specified by the manufacturer or that
the parts have the same characteristics as the original part. Unauthorized substitutions may result in fire, electric shock or other hazards.
Safety Check. Upon completion of any service or repairs to this product, ask the service technician to perform safety checks to determine that
the products are in proper operating condition.
Carts and Stands. The appliances should be used only with a cart or stand that is recommended by the manufacturer. An appliance and cart combination should be moved with care. Quick stops, excessive force, and uneven surfaces may cause the appliance and cart combination to overturn. Use caution when moving the cart/apparatus combination to avoid injury from tip-over.
This product is not intended for use outdoors.
Safe Limits of Operation
Polk specifies the recommended amplification range for each of its passive (non-amplified) loudspeakers. Typically that specification will be expressed
as a range of power such as 20-200 Watts (per channel). It is important to understand what those numbers mean when choosing a receiver or amplifier for your Polk loudspeakers. The lower number indicates the lowest continuous rated power that will yield acceptable performance in a typical listening environment. The higher number indicates the highest per channel power that should be used with your Polk speakers. That number should not be confused with a "Power Handling" specification, and it does not imply that the speaker will safely handle that full amount of power on a long-term basis. We specify a wide range of power ratings because not all electronics manufacturers use the same method for rating power. In fact, high quality lower-rated amplifiers sound better and play louder than low quality units with higher power rating.
Similarly, we recommend using amplifiers and receivers with rated power above the Power Handling limits of our speakers because having extra power available for short term peaks is conducive to better sound quality, maximum dynamic range and effortless high volume output. But we strongly urge you not to use the full power of your amplifier or receiver for daily listening.
Loudspeakers can be damaged when an amplifier, regardless of its wattage, is made to play at higher listening levels than its power can clearly produce. Operation at this level can result in very high levels of audible distortion originating in the amplifier, which can add a harsh, gritty sound to your listening material. If you hear distortion—turn the volume down or risk damaging your speakers. You can damage just about any speaker, regardless of power rating, if you drive an amplifier to or beyond the point of distortion.
Certain international, national and/or local laws and/or regulations may apply regarding the disposal of this product. For further detailed information, please contact the retailer where you purchased this product or the Polk Importer/Distributor in your country. A listing of Polk Importer/ Distributors can be found on the Polk website www.polkaudio.com or by contacting Polk at: 5601 Metro Drive, Baltimore, Maryland 21215, USA. Phone: 1-410-358-3600; in California: 1-800-377-7655.
Take Inventory
Inside each speaker container, you should find the following:
One TSx floorstanding speaker, two bookshelf speakers or one center channel speaker
TSx manual
Registration card
Adhesive-backed rubber pads—(8 for bookshelf speakers or 4 center channel speaker)
Wall mount template (for TSx110B bookshelf speakers only)
Important Note:
If anything is missing or damaged, or if your speaker fails to operate, notify Polk Customer Support Services immediately at 800-377-7655.
Speaker Location
(550T, 440T, 330T, 220B & 110B)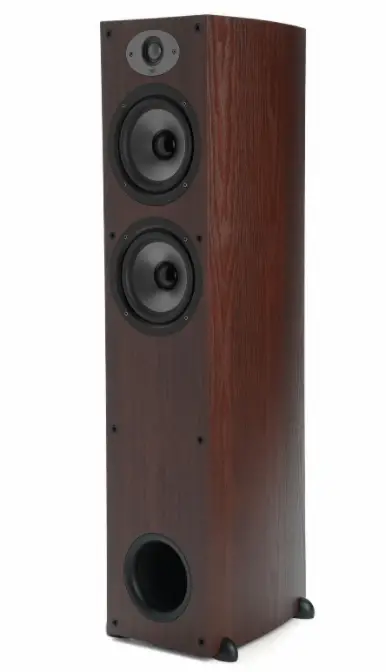 Create an equilateral triangle between the speakers and the listening position. Toe-in to your listening preference. If you notice video distortion or discoloration, immediately move the speakers away from the video source and call Polk Customer Service 800-377-7655 (US and Canada) or [email protected].
Using Binding Post Connections
Loosen hex nut.

Insert speaker wire through hole.

Tighten hex nut.

Do not insert insulated section of speaker wire.

Please observe the proper polarity
One of the terminals on the rear of the speaker is marked red (+) and the other black (–). Make certain that you connect the wire from the red (+) terminal of your receiver or amplifier to the red (+) terminal on your speaker, and the wire from the black (–) terminal of your receiver or amplifier to the black (–) terminal on your speaker. Most wire has
some indication (such as color code, ribbing, or writing) on one of the two conductors to help maintain consistency.
Bi-Wiring
(550T, 440T & 330T)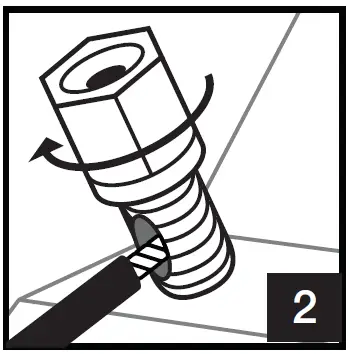 Bi-wiring, or using separate speaker wire connections for high and low frequency sections. Remove flat metal jumpers.
Bi-Amping
(550T, 440T & 330T)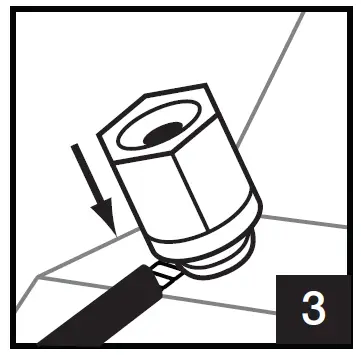 Bi-amping, or using separate amplifiers for the low and high frequency sections of your speakers. Remove flat metal jumpers.
Basic Bookshelf and Center Speaker Hookup
(220B, 110B, 250C & 150C)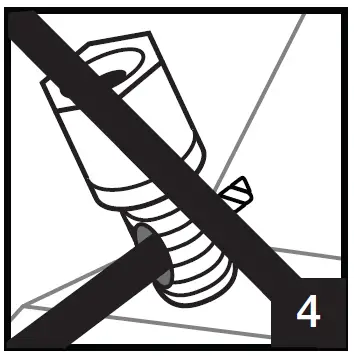 Set Bookshelf and Center Speakers to "small" in your receiver's Bass Management settings.
Adhesive-Backed Rubber Pads
(220B, 110B, 250C & 150C)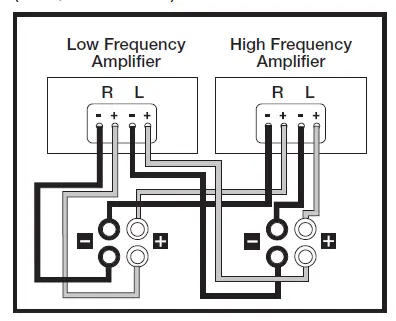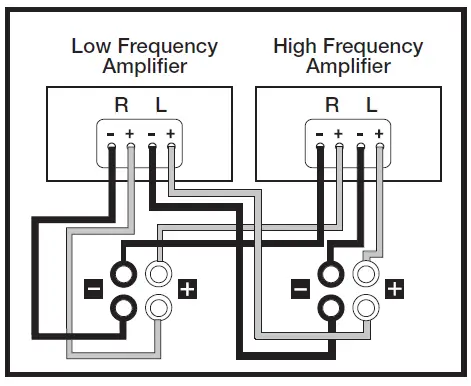 Peel and stick in corners of speaker enclosure.
TSx110B Wall Mount Template
Use template to mark mounting location.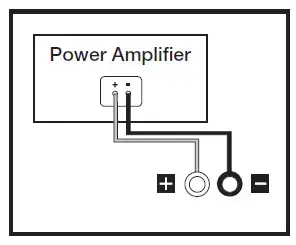 Use #10 panhead screw for wall stud (a), use #10 wall anchors with appropriate weight rating + screw for no wall stud (b).
Leave screws 1/4″ – 1/8″ (4mm) exposed.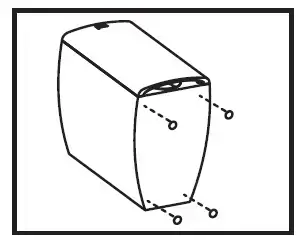 Slide the speaker down on the screw head to catch the keyhole slots.
Product Cleaning
(550T, 440T, 330T, 220B, 110B, 250C & 150C)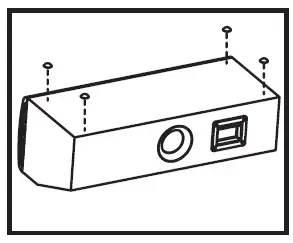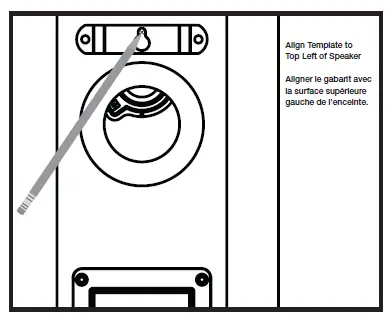 Clean cabinet with a damp cloth. Do not use furniture polish on veneer.
Specifications
For performance specifications on the TSx Series Speakers, visit our website www.polkaudio.com.
Limited Warranty
Polk, Inc., warrants to the original retail purchaser only. This warranty will terminate automatically prior to its stated expiration if the original retail purchaser sells or transfers the product to any other party.
Polk Audio, Inc., warrants, to the original retail purchaser only, that the LOUDSPEAKER(S), PASSIVE CROSSOVER COMPONENT(S) and ENCLOSURE on this Polk Loudspeaker Product will be free from defects in material and workmanship for a period of five (5) years from the date of original retail purchase from a Polk Audio Authorized Dealer.
To allow Polk to offer the best possible warranty service, please register your new product online at: www.polkaudio.com/registration or call Polk customer service: Monday – Friday (9am -5:30pm ET) 800-377-7655 in the USA and Canada (outside the USA: 410-358-3600) within ten (10) days of the date of original purchase. Be sure to keep your original purchase receipt.
Defective Products must be shipped, together with proof of purchase, prepaid insured to the Polk Authorized Dealer from whom you purchased the Product, or to the Factory at 1 Viper Way, Vista, California 92081. Products must be shipped in the original shipping container or its equivalent; in any case the risk of loss or damage in transit is to be borne by you. If upon examination at the Factory or Polk Authorized Dealer it is determined that the unit was defective in materials or workmanship at any time during this
Warranty period, Polk or the Polk Authorized Dealer will, at its option, repair or replace this Product at no additional charge, except as set forth below. All replaced parts and Products become the property of Polk. Products replaced or repaired under this warranty will be returned to you, within a reasonable time, freight prepaid.
This warranty does not include service or parts to repair damage caused by accident, disaster, misuse, abuse, negligence, inadequate packing or shipping procedures, commercial use, voltage inputs in excess of the rated maximum of the unit, cosmetic appearance of cabinetry not directly attributable to defect in materials or workmanship, or service, repair, or modification of the Product which has not been authorized or approvedby Polk. This warranty shall terminate if the Serial number on the Producthas been removed, tampered with or defaced.
All implied warranties on this Product are limited to the duration of this expressed Warranty. Some states do not allow limitation on how long an implied Warranty lasts, so the above limitations may not apply to you. This Warranty gives you specific legal rights, and you also may have other rights which vary from state to state.
This Warranty applies only to Products purchased in Canada, the United States of America, its possessions, and U.S. and NATO armed forces exchanges and audio clubs.The Warranty terms and conditions applicable to Products purchased in other countries are available from the Polk Authorized Distributors in such countries.