POUT Fast Wireless Charging Monitor Stand User Guide

Product Diagram
| | |
| --- | --- |
| Model | POUT-01801 |
| Size | W 563mm X L 200mm X H 57mm |
| Weight | 1.335kg |
| Material | MDF, ABS, Silicon Rubber |
| Rated Power Input | 5V / 2A or 9V 1.67A |
| Rated Power Output | 5W / 7.5W / 10W |
| Frequency | 110 ~ 205KHz |
| Operating Temperature | 0°C ~ 35°C |
| Storage Temperature | -10°C ~ 50°C |
| LED Indicator | Standby – OFF, Charging – ON, Fully Charged = ON |
What is in the box?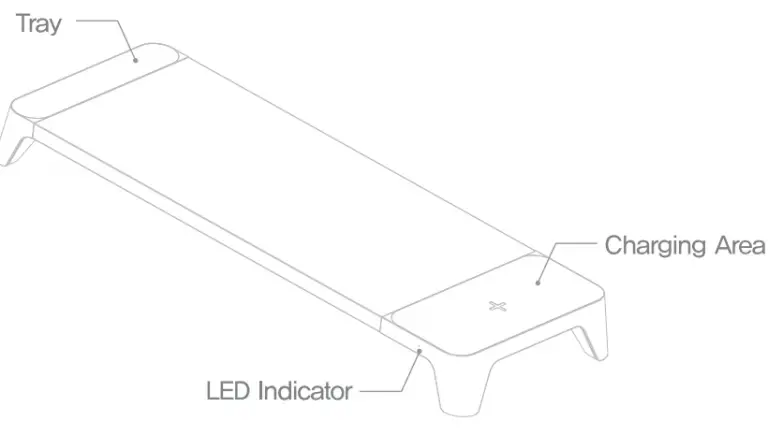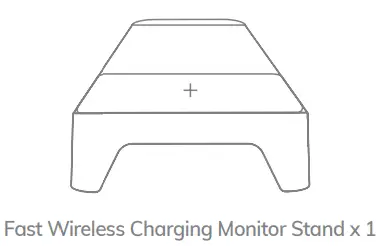 Instructions for use
Connect the included USB fast charging cable to the device.
Connect the other side of USB fast charging cable to an available fast charge adapter. To ensuring fast charging, you should use a fast charge adapter(QC2.0 or QC3.0) instead of charging through your computer. * Using USB port power (including USB port of PC) with lower current capacity than rating may cause malfunction in use.
Simply place your device on the charging area of this fast wireless charger. Wireless charging will begin in seconds.
* Wireless charging uses magnetic induction technology. Make sure that your device is properly positioned on the charging pad. Failure in doing so may cause wireless charging not working.
* Upon wireless charging error, lift your mobile device up from the wireless charging pad, and place it back on the charging pad.
Warning / Caution / Notice
Please read this manual before using the device to ensure safe and proper use. Images may differ in appearance from the actual product. Content is subject to change without prior notice. Appearances and specifications are subject to change without prior notice. Failure to comply with safety warnings and regulations can cause serious injury, property damage or death. Do not use the device for anything other than its intended use. Your device may malfunction. Do not insert the device or supplied accessories into the eyes, ears, or mouth. Doing so may cause suffocation or serious injuries. Do not bite or suck the device. Doing so may damage the device or result in an explosion or fire. Children or animals can choke on small parts. If children use the device, make sure that they use the device properly. Do not use damaged power cords or plugs, or loose electrical sockets. Unsecured connections can cause electric shock or fire. Use manufacturer-approved charging cable, accessories, and supplies. Using generic chargers may shorten the life of your device or cause the device to malfunction. They may also cause a fire or cause the battery to explode. Do not store your device near magnetic fields. Your device may malfunction. Magnetic stripe cards, including credit cards, phone cards, passbooks, and boarding passes, may be damaged by magnetic fields. Protect the device and charger from damage. Avoid exposing your device to very cold or very hot temperatures. Extreme temperatures can damage the device and reduce the charging capacity and life of your device. Never use a damaged charger or battery. Do not use or store your device in areas with high concentrations of dust or airborne materials. Dust or foreign materials can cause your device to malfunction and may result in fire or electric shock. Prevent the multipurpose jack and the small end of the charger from contact with conductive materials, such as liquids, dust, metal powders, and pencil leads. Conductive materials may cause a short circuit or corrosion of the terminals, which may result in an explosion or fire. Keep your device dry. Humidity and liquids may damage the parts or electronic circuits in your device.
Do not turn on your device if it is wet. Do not drop or cause an impact to the charger or the device. Handle and dispose of the device and charger with care. Never dispose of the device in a fire. Never place the device on or in heating devices, such as microwave ovens, stoves, or radiators. The device may explode when overheated. Follow all local regulations when disposing of used device. Never crush or puncture the device.
Do not disassemble, modify, or repair your device. Any changes or modifications to your device can void your manufacturer's warranty. If your device needs servicing, take your device to Service Center. Do not use your device with the back cover removed. Doing so may result in damage or malfunction.
Do not drop your device or cause impacts to your device. Your device may be damaged or may malfunction. If bent or deformed, your device may be damaged or parts may malfunction.
Do not touch the device, power cords, plugs, or the electric socket with wet hands or other wet body parts. Doing so may cause electric shock. Do not pull the power cord excessively when disconnecting it. Doing so may cause electric shock or fire. Do not bend or damage the power cord. Doing so may cause electric shock or fire. Do not use your device outdoor during a thunderstorm. Doing so may result in electric shock or device malfunction. Turn off the device in potentially explosive environments. Turn off your device in potentially explosive environments instead of removing the battery. Always comply with regulations, instructions and signs in potentially explosive environments. Do not use your device at refueling points (petrol stations), near fuels or chemicals, or in blasting areas. Do not store or carry flammable liquids, gases, or explosive materials in the same compartment as the device, its parts, or accessories. There may be some events such as wireless charging begins after 4-5 seconds even though your device is positioned on a charging area properly. It is a normal situation that magnetic field is transferring between a charging pad and a mobile device. The device can be used in locations with an ambient temperature of 0°C to 35°C. You can store the device at an ambient temperature of -10°C to 50°C. Using or storing the device outside of the recommended temperature ranges may damage to the device or reduce the battery's lifespan. This monitor stand securely supports up to 12kg (26lbs.). Do not place any monitors and devices heavier than the recommended weigh limit.
WARRANTY
One Year Limited Warranty
| | |
| --- | --- |
| Name of Product | EYES6 – Fast Wireless Charging Monitor Stand |
| Model | POUT-01801 |
| Date of Purchasing | |
| Place of Purchasing | |
| Your name | |
BROS&COMPANY INC. sells its products with the intent that they are free of defects in manufacture and workmanship for one year from the date of original purchase. BROS&COMPANY INC. warrants that its products will be free of defects in material and workmanship under normal use and service. Please fill in the blank of warranty table below. This warranty does not cover any damage caused by misuse or abuse, accident, alteration to the product, improper installation, unauthorized repairs or modifications, improper use of power supply, dropped product, environmental conditions, or any other conditions whatsoever that are beyond the control of BROS&COMPANY INC.
This warranty does not extend to the purchase of opened, used, repaired, repackaged and/or resealed products, including but not limited to sales of such products on Internet sites and/or sales of such products by surplus or bulk resellers. Any and all warranties or guarantees shall immediately cease and terminate as to any products or parts there of which are repaired, modified, or altered without any permission of BROS&COMPANY INC.
Copyright
Copyright © 2019 BROS&COMPANY INC. This manual is protected under copyright laws. No part of this manual may be reproduced, distributed, translated, or transmitted in any form or by any means, electronic or mechanical, including photocopying, recording, or storing in any information storage and retrieval system, without the prior written permission of BROS&COMPANY INC.