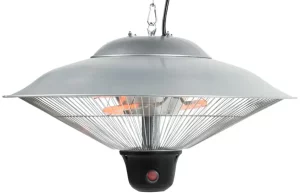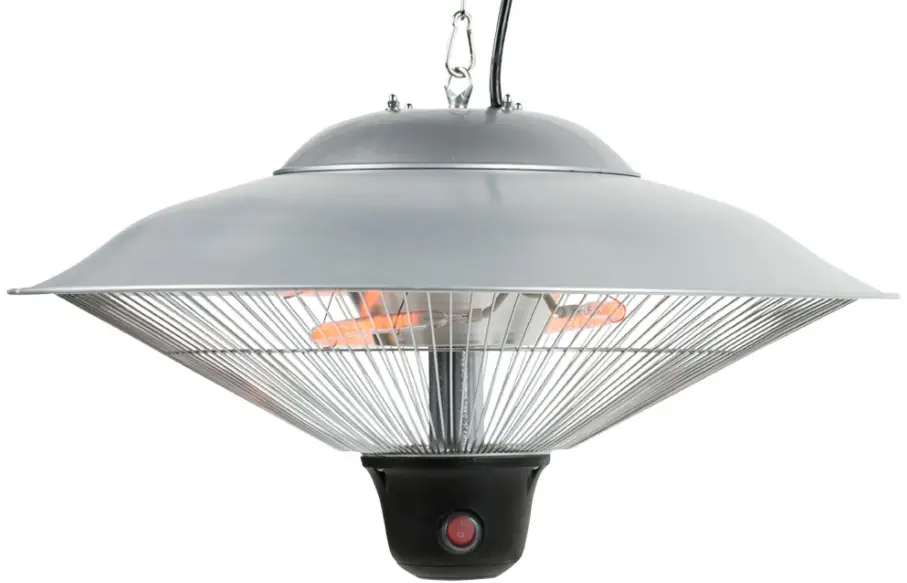 PROFUSION® Hanging Infrared Heater Instruction Manual
MODEL: PHP-1500BR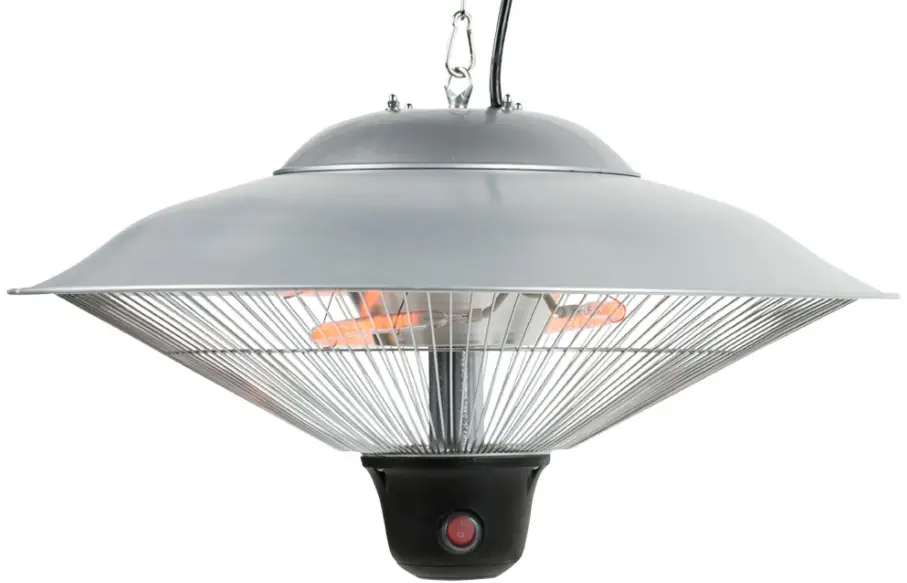 Thank you for purchasing your new Hanging Patio Heater.
These operating instructions will help you use it properly and safely.
We recommend that you spend some time reading this instruction manual in order that you fully understand all the operational features it offers.
Read all the safety instructions carefully before use and keep this instruction manual for future reference.
Technical support: 1-866-206-0888
Service email: [email protected]
PET OWNERS WARNING:
The health of some small pets including birds are extremely sensitive to the fumes produced during the first-time use of many appliances. These fumes are not harmful to humans but we recommended that you do not use your heater around birds and small pets during its initial use until the manufacturing corrosion coatings burn off.
IMPORTANT INSTRUCTIONS
When using electrical appliances, basic precautions should always be followed to reduce the risk of fire, electric shock, and injury to persons, including the following:
Read all instructions before installing or using this heater.
Always ensure that your power supply voltage matches this appliance's rating label.
Never leave the appliance unattended while in operation. Always unplug the appliance when not in use.
This heater is hot when in use. To avoid burns, do not let bare skin touch hot surfaces.
Caution: Some parts of this product can become very hot and cause burns. Particular attention has to be given when children and vulnerable people are present.
Always use the handle when moving the heater (if available) or hold on the sides if not available (make sure the unit is turned off). Keep combustible materials such as furniture, pillows, bedding, papers, clothes and curtains at least 1m from the heater.
The heater must be installed at a minimum height of 1.8 m from the ground, and 0.5 m from the ceiling, roof, and both side walls.
The heater must not be installed with the heating element pointing upwards towards the ceiling. The heater element must be facing the area it is to heat.
Warning: In order to avoid overheating, never cover the heater.
This appliance is not intended for use by persons (including children) with reduced physical, sensory or mental capabilities, or lack of experience and knowledge, unless they have been given supervision or instruction concerning use of the appliance by a person responsible for their safety. Children should be supervised to ensure that they do not play with the appliance.
Children shall not play with the appliance. Cleaning and user maintenance shall not be made by children without supervision.
Do not use the product if there are any visible signs of damage to the appliance.
Do not attempt to repair or adjust any electrical or mechanical functions on this unit. The unit does not contain any user serviceable parts. Only a qualified electrician should perform servicing or repairs. Attempting to repair the unit yourself will void your warranty.
If the mains cable is damaged it must be replaced by the manufacturer, its service agent, or similarly qualified persons in order to avoid a hazard.
Do not handle the heating element with bare hands. If it is inadvertently touched, remove finger marks with a soft cloth and methylated spirits or alcohol, otherwise the marks will burn into the element causing premature heater failure.
Do not replace or attempt to replace the element in this product. This heater has no user-serviceable parts.
This product is suitable for indoor and outdoor use. Do not operate the appliance in direct sunlight, near heat sources, humid environments or in places near water or other liquids such as bathrooms, shower or swimming pool.
This product must not be left outdoors exposed to the elements for long periods of time.
Do not operate with wet hands or spill water or other liquids on to the appliance the mains cable or plug.
Do not run the power cable under carpeting. Do not cover the power cable with rugs, runners, or similar coverings. Arrange the power cable away from foot traffic and where it will not be tripped over.
Do not wind the power cable around the unit.
Do not insert or allow foreign objects to enter any ventilation or opening on the heater, as this may result in electric shock, fire, or damage to the heater.
To prevent a possible fire, do not block the air vents.
Do not use the appliance in areas where petrol, paints or other flammable substances are used or stored.
Always position the appliance with the mains plug in an accessible position and avoid the use of an extension cables as they may overheat and create a potential fire risk.
Always ensure the heater is plugged into a suitable socket, one that is tested for outdoor use.
To disconnect heater, turn controls to OFF, then remove plug from the socket. Do not unplug by pulling on the power cable.
Always unplug the unit and ensure the unit is completely cold before moving, cleaning or storing.
This heater is intended for domestic use only and should not be used commercially for contract purposes. Any alternative use, not recommended by the manufacturer, may result in fire, electric shock, or injury to persons.
The use of attachments on the heater is not recommended.
Warning: This heater is not equipped with a device to control the room temperature. Do not use this heater in small rooms when occupied by persons not capable of leaving a room on their own, unless constant supervision is provided.
Check exterior walls for areas of damage before installing the heater.
Check exterior walls for communication and electrical cables and pipelines.
Should any service lines be present in the immediate vicinity do not install your heater, find an alternative location to install this product.
Installation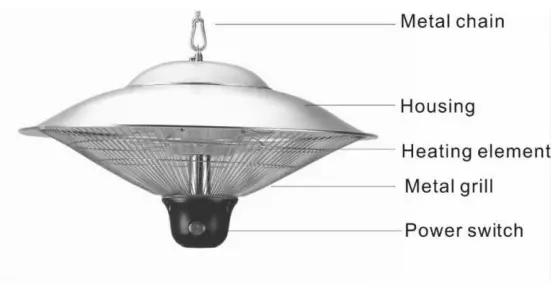 Attach this heater to a suitable ceiling. The appliance must hang at least 1 8m from the floor and a minimum distance of 0.5m from the ceiling.
Make sure that the hook is able to support 3 or 4 times the weight of the patio heater.
This appliance must be supplied with proper voltage and frequency (AC 120V, 60Hz), and connected to an individual, properly grounded branch circuit, which is protected by a circuit breaker in accordance with wiring rules. The power cable of this appliance must be fastened with the provided chain only. Installation can only be carried out by a qualified electrician in order to avoid a hazard.
Operation
Use rocker power switch to control power on/off
Use remote control to control different settings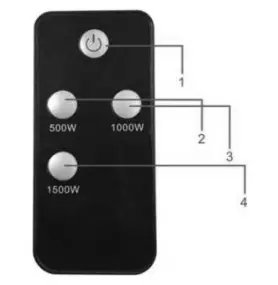 Attention: Please aim at the receiver when operating the remote control
On / Off Switches on or off the heater or places it in standby mode.
First level After turning the heater on, you can choose low heating.
Second level After turning the heater on, you can choose moderate heating.
Third level After turning the heater on, you can choose high heating.
Maintenance and Cleaning
Maintenance
Attention! Careful and regular maintenance of your infrared heater is required to ensure the long and efficient operation of your appliance.
Check the cleanliness of the reflector and IR-filament at least once a month. If necessary, apply cleaning and maintenance instructions.
The frequency of verification & maintenance procedures may be increased considering the amount of dust in the environment.
Visually check for deformation of the reflector, wire and frame while cleaning the appliance. In case of any deformation, consult a qualified technician.
Visually check the power cable and plug while cleaning the appliance. In case of any deformation, consult a qualified technician.
It is recommended to change the reflector every 2 years for more efficient operation.
Cleaning
Attention! Regular and careful cleaning helps your heater to operate efficiently for many years.
Turn off and unplug the appliance, and let it cool completely before cleaning.
Take out the front grid wire through the inlets on the frame using a slotted screwdriver.
The reflector and filament must be cleaned with a soft cloth, a smooth brush or cool dry air. The cloth may be damp but never wet and the cleaner should not include any chemicals.
Refrain from using cleaning materials likely to damage the reflector (caustic cleaners, etc.).
Reinstall the wire grid using a slotted screwdriver.
Specifications
Model: PHP-1500BR
| | |
| --- | --- |
| Voltage | AC 120V |
| Frequency | 60Hz |
| Electric Power | 1500W |