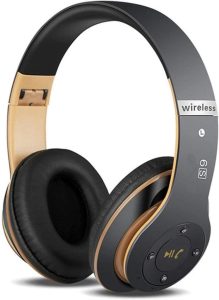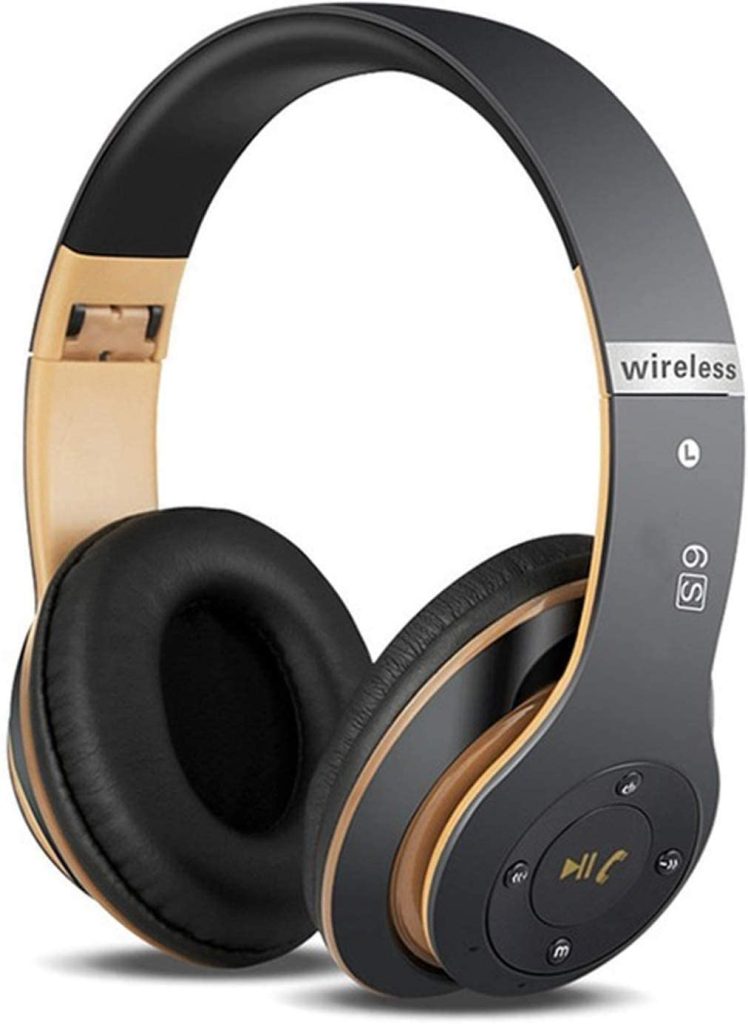 6S Wireless Bluetooth Headphones Over Ear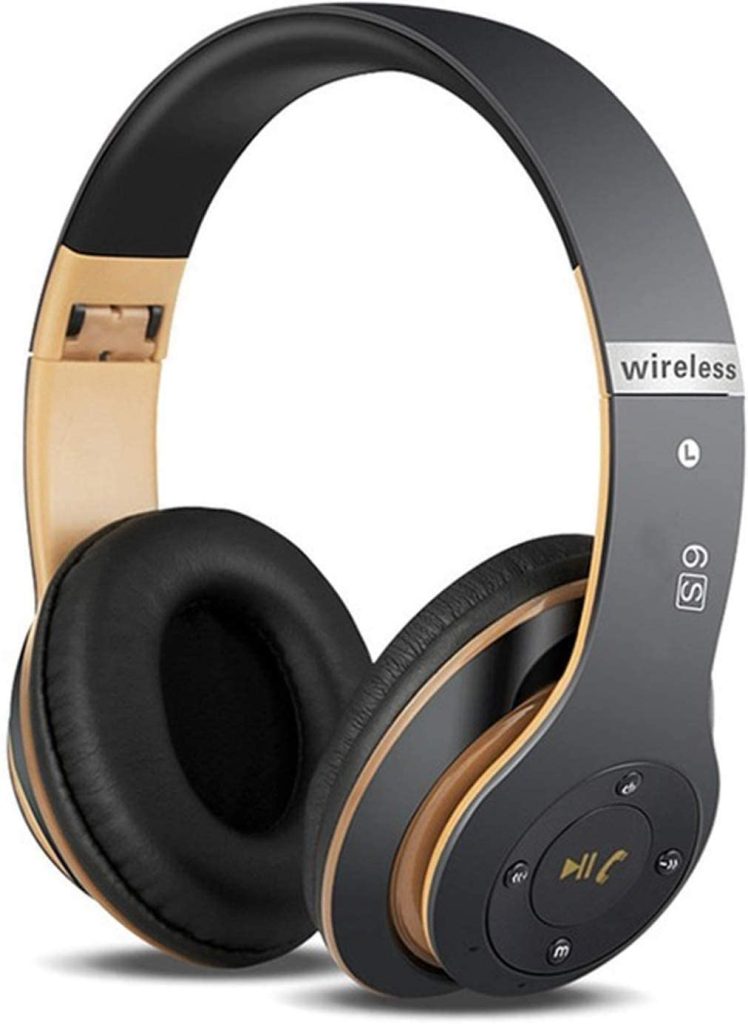 Specifications
PRODUCT DIMENSIONS: 6 x 5.9 x 3.1 inches,
ITEM WEIGHT: 306.18 grams,
BATTERIES: 1 Lithium Polymer,
EAR PLACEMENT: Over-Ear
COLOR: Black & Gold,
CONNECTIVITY TECHNOLOGY: Wireless,
Form Factor: Over-Ear
The Prtukyt 6S has ssuperior sound quality with high fidelity deep bass and crystal-clear sound. The 57mm dual speaker and modern Bluetooth 5.0 chip makes it more featured. Bass response is deep and precise, with a wide frequency range and a rechargeable battery. 5-button controls include play/pause/answer/hang up, equalization, next track/volume up, previous track/volume down, and a high-quality built-in mic for hands-free calling. For a home or office, the 6S is the ideal option. It may seem like "on ear "for someone to wear which is meant to minimize sound leaking, depending on your head/ear size/shape. In the event that this occurs, and in order to obtain both audio and wearing comfort.
Display
Ear cups go around the ears to help isolate audio, and the design is folding for simple transport. These Bluetooth over-ear headphones include exceptionally soft cushions and an adjustable headband for all-day comfort. All ages will enjoy the comfort. The lightly cushioned headband and slider let you to find the right fit for different head sizes. The best wireless headphone for extended use.
Features
The Prtukyt 6S Wireless headset has a strong 57mm stereo driver and a cutting-edge Bluetooth 4.2 chip for enhanced sound quality. The wireless 6s headphone has a built-in mic. Wireless and wired flexible headphones convert to wired mode if the battery is low and enjoy your music
Compatible
The slider and lightly cushioned headband allow you to find the right fit for various people. You can listen to the FM radio or put your SD card in your headset to listen to your favourite songs. The folding headband also helps to prevent sound leaking Even at low volume levels, you will be immersed in immersive music because to the superior sound quality.
Charging
The 6S Wireless Over-Ear Headphones has a stylish and small design. It has a good battery, so there's no need to be concerned about its backup. It is more elegant because it is super-slim and has wireless charging.
Microphone
There's also a built-in mic that helps you to communicate and talk on call. The feature of mic makes the 6S more convenient. You can answer calls anytime when you have 6s.
Controls
There is different control on the left earcup of The Prtukyt 6S.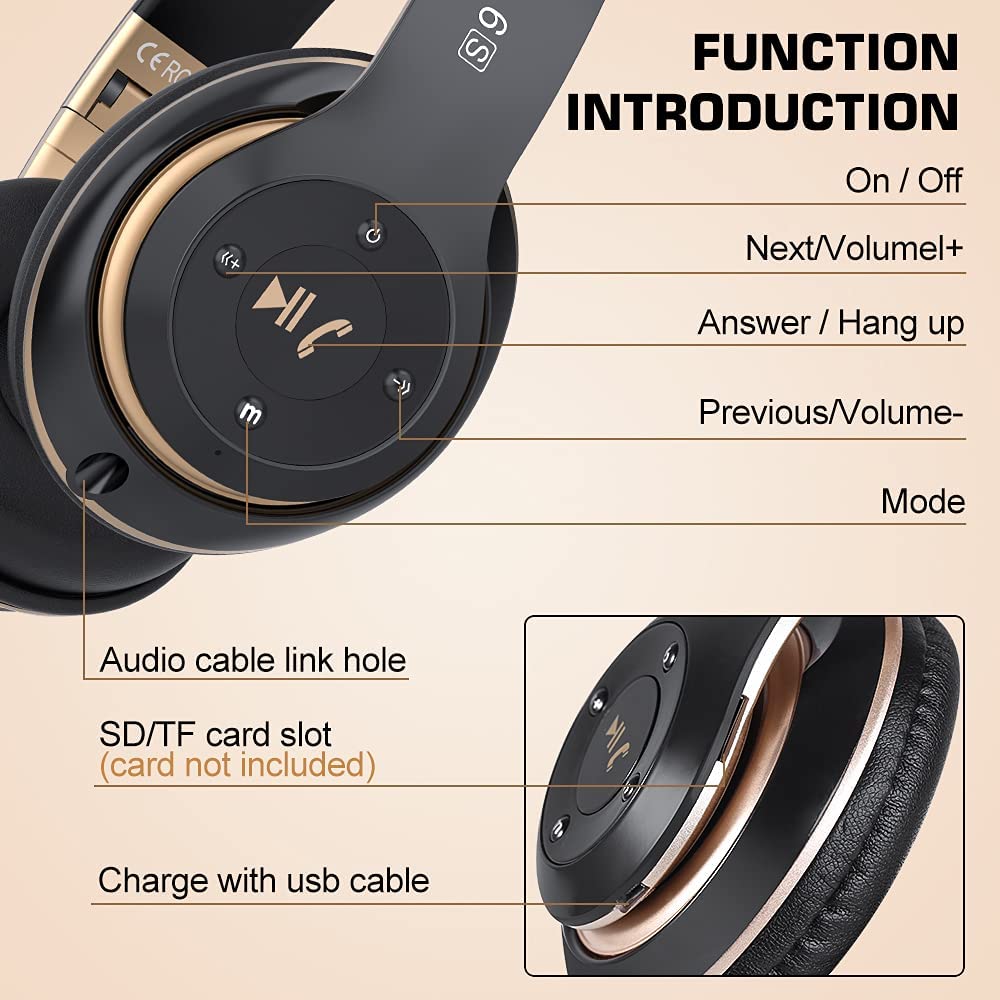 How to power On and Off
Press the power button for two seconds.
The red and blue light will light. That means that the headphones are ON and connected.
How to increase and decrease the volume:
There are two volume buttons available on the left ear cup
You can press the "+" button to incr4ease the volume.
Press, "- "button to decrease the volume.
How to Pair the headphones with a mobile phone or any device:
When you switch on the headphones, now check your phone.
Go to "setting" in your phone
Go to "Bluetooth".
Check the available device, The device "6s" will appear.
Click on the name of the device and your headphones will be paired.
How to accept and reject calls:
You can accept and reject calls by using headphones.
Press the big round button on the left earcup
Press one time to accept a call.
Press twice to cut a call.
Connect with wire:
You can connect the headphone with wire as well.
Insert the 3.5mm wire in the audio cable link hole.
Insert the other end of the wire in the device to which you want to be connected.
How to charge
There is a charging port.
You can insert the USB charging cable of one side of the headphones.
Inset the other side in the main power supply.
Foldable
Easy to use.
Compatible
Good battery life
CONS
Verdict:
6S is a professional and classy pair of headphones. It is mostly used in offices and homes. It gives us a good pack of features in a very good price. It can be carried easily. All these features make 6S worth buying.
Frequently Asked Question
What is the procedure for pairing my Prtukyt headphones?
It's simple to pair up. Simply take the earphones out of the casing and pair them with your phone over Bluetooth.
What is the charging time for the 6s wireless headphones?
Maximum 6 hours are required to charge the 6s wireless headphones.
Is it possible to overcharge headphones?
Overcharging your wireless earphones will have no effect on the gadget.
Is it necessary to charge my headphones overnight?
It's an unpleasant sensation that might possibly lead to health problems. In the end, a battery is no different. To put it another way, charging your headphones repeatedly overnight might cause irreversible harm to the batteries.
How can I get my Bluetooth headphones to last longer?
When your gadget has reached 100% charge, disconnect it as soon as possible. A battery that has been overcharged loses its efficiency faster than one that has been properly charged. When your headphones are not in use, turn off Bluetooth. It's also a great method to extend the life of your battery.
How can I tell whether my headphones are fully charged?
Connect your headphones to a functional wall socket using the included power wire. If the indicator lights up red, your headphones are charging
Is it possible for wireless headphones to explode?
Bluetooth-connected earbuds have the potential to cause an explosion. The corded earbuds or headphones have no components that may cause an explosion, but the wireless ones feature lithium-ion batteries that could cause an explosion if they overheat.
How to Pair the headphones with a mobile phone or any device?
When you switch on the headphones, now check your phone.
Go to "setting" in your phone.
Go to "Bluetooth".
Check the available device, The device "6s" will appear.
Click on the name of the device and your headphones will be paired.
How is the check port is loose or damage?
Inspect the charging port of your headphones for any damage like bent connectors or bent metal. Also, make sure that the port itself isn't loose when you touch it, as this could be a sign that the connectors have detached from the headset.
How do I Answer my phone with Earphone?
You can automatically direct the audio of phone or FaceTime calls to the iPhone speaker, a Bluetooth headset, or your hearing devices. iPhone can also automatically answer calls after a specific duration. Go to Settings > Accessibility > Touch > Call Audio Routing, then choose an audio destination.
Do 6s Headphone have a mic?
6S Wireless Headphones Over Ear,[40 Hrs Playtime]Hi-Fi Stereo Foldable Wireless Stereo Headsets Earbuds with Built-in Mic,Volume Control, FM (Black & Gold)
How can I change my Bluetooth Headphone without a Case?
To charge Earbuds with a micro USB, you need to plug a Micro USB cable into your device and either into a computer or a USB adapter. Then you have to sit and wait until your earphones get fully charge
How do I connect my 6S Wireless Bluetooth Headphones Over Ear to my phone?

Please follow the steps below:
1. Turn on the Bluetooth function of your phone and search for a device named "6S".
2. Select "6S" and then enter the passkey "0000" to connect.
3. Once connected, you can enjoy music freely.