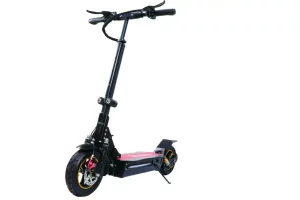 Q1 Hummer User Manual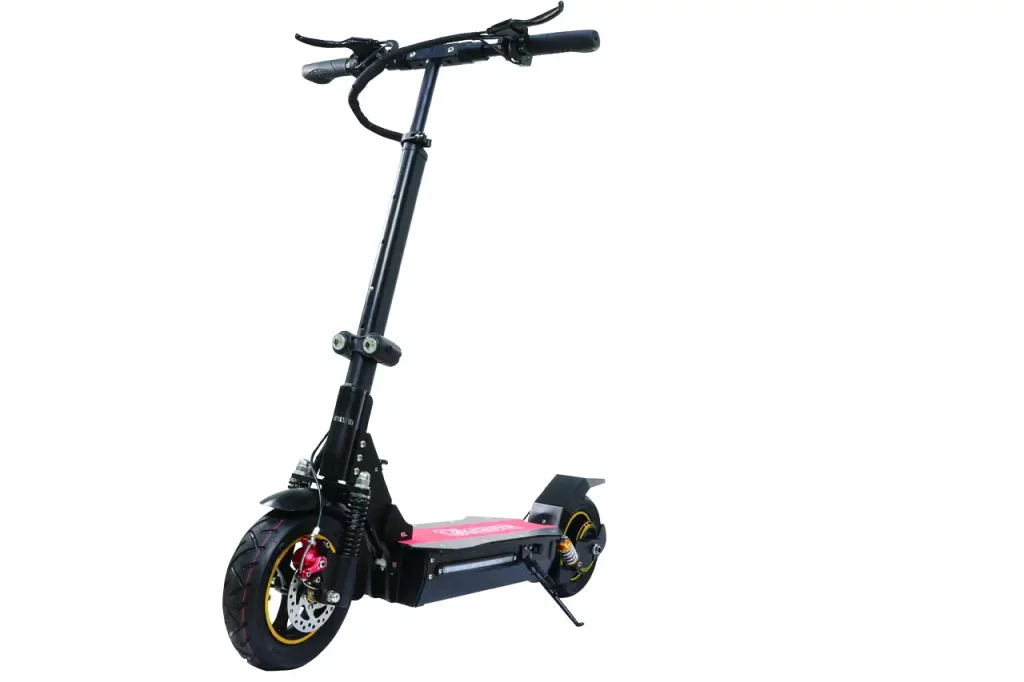 Copyright© Qiewa Industrial Co., Ltd All Right Reserved

Do not place battery near fire, flammable, explosive, or corrosive objects.
Do not dissemble battery or charger, any damage caused by such actions are not eligible for warranty.
Do not short the circuit with wires or fuses.
Do not drop or throw battery and charger.
Please store battery in dry, ventilated environment.
Do not cover battery or charger with other objects to prevent overheating.
Keep battery and charger away from young children.
Do not carry charger while riding, any damage caused by user's mistake will void warranty.

Avoid sharp or uneven surfaces such as railroads and stairs.
Please double-check all structures and brake systems before riding.
Do not temp to service or modify any part.
Do not overload or hang objects on handle bar.
Please wear rain coat if riding in rain, do not ride while holding umbrella.
Please wear protection gear at all times and obey all local traffic laws.

Keep Battery charged if possible, or it may shorten battery life.
Recharge the battery at least once per month if not in use.
Replace the battery if any damage found on exterior of the battery or wire.
Park at cool area and avoid direct sunlight in hot seasons, keep battery in 5 – 3 0°C environment.
Do not overcharge the battery.
Do not recharge while using.


Do not charge continuously mere than 18 hours.
Please remove power plug from power source first, then remove the charge plug from the battery.
Red light indicates power connection; green light indicates recharge completed.

Lock: Lock mode, vehicle cannot be started.
Unlock: Unlock mode, vehicle cannot be started.
Lightning: After alarm deactivated, press twice to trigger siren sound, now the vehicle is ready to be strted.
Siren: Activate alarm.

Product Structure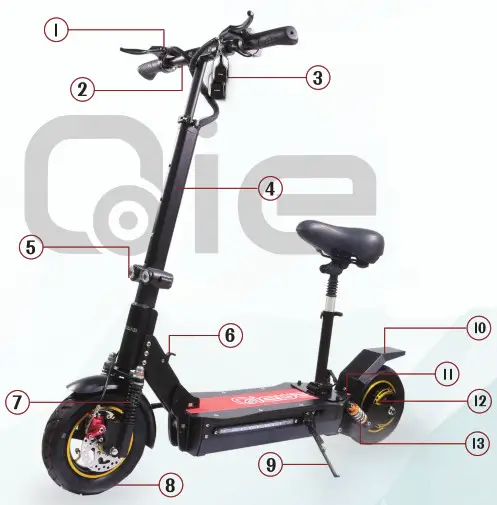 Electronic Instrument Gauge
Quick Release for Handle Bar
Remote Control
Handle Bar Beam
Headlight & Horn
Quick Release for Chassis
Front Suspension
Tires
Kick Stand
Mud Flap
Tail Light
Disk Brakes
Rear Suspension
Electronic Instrument gauge
Press and hold to turn off.
While turned off, press once to turn on, press again to switch data review.
ODO = Total travelled mileage
RM = Remaining meleage
ERRO = Error/Malfunction
Trip= Single trip mileage.
TM = Current Time
Press +/- to adjust travel speed
Gears: 1st gear is slowest, 3rd gear to be traveled at highest speed.

Press and hold + and — to enter setting mode, press to change setting
P01: Background lighting: higher the number the brighter. (Def. 2)
P02: Unit: 0 for km, 1 for mile
P03: Voltage level: 24v,36v,48v.(Def.48v)
PO4:Gauge Stand by time: 0 means always on, can be set 1 to 60 min. (Def. 5 min)
P06: Wheel Size: Def 0011.0, do not change this setting.
P07: Speed Calibration: Def.00024, do not change this setting.
P09: 0 = Accelerator starts 1 = Slide start(Def. 0)
P14: Remote Control Current Limit: 1-20A, Def. 12, do not change this setting.
P15: Speed Limit: Set 0 — 100km/h, Def. 60km/h
P16: Cruise Control: 0 to shut off, 1 to activate. Def. 1.
WARNING: Suggest NOT to change any of above settings, any damages caused by altering setting references are not eligible for warranty.
Specification
Specification (Dimension) 113*61*121cm
(Wheel Base ) 93cm
(Weight ) 25kg
(Max Load ) 200kg
(Battery ) Lithium Battery
(Voltage) 48v
(Output ) 800w
(Tire Size) 10″
(Tire Type) Inflatable
(Handle Bar) Quick Release
(Chassis) Quick Release
(Max Speed) 55km/h
(Suspension) F&R
(Range) 100km
(Range may vary by load.)
Safety (Headlight ) 0
(Chassis Lamp) 0
(Remote) 0
(Brake Light ) 0
(Aluminum ) 0
(Seat) Removable
(Brakes) Disk
Charger
(Power) 48v3a (
Recharge Time) 12Hr
Chassis Folding/Unfolding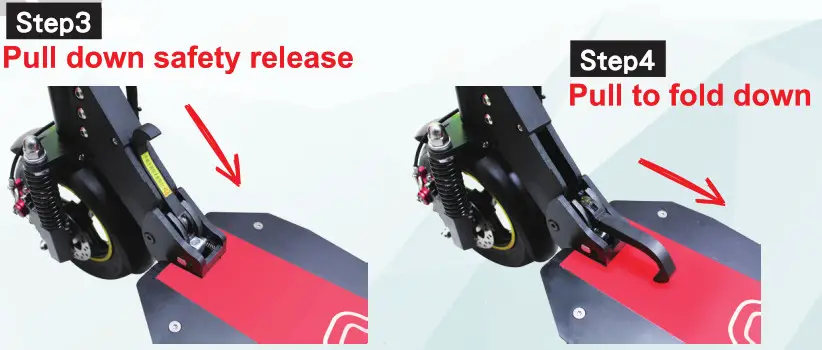 Seat Installation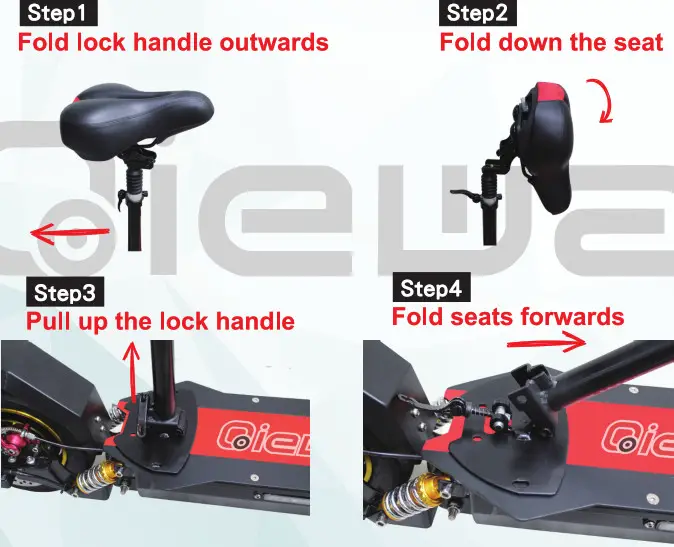 Trouble Shooting
ERRO 1 : Electrical error
ERRO 2 : Throttle error
ERRO 3 : Controller error
ERRO 4 : Brake malfunction
ERRO 5 : Low voltage protection
ERRO 6: Communication fail, gauge fail to receive input from remote.
ERRO 7: Communication fail, remote fail to receive output from gauge.
It is normal and do not worry if ERRO flashes on gauge while braking.
Support
Malfunction
Reason
How to fix
Gauge shows no power
1.Battery too low
Replace switch unit
2.Broken fuse
Fully charge the battery
Gauge shows enough power but cannot start
1.Battery false wiring
Reconnect firmly
2.Damaged wires
Send to distributor for service
3. Handle bar false wiring
Send to distributor for service
Range too short
1.Low tire pressure
inflate the tires
2.Damaged battery
Replace the battery
3.Low charge or damaged charger
Fully charge the battery or replace the charger
4.UphilI, against wind, or overweight loads
Suggest to assist with man-power
Not charging
1.Charger plug misconduct
Clean conduct points.
2.Damaged charger
Replace charger
3.Damaged Battery
Replace battery
4.False wiring
Replace fuse
Others
1.Ff above trouble shooting does not solve issue
Please contact distributor or manufacturer
2.Damaged controller, battery, or charger
Temp to dissemble and fix may void warranty
Visit us at QiewaScooter.com for any questions about your scooter.
Copyright© Qiewa Industrial Co., Ltd