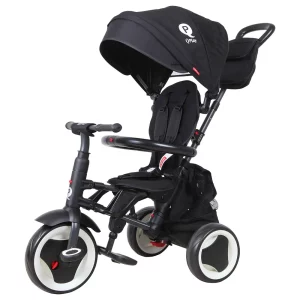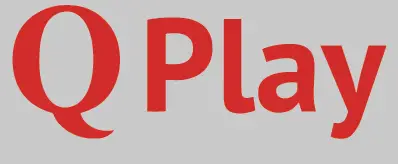 QPlay S380 Rito Plus Folding Trike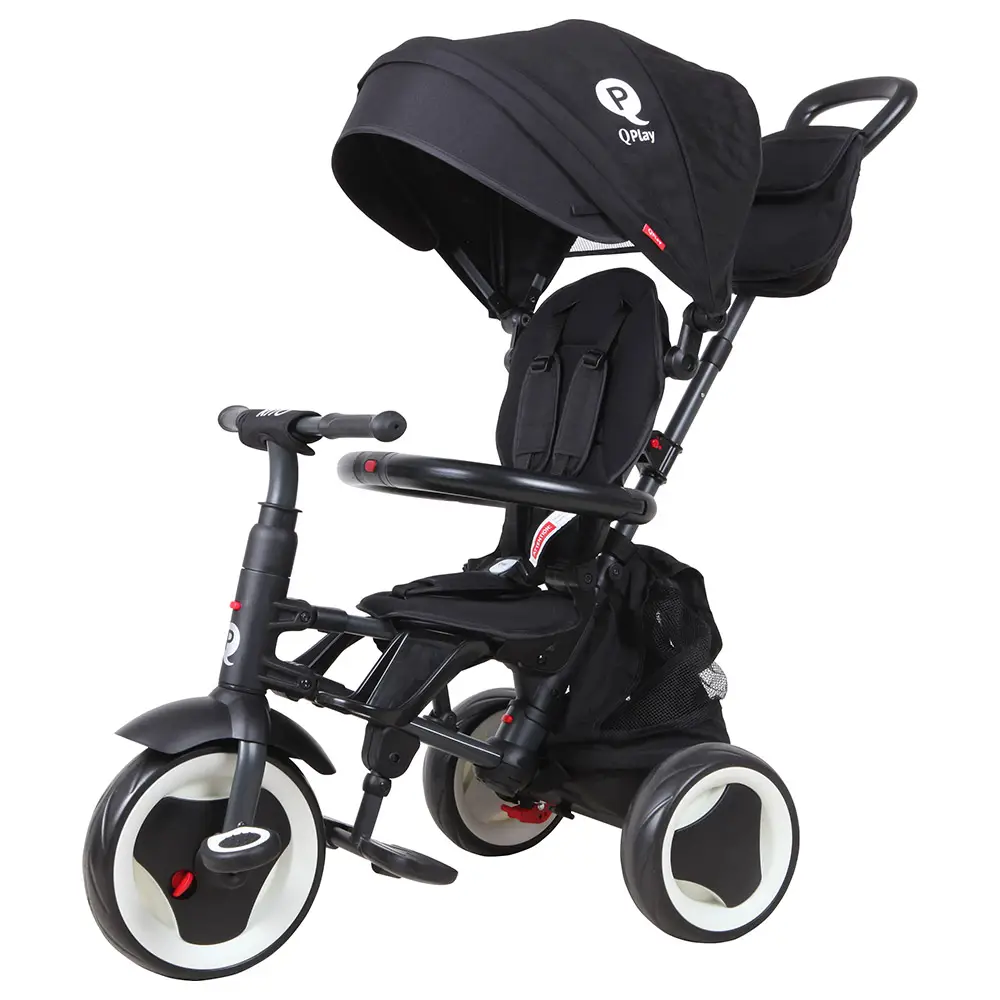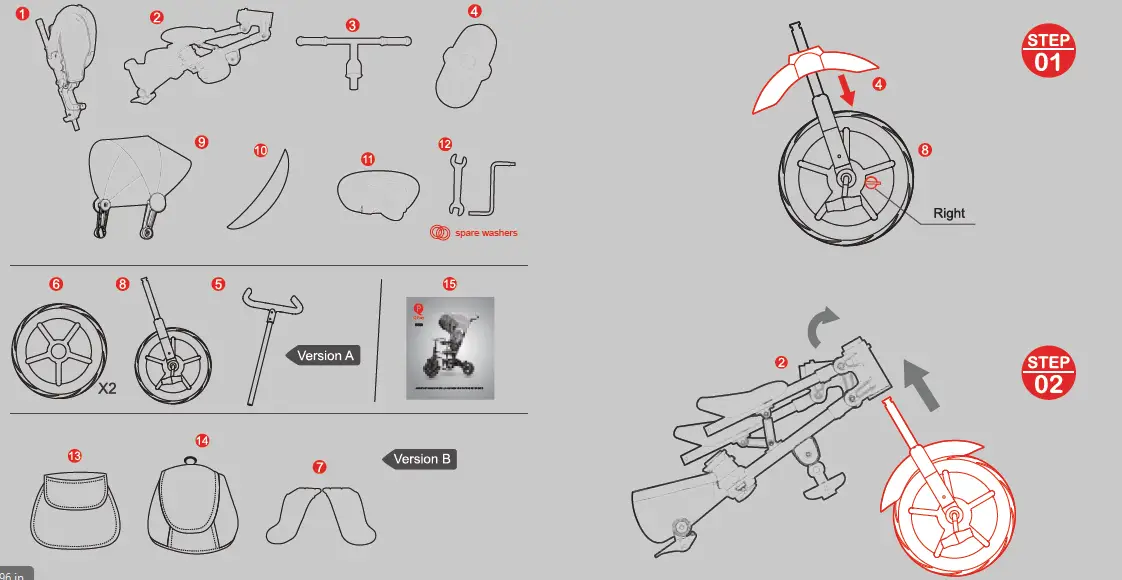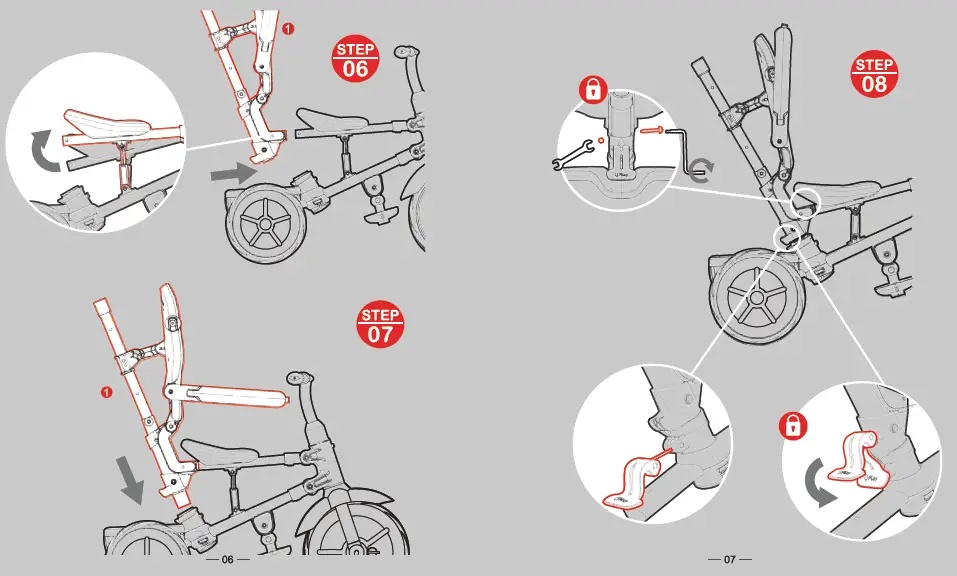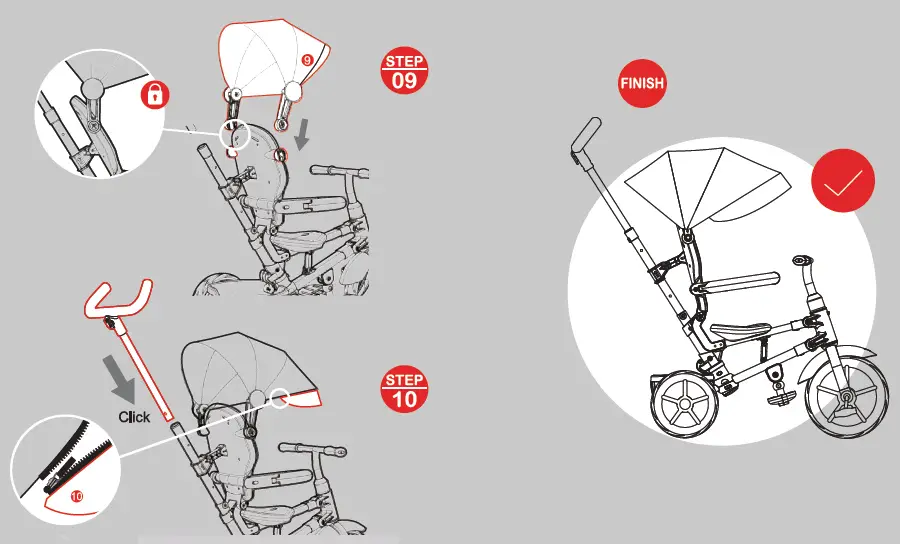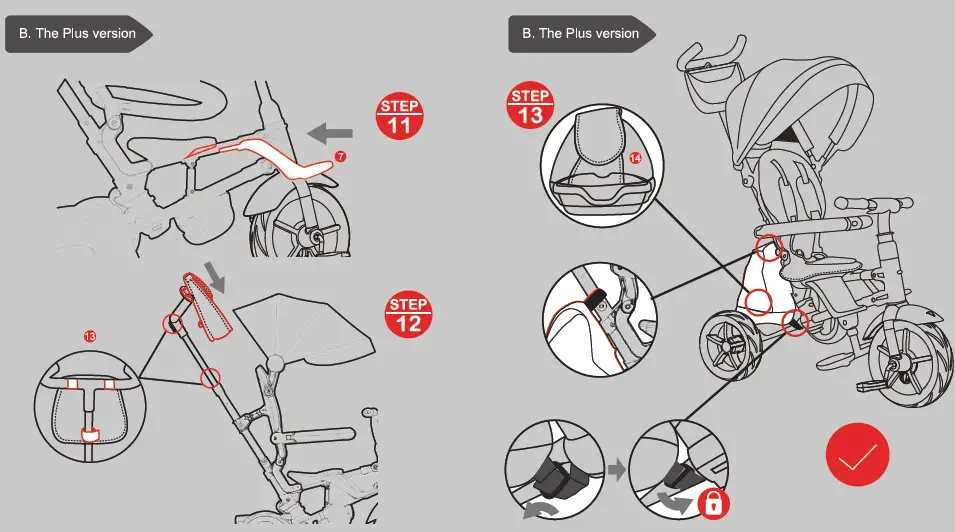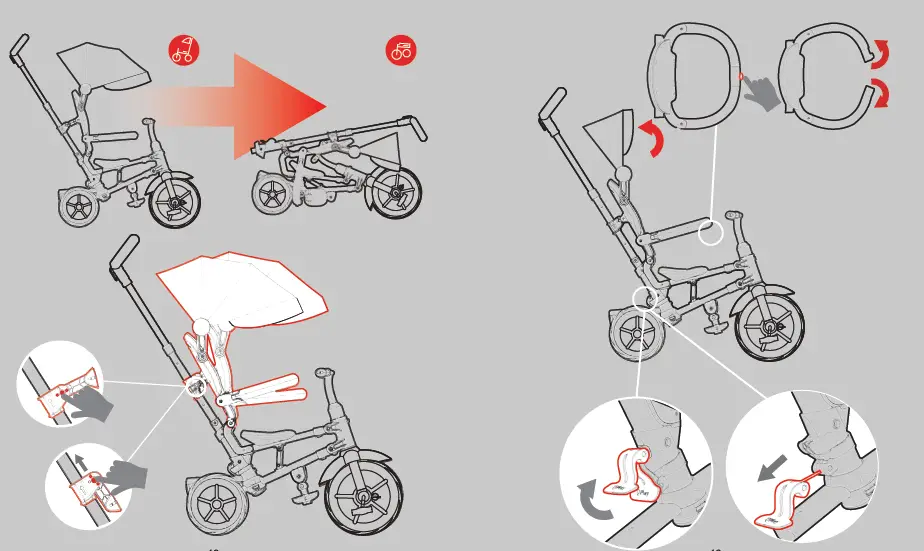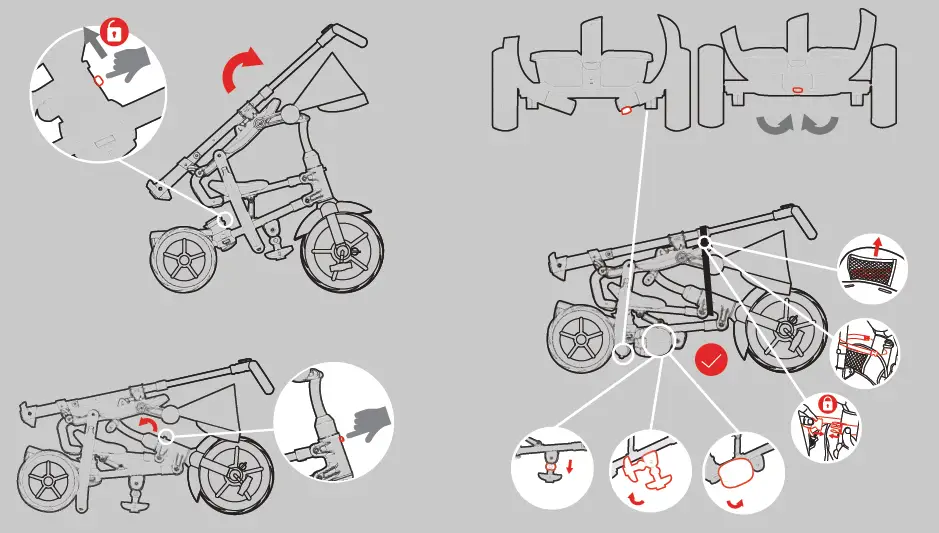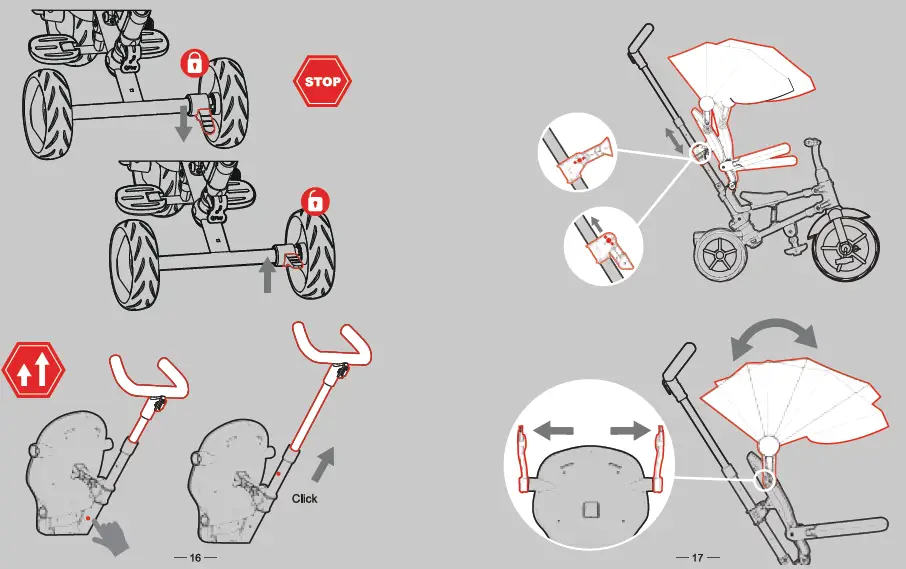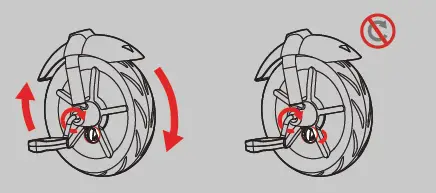 Attention: when the push bar is not in use, pls turn the front wheel knob to the left in cycling mode, to avoid the risk of rollover or collision caused by incorrect structure adjustment.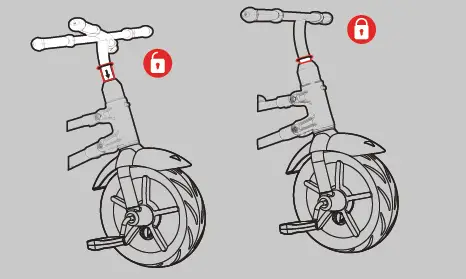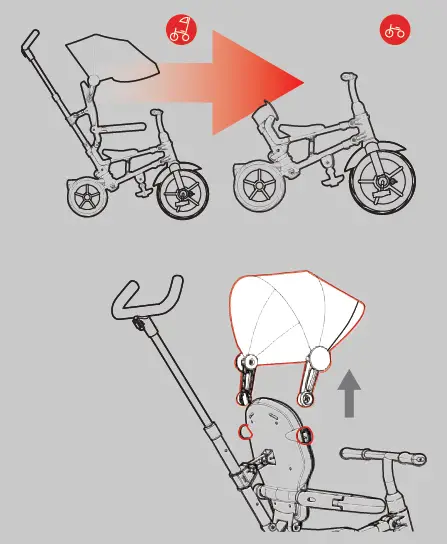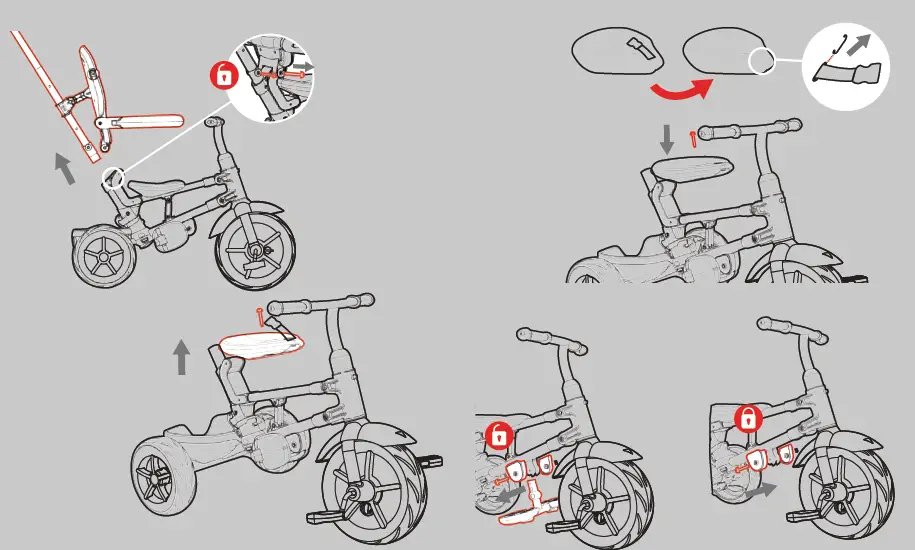 Safety hamess adjustment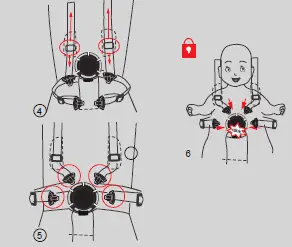 Safety hamess adjustment
Open-close safety hamess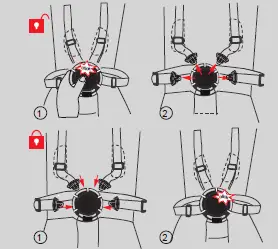 Safety hamess adjustment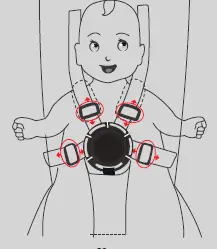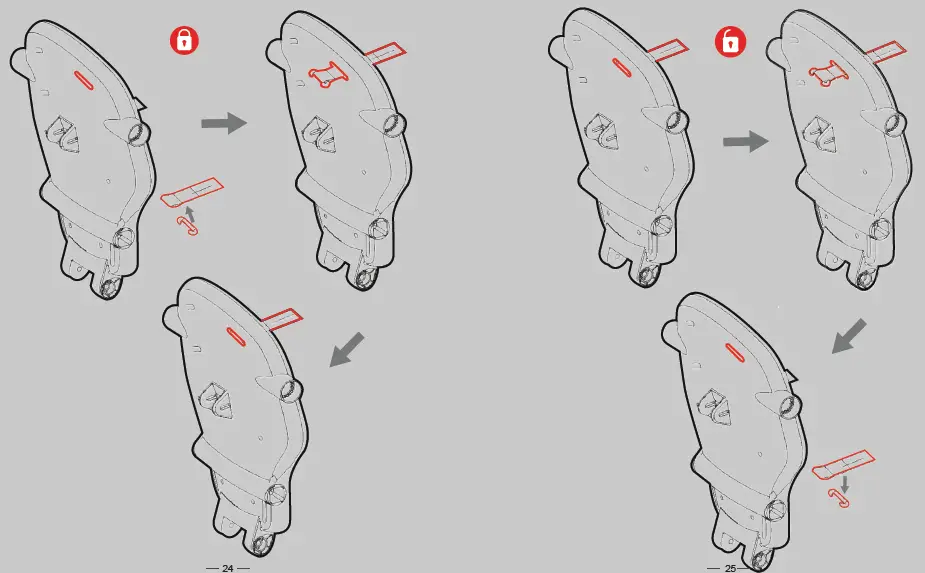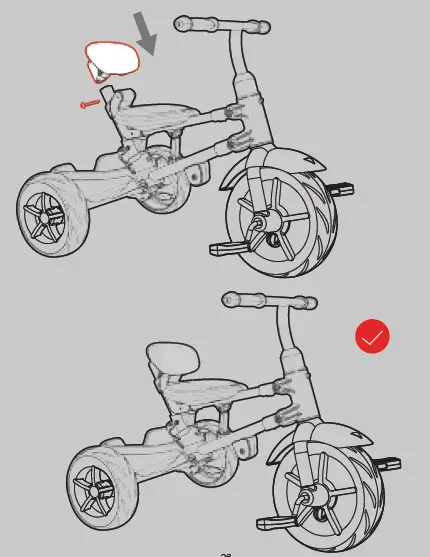 Read these instructions carefully before assembling the product or using it for the first time.
They contain important information for your safety and for the correct use and maintenance of this Qplay Product.
Important-keep the instructions in a safe place for future reference.
This vehicle is intended for children from 10months and up to 55lb/25kgs.
WARNING!
Never leave the child unattended
Ensure that all the locking devices are engaged before use
To avoid injury ensure that the child is kept away when unfolding and folding this product Do not let the child play with this product This seat unit is not suitable for children under 6 months
Always use the restraint system Check that the pram body or seat unit or car seat attachment devices are correctly engaged before use.
This product is not suitable for running or skating.
For the User's Safety While Using the Product
No additional mattress shall be added for this pram.
Any load attached to the handle and /or on the back of the backrest and /or on the sides of the vehicle will affect the stability of the vehicle.
Carrying handles shall be left out of the pram body during use.
This product should be used under the direct supervision of an adult at all times.
Only replacement parts supplied or recommended by the manufacturer/distributor shall be used.
Only one rider should use this product at a time.
WARNING! Keep away from fire.
Riding barefoot is not recommended.
While using the product, instruct your child how to use it correctly and draw attention to possible sources of dange The product should be used with caution, as it requires skill, so as to avoid falls/collisions and causing injury to a user / third part
Recommended age: 10 months to 6 years).
Always adjust the use of the product to conditions encountered.
This product should be used on safe ground, it should not be used near steps, slopes, roadways, public highways or wet areas.
The product is an unlighted play implement. Its use in the dark is dangerous.
In case of a sudden and/or strong turn o f the handle bar the product could be caused to tip danger of injuries.
A child trying to climb or stand on the gap between the handle bars could overbalance the product by tipping it ove
Unpredicted situations may arise when children are at pla , for which the manufacturer cannot be held liable for damage or injur
Mudguards navigator button, switch under parent steering positions is not for children ride-control alone.
General Safety and Maintenance Warning
Only replacement parts supplied or recommended by the manufacturer/distributor shall be used.
This product is for private, residential use only (no commercial or public use).
Do not transport objects on the product. Excessive weight may cause a hazardous or unstable condition. Max. load of storage bag 2.2lb/1kg.
The product must not be connected with other vehicles, sports or similar devices and not be driven / pulled by them.
Never subject your child while on the product to speeds exceeding walking pace!
Never draw the product behind you as long as a child is seated on.
Make sure that all locking devices are engaged.
Never park the product unattended with a child on it!
Colors and content may vary.
Regular safety checks should be carried out on the product to ensure integrity of assembly especially loose or dislocated components. Inspecting the product at regular time intervals can prevent accidents.
Damaged components may endanger the safety of your child or shorten the lifespan of the product. Incorrect repairs or removal of other parts may be a source of danger to the user.
Never use corrosive or abrasive substances to clean the product. Never use substances which may cause pollution of the environment.
Please retain the original packaging for future reference.
Care treatment for Fabric and other accessories: Wipe clean with damp cloth only.
Assembly of the product
The product should be properly assembled by an adult.
Study carefully the assembly instructions before beginning work.
Follow the exact sequence of assembly shown by the letters in the diagram.
Please not that manual work with tools may cause injury, take caution assembling the product.
Ensure that your working area is free of danger, always dispose packaging material in such way that it may not cause any harm. A child playing with a plastic bag is exposed to a risk of suffocation.
Do not leave any work tools lying around.
Bolt all the parts together loosely at first and check that they have been assembled correctly.
Tighten the locknuts by hand until resistance is felt, then use a spanner to finally tighten nuts completely against resistance (locking device). Then check that all screw connections have been tightened firmly.
For technical reasons, we reserve the right to carry out preliminary assembly work.
WARNING
Adult assembly required!
TO AVOID SERIOUS INJURY: Continuous adult Supervision required; never use near motor vehicles; never use near streets, Swimming pools, hills, steps, or sloped driveways; Always wear shoes when using the tricycle. Never allow more than one rider.
This product is not a stroller and does not meet the safety requirements for strollers. Do not use as means of transport.
Adult assembly required. Read this manual completely and follow thoroughly the assembly instructions.
When adults push the trike, ensure the child is wearing the properly adjusted seat belt.
When children are riding the trike on their own, remove the push bar and the seat belt. Children should always wear an approved safety helmet when riding alone.
Adult assembly required!
Before riding, please check that all fasteners are correctly secure.
Always wear shoes when riding.
For the child's personal safety, always use safety equipment such as Helmet, Elbow pads, Knee Pads, and Gloves.
Always wear a properly fitted helmet
To be used on smooth paved surfaces without any traffic. Not for use on public roads.
Not to be used at dusk, at night, or at times of limited visibility and unfit weather
Replace worn or broken parts immediately.
Only one person riding at a time.
Maximum weight is 25 kgs. 1
Suitable for children 10-72 months.
Adult assembly required. Choking hazard to children under the age of 5 years Contains small parts prior to assembly.
The toy should be used with caution since skill is required to avoid falls or collisions causing injury to the user or third parties.