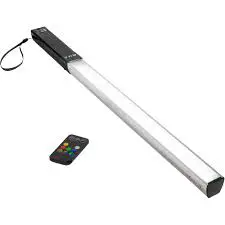 raya SB-RGB Brite Stix RGB LED Wand with Remote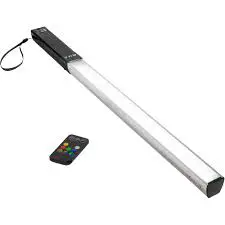 THANK YOU FOR CHOOSING RAYA
The Raya Brite Stix RGB LED wand provides even illumination along its 15-inch length. It's extremely simple to operate, and it packs up in its own carry bag so it can go anywhere for shooting photos, video streaming, or making YouTube videos. This fixture features six RGB presets and two white- balance settings along with adjustable 11-step dimming. As a handheld wand, the Brite Stix can deliver creative and dramatic lighting effects. The handle is also equipped with a standard 1/4-20 socket for tripod mounting. This fixture is powered by a rechargeable battery that plugs into a powered USB computer port or a power adapter (not included). A remote is included for hands-free operation from up to 23 feet away.
PRECAUTIONS
Please read and follow these instructions, and keep this manual in a safe place.
Keep this unit away from water and any flammable gases or liquids.
Do not attempt to disassemble or repair the equipment—doing so will void the warranty, and Raya will not be responsible for any damage.
Handle the unit with care.
Do not stare directly at the lights when they are powered on.
Clean the unit with only a soft, dry cloth.
Keep this unit away from children.
Use only parts provided by the manufacturer.
Make sure the item is intact and that there are no missing parts before use.
All images are for illustrative purposes only.
FEATURES
Built-in rechargeable lithium-ion battery
3000 and 5750 K white-balance settings
Six RGB presets
15 in. illumination area
11-step adjustable brightness
1/4-20 socket for tripod mounting
Remote included
BOX CONTENTS
Brite Stix RGB LED Wand
Remote
Wrist strap
Charging cable
Carry bag
User manual
OVERVIEW
Light
LED panel
Built-in diffuser
Handle
USB charging port
/4-20 mounting socket
Charging indicator
Power button/ mode selector
Brightness
Remote
Power button
Brightness buttons
Color selection buttons
Battery lock
Battery tray
CHARGING THE BATTERY
Connect the Brite Stix to a powered USB port with the included cable. The charging indicator will blink while the battery is charging and will stop blinking when the battery is fully charged. To charge the Brite Stix from an AC outlet, plug the USB cable into a USB power adapter (not included).
Important: The Brite Stix will not power on while it's charging.
Battery Power Indicator
The power indicator blinks every few seconds when the Brite Stix RGB is powered on, and after a color change or brightness adjustment. The indicator blinks to show the percentage or battery power remaining. If the indicator blinks once every cycle, the battery has 25% of its power remaining. It will blink twice for 50%, three times for 75%, and four times for 100%.
MOUNTING THE LIGHT
The Brite Stix has a 1/4-20 mounting socket. Screw the light onto the threaded screw of a tripod, light stand, or ball head until it's secure.
POWERING ON AND COLOR
SELECTION
Press and hold the power button to turn the Brite Stix on or off. Press the power button to cycle through the two white-balance settings and six color presets: 3000 K, 5750 K, red, green, blue, yellow-green, purple, and cyan.
Note: The Brite Stix cannot be powered on or off by the remote. The remote sets the Brite Stix to Sleep mode. See Remote Operation below.
ADJUSTING BRIGHTNESS
The Brite Stix RGB features 11-step brightness adjustment. Repeatedly press the buttons to adjust the brightness. Each color can have its own brightness setting. When you select a color, the Brite Stix RGB recalls the last brightness setting for that color.
REMOTE OPERATION
Power Button: Once the Brite Stix is powered on via the on-handle power button, press the remote's power button to activate Sleep mode. Press the power button again to resume operation.
Brightness Buttons: Press the Brightness buttons to adjust the brightness in 11-step increments.
Color Buttons: Press the color buttons for the desired white balance or RGB preset. Each color's brightness can be set individually. When a color is selected, the Brite Stix RGB recalls the last brightness setting for that color.
REPLACING THE BATTERY
The remote is powered by a CR2025 battery. To replace the battery, follow these steps:
Push in the battery lock and slide the battery tray out of the remote.
Remove the old battery, and replace it with a new battery in the correct orientation, indicated by the illustration on the back of the remote.
Push the battery tray in until it locks into place.
SPECIFICATIONS
Light Fixture
Color Temperature
3000 / 5750 K
Color Accuracy Standard
CRI: 95.8 (3000 K),

97.2 (5750 K)

TLCI: 98 (3000 K), 99 (5750 K)

Light Intensity @ 3 ft.
381 lx (3000 K),

431 lx (5750 K)

Cooling System
Passive
Dimming
Yes, 11-step
Display
None
Housing Material
Aluminum, plastic
Dimensions (L × W × D)
21.75 × 1.25 × 1.1 in.

(55.2 × 3.2 × 2.8 cm)

Weight
11.8 oz. (335 g)
Remote Operation
Remote Control Type
IR
Wireless Range 23 ft. (7 m)
Power
AC Input
5 V / 2 A DC
Power Source Li-ion battery
Max Power Consumption
10 W
Cable
Cable Type
Micro-USB
Cable Length 22.25 in. (56.5 cm)
ONE-YEAR LIMITED WARRANTY
This Raya product is warranted to the original purchaser to be free from defects in materials and workmanship under normal consumer use for a period of one (1) year from the original purchase date or thirty (30) days after replacement, whichever occurs later. The warranty provider's responsibility with respect to this limited warranty shall be limited solely to repair or replacement, at the provider's discretion, of any product that fails during normal use of this product in its intended manner and in its intended environment. Inoperability of the product or part(s) shall be determined by the warranty provider. If the product has been discontinued, the warranty provider reserves the right to replace it with a model of equivalent quality and function.
This warranty does not cover damage or defect caused by misuse, neglect, accident, alteration, abuse, improper installation or maintenance.
EXCEPT AS PROVIDED HEREIN, THE WARRANTY PROVIDER MAKES NEITHER ANY EXPRESS WARRANTIES NOR ANY IMPLIED WARRANTIES, INCLUDING BUT NOT LIMITED TO ANY IMPLIED WARRANTY OF MERCHANTABILITY OR FITNESS FOR A PARTICULAR PURPOSE. This warranty provides you with
specific legal rights, and you may also have additional rights that vary from state to state.
To obtain warranty coverage, contact the Raya Customer Service Department to obtain a return merchandise authorization ("RMA") number, and return the defective product to Raya along with the RMA number and proof of purchase. Shipment of the defective product is at the purchaser's own risk and expense.
For more information or to arrange service, visit www.rayalighting.com or call
Customer Service at 212-594-2353.
Product warranty provided by the Gradus Group.
www.gradusgroup.com
Raya is a registered trademark of the Gradus Group. © 2020 Gradus Group LLC. All Rights Reserved.