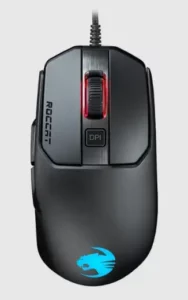 ROCCAT Kain 120 Aimo Driver Software Download For Windows

TECHNICAL FACTS
TECH SPECS KAIN 120/122
ROCCAT ® Owl-Eye 16K sensor with up to 16,000dpi
Default DPI steps: 400, 800 (default), 1200, 1600, 3200
1,000Hz polling rate
Distance Control Unit
512kB onboard memory
1.8m braided cable
ARM Cortex-M0 48MHz
50g acceleration
Angle snapping: on/off
SYSTEM REQUIREMENTS
Windows® 7, 8 and 10 (software support)
USB 2.0 (or higher)
Internet connection (for driver software)
Should you need assistance …
Our support team is ready to help you with any technical questions. Just send an e-mail to [email protected] or visit our website at: WWW.ROCCAT.COM/SUPPORT
DEFAULT BUTTON ASSIGNMENT (no driver installed)
STANDARD
Left mouse button
Right mouse button
Universal scroll
Scroll up
Scroll down
IE Forward
IE Backward
DPI Cycle
INSTRUCTIONS
Plug the USB connector on your ROCCAT® Kain into any free USB port.
Boot your computer and connect to the Internet.
Navigate to www.roccat.com/roccat-swarm and download the latest version of Swarm.
Start the software installation process and follow the on-screen instructions.
Disposal information
The crossed-out wheelie-bin symbol means that you must not dispose of this product toge-ther with unsorted household waste. As electrical devices can contain harmful substances which may cause environmental damage or harm to your health if not disposed of correctly, please dispose of these products separately. As the end user, you are required by law to dispose of used electrical equipment at an official recycling point. For information about local recycling points, contact your local authority, civic amenity site or the business where you purchased this product. By disposing of electrical products at an official recycling point, you are doing your bit to ensure equipment is recycled correctly and professionally, and our environment is protected.
When purchasing a new product, the retailer will let you hand in old products and dispose of them free of charge provided the product you are handing in is of a similar type and has the same functions as the product you are purchasing.You can hand in small used electrical and electronic equipment (measuring no longer than 25 cm on any one side) for free and with no obligation to purchase a similar product at electrical and electronic retail outlets with sales areas larger than 400m² or at nearby recycling points designated by the retail outlet.
Wherever possible, remove any batteries before disposing of the device.
Under law, as a user you face the risk of penalties if you dispose of devices and batteries illegally.
Technical support
Having technical problems with this product? Get in touch with our Support team – the quickest way is via our website: www.roccat.com/support
Please keep this information for later reference.
FCC CAUTION:
This device complies with Part 15 of the FCC Rules. Operation is subject to the following two conditions: (1) this device may not cause harmful interference and (2) this device must accept any interference received, including interference that may cause undesired operation
GENERAL SAFETY GUIDELINES AND INTENDED USE
Do not open or modify the product.
Not approved changes or modifications may void the operation authority and/or warranty.
In case of trouble or doubt, contact us immediately.
Keep the product away from fire/water/humidity/temperature extremes.
Only use as intended with a compliant PC and connector part.
I mproper or incorrect use of the product or use of the product for purposes not recommended by the manufacturer void the liability and/or warranty.
Don't look into the light beam on bottom of the mouse.
Hereby, Voyetra Turtle Beach, Inc. declares that this product is in compliance with the essential requirements and other relevant provisions of Directive 2014/30/EU.
The full Declaration of Conformity can be requested via following:
Company: Voyetra Turtle Beach, Inc.
Address: 44 South Broadway, 4th Floor, White Plains NY 10601, USA
E-Mail: [email protected]
VOYETRA TURTLE BEACH, INC. | 44 SOUTH BROADWAY, 4TH FLOOR, WHITE PLAINS NY 10601, USA
© 2022 Voyetra Turtle Beach, Inc. All rights reserved. Any product names mentioned in this manual may be trademarks or registered trademarks and are the property of their respective owners. Information contained herein is subject to change without notice. Voyetra Turtle Beach, Inc. shall not be made liable for any errors that may appear in this manual. This publication or parts of it may not be reproduced without the express consent of the publisher. ROCCAT® is a Turtle Beach Brand.
Our goods come with guarantees that cannot be excluded under the Australian Consumer Law. You are entitled to a replacement or refund for a major failure
and for compensation for anyother reasonably foreseeable loss or damage. You are also entitled to have the goods repaired or replaced if the goods fail to be of acceptable quality and the failure does not amount to a major failure. https://www.roccat-neon.com/Bsmi
Join the community
Become a ROCCAT member and register your product at: www.roccat.com/support/register-your-product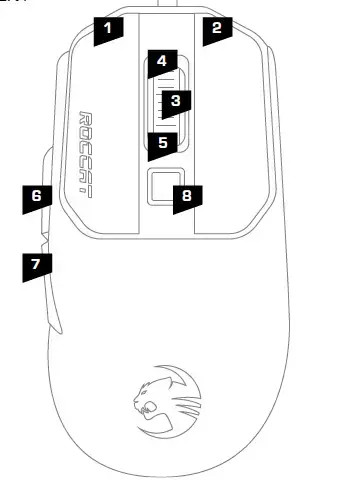 Please use your product's serial number (located on the bottom label)