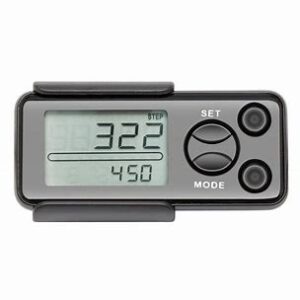 manual
Pedometer
Art nr: 47998

www.rubicson.com
Summarise your activity with an activity tracker. Keep it in your pocket, on your belt, or on your bag; the accelerometer inside counts your steps no matter how you wear it. The fifteen-day memory function gives you a view over the past two weeks and the activity mode lets you know how your workout goes.
Contents:
Activity tracker
Holder
Battery (CR2032)
Manual
Specifications
| | |
| --- | --- |
| Memory: | 15 days |
| Modes: | Clock, steps, distance, calories, velocity |
| Power supply: | lx 3V CR2032 (included) |
| Dimensions: | 75 x 33 x 13 |
| mm Weight: | 18 g |
Turning on and off
The activity tracker will start automatically by tracking movement or a button press. The display shuts down if the activity tracker lies still for 3 minutes in order to save battery life.
Startup & configuration
Insert a battery or press the reset button on the device. Press the SET button to navigate to the calendar. Press and hold the SET button for 3 seconds to be able to configure the values. Change the values with the arrow buttons, confirm the current setting with SET. The order of the settings are: Weight unit > user weight > step distance > calendar/clock > 12/24 h system. The activity tracker will return to the calendar when all settings have been viewed or 60 seconds have passed.
Health stats
Press the SET button to navigate between the calendar, stats and summary view. The stats menu is indicated by STEP in the big window. Press MODE thereafter to toggle between the different stats. The summary view is indicated by TOTAL in the big window. Use the arrow buttons to navigate between stats for the previous 15 days. If you want to reset the stats for the current day press and hold the MODE button for at least 10 seconds until the value starts blinking. Press MODE again to reset the stats for the day. You can activate the backlight feature for 10 seconds by pressing and holding the SET button for three seconds while in the stats menu.
Reset
You can make a total reset of the device and wiping the time and date plus all saved health stats. Use a sharp object and press the reset button in the hole on the back of the device. Wait until all values turn on temporarily on the display. You will need to reconfigure the device afterward.
Battery change
Change the battery when the display is faded. Use a small screwdriver to remove the screw then remove the battery hatch. Replace the battery and recycle the old one according to local regulations.