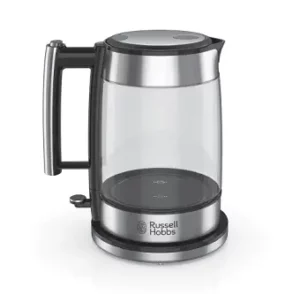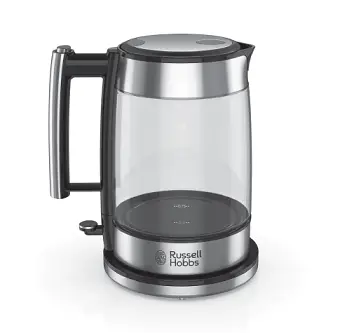 Russell Hobbs Glass Tea Electric Kettle Instructions
Please Read and Save this Use and Care Book.
IMPORTANT SAFEGUARDS
When using electrical appliances, basic safety precautions should always be followed, including the following:
Read all Instructions.
Do not touch hot surfaces. Use handles or knobs.
To protect against fire, electric shock and injury to persons do not immerse cord, plug, kettle, or base in water or other liquid.
Close supervision is necessary when any appliance is used by or near children.
Unplug from outlet when not in use and before cleaning. Allow to cool before putting on or taking off parts, and before cleaning the appliance.
Do not operate any appliance with a damaged cord or plug or after the appliance malfunctions, or has been damaged in any manner. Contact Consumer Support at the toll free number listed in the warranty section.
The use of accessory attachments not recommended by the appliance manufacturer may result in fire, electric shock or injury to persons.
Do not use outdoors
Do not let cord hang over edge of table or counter, or touch hot surfaces.
Do not place on or near a hot gas or electric burner, or in a heated oven.
To disconnect, lift the ON/OFF switch to OFF (O) then remove plug from wall outlet.
Do not use appliance for other than intended use.
Scalding may occur if the lid is removed during the heating cycle.
This appliance is not intended for use by persons (including children) with reduced physical, sensory or mental capabilities, or lack of experience and knowledge, unless they have been given supervision or instruction concerning use of the appliance by a person responsible or their safety.
Children should be supervised to ensure that they do not play with the appliance.
SAVE THESE INSTRUCTIONS.
This product is for household use only.
GROUNDED PLUG
As a safety feature, this product is equipped with a grounded plug, which will only fit into a three-prong outlet. Do not attempt to defeat this safety feature. Improper connection of the grounding conductor may result in the risk of electric shock. Consult a qualified electrician if you are in doubt as to whether the outlet is properly grounded.
TAMPER-RESISTANT SCREW
Warning: This appliance is equipped with a tamper-resistant screw to prevent removal of the outer cover. To reduce the risk of fire or electric shock, do not attempt to remove the outer cover. There are no user-serviceable parts inside. Repair should be done only by authorized service personnel.
ELECTRICAL CORD
a) A short power-supply cord is provided to reduce the risks resulting from becoming entangled in or tripping over a longer cord.
b) Extension cords are available and may be used if care is exercised in their use.
c) If an extension cord is used:
The marked electrical rating of the extension cord should be at least as great as the electrical rating of the appliance;
If the appliance is of the grounded type, the extension cord should be
a grounding-type 3-wire cord; and
The cord should be arranged so that it will not drape over the counter top or tabletop where it can be pulled on by children or tripped over.
Note: If the power cord is damaged, please contact the warranty department listed in these instructions.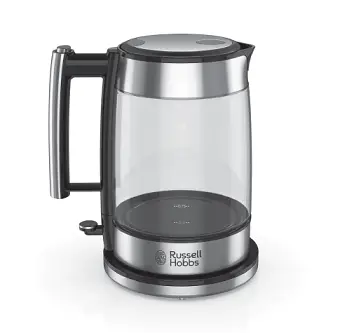 Product may vary slightly from what is illustrated.
How to Use
This appliance is for household use only.
BEFORE USING YOUR KETTLE
Remove all packing materials, any stickers and the plastic band around the power plug.
To register your product, go to www.prodprotect.com/russellhobbs.
Wash all parts as instructed in CARE AND CLEANING section.
Select a level surface where this unit is to be used allowing enough space for steam to escape without damage to counters, cabinets and walls.
Fill kettle to maximum fill line with cold water. Bring to boil, discard and repeat. Kettle is now ready for use.
PARTS
Filter (part no. KE7900-01 )
Lid
Lid release
On/Off Switch
Stand
FILLING
Open the lid.
Fill with at least 1 cup of water, but not above max.
Close the lid. Always close the lid when boiling the kettle.
USING YOUR KETTLE
Put the stand on a stable, level surface.
Plug the stand into the wall socket.
Put the kettle on the stand.
Move the switch to I.
The light will come on and the kettle will start to heat up.
When the water boils the kettle will switch off.
To switch off manually, move the switch to O, or simply lift the kettle off the stand.
GENERAL
When you lift the kettle, you may see moisture on the stand. Don't worry – it's the steam used to switch off automatically, which then condenses and
escapes via vents under the kettle.
BOIL DRY PROTECTION
This will shorten the life of the element. A boil-dry cut-out will switch the kettle off.
You must then remove the kettle from its stand to reset the cut-out.
Sit the kettle on the work surface till it's cold.
CARE AND MAINTENANCE
Unplug the stand, and let the kettle cool before cleaning.
Wipe all surfaces with a clean damp cloth.
Keep the connectors dry.
Open the lid and slide the filter out of the kettle.
Rinse the filter under a running tap while brushing with a soft brush.
Slide the filter back into the kettle until it clicks.
Close the lid.
DESCALE REGULARLY, (AT LEAST MONTHLY).
Any other servicing should be performed by an authorized service representative.
Fill kettle with 4 cups cold tap water and bring to a boil. Add 2 cups white vinegar, let stand for at least 1 hour or overnight and discard.
Fill kettle to maximum fill line with cold water. Bring to boil, discard and repeat. Kettle is now ready for use.
NEED HELP?
Warranty Information
(Applies only in the United States and Canada)
For service, repair or any questions regarding your appliance, please call our
Customer Service Line at 1-800-947-3744. Please DO NOT return the product to the place
of purchase. Also, please DO NOT mail product back to manufacturer, nor bring it to a
service center. You may also want to consult www.prodprotect.com/russellhobbs.
What does it cover?
Any defect in material or workmanship provided; however, the liability of Spectrum Brands, Inc. will not exceed the purchase price of product.
How long is the warranty valid?
In the United States: Two years from the date of original purchase with proof of such purchase.
In Canada: Two years from the date of original purchase with proof of such purchase. Canadian residents can register online for an extra year of warranty at: www.prodprotect.com/russellhobbs.
What will we do to help you?
• Provide you with a reasonably similar replacement product that is either new or factory refurbished.
How do you get service?
• Save your receipt as proof of date of sale.
• Visit the online service website at www.prodprotect.com/russellhobbs, or call tollfree 1-800-947-3744, for general warranty service.
• If you need parts or accessories, please call 1-800-738-0245.
What does your warranty not cover?
Damage from commercial use
Damage from misuse, abuse or neglect
Products that have been modified in any way
Products used or serviced outside the country of purchase
Glass parts and other accessory items that are packed with the unit
Shipping and handling costs associated with the replacement of the unit
Consequential or incidental damages (Please note, however, that some states do not allow the exclusion or limitation of consequential or incidental damages, so this
limitation may not apply to you.)
How does state law relate to this warranty?
This warranty gives you specific legal rights. You may also have other rights that vary from state to state or province to province.