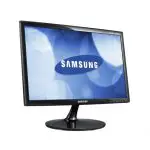 SAMSUNG LED TV User Guide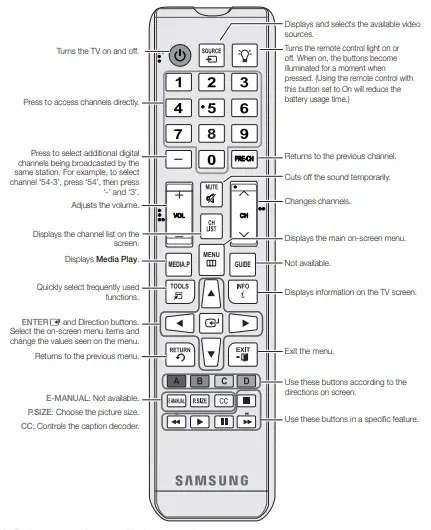 SERIES 4540005003
Accessories and Cables
Accessories

The following accessories are included with your TV:
Remote Control & Batteries (AAA x 2)
Regulatory Guide
Owner's Guide
Power Cord
Wall Mount Adapter (4EA)
AC/DC Adapter
Input Cables (Sold Separately)
You will need one or more of theses cables to connect your TV to your antenna or cable outlet and your peripheral
devices (Blu-ray players, DVD players, etc.)
Audio
HDMI
HDMI-DVI
Component
Composite (AV)
Coaxial (RF)
✎ Make sure you have the correct cable before plugging it in. Illustrations of common plugs and jacks are below.
| | | |
| --- | --- | --- |
| | Cable Plugs | Ports/Jacks |
| HDMI | | |
| USB | | |
| Optical | | |
Do not plug a cable in upside down.
Make sure the orientation of the plug is correct before plugging it in.
Warning! Important Safety Instructions
CAUTION:
RISK OF ELECTRIC SHOCK DO NOT OPEN
CAUTION: TO REDUCE THE RISK OF ELECTRIC SHOCK, DO NOT REMOVE COVER (OR BACK). THERE ARE NO USER SERVICEABLE PARTS INSIDE. REFER ALL SERVICING TO QUALIFIED PERSONNEL.

This symbol indicates that high voltage is present inside. It is dangerous to make any kind of contact with any internal part of this product.

This symbol indicates that important literature concerning operation and maintenance has been included with this product.
The slots and openings in the cabinet and in the back or bottom are provided for necessary ventilation. To ensure reliable operation of this apparatus, and to protect it from overheating, these slots and openings must never be blocked or covered.

Do not place this apparatus in a confined space, such as a bookcase, or built-in cabinet, unless proper ventilation is provided.
Do not place this apparatus near or over a radiator or heat register, or where it is exposed to direct sunlight.
Do not place vessels (vases etc.) containing water on this apparatus, as this can result in a fire or electric shock

Do not expose this apparatus to rain or place it near water (near a bathtub, washbowl, kitchen sink, or laundry tub, in a wet basement, or near a swimming pool etc.). If this apparatus accidentally gets wet, unplug it and contact an authorized dealer immediately
This apparatus uses batteries. In your community, there might be environmental regulations that require you to dispose of these batteries properly. Please contact your local authorities for disposal or recycling information.
Do not overload wall outlets, extension cords or adaptors beyond their capacity, since this can result in fire or electric shock.
Power-supply cords should be placed so that they are not likely to be walked on or pinched by items placed upon or against them. Pay particular attention to cords at the plug end, at wall outlets, and the point where they exit from the appliance.
To protect this apparatus from a lightning storm, or when it is left unattended and unused for long periods of time, unplug it from the wall outlet and disconnect the antenna or cable system. This will prevent damage to the set due to lightning and power line surges.
Before connecting the AC power cord to the DC adaptor outlet, make sure the voltage designation of the DC adaptor corresponds to the local electrical supply.
Never insert anything metallic into the open parts of this apparatus. Doing so may create a danger of electric shock.
To avoid electric shock, never touch the inside of this apparatus. Only a qualified technician should open this apparatus.
Make sure to plug the power cord in until it is firmly seated. When unplugging the power cord from a wall outlet, always pull on the power cord's plug. Never unplug by pulling on the power cord. Do not touch the power cord with wet hands
If this apparatus does not operate normally – in particular, if there are any unusual sounds or smells coming from it – unplug it immediately and contact an authorized dealer or service center.
Be sure to pull the power plug out of the outlet if the TV is to remain unused or if you are to leave the house for an extended period of time (especially when children, elderly or disabled people will be left alone in the house).

Accumulated dust can cause an electric shock, an electric leakage or a fire by causing the power cord to generate sparks and heat or the insulation to deteriorate.

Be sure to contact an authorized service center for information if you intend to install your TV in a location with heavy dust, high or low temperatures, high humidity, chemical substances, or where it will operate 24 hours a day such in an airport, a train station, etc. Failing to do somay lead to serious damage of your TV
Use only a properly grounded plug and wall outlet.

An improper ground may cause electric shock or equipment damage. (Class l Equipment only.)

To turn this apparatus off completely, you must disconnect it from the wall outlet. Consequently, the wall outlet and power plug must be readily accessible at all times.
Do not allow children to hang onto the product.
Store the accessories (battery, etc.) in a location safely out of the reach of children.
Do not install the product in an unstable location such as a shaky self, a slanted floor or a location exposed to vibration.
Do not drop or apply any shock to the product. If the product is damaged, disconnect the power cord and contact a service center.
To clean this apparatus, unplug the power cord from the wall outlet and wipe the product using a soft, dry cloth. Do not use any chemicals such as wax, benzene, alcohol, thinners, insecticide, air fresheners, lubricants, or detergent. These chemicals can damage the appearance of the TV or erase the printing on the product.
Do not expose this apparatus to dripping or splashing.
Do not dispose of batteries in fire.
Do not short-circuit, disassemble or overheat the batteries.
There is danger of an explosion if you replace the batteries used in the remote with the wrong type of battery. Replace only with the same or equivalent type.
WARNING – TO PREVENT THE SPREAD OF FIRE, KEEP CANDLES OR OTHER OPEN FLAMES AWAY FROM THIS PRODUCT AT ALL TIMES.
This product contains chemicals known to the State of California to cause cancer and reproductive toxicity.
Getting Started
Provide Ventilation for Your TV
When you install your TV, maintain a distance of at least 4 inches between the TV and other objects (walls, cabinet sides,
etc.) to ensure proper ventilation. Failing to maintain proper ventilation may result in a fire or a problem with the product caused by an increase in its internal temperature.
✎ When using a stand or wall-mount, use parts provided by Samsung Electronics only.
Using parts provided by another manufacturer may cause difficulties with the product or result in injury caused by the product falling.
✎ Be careful when you contact the TV because some parts can be somewhat hot
Installation with a stand. Installation with a wall-mount.

Installing Batteries into the Remote (Battery size: AAA)
Match the polarity of the batteries to the symbols in the batter compartment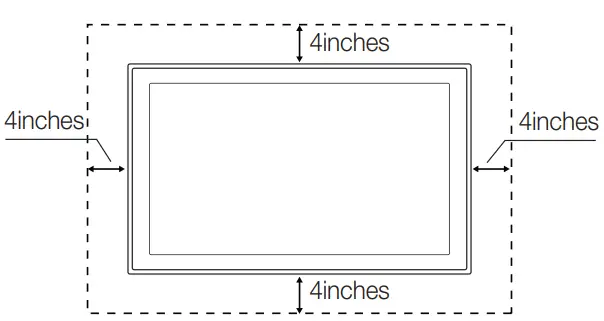 ✎ NOTE
Use the remote control within 23 feet of the TV.
Bright light may affect the performance of the remote control. Avoid use when near fluorescent lights or neon signs.
The color and shape of the remote may vary depending on the model.
Making Connections
Connect your TV to an antenna or cable connection, and then connect your peripherals. When done, connect the power cord to the TV, and then connect the power cord to an AC wall outlet. If you are connecting your TV to a cable or satellite box using HDMI, Component, or Composite connections, you do not need to connect the ANT IN jack to an antenna or a cable connection.
For the best picture and audio quality, connect digital devices using an HDMI cable.
If you connect an external device to the TV that uses an older version of HDMI, the video and audio may not work. If this
occurs, ask the manufacturer of the device about the HDMI version and, if it is out of date, request an upgrade.
Be sure to purchase a certified HDMI cable. Otherwise, the picture may not display or a connection error may occur.
PC/DVI AUDIO IN input is not supported.
For an HDMI to DVI cable connection, you must use the HDMI IN 2(DVI) jack.
Connecting through the HDMI cable may not be supported depending on the PC.
If an HDMI to DVI cable is connected to the HDMI IN 2 (DVI) port, the audio does not work
For Set-top box connection using HDMI cable, we highly recommend you to connect the HDMI IN 1 (STB) port.

The Remote Control
Learn where the function buttons are on your remote. Especially note POWER, SOURCE, VOL, CH, MENU, TOOLS, ENTER, CH LIST, RETURN and EXIT.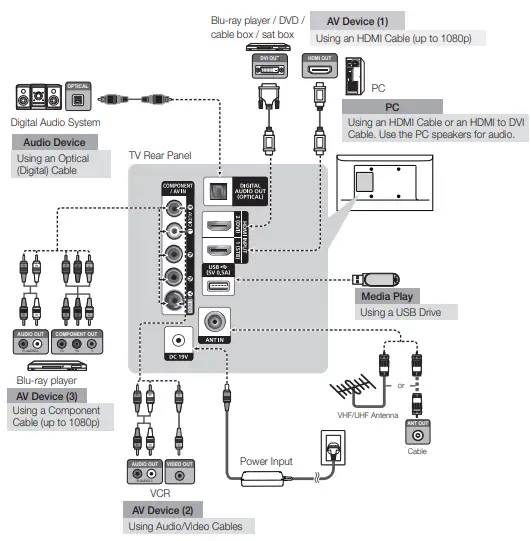 ✎ The button names above may differ from the actual names.
✎ Some buttons on the remote control may not be available.
✎ This remote control has Braille points on the Power, Channel, and Volume buttons and can be used by visually impaired persons.
Configuring the Basic Settings with Plug and Play
When you turn the TV on for the first time, a sequence of prompts and screens will assist you in configuring basic settings. Before you begin, make sure you have connected the TV to an antenna or a cable connection and that the TV is plugged in. See "Connections" for instructions. To begin Plug and Play, press the POWER button on your remote.
Then, follow the instructions on the TV screen to configure the TV's basic settings.
✎ If you are not using a cable box or satellite box, make sure you have connected the TV to an antenna or cable connection before you turn on the TV.
✎ To connect the power cord and antenna, refer to '4. Making Connections'.
Changing the Input Source
Source List
When you are watching TV and you want to watch a movie on your DVD player or Blu-ray player or switch to your cable box or STB satellite receiver, you need to change the Source.
Press the SOURCE button on your remote.
Use the ▲/▼ buttons to select an external input source.
TV / AV / Component / HDMI1 / HDMI2 / DVI
✎ You can only choose external devices that are connected to the TV. In the Source List, connected inputs are highlighted.
How to Use Edit Name
Edit Name lets you associate a device name to an input source. To access Edit Name, press the TOOLS button when
the Source List is displayed The following selections appear under Edit Name:
VCR / DVD / Cable STB / Satellite STB / PVR STB / AV Receiver / Game / Camcorder / PC / DVI PC / DVI / TV / IPTV / Blu-ray / HD DVD / DMA: Select the name of the device connected to specific input jacks to make your input source selection easier.
✎ If you connect a PC to the HDMI IN 2 (DVI) port with an HDMI cable, assign PC to HDMI 1 in Edit Name.
✎ If you connect a PC to the HDMI IN 2 (DVI) port with an HDMI to DVI cable, assign DVI PC to HDMI 1 in Edit Name
If you connect an AV device to the HDMI IN 2 (DVI) port with an HDMI to DVI cable, assign DVI to HDMI 1 in Edit Name.
Accessing and Using the Main Menu
Your TV's Main menu contains functions that let you control many of the TV's features. For example, in the Main menu
you can change the size and configuration of the picture, its brightness, its contrast and so on. There are also functions
that let you control the TV's sound, channel configuration, energy use, and a host of other features. To access the main,
on-screen menu, press the MENU (m) button on your remote.
To use the Main menu, press the ▲/▼ buttons to move between the main option categories: Picture, Sound, Channel, etc. Each time you press a ▲/▼ button, the main category name on the left side of the menu changes.
To select a menu option in one of the categories, press the ► button or the ENTERE button. Press it again or press ENTERE to see the values or choices associated with that option. Usually, you would then press ENTERE to select a value or choice. Press the RETURN button or the ◄ button to return to a previous screen or selection.
Using the TV's Controller
The TV's Controller on the bottom right side of the TV, lets you control the TV without the remote control.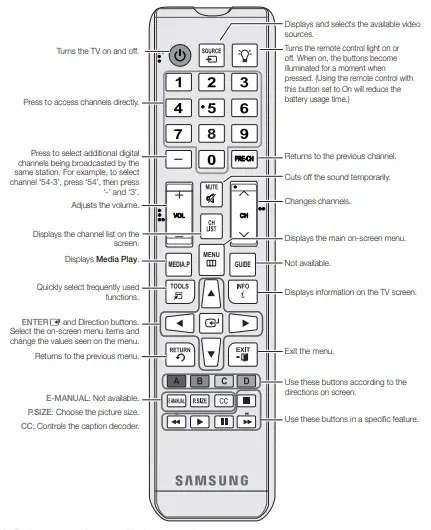 ✎ The product color and shape may vary depending on the model.
✎ You cannot input the numbers by pressing the TV's controller.
✎ If you press it first, the control menu appears. You can select the function by pressing and holding the TV's controller.
✎ With the TV's Controller, you cannot perform other operations except for turning the TV on or off, changing the channel, adjusting the volume, and switching the input source.
Important Safety Information
Caution: Pulling, pushing, or climbing onto the TV may cause the TV to fall. In particular, ensure that your children do not hang over or destabilize the TV. Doing so may cause the TV to tip over, resulting in serious injuries or death. Follow all safety precautions provided on the included Safety Flyer.
Questions? Comments?
Contact SAMSUNG WORLDWIDE
If you have any questions or comments about your Samsung TV, please contact the SAMSUNG customer care center.
Warranty Information
SAMSUNG BRAND PRODUCTS
LIMITED WARRANTY TO ORIGINAL PURCHASER
This SAMSUNG brand product, as supplied and distributed by SAMSUNG and delivered new, in the original carton to the original consumer purchaser, is warranted by SAMSUNG against manufacturing defects in materials and workmanship for period of: (90 Days Parts and Labor for Commercial Use)
Categories
Parts
Labor
Size
Service
42″
LCD/LED TV
1 Year
1 Year
and Larger

*Include 40″ UHD Model

Carry-In or In Home
40″
Carry-In
and Smaller
Plasma Display
1 Year
1 Year
All
Carry-In or In Home
3D Glasses
1 Year
1 Year
–
Carry-In or Pick up
This limited warranty begins on the original date of purchase, and is valid only on products purchased and used in the United States. To receive warranty service, the purchaser must contact SAMSUNG for problem determination and service procedures.
Warranty service can only be performed by a SAMSUNG authorized service center. The original dated bill of sale must be presented upon request as proof of purchase to SAMSUNG or SAMSUNG's authorized service center.
SAMSUNG will repair or replace this product, at our option and at no charge as stipulated herein, with new or reconditioned parts or products if found to be defective during the limited warranty period specified above. All replaced parts and products become the property of SAMSUNG and must be returned to SAMSUNG. Replacement parts and products assume the
remaining original warranty, or ninety (90) days, whichever is longer.
Certain products are eligible for In-home service at Samsung's discretion.
To receive in-home service, the product must be unobstructed and accessible to service personnel. If during in-home service, repair cannot not be completed, it may be necessary to remove, repair and return the product. If in-home service is unavailable, SAMSUNG may elect, at our option, to provide for transportation of our choice to and from a SAMSUNG authorized service center. Otherwise, and for 37″ and smaller LCD/LED TV, transportation to and from the SAMSUNG authorized service center is the responsibility of the purchaser.
This limited warranty covers manufacturing defects in materials and workmanship encountered in normal, and except to the extent otherwise expressly provided for in this statement, noncommercial use of this product, and shall not apply to the following, including, but not limited to: damage which occurs in shipment; delivery and installation; applications and uses for which this product was not intended; altered product or serial numbers; cosmetic damage or exterior finishes; accidents, abuse, neglect, fire, water, lightning or other acts of nature; use of products, equipment, systems, utilities, services, parts, supplies, accessories, applications, installations, repairs, external wiring or connectors not supplied or authorized by SAMSUNG which damage this product or result in service problems; incorrect electrical line voltage, fluctuations and surges; customer adjustments and failure to follow operating instructions, cleaning, maintenance and environmental instructions that are covered and prescribed in the instruction book; reception problems and distortion related to noise, echo, interference or other signal transmission and delivery problems; brightness related to normal aging, or burned-in images.
SAMSUNG does not warrant uninterrupted or error-free operation of the product
THERE ARE NO EXPRESS WARRANTIES OTHER THAN THOSE LISTED AND DESCRIBED ABOVE, AND NO WARRANTIES WHETHER EXPRESS OR IMPLIED, INCLUDING, BUT NOT LIMITED TO, ANY IMPLIED WARRANTIES OF MERCHANTABILITY OR FITNESS FOR A PARTICULAR PURPOSE, SHALL APPLY AFTER THE EXPRESS WARRANTY PERIODS STATED ABOVE, AND NO OTHER EXPRESS WARRANTY OR GUARANTY GIVEN BY ANY PERSON, FIRM OR CORPORATION WITH RESPECT TO THIS PRODUCT SHALL BE BINDING ON SAMSUNG. SAMSUNG SHALL NOT BE LIABLE FOR LOSS OF REVENUE OR PROFITS, FAILURE TO REALIZE SAVINGS OR OTHER BENEFITS, OR ANY OTHER SPECIAL, INCIDENTAL OR CONSEQUENTIAL DAMAGES CAUSED BY THE USE, MISUSE OR INABILITY TO USE THIS PRODUCT, REGARDLESS OF THE LEGAL THEORY ON WHICH THE CLAIM IS BASED, AND EVEN IF SAMSUNG HAS BEEN ADVISED OF THE POSSIBILITY OF SUCH DAMAGES. NOR SHALL RECOVERY OF ANY KIND AGAINST SAMSUNG BE GREATER IN AMOUNT THAN THE PURCHASE PRICE OF THE PRODUCT SOLD BY SAMSUNG AND CAUSING THE ALLEGED DAMAGE.
WITHOUT LIMITING THE FOREGOING, PURCHASER ASSUMES ALL RISK AND LIABILITY FOR LOSS, DAMAGE OR INJURY TO PURCHASER AND PURCHASER'S PROPERTY AND TO OTHERS AND THEIR PROPERTY ARISING OUT OF THE USE, MISUSE OR INABILITY TO USE THIS PRODUCT SOLD BY SAMSUNG NOT CAUSED DIRECTLY BY THE NEGLIGENCE OF SAMSUNG. THIS LIMITED WARRANTY SHALL NOT EXTEND TO ANYONE OTHER THAN THE ORIGINAL PURCHASER OF THIS PRODUCT, IS NONTRANSFERABLE AND STATES YOUR EXCLUSIVE REMEDY
Some states do not allow limitations on how long an implied warranty lasts, or the exclusion or limitation of incidental or consequential damages, so the above limitations or exclusions may not apply to you. This warranty gives you specific legal rights, and you may also have other rights which vary from state to state.
To obtain warranty service, please contact SAMSUNG at:
Samsung Electronics America, Inc.
85 Challenger Road
Ridgefield Park, NJ 07660-2112
1-800-SAMSUNG 726-7864 – www.samsung.com
The benefits of this Limited Warranty extend only to the original purchaser of Samsung products from an authorized Samsung reseller.
THIS LIMITED WARRANTY SHALL NOT APPLY TO ANY SAMSUNG PRODUCTS PURCHASED FROM UNAUTHORIZED RESELLERS OR RETAILERS, EXCEPT IN STATES WHERE SUCH RESTRICTION MAY BE PROHIBITED. For a list of Samsung authorized retailers, please go to: http://www.samsung.com/us/peaceofmind/authorized_resellers.html.
IMPORTANT WARRANTY INFORMATION REGARDING TELEVISION FORMAT VIEWING
Standard screen format televisions with aspect ratios of 4:3 (the ratio of the screen width to screen height) are primarily designed to display standard format full-motion video.
The images displayed on them should primarily be in the standard 4:3 ratio format and be constantly moving. Displaying stationary graphicsand images on-screen, such as the dark top and bottom letterbox bars (wide screen pictures), should be limited to no more than 15% of the total television viewing per week.
Wide screen format televisions with aspect ratios of 16:9 (the ratio of the screen width to screen height) are primarily designed to display wide screen format full-motion video.

The images displayed on them should primarily be in the wide screen 16:9 ratio format, or expanded to fill the screen if your model offers this feature, and constantly moving. Displaying stationary graphics and images on screen, such as the dark side-bars on non-expanded standard format television video and programming, should be limited to no more than 15% of the total television viewing per week.
Additionally, viewing other stationary images and text such as stock market crawls, video game displays, station logos, web sites or computer graphics and patterns, should be limited as described above for all televisions. Displaying any stationary images that exceed the above guidelines can cause uneven aging of LED Display Panels that leave subtle, but permanent burned-in ghost images in the television picture. To avoid this, vary the programming and images, and primarily display full screen moving images, not stationary patterns or dark bars. On television models that offer picture sizing features, use these controls to view the different formats as a full screen picture.
Be careful in the selection and duration of television formats used for viewing. Uneven aging as a result of format selection and use, as well as other burned-in images, is not covered by your Samsung limited warranty.