M7 Mini Portable Bluetooth Speaker
User Guide
Instruction for Use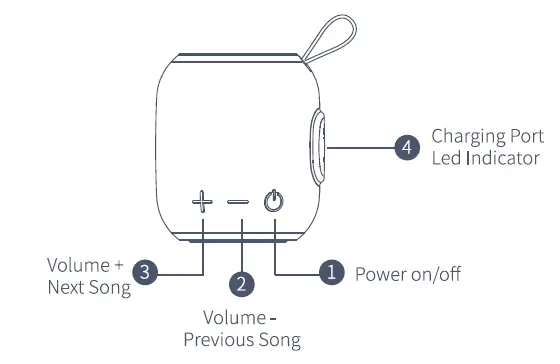 Long press to power on/off; Short press once to pause/play. (Long press 10 seconds to reset)
Short press to turn the volume down, long press to previous song
Short press to turn the volume up, long press to next song
USB port: charge the speaker
Red LED indicator: Charging status(when the battery is fully charged, the red indicator will be off.)
The front blue LED indicator blinks, the power is on.
Specification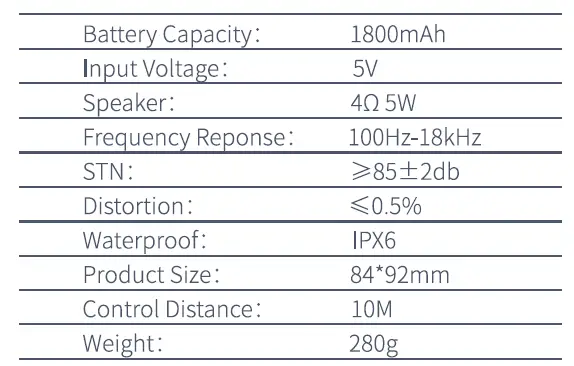 Press the power-on button to turn on the two speakers.
Short press the power button twice will be in prepared.
Paired successfully, the speaker will have paired beep.
* If you have paired two speakers before, they will connect automatically next time.
** In TWS connection, short press any two times, it will be used as a single speaker
FAQ
1. Fail to turn on the speaker?
Check if the speaker has power. Try to charge it and try again later.
2. Fail to connect Bluetooth devices?
Check if it is connected to another Bluetooth device. If connected, disconnect and try again. It still doesn't work, try restarting the speaker
3. Whether the speaker is waterproof?
Useful waterproof speaker, great for in the shower, by the pool, outside etc.
4. Does the speaker have a microphone and support calling?
Speaker does not have a built-in microphone.
5. Does this speaker have automatic shut off to save battery life?
Right, when you don't listen to music, disconnect your phone 's Bluetooth and it will automatically turnoff after 10 minutes. Next time you want to listen, turn on the speaker and the phone's Bluetooth will automatically connect.
Warranty Service
Please read the following terms carefully to protect your rights. You are ensured to have our best after sales service
1. Free return/exchange conditions
The appearance/function does not meet your expectations within 30 days from the date of purchase
Any quality problems of the products within 12 months from the date of purchase In the above cases, please email Sanag Customer Service Team and we will provide a solution within 24 hours.
2. How to contact us?
Please click the store name on the product page, then click "Ask a question" button to contact us.
[Account Service] – [Order History] – [Contact Seller]
3. After-sales service cannot be provided even under the warranty period under the following conditions. Of
Damage caused by personal reasons: Product failure due to improper repair or storage Product failure due to self-demolition or repair
Product failure by force majeure (fire, flood, earthquake and soon)

This product has been tested by our company's quality control department and its performance parameters are in compliance with technical standards.
This device complies with part 15 of the FCC Rules.
Operation is subject to the following two conditions:
(1) This device may not cause harmful interference, and
(2) This device must accept any interference received, including interference that may cause undesired operation.
Any Changes or modifications not expressly approved by the party responsible for compliance could void the user's authority to operate the equipment.
Note: This equipment has been tested and found to comply with the limits for a Class B digital device, pursuant to part 15 of the FCC Rules.
These limits are designed to provide reasonable protection against harmful interference in a residential installation. This equipment generates uses and can radiate radio frequency energy and, if not installed and used in accordance with the instructions, may cause harmful interference to radio communications. However1 there is no guarantee that interference will not occur in a particular installation. If this equipment does cause harmful interference to radio or television reception, which can be determined by turning the equipment off and on, the user is encouraged to try to correct the interference by one or more of the following measures:
Reorient or relocate the receiving antenna.
Increase the separation between the equipment and receiver.
Connect the equipment into an outlet on a circuit different from that to which the receiver is connected.
Consult the dealer or an experienced radio/TV technician for help.