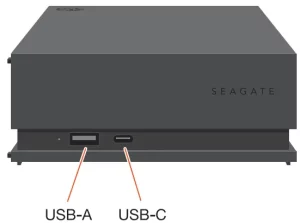 FireCuda
Gaming Hub
Massive Capacity, Bold Design External USB HDD Hub
QUICK START GUIDE
Front
Hub ports
Back
Computer port and power
Set up FireCuda Gaming Hub
Connect power cable
Connect cable

Register FireCuda Gaming Hub and download the Toolkit installer
Learn more
Next level illumination
Get creative with your RGB! Download and install the Toolkit app to manage colors and design new patterns.
WWW.SEAGATE.COM
Mac: This drive is preformatted exFAT for use with both PC and Mac. For Time Machine, it must be reformatted for Mac. Reformatting will delete all data previously stored on the drive.
Note: To protect your data, always follow the safe removal procedures for your operating system when disconnecting your product.
Review details of your FireCuda Gaming Hub's warranty by opening the Seagate Limited Warranty Statement on your drive or go to www.seagate.com/ warranty. To request warranty service, contact an authorized Seagate service center or refer to www.seagate.com/support/firecuda-gaming-hub for more information regarding customer support within your jurisdiction.
FCC DECLARATION OF CONFORMANCE
This device complies with Part 15 of the FCC Rules. Operation is subject to the following two conditions: (1) this device may not cause harmful interference, and (2) this device must accept any interference received, including interference that may cause undesired operation.
CLASS B
This equipment has been tested and found to comply with the limits for a Class B digital device, pursuant to Part 15 of the FCC Rules. These limits are designed to provide reasonable protection against harmful interference in a residential installation. This equipment generates, uses, and can radiate radio frequency energy and, if not installed and used in accordance with the instructions, may cause harmful interference to radio communications. However, there is no guarantee that interference will not occur in a particular installation. If this equipment does cause harmful interference to radio or television reception, which can be determined by turning the equipment off and on, the user is encouraged to try to correct the interference by one or more of the following measures:
Reorient or relocate the receiving antenna.
Increase the separation between the equipment and receiver.
Connect the equipment into an outlet on a circuit different from that to which the receiver is connected.
Consult the dealer or an experienced radio/TV technician for help.
CAUTION: Any changes or modifications made to this equipment may void the user's authority to operate this equipment.
For Australian Customers Only.
Our goods come with guarantees that cannot be excluded under the Australian Consumer Law. You are entitled to a replacement or refund for a major failure and for compensation for any other reasonably foreseeable loss or damage. You are also entitled to have the goods repaired or replaced if the goods fail to be of acceptable quality and the failure does not amount to a major failure. Revision – July 1, 2020
2021 Seagate Technology LLC. All rights reserved. Seagate, Seagate Technology, and the Spiral logo are registered trademarks of Seagate Technology LLC in the United States and/or other countries. FireCuda is either a trademark or registered trademark of Seagate Technology LLC or one of its affiliated companies in the United States and/or other countries. All other trademarks or registered trademarks are the property of their respective owners. Complying with all applicable copyright laws is the responsibility of the user. Seagate reserves the right to change, without notice, product offerings or specifications. Seagate Technology LLC., 47488 Kato Road, Fremont, CA 94538 USA www.seagate.com Seagate Technology NL B.V., Tupolevlaan 105, 1119 PA Schiphol-Rijk NL Seagate Technology NL B.V., (UK Branch), Jubilee House, 3rd Ave, Globe Pk, Marlow SL7 1EY, UK Seagate Singapore International Headquarters Pte. Ltd., 90 Woodlands Avenue 7 Singapore 737911