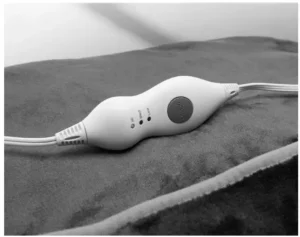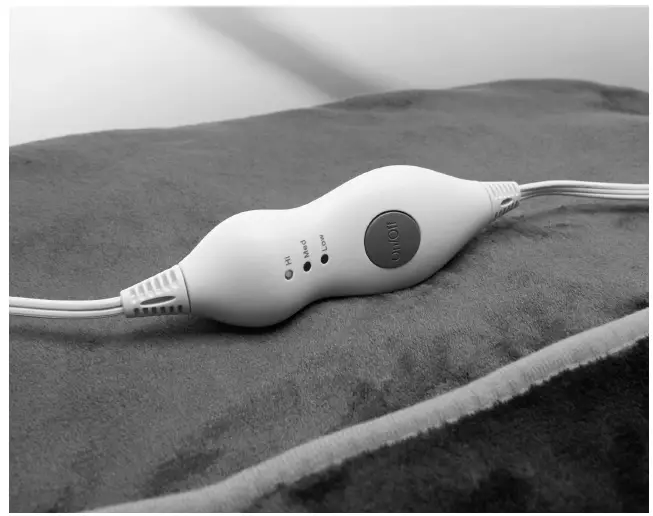 SHAREP IMAGE Pajama And Foot Warmer User Guide
Thank you for purchasing the Sharper Image Pajama and Foot Warmer. Please take a few minutes to read this guide and store it for future reference.
INTRODUCTION
The Pajama and Foot Warmer is a heating pad than can be used to warm up your pajamas, socks, underwear and other clothing on chilly days. Or, slip your feet inside to warm them up in minutes.
FEATURES
Measures 20" x 22"

3 heat modes (Low / Medium / High)
Auto safety shutoff in 120 minutes
Machine washable (remove cord before washing)
Plugs into an AC outlet
OPERATION
Place the Pajama and Foot Warmer on a bed or floor.
Plug the Pajama and Foot Warmer into an AC outlet.
Place your pajamas / clothing / feet inside Pajama and Foot Warmer.
Press the button once to switch the device ON. The default heat setting is LOW. The LED will indicate "LOW."
Press the button again to select MEDIUM temperature. The LED will indicate "MEDIUM."
Press the button again to select HIGH temperature. The LED will indicate "HIGH."
Press the button again to switch the Pajama and Foot Warmer OFF. The LED indicator will turn OFF.
WARNING: DO NOT put any clothing or objects on top of the Pajama and Foot Warmer. Do not fold the Pajama and Foot Warmer. Do not cover the Pajama and Foot Warmer with clothing, sheets or blankets. Do not use the Pajama and Foot Warmer in conjunction with other heating pads or electric blankets.
ELECTRICAL SPECIFICATIONS
Voltage
120 VAC
Frequency
60 Hz
Wattage
95 Watts
Amperage
0.8A
WARM UP TIMES
Low
8 minutes
Medium
13 minutes
High
18 minutes
NOTE: The maximum temperature does not exceed the Underwriters Laboratories temperature limit of 176 °F when set to HIGH.
When using this or any other electrical appliance, always follow these basic safety precautions: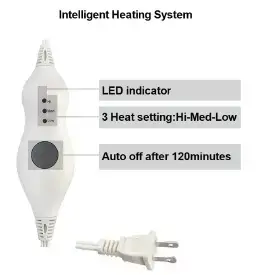 READ ALL INSTRUCTIONS.
DO NOT USE WHILE SLEEPING.
NEVER LEAVE THIS APPLIANCE UNATTENDED, ESPECIALLY IF CHILDREN ARE PRESENT.
DO NOT USE ON AN INFANT.
DO NOT USE ON AN ANIMAL.
THIS PAD IS NOT TO BE USED ON OR BY AN INVALID, SLEEPING OR UNCONSCIOUS PERSON OR A PERSON WITH POOR BLOOD CIRCULATION UNLESS CAREFULLY ATTENDED.
THIS PAD IS NOT TO BE USED ON A PERSON WITH DIABETES.
DO NOT USE ON AREAS OF SENSITIVE SKIN.
BURNS CAN OCCUR REGARDLESS OF CONTROL SETTING, CHECK SKIN UNDER PAD FREQUENTLY.
DO NOT USE PINS OR OTHER METALLIC MEANS TO FASTEN THIS PAD IN PLACE.
DO NOT SIT ON OR CRUSH PAD. AVOID SHARP FOLDS.
POSITION PAD ON TOP OF, AND NOT UNDERNEATH, THE PAJAMAS. HEAT LEVEL MAY INCREASE WHEN HEAT IS TRAPPED.
NEVER USE PAD WITH LINIMENTS, OINTMENTS OR SALVES, ESPECIALLY THOSE CONTAINING HEAT-PRODUCING INGREDIENTS, AS SKIN BURNS COULD RESULT.
NEVER PULL THIS PAD BY THE SUPPLY CORD.
NEVER UNPLUG PAD FROM ELECTRICAL OUTLET WITH A WET HAND.
IF USING AN EXTENSION CORD WITH THIS PAD, THE MARKED ELECTRICAL RATING OF THE CORD SET/EXTENSION CORD SHOULD BE AS GREAT AS ELECTRICAL RATING OF THE PAD (SEE ELECTRICAL SPECIFICATIONS SECTION). USE THIS PAD ONLY ON A 120 VOLT AC ELECTRICAL OUTLET. UNPLUG WHEN NOT IN USE.
DO NOT USE THE CORD AS A HANDLE.
CAREFULLY EXAMINE THE INNER VINYL PAD BEFORE EACH USE. DISCARD THE PRODUCT IF THE INNER VINYL PAD SHOWS ANY SIGN OF DETERIORATION.
DO NOT BEND OR PINCH THE CORD AND DO NOT USE THIS PAD IF IT HAS A DAMAGED POWER CORD OR PLUG, IF IT MALFUNCTIONS, HAS BEEN DROPPED OR IS DAMAGED. THIS PAD HAS NO USER-SERVICEABLE PARTS. IF FOR ANY REASON THIS PAD DOES NOT FUNCTION SATISFACTORILY, CONTACT SHARPER IMAGE CUSTOMER SERVICE IMMEDIATELY.
DO NOT TAMPER WITH THIS PAD IN ANY WAY.
LOOP CORD LOOSELY WHEN STORING, TIGHT WRAPPING MAY DAMAGE CORD AND INTERNAL PARTS.
THIS PRODUCT IS INTENDED SOLELY FOR NON-COMMERCIAL, NON- INDUSTRIAL, PERSONAL USE. DO NOT USE THIS PRODUCT OUTDOORS OR FOR ANY OTHER PURPOSE.
SAVE THESE INSTRUCTIONS FOR FUTURE REFERENCE
WASHING INSTRUCTIONS
Disconnect the cord from this device by pinching the sides and pulling.
NEVER submerge cords, power supply or control unit.
Machine wash on gentle cycle and in cold water.
Never Dry Clean this device. Cleaning solvents may damage the wiring insulation.
Never use Bleach on this device.
For hand washing, wash the Pajama and Foot Warmer by hand in cold water using a small amount of mild laundry soap or detergent. NEVER rub or scrub. Rinse thoroughly in cool water until all traces of soap or detergent are gone. Squeeze excess water out by hand.
DRYING INSTRUCTIONS
Ensure that your Pajama and Foot Warmer has enough room to tumble freely.
Tumble dry on LOW heat for five minutes.
Remove from dryer while damp. Drape flat to finish drying.
For line drying, drape this product over two parallel clotheslines or a shower rod.
Never iron this produc
POLARIZED PLUG SAFETY FEATURE

The Pajama and Foot Warmer has a polarized plug (one blade is wider than the other) as a safety feature. This plug will fit into a polarized outlet only one way. If the plug does not fit fully into the outlet, reverse the plug. If it still does not fit, contact a qualified electrician.
DO NOT ATTEMPT TO DEFEAT THIS SAFETY FEATURE.
WARNING: DON'T USE THIS PAJAMA AND FOOT WARMER WITH OTHER HEATING PADS/ELECTRIC BLANKETS UNDER SHEETS.
FOR SAFETY, THIS PRODUCT WILL SHUT OFF AUTOMATICALLY AFTER 2 HOURS.
WARRANTY / CUSTOMER SERVICE
Sharper Image branded items purchased from SharperImage.com include a 1-year limited replacement warranty. If you have any questions not covered in this guide, please call our Customer Service department at 1 (877) 210-3449. Customer Service agents are available Monday through Friday, 9:00 a.m. to 6:00 p.m. ET.