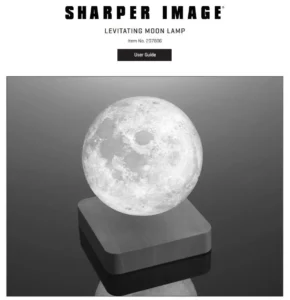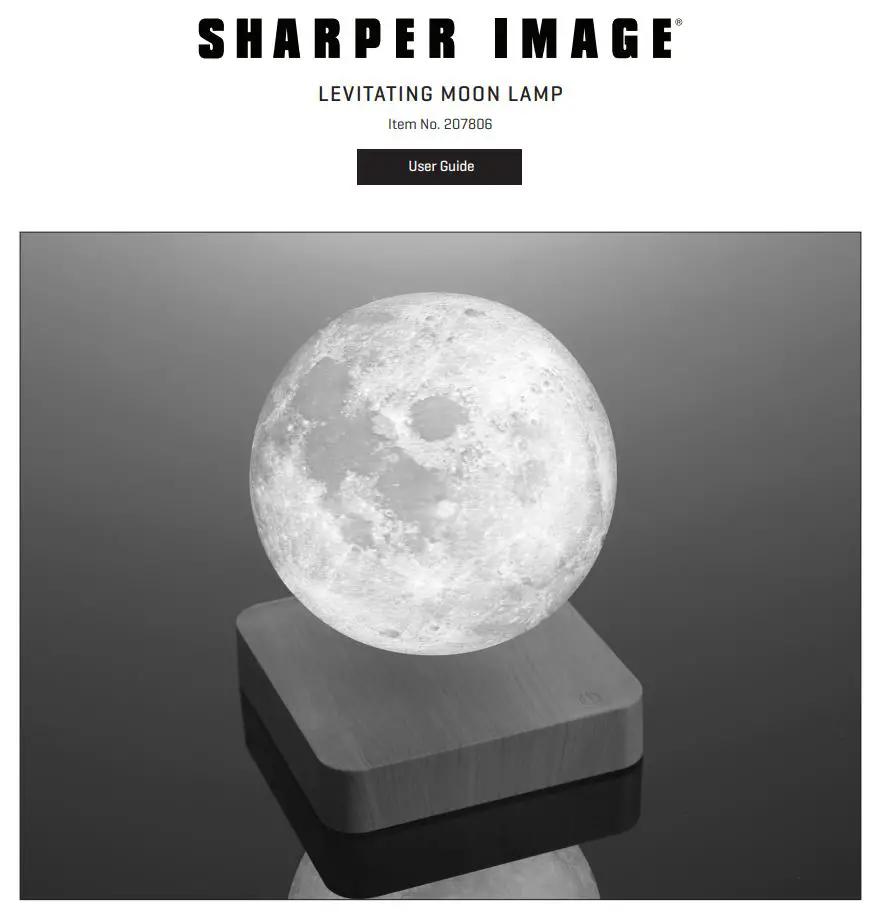 SHAREP IMAGE Levitating Moon Lamp User Guide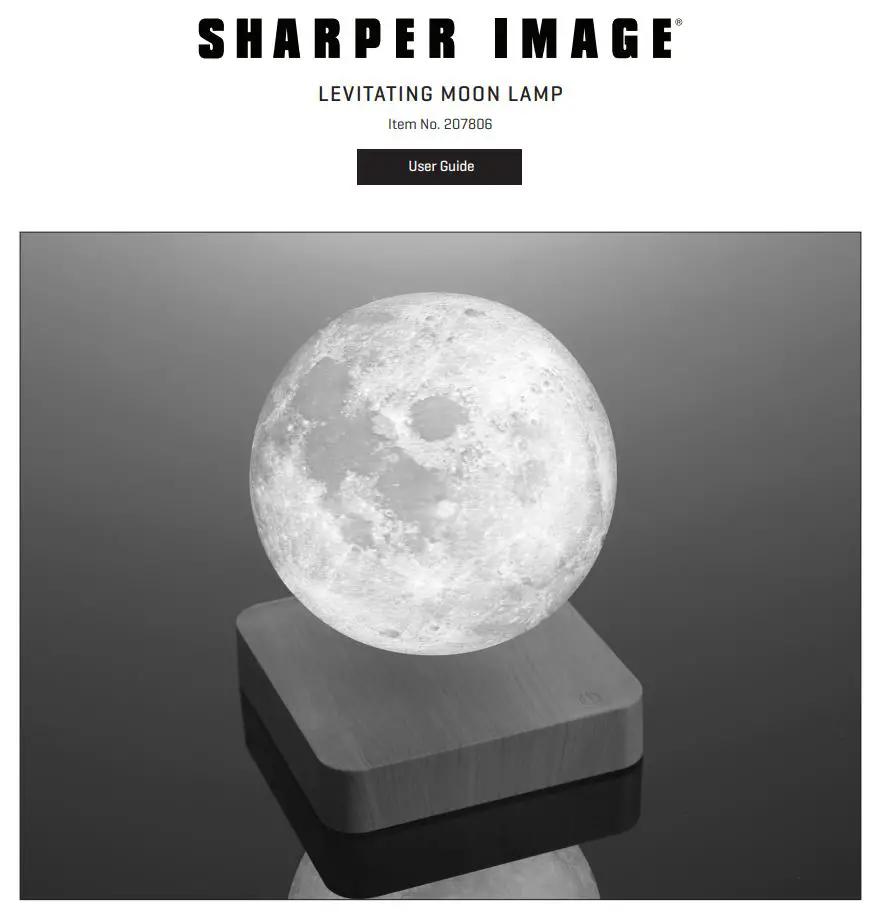 WARNING: Strong magnet. Not for use by those with heart disease or a pacemaker.
Thank you for purchasing the Sharper Image Levitating Moon Lamp. Please take a few moments to read this guide and store it for future reference.
FEATURES
Floating Moon lamp
5.5-inch 3D printed Moon
Wood grain base
Floats and rotates about 0.4″ off base
Tap the base to turn "moonlight" on or off
Output: 12V, 1A
Input: 110-240V-50/60Hz
Plugs into an AC outlet
PACKAGE CONTENTS
Levitating Moon Lamp
AC adapter
Magnetic suspension base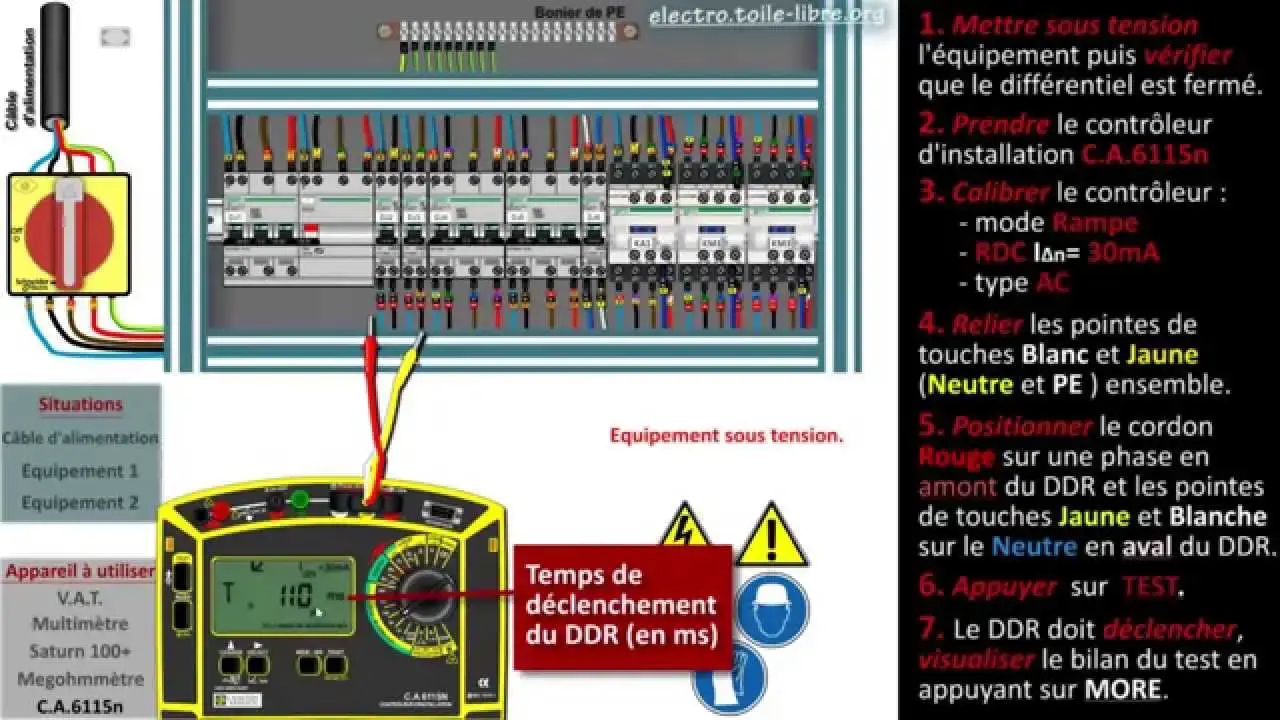 SET UP INSTRUCTIONS
To make the Moon levitate, you must achieve the right magnetic balance. This can take some practice. However, once you levitate the Moon, you can enjoy the beauty and charm of this unique tabletop light.
Place the magnetic suspension base on a stable, horizontal surface with no metal objects nearby.
Plug in the power cord.
Hold the Moon with both hands.
Align the Moon over the center of the base.
Bring the Moon vertically downward, toward the base (FIG. A).
When you feel the magnetic force pushing up, slowly release your hands.
The Moon will be suspended in a magnetic field, and appear to float in midair (FIG. B).
While the Moon is successfully suspended, you can control the "moonlight" by gently tapping the power mark on the base.
SAFETY WARNINGS
Do not place this product in a humid environment.
Use only the power cord that came with this device. Do not use any other cords or chargers.
Keep electronic devices (computers, mobile phones, cameras, bank cards, etc.) at least 7″ (20 cm) away from the Moon.
Those with heart disease or a pacemaker should not use this device.
This product is not a toy. Keep out of reach of children.
This product is for indoor use only.
NOTE: If the temperature exceeds 130°F (55°C), this device will shut off automatically for safety. Please allow it to cool off and resume use at a later time.
WARRANTY / CUSTOMER SERVICE
Sharper Image branded items purchased from SharperImage.com include a 1-year limited replacement warranty. If you have any questions not covered in this guide, please call our Customer Service department at 1 (877) 210-3449. Customer Service agents are available Monday through Friday, 9:00 a.m. to 6:00 p.m. ET.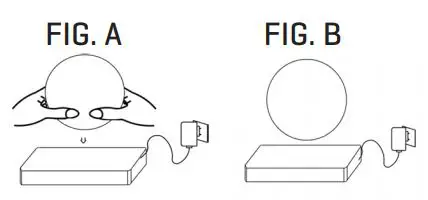 The SHARPER IMAGE® name and logo are registered trademarks.
©Sharper Image. All Rights Reserved.