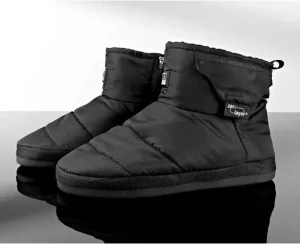 SHARPER IMAGE®
HEATED INDOOR/OUTDOOR SLIPPERS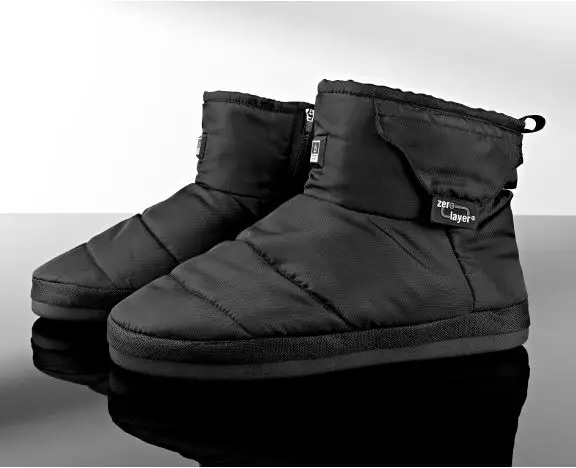 Thank you for purchasing the Sharper Image Heated Indoor/Outdoor Slippers.
Please read this guide and store it for future reference.
FEATURES
• Adjustable temperature control: Pre-Heat, High, Medium
and Low
• Unisex sizing
• Available in Small, Medium, Large, X-Large and XXL
• Includes 5v Power bank and Micro USB cable
IDENTIFICATION OF PARTS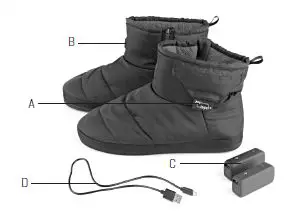 A. Slipper input plugs
B. Control button
C. 5v Power bank
D. Micro USB cable
CHARGING THE 5V POWER BANK
Before using your Heated Indoor/Outdoor Slippers the 5v power bank should be fully charged. Please follow the instructions below on how to charge, use and maintain your power bank.
1. Remove 5v power bank(s) from the packaging.
2. Use the included USB cable and connect to the Micro-USB port on the 5v power bank and the standard USB end of cable to a powered ON computer's USB port. You can also connect the USB end to an AC adapter and plug directly into the wall.
3. While charging, the 5v power bank's blue LED's will illuminate. Once it is fully charged, all 4 blue LED lights will be illuminated. Note: The 5v power bank charging time can vary between 2-4 hours from a wall socket and longer from a computer.
4. Disconnect the 5v power bank from the power source when fully charged.
POWER STATUS
The 5v power bank has 4 blue LED lights to indicate power remaining status. Four blue LED lights indicate that it's fully charged.
• Three lights indicate 75% power remaining
• Two lights indicate 50% power remaining
• One light indicates the 5v power bank is out of power and needs to be recharged
RECHARGEABLE 5V POWER BANK SYSTEM CARE
• Failure to charge the 5v power bank prior to use can reduce battery life
• Charge between each use and a minimum of once every 3 months. It's important to maintain between 25% – 75% remaining power when not in use. Failure to do so will result in performance problems and reduced battery life
• The 5v power bank battery life is 300+ cycles before it will diminish in capacity output
• Lithium batteries provide a diminished capacity output in extreme cold temperatures – keep batteries inside the slippers to minimize the impact and improve the performance
HOW TO USE THE HEATED INDOOR/OUTDOOR SLIPPERS
1. Locate the USB plug on Heated Indoor/Outdoor Slippers and connect it to the 5v power bank.
2. Press the power button on the power bank to activate the battery. Then locate the power button on the slippers to activate the heating system.
3. Press and hold down the power button on the slipper for 3 seconds. It will light up and cycle from RED (high), to BLUE (medium/high), to GREEN (low) and then back to RED (high). Note: This is a pre-heat cycle that will take 5 minutes. Once the 5-minute pre-heat cycle is complete the product will automatically turn down to the BLUE (medium/high) setting. You can change the power level setting at any time by pushing the power button.
4. To turn the slippers off, press and hold the power button for 3 seconds or disconnect the USB plug from the 5v power bank. Note: The Heated Indoor/Outdoor Slippers should only be used with the included power bank and USB cable. Never use a power bank or cable with any other device regardless of how similar the plugs may appear to fit or work together.
TEMPERATURE SETTINGS
• Blue: Medium/High heat – 110° F with approximate run time of 4.5 hours
• Green: Low heat – 95° F with approximate run time of 7 hours
• Red: High heat – 130° F with approximate run time of 3 hours
NOTE: We recommend users wear socks while wearing the slippers.
SIZING INFORMATION
Small: Women's US 5/6
Medium: Men's US 6 – 7.5 / Women's US 6.5 – 8
Large: Men's US 8 – 9.5 / Women's US 8.5 – 10
X-Large: Men's US 10 – 11.5 / Women's US 10.5 – 12
XXL: Men's US 12-13
CLEANING AND MAINTENANCE
• Remove the battery and USB cable before washing
• It is recommended to place the product in a pillowcase or laundry bag for protection while washing
• Wash in cold water with a mild detergent
• After washing, put in the dryer on tumble dry. Be sure the product and USB plug are completely dry before using again
SAFETY WARNINGS
• Do not use on open wounds, sensitive skin areas, or in the presence of poor circulation
• Check skin frequently during use to ensure rashes or burns are not developing
• The FDA and CPSC recommend the following precautions be taken to avoid hazards associated with the use of heated clothing
ALWAYS
• Inspect the slippers before each use to assure they are in proper working order
• Discard if the product appears worn, cracked or if the electrical cord is frayed
• Read and follow all instructions prior to use
NEVER
• Use on an infant
• Use on a person who is paralyzed or has skin that is not sensitive to temperature changes
• Use on a sleeping or unconscious person
• Use in an oxygen enriched environment or near equipment that stores or emits oxygen
• Sit on this device
• Crush this device
• Unplug this device by pulling its connecting cord
• Use pins or other metallic fasteners to hold this device in place
• Do not submerge product or battery into water while in use
• Do not cut, puncture or tear into the lining of the product
• Do not allow the battery to have contact with water or other liquids. If water or liquids enter the battery interior, immediately disconnect the product from the battery. Allow the battery to dry completely before use
• Do not penetrate, strike, short-circuit or disassemble battery
• Keep all electronic components of your product away from fire and extensive heat
• Do not leave product unattended while connected to the battery
• Only use the charger and batteries included with this product
• If you experience any discomfort while using this product, remove it immediately and consult your physician before resuming use
• Check with your physician if you have heart disease, a pacemaker, diabetes, circulatory problems, sensitivity to heat, or if you are pregnant or under the age of 13
SPECIFICATIONS

WARRANTY / CUSTOMER SERVICE
Sharper Image branded items purchased from SharperImage.com include a 1-year limited replacement warranty. If you have any questions not covered in this guide, please call our Customer Service department at 1 (877) 210-3449. Customer Service agents are available Monday through Friday, 9:00 a.m. to 6:00 p.m. ET.